Abstract
Neural organoids have the potential to improve our understanding of human brain development and neurological disorders. However, it remains to be seen whether these tissues can model circuit formation with functional neuronal output. Here we have adapted air–liquid interface culture to cerebral organoids, leading to improved neuronal survival and axon outgrowth. The resulting thick axon tracts display various morphologies, including long-range projection within and away from the organoid, growth-cone turning, and decussation. Single-cell RNA sequencing reveals various cortical neuronal identities, and retrograde tracing demonstrates tract morphologies that match proper molecular identities. These cultures exhibit active neuronal networks, and subcortical projecting tracts can innervate mouse spinal cord explants and evoke contractions of adjacent muscle in a manner dependent on intact organoid-derived innervating tracts. Overall, these results reveal a remarkable self-organization of corticofugal and callosal tracts with a functional output, providing new opportunities to examine relevant aspects of human CNS development and disease.
This is a preview of subscription content
Access options
Subscribe to Journal
Get full journal access for 1 year
$59.00
only $4.92 per issue
All prices are NET prices.
VAT will be added later in the checkout.
Tax calculation will be finalised during checkout.
Rent or Buy article
Get time limited or full article access on ReadCube.
from$8.99
All prices are NET prices.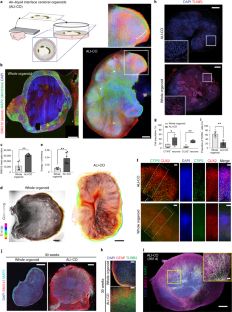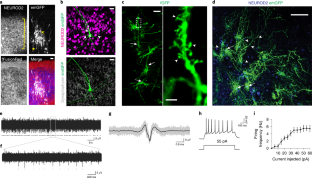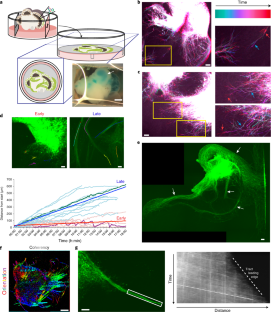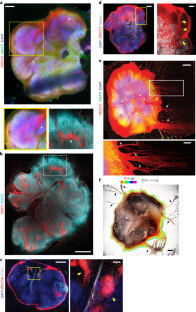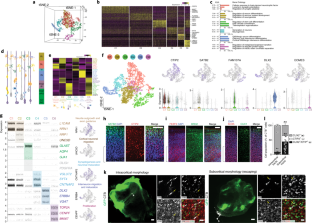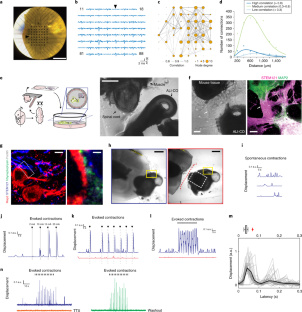 Data availability
The data that support the findings of this study are included in the Supplementary Information with the paper. All scRNA-seq data has been deposited on GEO, accession number GSE124174. Raw data (for example, raw images and electrophysiological recordings) is available upon request from the corresponding author.
References
1.

Lancaster, M. A. et al. Cerebral organoids model human brain development and microcephaly. Nature 501, 373–379 (2013).

2.

Kadoshima, T. et al. Self-organization of axial polarity, inside-out layer pattern, and species-specific progenitor dynamics in human ES cell-derived neocortex. Proc. Natl Acad. Sci. USA 110, 20284–20289 (2013).

3.

Birey, F. et al. Assembly of functionally integrated human forebrain spheroids. Nature 545, 54–59 (2017).

4.

Lancaster, M. A. et al. Guided self-organization and cortical plate formation in human brain organoids. Nat. Biotechnol. 35, 659–666 (2017).

5.

Quadrato, G. et al. Cell diversity and network dynamics in photosensitive human brain organoids. Nature 545, 48–53 (2017).

6.

Mansour, A. A. et al. An in vivo model of functional and vascularized human brain organoids. Nat. Biotechnol. 36, 432–441 (2018).

7.

Gähwiler, B. H., Capogna, M., Debanne, D., McKinney, R. A. & Thompson, S. M. Organotypic slice cultures: a technique has come of age. Trends Neurosci. 20, 471–477 (1997).

8.

Renner, M. et al. Self-organized developmental patterning and differentiation in cerebral organoids. EMBO J. 36, 1316–1329 (2017).

9.

Bak, M. & Fraser, S. E. Axon fasciculation and differences in midline kinetics between pioneer and follower axons within commissural fascicles. Development 130, 4999–5008 (2003).

10.

Polleux, F. & Snider, W. Initiating and growing an axon. Cold Spring Harb. Perspect. Biol. 2, a001925 (2010).

11.

Piper, M. et al. Neuropilin 1-Sema signaling regulates crossing of cingulate pioneering axons during development of the corpus callosum. Cereb. Cortex 19(Suppl. 1), i11–i21 (2009).

12.

Chédotal, A. & Richards, L. J. Wiring the brain: the biology of neuronal guidance. Cold Spring Harb. Perspect. Biol. 2, a001917 (2010).

13.

Shu, T. & Richards, L. J. Cortical axon guidance by the glial wedge during the development of the corpus callosum. J. Neurosci. 21, 2749–2758 (2001).

14.

Keeble, T. R. et al. The Wnt receptor Ryk is required for Wnt5a-mediated axon guidance on the contralateral side of the corpus callosum. J. Neurosci. 26, 5840–5848 (2006).

15.

Schroeter, M. S., Charlesworth, P., Kitzbichler, M. G., Paulsen, O. & Bullmore, E. T. Emergence of rich-club topology and coordinated dynamics in development of hippocampal functional networks in vitro. J. Neurosci. 35, 5459–5470 (2015).

16.

Cotterill, E., Charlesworth, P., Thomas, C. W., Paulsen, O. & Eglen, S. J. A comparison of computational methods for detecting bursts in neuronal spike trains and their application to human stem cell-derived neuronal networks. J. Neurophysiol. 116, 306–321 (2016).

17.

Streit, J., Spenger, C. & Lüscher, H. R. An organotypic spinal cord–dorsal root ganglion–]skeletal muscle coculture of embryonic rat. II. functional evidence for the formation of spinal reflex arcs in vitro. Eur. J. Neurosci. 3, 1054–1068 (1991).

18.

Koh, T. H. & Eyre, J. A. Maturation of corticospinal tracts assessed by electromagnetic stimulation of the motor cortex. Arch. Dis. Child. 63, 1347–1352 (1988).

19.

Daza, R. A. M., Englund, C. & Hevner, R. F. Organotypic slice culture of embryonic brain tissue. CSH Protoc. 2007, t4914 (2007).

20.

Sorkin, R. et al. Compact self-wiring in cultured neural networks. J. Neural Eng. 3, 95–101 (2006).

21.

Gonzalez, C. et al. Modeling amyloid beta and tau pathology in human cerebral organoids. Mol. Psychiatry 23, 2363–2374 (2018).

22.

Qian, X. et al. Brain-region-specific organoids using mini-bioreactors for modeling ZIKV exposure. Cell 165, 1238–1254 (2016).

23.

Rezakhaniha, R. et al. Experimental investigation of collagen waviness and orientation in the arterial adventitia using confocal laser scanning microscopy. Biomech. Model. Mechanobiol. 11, 461–473 (2012).

24.

Mátés, L. et al. Molecular evolution of a novel hyperactive Sleeping Beauty transposase enables robust stable gene transfer in vertebrates. Nat. Genet. 41, 753–761 (2009).

25.

Meijering, E., Dzyubachyk, O. & Smal, I. Methods for cell and particle tracking. Meth. Enzymol. 504, 183–200 (2012).

26.

Lancaster, M. A. & Knoblich, J. A. Generation of cerebral organoids from human pluripotent stem cells. Nat. Protoc. 9, 2329–2340 (2014).

27.

Zhong, S. et al. A single-cell RNA-seq survey of the developmental landscape of the human prefrontal cortex. Nature 555, 524–528 (2018).

28.

Watanabe, M. et al. Self-organized cerebral organoids with human-specific features predict effective drugs to combat Zika virus infection. Cell Rep. 21, 517–532 (2017).

29.

Pollen, A. A. et al. Molecular identity of human outer radial glia during cortical development. Cell 163, 55–67 (2015).

30.

Preissl, S. et al. Single-nucleus analysis of accessible chromatin in developing mouse forebrain reveals cell-type-specific transcriptional regulation. Nat. Neurosci. 21, 432–439 (2018).

31.

Lake, B. B. et al. Neuronal subtypes and diversity revealed by single-nucleus RNA sequencing of the human brain. Science 352, 1586–1590 (2016).

32.

Camp, J. G. et al. Human cerebral organoids recapitulate gene expression programs of fetal neocortex development. Proc. Natl Acad. Sci. USA 112, 15672–15677 (2015).

33.

Cutts, C. S. & Eglen, S. J. Detecting pairwise correlations in spike trains: an objective comparison of methods and application to the study of retinal waves. J. Neurosci. 34, 14288–14303 (2014).
Acknowledgements
The authors would like to thank members of the Lancaster lab for helpful discussions and D. Jabaudon for insightful comments, as well as members of the LMB mouse facility for help with timed matings and tissue collections. We also thank members of the H. McMahon laboratory for plasmids and the LMB light microscopy facility, in particular B. Sutcliffe, for assistance with imaging. We are grateful to P. Coupland and S. Ballereau (Cancer Research UK) for technical assistance and to M. Galardini and P. Beltrao (European Bioinformatics Institute) for helping with computing resources. This work was supported by the Medical Research Council MC_UP_1201/9 (to M.A.L.), European Research Council ERC STG 757710 (to M.A.L.), Medical Research Council MR/P008658/1 (to A.L.), Wellcome Trust ISSF_RRZC/115_RG89529 (to A.L.), Newton Trust RRZC/115_RG89305 (to A.L.), MRC Clinician Scientist Fellowship (to A.L.), grants from the Biotechnology and Biological Sciences Research Council (BBSRC) (to O.P.), Medical Research Council MC_UP_1201/2 (to M.T.), European Research Council ERC Starting Grant, STG 677029 (to M.T.), ERANET-NEURON Micronet consortium (to M.T.), Medical Research Council MC_UP_1201/13 (to E.D.), and HFSP CDA (to E.D.).
Ethics declarations
Competing interests
The authors declare no competing interests.
Additional information
Journal peer review information: Nature Neuroscience thanks Alexander Jaworski and other anonymous reviewer(s) for their contribution to the peer review of this work.
Publisher's note: Springer Nature remains neutral with regard to jurisdictional claims in published maps and institutional affiliations.
Integrated supplementary information
Supplementary information
About this article
Cite this article
Giandomenico, S.L., Mierau, S.B., Gibbons, G.M. et al. Cerebral organoids at the air–liquid interface generate diverse nerve tracts with functional output. Nat Neurosci 22, 669–679 (2019). https://doi.org/10.1038/s41593-019-0350-2
Received:

Accepted:

Published:

Issue Date: