Abstract
Serum antibodies can recognize both pathogens and commensal gut microbiota. However, our current understanding of antibody repertoires is largely based on DNA sequencing of the corresponding B-cell receptor genes, and actual bacterial antigen targets remain incompletely characterized. Here we have profiled the serum antibody responses of 997 healthy individuals against 244,000 rationally selected peptide antigens derived from gut microbiota and pathogenic and probiotic bacteria. Leveraging phage immunoprecipitation sequencing (PhIP-Seq) based on phage-displayed synthetic oligo libraries, we detect a wide breadth of individual-specific as well as shared antibody responses against microbiota that associate with age and gender. We also demonstrate that these antibody epitope repertoires are more longitudinally stable than gut microbiome species abundances. Serum samples of more than 200 individuals collected five years apart could be accurately matched and could serve as an immunologic fingerprint. Overall, our results suggest that systemic antibody responses provide a non-redundant layer of information about microbiota beyond gut microbial species composition.
Relevant articles
Open Access articles citing this article.
Athena Chen

,

Kai Kammers

…

Ingo Ruczinski

BMC Genomics Open Access 15 September 2022
Access options
Access Nature and 54 other Nature Portfolio journals
Get Nature+, our best-value online-access subscription
$29.99 / 30 days
cancel any time
Subscribe to this journal
Receive 12 print issues and online access
$189.00 per year
only $15.75 per issue
Rent or buy this article
Get just this article for as long as you need it
$39.95
Prices may be subject to local taxes which are calculated during checkout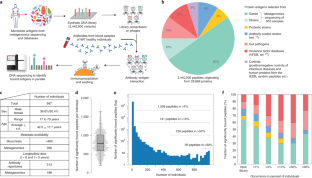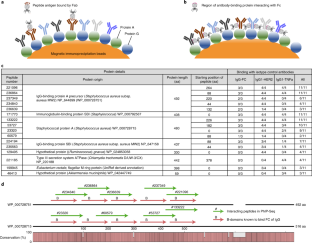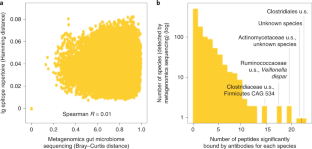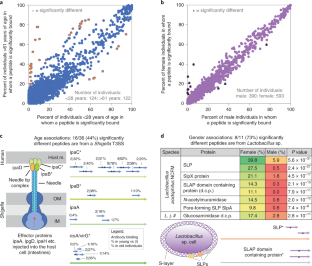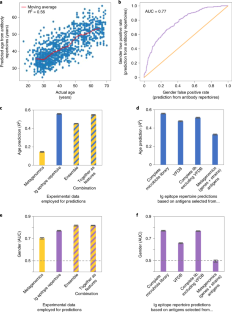 Data availability
The data generated or analyzed during this study are included within the paper, its Supplementary Information files and public repositories. Detailed information on the cohort, library content and PhIP-Seq data are available in the Supplementary Data files (files: cohort_info.csv, MB_composition.csv, library_content_info.csv and PhIP-Seq_data.zip). Patient-related data not included in the paper may be subject to patient confidentiality. Extended Data Fig. 3, Fig. 1, Extended Data Fig. 5, Fig. 3a,b/Extended Data Fig. 6 and Fig. 4a,c have associated raw data provided, respectively, in Supplementary Table 2, Supplementary Table 3, Supplementary Table 4, Supplementary Table 5 and Supplementary Table 6. Raw data for the PhIP-Seq experiments are deposited in the Harvard Dataverse public repository at https://doi.org/10.7910/DVN/3SOZCQ. Antigens included in the PhIP-Seq library were obtained from the immune epitope database (IEDB, https://www.iedb.org/) and virulence factor database (VFDB, http://www.mgc.ac.cn/VFs/), as well as other sources outlined in the Methods.
Code availability
Custom code used for analyzing the PhIP-Seq data is publicly available at https://github.com/erans99/PhIPSeq_external. The code repository is subdivided into two subfolders: (1) Analyse_Fastq, code to analyze a NextGen Sequencing plate, containing 96 wells, of which 80 are data wells and 16 are different types of controls of well quality (four negative controls, eight mocks and four positive control ('anchor') samples). The output of this is a file, per data well, of fold change and −log10(P value); (2) Analysis, code for executing different tests and analyses on the results of the PhIP-Seq output (as cached from files like those in the PhIPSeq_data directory).
References
Sender, R., Fuchs, S. & Milo, R. Are we really vastly outnumbered? Revisiting the ratio of bacterial to host cells in humans. Cell 164, 337–340 (2016).

Gilbert, J. A. et al. Current understanding of the human microbiome. Nat. Med. 24, 392–400 (2018).

Levy, M., Kolodziejczyk, A. A., Thaiss, C. A. & Elinav, E. Dysbiosis and the immune system. Nat. Rev. Immunol. 17, 219–232 (2017).

Bunker, J. J. & Bendelac, A. IgA responses to microbiota. Immunity 49, 211–224 (2018).

Koch, M. A. et al. Maternal IgG and IgA antibodies dampen mucosal T helper cell responses in early life. Cell 165, 827–841 (2016).

Gomez de Agüero, M. et al. The maternal microbiota drives early postnatal innate immune development. Science 351, 1296–1302 (2016).

Zeng, M. Y. et al. Gut microbiota-induced immunoglobulin G controls systemic infection by symbiotic bacteria and pathogens. Immunity 44, 647–658 (2016).

Wilmore, J. R. et al. Commensal microbes induce serum IgA responses that protect against polymicrobial sepsis. Cell Host Microbe 0, 1–10 (2018).

Fadlallah, J. Synergistic convergence of microbiota-specific systemic IgG and secretory IgA. J. Allergy Clin. Immunol. 143, 1575–1585 (2019).

Li, H. et al. Mucosal or systemic microbiota exposures shape the B cell repertoire. Nature 584, 274–278 (2020).

Sterlin, D., Fadlallah, J., Slack, E. & Gorochov, G. The antibody/microbiota interface in health and disease. Mucosal Immunol. 13, 3–11 (2020).

Soto, C. et al. High frequency of shared clonotypes in human B cell receptor repertoires. Nature 566, 398–402 (2019).

Briney, B., Inderbitzin, A., Joyce, C. & Burton, D. R. Commonality despite exceptional diversity in the baseline human antibody repertoire. Nature 566, 393–397 (2019).

Lindner, C. et al. Diversification of memory B cells drives the continuous adaptation of secretory antibodies to gut microbiota. Nat. Immunol. 16, 880–888 (2015).

Bashford-Rogers, R. J. M. et al. Analysis of the B cell receptor repertoire in six immune-mediated diseases. Nature 574, 122–126 (2019).

Meng, W. et al. An atlas of B-cell clonal distribution in the human body. Nat. Biotechnol. 35, 879–884 (2017).

Pasolli, E. et al. Extensive unexplored human microbiome diversity revealed by over 150,000 genomes from metagenomes spanning age, geography and lifestyle. Cell 176, 649–662 (2019).

Moor, K. et al. Analysis of bacterial-surface-specific antibodies in body fluids using bacterial flow cytometry. Nat. Protoc. 11, 1531–1553 (2016).

Palm, N. W. et al. Immunoglobulin A coating identifies colitogenic bacteria in inflammatory bowel disease. Cell 158, 1000–1010 (2014).

Bunker, J. J. et al. Innate and adaptive humoral responses coat distinct commensal bacteria with immunoglobulin A. Immunity 43, 541–553 (2015).

Mohan, D. et al. PhIP-Seq characterization of serum antibodies using oligonucleotide-encoded peptidomes. Nat. Protoc. 13, 1958–1978 (2018).

Larman, H. B. et al. Autoantigen discovery with a synthetic human peptidome. Nat. Biotechnol. 29, 535–541 (2011).

Larman, H. B. et al. PhIP-Seq characterization of autoantibodies from patients with multiple sclerosis, type 1 diabetes and rheumatoid arthritis. J. Autoimmun. 43, 1–9 (2013).

Vazquez, S. E. et al. Identification of novel, clinically correlated autoantigens in the monogenic autoimmune syndrome APS1 by proteome-wide PhIP-Seq. eLife 9, e55053 (2020).

Xu, G. J. et al. Viral immunology. Comprehensive serological profiling of human populations using a synthetic human virome. Science 348, aaa0698 (2015).

Mina, M. J. et al. Measles virus infection diminishes preexisting antibodies that offer protection from other pathogens. Science 366, 599–606 (2019).

Shrock, E. et al. Viral epitope profiling of COVID-19 patients reveals cross-reactivity and correlates of severity. Science 370, 1–23 (2020).

Zeevi, D. et al. Personalized nutrition by prediction of glycemic responses. Cell 163, 1079–1094 (2015).

Chen, L., Zheng, D., Liu, B., Yang, J. & Jin, Q. VFDB 2016: hierarchical and refined dataset for big data analysis—10 years on. Nucleic Acids Res. 44, D694–D697 (2016).

Vita, R. et al. The immune epitope database (IEDB) 3.0. Nucleic Acids Res. 43, D405–D412 (2015).

Lebeer, S. et al. Identification of probiotic effector molecules: present state and future perspectives. Curr. Opin. Biotechnol. 49, 217–223 (2018).

Bunker, J. J. et al. B cell superantigens in the human intestinal microbiota. Sci. Transl. Med. 11, eaau9356 (2019).

Ultsch, M., Braisted, A., Maun, H. R. & Eigenbrot, C. 3-2-1: structural insights from stepwise shrinkage of a three-helix Fc-binding domain to a single helix. Protein Eng. Des. Sel. 30, 619–625 (2017).

Korem, T. et al. Bread affects clinical parameters and induces gut microbiome-associated personal glycemic responses. Cell Metab. 25, 1243–1253 (2017).

Mattock, E. & Blocker, A. J. How do the virulence factors of Shigella work together to cause disease? Front. Cell. Infect. Microbiol. 7, 1–24 (2017).

Klotz, C., Goh, Y. J., O'Flaherty, S. & Barrangou, R. S-layer associated proteins contribute to the adhesive and immunomodulatory properties of Lactobacillus acidophilus NCFM. BMC Microbiol. 20, 248 (2020).

Chen, T. & Guestrin, C. XGBoost: a scalable tree boosting system. In Proc. 22nd ACM SIGKDD International Conference on Knowledge Discovery and Data Mining 785–794 (ACM, 2016); https://doi.org/10.1145/2939672.2939785

Landsverk, O. J. B. et al. Antibody-secreting plasma cells persist for decades in human intestine. J. Exp. Med. 214, 309–317 (2017).

Magri, G. et al. Human secretory IgM emerges from plasma cells clonally related to gut memory B cells and targets highly diverse commensals. Immunity 47, 118–134 (2017).

Chen, K., Magri, G., Grasset, E. K. & Cerutti, A. Rethinking mucosal antibody responses: IgM, IgG and IgD join IgA. Nat. Rev. Immunol. 20, 427–441 (2020).

Wilms, E. et al. Intestinal barrier function is maintained with aging—a comprehensive study in healthy subjects and irritable bowel syndrome patients. Sci. Rep. 10, 475 (2020).

Thevaranjan, N. et al. Age-associated microbial dysbiosis promotes intestinal permeability, systemic inflammation and macrophage dysfunction. Cell Host Microbe 21, 455–466 (2017).

Cohen, D. et al. Recent trends in the epidemiology of shigellosis in Israel. Epidemiol. Infect. 142, 2583–2594 (2014).

McCoy, K. D., Burkhard, R. & Geuking, M. B. The microbiome and immune memory formation. Immunol. Cell Biol. 97, 625–635 (2019).

Xu, G. J. et al. Systematic autoantigen analysis identifies a distinct subtype of scleroderma with coincident cancer. Proc. Natl Acad. Sci. USA 113, E7526–E7534 (2016).

Paull, M. L. & Daugherty, P. S. Mapping serum antibody repertoires using peptide libraries. Curr. Opin. Chem. Eng. 19, 21–26 (2018).

Puga, I. et al. B cell-helper neutrophils stimulate the diversification and production of immunoglobulin in the marginal zone of the spleen. Nat. Immunol. 13, 170–180 (2012).

Setliff, I. et al. High-throughput mapping of B cell receptor sequences to antigen specificity. Cell 179, 1636–1646 (2019).

Spitzer, M., Wildenhain, J., Rappsilber, J. & Tyers, M. BoxPlotR: a web tool for generation of box plots. Nat. Methods 11, 121–122 (2014).

Segata, N. et al. Metagenomic microbial community profiling using unique clade-specific marker genes. Nat. Methods 9, 811–814 (2012).

Forsström, B. et al. Dissecting antibodies with regards to linear and conformational epitopes. PLoS ONE 10, e0121673 (2015).

Berglund, L., Andrade, J., Odeberg, J. & Uhlén, M. The epitope space of the human proteome. Protein Sci. 17, 606–613 (2008).

Forsström, B. et al. Proteome-wide epitope mapping of antibodies using ultra-dense peptide arrays. Mol. Cell. Proteom. 13, 1585–1597 (2014).

Li, J. et al. An integrated catalog of reference genes in the human gut microbiome. Nat. Biotechnol. 32, 834–841 (2014).

Rothschild, D. et al. Environment dominates over host genetics in shaping human gut microbiota. Nature 555, 210–215 (2018).

Zeevi, D. et al. Structural variation in the gut microbiome associates with host health. Nature 568, 43–48 (2019).

Truong, D. T. et al. MetaPhlAn2 for enhanced metagenomic taxonomic profiling. Nat. Methods 12, 902–903 (2015).

Babu, M. et al. Global landscape of cell envelope protein complexes in Escherichia coli. Nat. Biotechnol. 36, 103–112 (2018).

Götz, S. et al. High-throughput functional annotation and data mining with the Blast2GO suite. Nucleic Acids Res. 36, 3420–3435 (2008).

Rothschild, D. et al. An atlas of robust microbiome associations with phenotypic traits based on large-scale cohorts from two continents. Preprint at bioRxiv https://doi.org/10.1101/2020.05.28.122325 (2020).

Wozniak, J. M. et al. Mortality risk profiling of Staphylococcus aureus bacteremia by multi-omic serum analysis reveals early predictive and pathogenic signatures. Cell 182, 1311–1327 (2020).
Acknowledgements
A.W. is the Louis H. Sackin Research Fellow Chair in Computer Science. E.S. is supported by grants from the European Research Council, the Israel Science Foundation and by the Seerave Foundation. T.V. gratefully acknowledges support from the Austrian Science Fund (FWF, Erwin Schrödinger fellowship J4256). R.K.W. is supported by the Seerave Foundation and the Netherlands Organization for Scientific Research. A.Z. is supported by ERC Starting Grant 715772, the Netherlands Organization for Scientific Research NWO-VIDI grant 016.178.056, the Netherlands Heart Foundation CVON grant 2018-27 and the NWO Gravitation grant ExposomeNL 024.004.017. J.F. is supported by NWO Gravitation Netherlands Organ-on-Chip Initiative (024.003.001), ERC Consolidator grant 101001678 and the Netherlands Heart Foundation CVON grant 2018-27. C.W. is supported by NWO Gravitation grant 024.003.001 and NWO Spinoza Prize SPI 92-266. The funders had no role in study design, data collection and analysis, decision to publish or preparation of the manuscript.
Ethics declarations
Competing interests
The authors declare no competing interests.
Additional information
Peer review information Nature Medicine thanks Rachael Bashford-Rogers, George Georgiou, Andrea Cerutti and the other, anonymous, reviewer(s) for their contribution to the peer review of this work. Saheli Sadanand was the primary editor on this article and managed its editorial process and peer review in collaboration with the rest of the editorial team.
Publisher's note Springer Nature remains neutral with regard to jurisdictional claims in published maps and institutional affiliations.
Supplementary information
About this article
Cite this article
Vogl, T., Klompus, S., Leviatan, S. et al. Population-wide diversity and stability of serum antibody epitope repertoires against human microbiota. Nat Med 27, 1442–1450 (2021). https://doi.org/10.1038/s41591-021-01409-3
Received:

Accepted:

Published:

Issue Date:

DOI: https://doi.org/10.1038/s41591-021-01409-3
This article is cited by
Athena Chen
Kai Kammers
Ingo Ruczinski

BMC Genomics (2022)