Abstract
Common germline variants of the APOE gene are major risk modifiers of neurodegenerative and atherosclerotic diseases1,2,3, but their effect on cancer outcome is poorly defined. Here we report that, in a reversal of their effect on Alzheimer's disease, the APOE4 and APOE2 variants confer favorable and poor outcomes in melanoma, respectively. Mice expressing the human APOE4 allele exhibited reduced melanoma progression and metastasis relative to APOE2 mice. APOE4 mice exhibited enhanced anti-tumor immune activation relative to APOE2 mice, and T cell depletion experiments showed that the effect of APOE genotype on melanoma progression was mediated by altered anti-tumor immunity. Consistently, patients with melanoma carrying the APOE4 variant experienced improved survival in comparison to carriers of APOE2. Notably, APOE4 mice also showed improved outcomes under PD1 immune checkpoint blockade relative to APOE2 mice, and patients carrying APOE4 experienced improved anti-PD1 immunotherapy survival after progression on frontline regimens. Finally, enhancing APOE expression via pharmacologic activation of liver X receptors, previously shown to boost anti-tumor immunity4, exhibited therapeutic efficacy in APOE4 mice but not in APOE2 mice. These findings demonstrate that pre-existing hereditary genetics can impact progression and survival outcomes of a future malignancy and warrant prospective investigation of APOE genotype as a biomarker for melanoma outcome and therapeutic response.
Relevant articles
Open Access articles citing this article.
Francesco De Sanctis

,

Annalisa Adamo

…

Stefano Ugel

Seminars in Immunopathology Open Access 26 September 2022

Ruoting Lin

,

Conor E. Fogarty

…

Tianfang Wang

BMC Genomics Open Access 27 July 2021

Saroor A. Patel

,

Paulo Rodrigues

…

Sakari Vanharanta

British Journal of Cancer Open Access 04 November 2020
Access options
Subscribe to Nature+
Get immediate online access to Nature and 55 other Nature journal
Subscribe to Journal
Get full journal access for 1 year
$79.00
only $6.58 per issue
All prices are NET prices.
VAT will be added later in the checkout.
Tax calculation will be finalised during checkout.
Buy article
Get time limited or full article access on ReadCube.
$32.00
All prices are NET prices.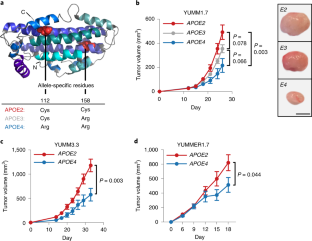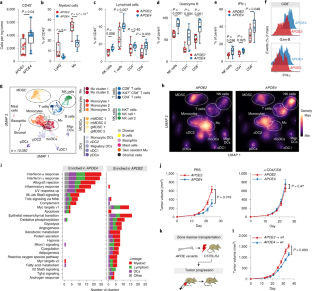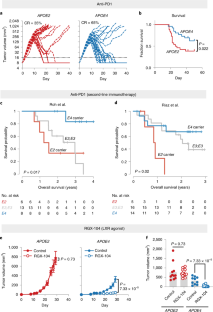 Data availability
All data analyzed from published studies are referenced and publicly available under the following accession numbers: TCGA-SKCM, dbGaP accession phs000178.v10.p8; MDACC GWAS study, phs000187.v1.p1; Roh et al. anti-PD1 treatment study, dbGaP BioProject ID PRJNA369259; and Riaz et al. anti-PD1 treatment study, dbGaP BioProject ID PRJNA359359. scRNA-seq data have been deposited at the Gene Expression Omnibus under accession number GSE146613. All other data are available from the corresponding author upon reasonable request.
References
Strittmatter, W. J. et al. Apolipoprotein E: high-avidity binding to beta-amyloid and increased frequency of type 4 allele in late-onset familial Alzheimer disease. Proc. Natl Acad. Sci. USA 90, 1977–1981 (1993).

Corder, E. H. et al. Protective effect of apolipoprotein E type 2 allele for late onset Alzheimer disease. Nat. Genet 7, 180–184 (1994).

Mahley, R. W. Apolipoprotein E: from cardiovascular disease to neurodegenerative disorders. J. Mol. Med. 94, 739–746 (2016).

Tavazoie, M. F. et al. LXR/ApoE activation restricts innate immune suppression in cancer. Cell 172, 825–840 (2018).

Shi, Y. & Holtzman, D. M. Interplay between innate immunity and Alzheimer disease: APOE and TREM2 in the spotlight. Nat. Rev. Immunol. 18, 759–772 (2018).

Chen, J., Li, Q. & Wang, J. Topology of human apolipoprotein E3 uniquely regulates its diverse biological functions. Proc. Natl Acad. Sci. USA 108, 14813–14818 (2011).

Weisgraber, K. H., Innerarity, T. L. & Mahley, R. W. Abnormal lipoprotein receptor-binding activity of the human E apoprotein due to cysteine-arginine interchange at a single site. J. Biol. Chem. 257, 2518–2521 (1982).

Kowal, R. C. et al. Opposing effects of apolipoproteins E and C on lipoprotein binding to low density lipoprotein receptor-related protein. J. Biol. Chem. 265, 10771–10779 (1990).

Xian, X. et al. Reversal of ApoE4-induced recycling block as a novel prevention approach for Alzheimer's disease. eLife 7, e40048 (2018).

Kulminski, A. M. et al. Age, gender, and cancer but not neurodegenerative and cardiovascular diseases strongly modulate systemic effect of the apolipoprotein E4 allele on lifespan. PLoS Genet. 10, e1004141 (2014).

Anand, R., Prakash, S. S., Veeramanikandan, R. & Kirubakaran, R. Association between apolipoprotein E genotype and cancer susceptibility: a meta-analysis. J. Cancer Res. Clin. Oncol. 140, 1075–1078 (2014).

Pencheva, N. et al. Convergent multi-miRNA targeting of ApoE drives LRP1/LRP8-dependent melanoma metastasis and angiogenesis. Cell 151, 1068–1082 (2012).

Pencheva, N., Buss, C. G., Posada, J., Merghoub, T. & Tavazoie, S. F. Broad-spectrum therapeutic suppression of metastatic melanoma through nuclear hormone receptor activation. Cell 156, 986–1001 (2014).

Sullivan, P. M. et al. Targeted replacement of the mouse apolipoprotein E gene with the common human APOE3 allele enhances diet-induced hypercholesterolemia and atherosclerosis. J. Biol. Chem. 272, 17972–17980 (1997).

Sullivan, P. M., Mezdour, H., Quarfordt, S. H. & Maeda, N. Type III hyperlipoproteinemia and spontaneous atherosclerosis in mice resulting from gene replacement of mouse Apoe with human Apoe*2. J. Clin. Invest. 102, 130–135 (1998).

Knouff, C. et al. Apo E structure determines VLDL clearance and atherosclerosis risk in mice. J. Clin. Invest. 103, 1579–1586 (1999).

Wang, J. et al. UV-induced somatic mutations elicit a functional T cell response in the YUMMER1.7 mouse melanoma model. Pigment Cell Melanoma Res. 30, 428–435 (2017).

Bonacina, F. et al. Myeloid apolipoprotein E controls dendritic cell antigen presentation and T cell activation. Nat. Commun. 9, 3083 (2018).

Toledo, A., Monzón, J. D., Coleman, J. L., Garcia-Monco, J. C. & Benach, J. L. Hypercholesterolemia and ApoE deficiency result in severe infection with Lyme disease and relapsing-fever Borrelia. Proc. Natl Acad. Sci. USA 112, 5491–5496 (2015).

Shi, Y. et al. ApoE4 markedly exacerbates tau-mediated neurodegeneration in a mouse model of tauopathy. Nature 549, 523–527 (2017).

Krasemann, S. et al. The TREM2-APOE pathway drives the transcriptional phenotype of dysfunctional microglia in neurodegenerative diseases. Immunity 47, 566–581 (2017).

The Cancer Genome Atlas Network. Genomic classification of cutaneous melanoma. Cell 161, 1681–1696 (2015).

Blair, C. K. et al. APOE genotype and cognitive decline in a middle-aged cohort. Neurology 64, 268–276 (2005).

Deelen, J. et al. A meta-analysis of genome-wide association studies identifies multiple longevity genes. Nat. Commun. 10, 3669 (2019).

Liu, J. et al. An integrated TCGA pan-cancer clinical data resource to drive high-quality survival outcome analytics. Cell 173, 400–416 (2018).

Amos, C. I. et al. Genome-wide association study identifies novel loci predisposing to cutaneous melanoma. Hum. Mol. Genet. 20, 5012–5013 (2011).

Larkin, J. et al. Five-year survival with combined nivolumab and ipilimumab in advanced melanoma. N. Engl. J. Med. 381, 1535–1546 (2019).

Leach, D. R., Krummel, M. F. & Allison, J. P. Enhancement of antitumor immunity by CTLA-4 blockade. Science 271, 1734–1736 (1996).

Okazaki, T. & Honjo, T. PD-1 and PD-1 ligands: from discovery to clinical application. Int. Immunol. 19, 813–824 (2007).

Roh, W. et al. Integrated molecular analysis of tumor biopsies on sequential CTLA-4 and PD-1 blockade reveals markers of response and resistance. Sci. Transl. Med. 9, eaah3560 (2017).

Riaz, N. et al. Tumor and microenvironment evolution during immunotherapy with nivolumab. Cell 171, 934–949 (2017).

Evans, R. M. & Mangelsdorf, D. J. Nuclear receptors, RXR, and the Big Bang. Cell 157, 255–256 (2014).

Hong, C. & Tontonoz, P. Liver X receptors in lipid metabolism: opportunities for drug discovery. Nat. Rev. Drug Discov. 13, 433–444 (2014).

Nathan, B. P. et al. Differential effects of apolipoproteins E3 and E4 on neuronal growth in vitro. Science 264, 850–852 (1994).

Meeth, K., Wang, J. X., Micevic, G., Damsky, W. & Bosenberg, M. W. The YUMM lines: a series of congenic mouse melanoma cell lines with defined genetic alterations. Pigment Cell Melanoma Res. 29, 590–597 (2016).

Ponomarev, V. et al. A novel triple-modality reporter gene for whole-body fluorescent, bioluminescent, and nuclear noninvasive imaging. Eur. J. Nucl. Med. Mol. Imaging 31, 740–751 (2004).

Young, L., Sung, J., Stacey, G. & Masters, J. R. Detection of mycoplasma in cell cultures. Nat. Protoc. 5, 929–934 (2010).

Hixson, J. E. & Vernier, D. T. Restriction isotyping of human apolipoprotein E by gene amplification and cleavage with HhaI. J. Lipid Res. 31, 545–548 (1990).

Yoshida, H. et al. The cis-regulatory atlas of the mouse immune system. Cell 176, 897–912 (2019).

Yu, G., Wang, L. G., Han, Y. & He, Q.Y. clusterProfiler: an R package for comparing biological themes among gene clusters. OMICS 16, 284–287 (2012).

Subramanian, A. et al. Gene set enrichment analysis: a knowledge-based approach for interpreting genome-wide expression profiles. Proc. Natl Acad. Sci. USA 102, 15545–15550 (2005).

Radmanesh, F. et al. Accuracy of imputation to infer unobserved APOE epsilon alleles in genome-wide genotyping data. Eur. J. Hum. Genet. 22, 1239–1242 (2014).
Acknowledgements
We thank members of our laboratory and M. Tavazoie for comments on previous versions of the manuscript. We are grateful for assistance by Rockefeller University resource centers: S. Mazel and staff of the flow cytometry resource center, V. Francis and other veterinary staff of the Comparative Bioscience Center for animal husbandry and care, C. Zhao and staff at the genomics resource center for assistance with scRNA-seq and A. North and staff at the Bio-Imaging Resource Center. We express gratitude to M. Bosenberg (Yale University) for kindly providing the YUMM1.7 and YUMMER1.7 cell lines. We thank the groups of P. Sullivan and N. Maeda for generating the human APOE targeted-replacement mice and making them available through Taconic Biosciences. We are grateful to E. McMillan for early help with whole-exome sequencing analysis. We also thank M. Szarek and H. Mostafavi for statistical advice. This work was supported by National Institutes of Health grant RO1CA184804-01A2 (to S.F.T.). B.N.O. was supported by a Deutsche Forschungsgemeinschaft postdoctoral fellowship (OS 498/1-1). J.B. and K.N.T. were supported by scholarships from the German National Academic Foundation. N.A. was supported by Medical Scientist Training Program grant T32GM007739 from the National Institutes of Health. B.T. was supported by the Lucy Lee Chiles Fellowship from the Hope Funds for Cancer Research. R.D.V. was supported in part by grant UL1 TR001866 from the National Center for Advancing Translational Sciences, National Institutes of Health Clinical and Translational Science Award program. S.F.T. was supported by a Faculty Scholars grant from the Howard Hughes Medical Institute, the Black Family Metastasis Center at Rockefeller University and by the Reem-Kayden award.
Ethics declarations
Competing interests
S.F.T. and B.N.O. are inventors on a US provisional patent application encompassing aspects of this work. S.F.T. is a cofounder, shareholder and member of the scientific advisory board of Rgenix.
Additional information
Peer review information Javier Carmona was the primary editor on this article and managed its editorial process and peer review in collaboration with the rest of the editorial team.
Publisher's note Springer Nature remains neutral with regard to jurisdictional claims in published maps and institutional affiliations.
Supplementary information
About this article
Cite this article
Ostendorf, B.N., Bilanovic, J., Adaku, N. et al. Common germline variants of the human APOE gene modulate melanoma progression and survival. Nat Med 26, 1048–1053 (2020). https://doi.org/10.1038/s41591-020-0879-3
Received:

Accepted:

Published:

Issue Date:

DOI: https://doi.org/10.1038/s41591-020-0879-3