Abstract
Dysregulation of the immune response to bacterial infection can lead to sepsis, a condition with high mortality. Multiple whole-blood gene-expression studies have defined sepsis-associated molecular signatures, but have not resolved changes in transcriptional states of specific cell types. Here, we used single-cell RNA-sequencing to profile the blood of people with sepsis (n = 29) across three clinical cohorts with corresponding controls (n = 36). We profiled total peripheral blood mononuclear cells (PBMCs, 106,545 cells) and dendritic cells (19,806 cells) across all subjects and, on the basis of clustering of their gene-expression profiles, defined 16 immune-cell states. We identified a unique CD14+ monocyte state that is expanded in people with sepsis and validated its power in distinguishing these individuals from controls using public transcriptomic data from subjects with different disease etiologies and from multiple geographic locations (18 cohorts, n = 1,467 subjects). We identified a panel of surface markers for isolation and quantification of the monocyte state and characterized its epigenomic and functional phenotypes, and propose a model for its induction from human bone marrow. This study demonstrates the utility of single-cell genomics in discovering disease-associated cytologic signatures and provides insight into the cellular basis of immune dysregulation in bacterial sepsis.
Relevant articles
Open Access articles citing this article.
Fulong Yu

,

Liam D. Cato

…

Vijay G. Sankaran

Nature Biotechnology Open Access 06 June 2022

Courtney M. Jackson

,

Martin Demmert

…

Claire A. Chougnet

Mucosal Immunology Open Access 21 March 2022

Avraham Unterman

,

Tomokazu S. Sumida

…

Charles S. Dela Cruz

Nature Communications Open Access 21 January 2022
Access options
Subscribe to Nature+
Get immediate online access to the entire Nature family of 50+ journals
Subscribe to Journal
Get full journal access for 1 year
$99.00
only $8.25 per issue
All prices are NET prices.
VAT will be added later in the checkout.
Tax calculation will be finalised during checkout.
Buy article
Get time limited or full article access on ReadCube.
$32.00
All prices are NET prices.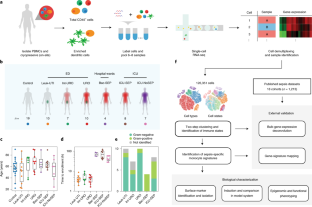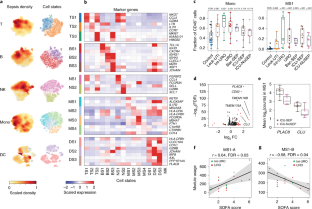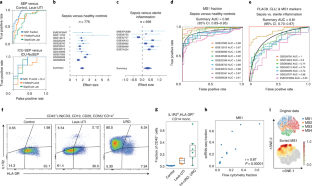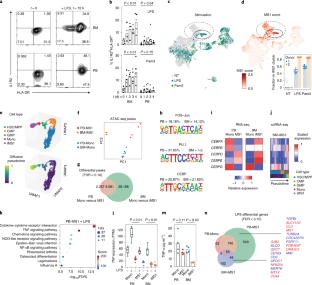 References
Rudd, K. E. et al. The global burden of sepsis: barriers and potential solutions. Crit. Care 22, 232 (2018).

Filbin, M. R. et al. Presenting symptoms independently predict mortality in septic shock: importance of a previously unmeasured confounder. Crit. Care Med. 46, 1592–1599 (2018).

Seymour, C. W. et al.Derivation, validation, and potential treatment implications of novel clinical phenotypes for sepsis. JAMA 321, 915–925 (2019).

Sweeney, T. E. et al. Unsupervised analysis of transcriptomics in bacterial sepsis across multiple datasets reveals three robust clusters. Crit. Care Med. 46, 915–925 (2018).

Opal, S. M., Dellinger, R. P., Vincent, J.-L., Masur, H. & Angus, D. C. The next generation of sepsis clinical trial designs: what is next after the demise of recombinant human activated protein C?* Crit. Care Med. 42, 1714–1721 (2014).

Scicluna, B. P. & Baillie, J. K. The search for efficacious new therapies in sepsis needs to embrace heterogeneity. Am. J. Respir. Crit. Care Med. 15, 936–938 (2018).

Prescott, H. C., Calfee, C. S., Thompson, B. T., Angus, D. C. & Liu, V. X. Toward smarter lumping and smarter splitting: rethinking strategies for sepsis and acute respiratory distress syndrome clinical trial design. Am. J. Respir. Crit. Care Med. 194, 147–155 (2016).

Coopersmith, C. M. et al. Surviving sepsis campaign: research priorities for sepsis and septic shock. Intensive Care Med. 44, 1400–1426 (2018).

Sweeney, T. E. & Khatri, P. Benchmarking sepsis gene expression diagnostics using public data. Crit. Care Med. 45, 1–10 (2017).

Sweeney, T. E. et al. A community approach to mortality prediction in sepsis via gene expression analysis. Nat. Commun. 9, 694 (2018).

Davenport, E. E. et al. Genomic landscape of the individual host response and outcomes in sepsis: a prospective cohort study. Lancet Respir. Med. 4, 259–271 (2016).

Sweeney, T. E., Shidham, A., Wong, H. R. & Khatri, P. A comprehensive time-course-based multicohort analysis of sepsis and sterile inflammation reveals a robust diagnostic gene set. Sci. Transl. Med. 7, 287ra71 (2015).

Reyes, M. et al. Multiplexed enrichment and genomic profiling of peripheral blood cells reveal subset-specific immune signatures. Sci. Adv. 5, eaau9223 (2019).

Levy, M. M. et al. 2001 SCCM/ESICM/ACCP/ATS/SIS International Sepsis Definitions Conference. Intensive Care Med. 29, 530–538 (2003).

Villani, A.-C. et al. Single-cell RNA-seq reveals new types of human blood dendritic cells, monocytes, and progenitors. Science 356, eaah4573 (2017).

Crinier, A. et al. High-dimensional single-cell analysis identifies organ-specific signatures and conserved NK cell subsets in humans and mice. Immunity 49, 971–986 (2018).

Zheng, G. X. Y. et al. Massively parallel digital transcriptional profiling of single cells. Nat. Commun. 8, 14049 (2017).

Sundén-Cullberg, J. et al. Pronounced elevation of resistin correlates with severity of disease in severe sepsis and septic shock. Crit. Care Med. 35, 1536–1542 (2007).

Lang, Y. et al. Interleukin-1 receptor 2: a new biomarker for sepsis diagnosis and gram-negative/gram-positive bacterial differentiation. Shock 47, 119–124 (2017).

Schaack, D., Siegler, B. H., Tamulyte, S., Weigand, M. A. & Uhle, F. The immunosuppressive face of sepsis early on intensive care unit-A large-scale microarray meta-analysis. PLoS One 13, e0198555 (2018).

Bauer, M. et al. A transcriptomic biomarker to quantify systemic inflammation in sepsis — a prospective multicenter phase II diagnostic study. EBioMedicine 6, 114–125 (2016).

McHugh, L. et al. A molecular host response assay to discriminate between sepsis and infection-negative systemic inflammation in critically ill patients: discovery and validation in independent cohorts. PLoS Med. 12, e1001916 (2015).

Cheng, S.-C. et al. Broad defects in the energy metabolism of leukocytes underlie immunoparalysis in sepsis. Nat. Immunol. 17, 406–413 (2016).

Ulas, T. et al. S100-alarmin-induced innate immune programming protects newborn infants from sepsis. Nat. Immunol. 18, 622–632 (2017).

Jang, J. C. et al. Human resistin protects against endotoxic shock by blocking LPS–TLR4 interaction. Proc. Natl. Acad. Sci. USA 114, E10399–E10408 (2017).

Orr, S. K. et al. Gene expression of proresolving lipid mediator pathways is associated with clinical outcomes in trauma patients. Crit. Care Med. 43, 2642–2650 (2015).

Hotchkiss, R. S., Monneret, G. & Payen, D. Immunosuppression in sepsis: a novel understanding of the disorder and a new therapeutic approach. Lancet Infect. Dis. 13, 260–268 (2013).

Scicluna, B. P. et al. A molecular biomarker to diagnose community-acquired pneumonia on intensive care unit admission. Am. J. Respir. Crit. Care Med. 192, 826–835 (2015).

Newman, A. M. et al. Robust enumeration of cell subsets from tissue expression profiles. Nat. Methods 12, 453–457 (2015).

Roy Chowdhury, R. et al. A multi-cohort study of the immune factors associated with M. tuberculosis infection outcomes. Nature 560, 644–648 (2018).

Gossez, M. et al. Proof of concept study of mass cytometry in septic shock patients reveals novel immune alterations. Sci. Rep. 8, 17296 (2018).

Landelle, C. et al. Low monocyte human leukocyte antigen-DR is independently associated with nosocomial infections after septic shock. Intensive Care Med. 36, 1859–1866 (2010).

Veglia, F., Perego, M. & Gabrilovich, D. Myeloid-derived suppressor cells coming of age. Nat. Immunol. 19, 108–119 (2018).

Schrijver, I. T., Théroude, C. & Roger, T. Myeloid-derived suppressor cells in sepsis. Front. Immunol. 10, 327 (2019).

Chavakis, T., Mitroulis, I. & Hajishengallis, G. Hematopoietic progenitor cells as integrative hubs for adaptation to and fine-tuning of inflammation. Nat. Immunol. 20, 802–811 (2019).

Rodriguez, S. et al. Dysfunctional expansion of hematopoietic stem cells and block of myeloid differentiation in lethal sepsis. Blood 114, 4064–4076 (2009).

Zhang, H. et al. Sepsis induces hematopoietic stem cell exhaustion and myelosuppression through distinct contributions of TRIF and MYD88. Stem Cell Reports 6, 940–956 (2016).

Rosenbauer, F. & Tenen, D. G. Transcription factors in myeloid development: balancing differentiation with transformation. Nat. Rev. Immunol. 7, 105–117 (2007).

McPeak, M. B. et al. Frontline Science: myeloid cell-specific deletion of Cebpb decreases sepsis-induced immunosuppression in mice. J. Leukoc. Biol. 102, 191–200 (2017).

Manz, M. G. & Boettcher, S. Emergency granulopoiesis. Nat. Rev. Immunol. 14, 302–314 (2014).

Center for Medicare & Medicaid Services. Sepsis Bundle Project (SEP), National Hospital Inpatient Quality Measures. http://www.qualitynet.org/ (accessed 28 April 2019).

Nakahira, K. et al. Circulating mitochondrial DNA in patients in the ICU as a marker of mortality: derivation and validation. PLoS Med. 10, e1001577 (2013). discussion e1001577.

Dolinay, T. et al. Inflammasome-regulated cytokines are critical mediators of acute lung injury. Am. J. Respir. Crit. Care Med. 185, 1225–1234 (2012).

Stoeckius, M. et al. Cell hashing with barcoded antibodies enables multiplexing and doublet detection for single cell genomics. Genome Biol. 19, 224 (2018).

Wolf, F. A., Angerer, P. & Theis, F. J. SCANPY: large-scale single-cell gene expression data analysis. Genome Biol. 19, 15 (2018).

Kotliar, D. et al. Identifying gene expression programs of cell-type identity and cellular activity with single-cell RNA-seq. Elife 8, 310599 (2019).

Vallania, F. et al. Leveraging heterogeneity across multiple datasets increases cell-mixture deconvolution accuracy and reduces biological and technical biases. Nat. Commun. 9, 4735 (2018).

Haynes, W. A. et al. Empowering multi-cohort gene expression analysis to increase reproducibility. Pac. Symp. Biocomput. 22, 144–153 (2017).

Corces, M. R. et al. An improved ATAC-seq protocol reduces background and enables interrogation of frozen tissues. Nat. Methods 14, 959–962 (2017).

Picelli, S. et al. Full-length RNA-seq from single cells using Smart-seq2. Nat. Protoc. 9, 171–181 (2014).

Ramilowski, J. A. et al. A draft network of ligand-receptor-mediated multicellular signalling in human. Nat. Commun. 6, 7866 (2015).
Acknowledgements
We thank the subjects in our clinical cohorts for participating and donating blood for our study. We are also grateful to the clinical research coordinators and fellows who conducted patient enrollment and performed blood collections: B. Parry, K. Gohres, J. Lee, J. Hwang and K. Richards (MGH); K. Cummins, A. Higuera-Moreno, M. Pinilla-Vera and M. Benson (BWH). We thank A.-C. Villani, A. Arazi, J. Wenger and other members of the Blainey and Hacohen Labs (Broad Institute) for helpful discussions. We thank the Broad Flow Cytometry core for assistance in cell-sorting experiments, and the Broad Genomics Platform for assistance in sequencing. We also thank P. Khatri, S. Schaffert and M. Donato (Stanford University) for advice on bulk gene expression deconvolution and meta-analysis of published datasets. This work was supported by a SPARC award from the Broad Institute (M.B.G.), awards from the Ellison Foundation and the Allergan Foundation (M.B.G.), BARDA 1DSEP160030-01-00 (D.T.H.) and NIH NIAID U24 AI118668 (N.H. and P.C.B.). N.H. was supported by the David P. Ryan, MD Endowed Chair in Cancer Research, R.P.B. was supported by a Mentored Clinical Scientist Research Career Development Award from the NIH (1K08AI119157-04) and P.C.B. was supported by a Career Award at the Scientific Interface from the Burroughs Wellcome Fund.
Ethics declarations
Competing interests
The Broad Institute and MIT may seek to commercialize aspects of this work, and related applications for intellectual property have been filed. In addition, P.C.B. is a consultant to and equity holder in a company, 10X Genomics, whose products were used in this study.
Additional information
Peer review information Saheli Sadanand was the primary editor on this article and managed its editorial process and peer review in collaboration with the rest of the editorial team.
Publisher's note Springer Nature remains neutral with regard to jurisdictional claims in published maps and institutional affiliations.
Supplementary information
About this article
Cite this article
Reyes, M., Filbin, M.R., Bhattacharyya, R.P. et al. An immune-cell signature of bacterial sepsis. Nat Med 26, 333–340 (2020). https://doi.org/10.1038/s41591-020-0752-4
Received:

Accepted:

Published:

Issue Date:

DOI: https://doi.org/10.1038/s41591-020-0752-4