Abstract
We use the genotyping and death register information of 409,693 individuals of British ancestry to investigate fitness effects of the CCR5-∆32 mutation. We estimate a 21% increase in the all-cause mortality rate in individuals who are homozygous for the ∆32 allele. A deleterious effect of the ∆32/∆32 mutation is also independently supported by a significant deviation from the Hardy–Weinberg equilibrium (HWE) due to a deficiency of ∆32/∆32 individuals at the time of recruitment.
Access options
Subscribe to Journal
Get full journal access for 1 year
$59.00
only $4.92 per issue
All prices are NET prices.
VAT will be added later in the checkout.
Tax calculation will be finalised during checkout.
Rent or Buy article
Get time limited or full article access on ReadCube.
from$8.99
All prices are NET prices.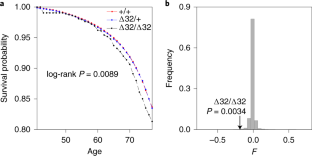 References
1.

Normile, D. Science 362, 978–979 (2018).

2.

Cyranoski, D. First CRISPR babies: six questions that remain Nature (30 November 2018).

3.

Samson, M. et al. Nature 382, 722 (1996).

4.

Wei, X. & Zhang, J. Genetics 205, 925–937 (2017).

5.

Pavlicev, M. & Wagner, G. P. Trends Ecol. Evol. 27, 316–322 (2012).

6.

Galvani, A. P. & Slatkin, M. Proc. Natl Acad. Sci. 100, 15276–15279 (2003).

7.

Cahill, M. E., Conley, S., DeWan, A. T. & Montgomery, R. R. BMC Infect. Dis. 18, 282 (2018).

8.

Joy, M. T. et al. Cell 176, 1143–1157 (2019).

9.

Falcon, A. et al. J. Gen. Virol. 96, 2074–2078 (2015).

10.

Mostafavi, H. et al. PLoS Biol. 15, e2002458 (2017).

11.

Lim, J. K. & Murphy, P. M. Exp. Cell Res. 317, 569–574 (2011).

12.

Bycroft, C. et al. Nature 562, 203 (2018).

13.

Fry, A. et al. Am. J. Epidemiol. 186, 1026–1034 (2017).

14.

Delgado-Rodriguez, M. & Llorca, J. J. Epidemiol. Community Health 58, 635–641 (2004).

15.

Cox, D. R. & Oakes, D. Analysis of Survival Data (Chapman & Hall, 1984).

16.

Nash, S et al. Progress Towards Ending the HIV Epidemic in the United Kingdom: 2018 Report (Public Health England, 2018).

17.

Hoover, K. C. PloS ONE 13, e0204989 (2018).

18.

Patel, V. Impact of Registration Delays on Mortality Statistics: 2016 (Office for National Statistics, 2016); https://www.ons.gov.uk/peoplepopulationandcommunity/birthsdeathsandmarriages/deaths/methodologies/impactofregistrationdelaysonmortalitystatistics2016
Acknowledgements
The authors thank D. Feehan, M. Slatkin, and P. Wilton for discussions about death rate estimation, and R. Durbin, C. Freeman, and G. McVean for discussions about UK Biobank markers. This work is supported by US National Institutes of Health (NIH) grant R01GM116044 to R.N.
Ethics declarations
Competing interests
The authors declare no competing interests.
Additional information
Publisher's note: Springer Nature remains neutral with regard to jurisdictional claims in published maps and institutional affiliations.
Extended data
a, The observed deviation using age at recruitment estimated. Each dot represents one age group. The grey error bars show the 95% confidence intervals estimated from bootstrap the genotypes of individuals recruited at each age 1000 times. The sample size used for each error bar ranges from 15191 to 100117 with a mean of 65479. b, The predicted deviation from HWE using the corrected survival probability. A total of 395704 samples are used. The observed and predicted values are significantly correlated (Spearman's correlation coefficient ρ = 0.67, P = 1.4 × 10−4).
Supplementary information
Supplementary Table 1, Supplementary Materials and Supplementary Methods
About this article
Cite this article
Wei, X., Nielsen, R. CCR5-∆32 is deleterious in the homozygous state in humans. Nat Med 25, 909–910 (2019). https://doi.org/10.1038/s41591-019-0459-6
Received:

Accepted:

Published:

Issue Date: