Abstract
Type I interferons (IFN-Is) are central regulators of anti-tumor immunity and responses to immunotherapy, but they also drive the feedback inhibition underlying therapeutic resistance. In the present study, we developed a mass cytometry approach to quantify IFN-I-stimulated protein expression across immune cells and used multi-omics to uncover pre-therapy cellular states encoding responsiveness to inflammation. Analyzing peripheral blood cells from multiple cancer types revealed that differential responsiveness to IFN-Is before anti-programmed cell death protein 1 (PD1) treatment was highly predictive of long-term survival after therapy. Unexpectedly, IFN-I hyporesponsiveness efficiently predicted long-term survival, whereas high responsiveness to IFN-I was strongly associated with treatment failure and diminished survival time. Peripheral IFN-I responsive states were not associated with tumor inflammation, identifying a disconnect between systemic immune potential and 'cold' or 'hot' tumor states. Mechanistically, IFN-I responsiveness was epigenetically imprinted before therapy, poising cells for differential inflammatory responses and dysfunctional T cell effector programs. Thus, we identify physiological cell states with clinical importance that can predict success and long-term survival of PD1-blocking immunotherapy.
Access options
Subscribe to Nature+
Get immediate online access to Nature and 55 other Nature journal
Subscribe to Journal
Get full journal access for 1 year
$79.00
only $6.58 per issue
All prices are NET prices.
VAT will be added later in the checkout.
Tax calculation will be finalised during checkout.
Buy article
Get time limited or full article access on ReadCube.
$32.00
All prices are NET prices.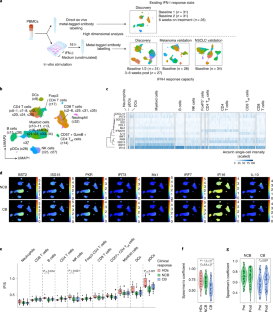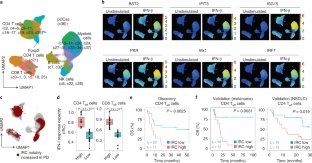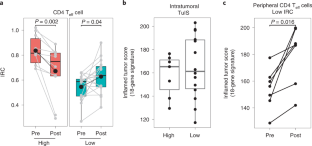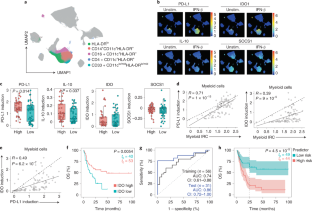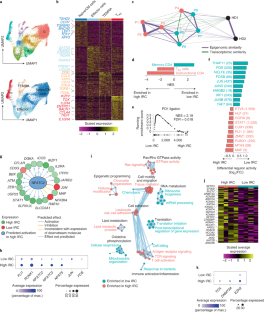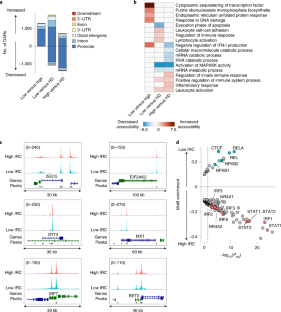 Data availability
ScRNA-seq and scATAC-seq data have been deposited in the Gene Expression Omnibus under accession no. GSE199994. Tumor mRNA-seq is available through the European Genome-phenome Archive, accession no. EGAS00001003280. Blueprint ENCODE data are accessible using the function BlueprintEncodeData() from the R package celldex (v.1.4.0). The JASPAR2020 database used for TF-binding prediction can be accessed through the R package JASPAR2020 (v.0.99.10). The gene sets probed for GSEA analysis are available through the Broad Institute Molecular Signatures Database and can also be accessed through the GSEA application (v.4.2.2). Source data are provided with this paper.
References
Boukhaled, G. M., Harding, S. & Brooks, D. G. Opposing roles of type I interferons in cancer immunity. Annu Rev. Pathol. 16, 167–198 (2021).

Cunningham, C. R. et al. Type I and type II interferon coordinately regulate suppressive dendritic cell fate and function during viral persistence. PLoS Pathog. 12, e1005356 (2016).

Zhen, A. et al. Targeting type I interferon–mediated activation restores immune function in chronic HIV infection. J. Clin. Invest. 127, 260–268 (2017).

Sumida, T.S. et al. Type I interferon transcriptional network regulates expression of coinhibitory receptors in human T cells. Nat. Immunol. 23, 632–642 (2022).

Chen, J. et al. Type I IFN protects cancer cells from CD8+ T cell-mediated cytotoxicity after radiation. J. Clin. Invest. 129, 4224–4238 (2019).

Snell, L. M., McGaha, T. L. & Brooks, D. G. Type I interferon in chronic virus infection and cancer. Trends Immunol. 38, 542–557 (2017).

Wilson, E. B. et al. Blockade of chronic type I interferon signaling to control persistent LCMV infection. Science 340, 202–207 (2013).

Gadalla, R. et al. Validation of CyTOF against flow cytometry for immunological studies and monitoring of human cancer clinical trials. Front. Oncol. https://doi.org/10.3389/fonc.2019.00415 (2019).

Clouthier, D. L. et al. An interim report on the investigator-initiated phase 2 study of pembrolizumab immunological response evaluation (INSPIRE). J. Immunother. Cancer 7, 72 (2019).

Ayers, M. et al. IFN-γ-related mRNA profile predicts clinical response to PD-1 blockade. J. Clin. Invest. 127, 2930–2940 (2017).

Cristescu, R. et al. Pan-tumor genomic biomarkers for PD-1 checkpoint blockade–based immunotherapy. Science 362, eaar3593 (2018).

Cindy Yang, S. Y. et al. Pan-cancer analysis of longitudinal metastatic tumors reveals genomic alterations and immune landscape dynamics associated with pembrolizumab sensitivity. Nat. Commun. 12, 5137 (2021).

Stuart, T., Srivastava, A., Madad, S., Lareau, C. A. & Satija, R. Single-cell chromatin state analysis with Signac. Nat. Methods 18, 1333–1341 (2021).

Cano-Gamez, E. et al. Single-cell transcriptomics identifies an effectorness gradient shaping the response of CD4+ T cells to cytokines. Nat. Commun. 11, 1801 (2020).

Wang, B. et al. Similarity network fusion for aggregating data types on a genomic scale. Nat. Methods 11, 333–337 (2014).

Snell, L. M. et al. Dynamic CD4+ T cell heterogeneity defines subset-specific suppression and PD-L1-blockade-driven functional restoration in chronic infection. Nat. Immunol. 22, 1524–1537 (2021).

Bengsch, B. et al. Epigenomic-guided mass cytometry profiling reveals disease-specific features of exhausted CD8 T cells. Immunity 48, 1029–1045.e1025 (2018).

Aibar, S. et al. SCENIC: single-cell regulatory network inference and clustering. Nat. Methods 14, 1083–1086 (2017).

Kroenke, M. A. et al. Bcl6 and Maf cooperate to instruct human follicular helper CD4 T cell differentiation. J. Immunol. 188, 3734–3744 (2012).

Nance, J. P. et al. Bcl6 middle domain repressor function is required for T follicular helper cell differentiation and utilizes the corepressor MTA3. Proc. Natl Acad. Sci. USA 112, 13324–13329 (2015).

Shen, E. et al. Chromatin remodeling by the NuRD complex regulates development of follicular helper and regulatory T cells. Proc. Natl Acad. Sci. USA 115, 6780–6785 (2018).

Chen, Z. et al. In vivo CD8+ T cell CRISPR screening reveals control by Fli1 in infection and cancer. Cell 184, 1262–1280.e1222 (2021).

Munz, C. et al. TAF7 (TAFII55) plays a role in the transcription activation by c-Jun. J. Biol. Chem. 278, 21510–21516 (2003).

Martinez, G. J. et al. The transcription factor NFAT promotes exhaustion of activated CD8+ T cells. Immunity 42, 265–278 (2015).

Shakiba, M. et al. TCR signal strength defines distinct mechanisms of T cell dysfunction and cancer evasion. J. Exp. Med. 219, e20201966 (2021).

Fahey, L. M. et al. Viral persistence redirects CD4 T cell differentiation toward T follicular helper cells. J. Exp. Med. 208, 987–999 (2011).

York, A. G. et al. Limiting cholesterol biosynthetic flux spontaneously engages type I IFN signaling. Cell 163, 1716–1729 (2015).

Xu, S. et al. Uptake of oxidized lipids by the scavenger receptor CD36 promotes lipid peroxidation and dysfunction in CD8+ T cells in tumors. Immunity 54, 1561–1577.e1567 (2021).

Franco, F., Jaccard, A., Romero, P., Yu, Y.-R. & Ho, P.-C. Metabolic and epigenetic regulation of T-cell exhaustion. Nat. Metab. 2, 1001–1012 (2020).

Wherry, E. J. et al. Molecular signature of CD8+ T cell exhaustion during chronic viral infection. Immunity 27, 670–684 (2007).

Abdel-Hakeem, M. S. et al. Epigenetic scarring of exhausted T cells hinders memory differentiation upon eliminating chronic antigenic stimulation. Nat. Immunol. 22, 1008–1019 (2021).

Yates, K. B. et al. Epigenetic scars of CD8+ T cell exhaustion persist after cure of chronic infection in humans. Nat. Immunol. 22, 1020–1029 (2021).

Zeng, Z., Wei, F. & Ren, X. Exhausted T cells and epigenetic status. Cancer Biol. Med. 17, 923–936 (2020).

McLean, C. Y. et al. GREAT improves functional interpretation of cis-regulatory regions. Nat. Biotechnol. 28, 495–501 (2010).

Legut, M. et al. A genome-scale screen for synthetic drivers of T cell proliferation. Nature 603, 1–8 (2022).

Feng, D. & Barnes, B. J. Bioinformatics analysis of the factors controlling type I IFN gene expression in autoimmune disease and virus-induced immunity. Front. Immunol. 4, 291 (2013).

Sekimata, M. et al. CCCTC-binding factor and the transcription factor T-bet orchestrate T helper 1 cell-specific structure and function at the interferon-gamma locus. Immunity 31, 551–564 (2009).

Shin, H. et al. A role for the transcriptional repressor Blimp-1 in CD8+ T cell exhaustion during chronic viral infection. Immunity 31, 309–320 (2009).

Zhu, C. et al. An IL-27/NFIL3 signalling axis drives Tim-3 and IL-10 expression and T-cell dysfunction. Nat. Commun. 6, 6072–6072 (2015).

Paley, M. A. et al. Progenitor and terminal subsets of CD8+ T cells cooperate to contain chronic viral infection. Science 338, 1220–1225 (2012).

Diskin, B. et al. PD-L1 engagement on T cells promotes self-tolerance and suppression of neighboring macrophages and effector T cells in cancer. Nat. Immunol. 21, 442–454 (2020).

Fairfax, B. P. et al. Peripheral CD8+ T cell characteristics associated with durable responses to immune checkpoint blockade in patients with metastatic melanoma. Nat. Med. 26, 193–199 (2020).

Spitzer, M. H. et al. Systemic immunity is required for effective cancer immunotherapy. Cell 168, 487–502.e415 (2017).

Miron, M. et al. Human lymph nodes maintain TCF-1hi memory T cells with high functional potential and clonal diversity throughout life. J. Immunol. 201, 2132–2140 (2018).

Wu, T. et al. The TCF1-Bcl6 axis counteracts type I interferon to repress exhaustion and maintain T cell stemness. Sci. Immunol. 1, eaai8593 (2016).

Blackburn, S. D., Shin, H., Freeman, G. J. & Wherry, E. J. Selective expansion of a subset of exhausted CD8 T cells by alphaPD-L1 blockade. Proc. Natl Acad. Sci. USA 105, 15016–15021 (2008).

Odunsi, K. et al. Metabolic adaptation of ovarian tumors in patients treated with an IDO1 inhibitor constrains antitumor immune responses. Sci. Transl. Med. 14, eabg8402 (2022).

Pauken, K. E. et al. Epigenetic stability of exhausted T cells limits durability of reinvigoration by PD-1 blockade. Science 354, 1160–1165 (2016).

Schietinger, A. et al. Tumor-specific T cell dysfunction is a dynamic antigen-driven differentiation program initiated early during tumorigenesis. Immunity 45, 389–401 (2016).

Loo Yau, H. et al. DNA hypomethylating agents increase activation and cytolytic activity of CD8+ T cells. Mol. Cell 81, 1469–1483.e1468 (2021).

Sato, T., Issa, J.-P. J. & Kropf, P. DNA hypomethylating drugs in cancer therapy. Cold Spring Harb. Perspect. Med. 7, a026948 (2017).

Nixon, A. B. et al. Peripheral immune-based biomarkers in cancer immunotherapy: can we realize their predictive potential? J. Immunother. Cancer 7, 325 (2019).

Hao, Y. et al. Integrated analysis of multimodal single-cell data. Cell 184, 3573–3587.e3529 (2021).

Stuart, T. et al. Comprehensive integration of single-cell data. Cell 177, 1888–1902.e1821 (2019).

Aran, D. et al. Reference-based analysis of lung single-cell sequencing reveals a transitional profibrotic macrophage. Nat. Immunol. 20, 163–172 (2019).

Zhang, Y. et al. Model-based analysis of ChIP-Seq (MACS). Genome Biol. 9, R137 (2008).

Yu, G., Wang, L.-G. & He, Q.-Y. ChIPseeker: an R/Bioconductor package for ChIP peak annotation, comparison and visualization. Bioinformatics 31, 2382–2383 (2015).

Fornes, O. et al. JASPAR 2020: update of the open-access database of transcription factor binding profiles. Nucleic Acids Res. 48, D87–D92 (2019).

Schep, A. N., Wu, B., Buenrostro, J. D. & Greenleaf, W. J. chromVAR: inferring transcription-factor-associated accessibility from single-cell epigenomic data. Nat. Methods 14, 975–978 (2017).
Acknowledgements
We thank past and present members of the Brooks laboratory and Tumor Immunotherapy Program Immune Profiling Core for technical help and discussion. We thank the Biostatistics Department at the Princess Margaret Cancer Center, especially K. Lajkosz and Z. A. Liu for consultation and manuscript review. We thank Merck Sharp & Dohme Corp., a subsidiary of Merck & Co., Inc., Kenilworth, NJ, USA for providing the anti-PD1 used for the treatment of patients in the INSPIRE trial. This work was supported by the Canadian Institutes of Health Research Foundation (grant no. FDN148386 to D.G.B.), the Canadian Cancer Society (innovation award no. 706230 to D.G.B.), the National Institutes of Health (grant no. AI085043 to D.G.B.), The Terry Fox New Frontiers grant (to D.G.B. and T.L.M.), the Scotiabank Research Chair to D.G.B. and the Princess Margaret Hold'em for Life Cancer Research Fellowship (G.M.B.).
Ethics declarations
Competing interests
A.R.H. provides consultation/advice for Merck, GlaxoSmithKline, Bristol-Myers Squibb and Eisai, and receives research funding for Karyopharm Therapeutics, Merck, GlaxoSmithKline, Bristol-Myers Squibb, Roche/Genentech, Boeringher Ingelheim, Janssen, AstraZeneca/MedImmune, Astellas and Macrogenics. A.S. is a consultant for (Advisory Board): Merck (compensated), Bristol-Myers Squibb (compensated), Novartis (compensated), Oncorus (compensated) and Janssen (compensated). A.S. receives grant/research support from (Clinical Trials): Novartis, Bristol-Myers Squibb, Symphogen AstraZeneca/Medimmune, Merck, Bayer, Surface Oncology, Northern Biologics, Janssen Oncology/Johnson & Johnson, Roche, Regeneron, Alkermes, Array Biopharma/Pfizer, GSK, Treadwell. P.S.O. is a scientific advisory board member for Providence, Tessa and holds a sponsored research agreement with EMD Serono. M.O.B. is a consultant and on the advisory board for: Merck, Bristol-Myers Quibb, Novartis, GlaxoSmithKline, Sanofi, LaRoche, Possey, Sun Pharma, Instil Bio, IOVANCE and Pfizer, and receives grant funding from Merck, Takara and the safety review committee for Adaptimmune. G.M.B., H.J.E. and D.G.B. have filed a provisional patent pertaining to this work. The remaining authors declare no competing interests.
Peer review
Peer review information
Nature Immunology thanks Erwei Song and the other, anonymous, reviewer(s) for their contribution to the peer review of this work. Primary Handling Editor: N. Bernard in collaboration with the Nature Immunology team.
Additional information
Publisher's note Springer Nature remains neutral with regard to jurisdictional claims in published maps and institutional affiliations.
Supplementary information
Supplementary Tables 1–4.
About this article
Cite this article
Boukhaled, G.M., Gadalla, R., Elsaesser, H.J. et al. Pre-encoded responsiveness to type I interferon in the peripheral immune system defines outcome of PD1 blockade therapy. Nat Immunol 23, 1273–1283 (2022). https://doi.org/10.1038/s41590-022-01262-7
Received:

Accepted:

Published:

Issue Date:

DOI: https://doi.org/10.1038/s41590-022-01262-7