Abstract
One of most challenging issues in tumor immunology is a better understanding of the dynamics in the accumulation of myeloid-derived suppressor cells (MDSCs) in the tumor microenvironment (TIME), as this would lead to the development of new cancer therapeutics. Here, we show that translationally controlled tumor protein (TCTP) released by dying tumor cells is an immunomodulator crucial to full-blown MDSC accumulation in the TIME. We provide evidence that extracellular TCTP mediates recruitment of the polymorphonuclear MDSC (PMN-MDSC) population in the TIME via activation of Toll-like receptor-2. As further proof of principle, we show that inhibition of TCTP suppresses PMN-MDSC accumulation and tumor growth. In human cancers, we find an elevation of TCTP and an inverse correlation of TCTP gene dosage with antitumor immune signatures and clinical prognosis. This study reveals the hitherto poorly understood mechanism of the MDSC dynamics in the TIME, offering a new rationale for cancer immunotherapy.
Access options
Subscribe to Nature+
Get immediate online access to the entire Nature family of 50+ journals
Subscribe to Journal
Get full journal access for 1 year
$99.00
only $8.25 per issue
All prices are NET prices.
VAT will be added later in the checkout.
Tax calculation will be finalised during checkout.
Buy article
Get time limited or full article access on ReadCube.
$32.00
All prices are NET prices.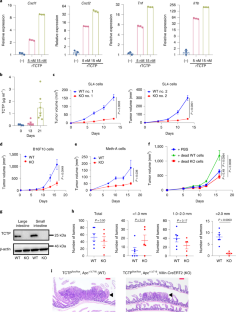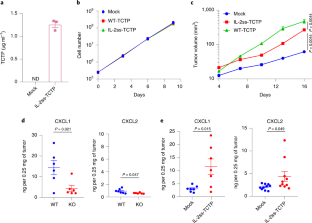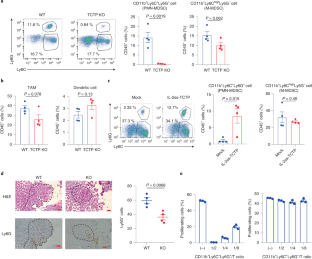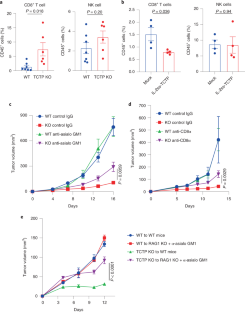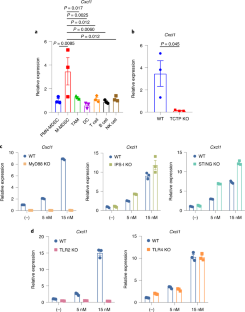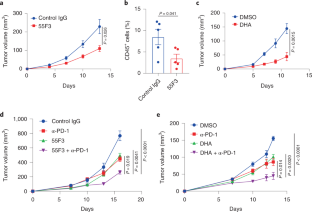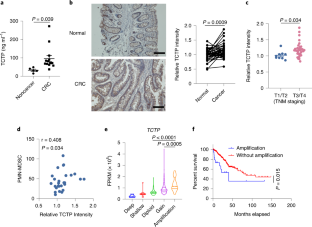 References
Binnewies, M. et al. Understanding the tumor immune microenvironment (TIME) for effective therapy. Nat. Med. 24, 541–550 (2018).

Sharma, P. & Allison, J. P. Immune checkpoint targeting in cancer therapy: toward combination strategies with curative potential. Cell 161, 205–214 (2015).

Trujillo, J. A., Sweis, R. F., Bao, R. & Luke, J. J. T cell-inflamed versus non-T cell-inflamed tumors: a conceptual framework for cancer immunotherapy drug development and combination therapy selection. Cancer Immunol. Res. 6, 990–1000 (2018).

Munn, D. H. & Bronte, V. Immune suppressive mechanisms in the tumor microenvironment. Curr. Opin. Immunol. 39, 1–6 (2016).

Ninomiya, S. et al. Tumor indoleamine 2,3-dioxygenase (IDO) inhibits CD19-CAR T cells and is downregulated by lymphodepleting drugs. Blood 125, 3905–3916 (2015).

Weiss, J. M. et al. Macrophage-dependent nitric oxide expression regulates tumor cell detachment and metastasis after IL-2/anti-CD40 immunotherapy. J. Exp. Med. 207, 2455–2467 (2010).

Jinushi, M. et al. Tumor-associated macrophages regulate tumorigenicity and anticancer drug responses of cancer stem/initiating cells. Proc. Natl Acad. Sci. USA 108, 12425–12430 (2011).

Yu, J. et al. Myeloid-derived suppressor cells suppress antitumor immune responses through IDO expression and correlate with lymph node metastasis in patients with breast cancer. J. Immunol. 190, 3783–3797 (2013).

Mao, Y. et al. Inhibition of tumor-derived prostaglandin-e2 blocks the induction of myeloid-derived suppressor cells and recovers natural killer cell activity. Clin. Cancer Res. 20, 4096–4106 (2014).

Kumar, V., Patel, S., Tcyganov, E. & Gabrilovich, D. I. The nature of myeloid-derived suppressor cells in the tumor microenvironment. Trends Immunol. 37, 208–220 (2016).

Molon, B. et al. Chemokine nitration prevents intratumoral infiltration of antigen-specific T cells. J. Exp. Med. 208, 1949–1962 (2011).

Veglia, F., Perego, M. & Gabrilovich, D. Myeloid-derived suppressor cells coming of age. Nat. Immunol. 19, 108–119 (2018).

Jiang, H. et al. Elevated chronic inflammatory factors and myeloid-derived suppressor cells indicate poor prognosis in advanced melanoma patients. Int. J. Cancer 136, 2352–2360 (2015).

Diaz-Montero, C. M. et al. Increased circulating myeloid-derived suppressor cells correlate with clinical cancer stage, metastatic tumor burden, and doxorubicin-cyclophosphamide chemotherapy. Cancer Immunol. Immunother. 58, 49–59 (2009).

Limagne, E. et al. Accumulation of MDSC and TH17 cells in patients with metastatic colorectal cancer predicts the efficacy of a FOLFOX-bevacizumab drug treatment regimen. Cancer Res. 76, 5241–5252 (2016).

Ackerman, D. & Simon, M. C. Hypoxia, lipids, and cancer: surviving the harsh tumor microenvironment. Trends Cell Biol. 24, 472–478 (2014).

Galluzzi, L., Buque, A., Kepp, O., Zitvogel, L. & Kroemer, G. Immunogenic cell death in cancer and infectious disease. Nat. Rev. Immunol. 17, 97–111 (2017).

Galluzzi, L. et al. Consensus guidelines for the definition, detection and interpretation of immunogenic cell death. J. Immunother. Cancer https://doi.org/10.1136/jitc-2019-000337 (2020).

Gorgulho, C. M., Romagnoli, G. G., Bharthi, R. & Lotze, M. T. Johnny on the spot-chronic inflammation is driven by HMGB1. Front. Immunol. 10, 1561 (2019).

Hiraoka, N. et al. Tumour necrosis is a postoperative prognostic marker for pancreatic cancer patients with a high interobserver reproducibility in histological evaluation. Br. J. Cancer 103, 1057–1065 (2010).

Hangai, S. et al. PGE2 induced in and released by dying cells functions as an inhibitory DAMP. Proc. Natl Acad. Sci. USA 113, 3844–3849 (2016).

Katoh, H. et al. CXCR2-expressing myeloid-derived suppressor cells are essential to promote colitis-associated tumorigenesis. Cancer Cell 24, 631–644 (2013).

Amson, R. et al. Reciprocal repression between P53 and TCTP. Nat. Med. 18, 91–99 (2011).

Cans, C. et al. Translationally controlled tumor protein acts as a guanine nucleotide dissociation inhibitor on the translation elongation factor eEF1A. Proc. Natl Acad. Sci. USA 100, 13892–13897 (2003).

Du, J., Yang, P., Kong, F. & Liu, H. Aberrant expression of translationally controlled tumor protein (TCTP) can lead to radioactive susceptibility and chemosensitivity in lung cancer cells. Oncotarget 8, 101922–101935 (2017).

Amson, R., Pece, S., Marine, J. C., Di Fiore, P. P. & Telerman, A. TPT1/ TCTP-regulated pathways in phenotypic reprogramming. Trends Cell Biol. 23, 37–46 (2013).

Revesz, L. Effect of tumour cells killed by X-rays upon the growth of admixed viable cells. Nature 178, 1391–1392 (1956).

Oshima, M. et al. Loss of Apc heterozygosity and abnormal tissue building in nascent intestinal polyps in mice carrying a truncated Apc gene. Proc. Natl Acad. Sci. USA 92, 4482–4486 (1995).

Tiberio, L. et al. Chemokine and chemotactic signals in dendritic cell migration. Cell. Mol. Immunol. 15, 346–352 (2018).

Highfill, S. L. et al. Disruption of CXCR2-mediated MDSC tumor trafficking enhances anti-PD1 efficacy. Sci. Transl. Med. 6, 237ra267 (2014).

Kawai, T. & Akira, S. The role of pattern-recognition receptors in innate immunity: update on Toll-like receptors. Nat. Immunol. 11, 373–384 (2010).

Gong, T., Liu, L., Jiang, W. & Zhou, R. DAMP-sensing receptors in sterile inflammation and inflammatory diseases. Nat. Rev. Immunol. 20, 95–112 (2020).

Scheeren, F. A. et al. A cell-intrinsic role for TLR2-MYD88 in intestinal and breast epithelia and oncogenesis. Nat. Cell Biol. 16, 1238–1248 (2014).

Fujita, T. et al. Human fortilin is a molecular target of dihydroartemisinin. FEBS Lett. 582, 1055–1060 (2008).

Zhang, F. et al. Dihydroartemisinin inhibits TCTP-dependent metastasis in gallbladder cancer. J. Exp. Clin. Cancer Res. 36, 68 (2017).

Weber, R. et al. Myeloid-derived suppressor cells hinder the anti-cancer activity of immune checkpoint inhibitors. Front. Immunol. 9, 1310 (2018).

Bronte, V. et al. Recommendations for myeloid-derived suppressor cell nomenclature and characterization standards. Nat. Commun. 7, 12150 (2016).

Rooney, M. S., Shukla, S. A., Wu, C. J., Getz, G. & Hacohen, N. Molecular and genetic properties of tumors associated with local immune cytolytic activity. Cell 160, 48–61 (2015).

Kolaczkowska, E. & Kubes, P. Neutrophil recruitment and function in health and inflammation. Nat. Rev. Immunol. 13, 159–175 (2013).

Sinha, P., Clements, V. K., Bunt, S. K., Albelda, S. M. & Ostrand-Rosenberg, S. Cross-talk between myeloid-derived suppressor cells and macrophages subverts tumor immunity toward a type 2 response. J. Immunol. 179, 977–983 (2007).

Zhang, J. et al. CD13hi neutrophil-like myeloid-derived suppressor cells exert immune suppression through arginase 1 expression in pancreatic ductal adenocarcinoma. Oncoimmunology 6, e1258504 (2017).

Kimura, Y. et al. The innate immune receptor dectin-2 mediates the phagocytosis of cancer cells by Kupffer cells for the suppression of liver metastasis. Proc. Natl Acad. Sci. USA 113, 14097–14102 (2016).

Kim, M. et al. Dimerization of translationally controlled tumor protein is essential for its cytokine-like activity. PLoS ONE 4, e6464 (2009).

Walsh, B. J., Gooley, A. A., Williams, K. L. & Breit, S. N. Identification of macrophage activation associated proteins by two-dimensional gel electrophoresis and microsequencing. J. Leukoc. Biol. 57, 507–512 (1995).

Epperly, R., Gottschalk, S. & Velasquez, M. P. A bump in the road: how the hostile AML microenvironment affects CAR T cell therapy. Front. Oncol. 10, 262 (2020).

Wu, T. D. et al. Peripheral T cell expansion predicts tumour infiltration and clinical response. Nature 579, 274–278 (2020).

Price, J. G. et al. CDKN1A regulates Langerhans cell survival and promotes Treg cell generation upon exposure to ionizing irradiation. Nat. Immunol. 16, 1060–1068 (2015).

Seifert, L. et al. The necrosome promotes pancreatic oncogenesis via CXCL1 and Mincle-induced immune suppression. Nature 532, 245–249 (2016).

Biswas, S. K. & Lopez-Collazo, E. Endotoxin tolerance: new mechanisms, molecules and clinical significance. Trends Immunol. 30, 475–487 (2009).

Butcher, S. K., O'Carroll, C. E., Wells, C. A. & Carmody, R. J. Toll-like receptors drive specific patterns of tolerance and training on restimulation of macrophages. Front. Immunol. 9, 933 (2018).

Chiba, S. et al. Recognition of tumor cells by Dectin-1 orchestrates innate immune cells for anti-tumor responses. Elife 3, e04177 (2014).

Takaoka, A. et al. Integral role of IRF-5 in the gene induction programme activated by Toll-like receptors. Nature 434, 243–249 (2005).

Cerami, E. et al. The cBio cancer genomics portal: an open platform for exploring multidimensional cancer genomics data. Cancer Discov. 2, 401–404 (2012).

Gao, J. et al. Integrative analysis of complex cancer genomics and clinical profiles using the cBioPortal. Sci. Signal. 6, pl1 (2013).

Crowe, A. R. & Yue, W. Semi-quantitative determination of protein expression using immunohistochemistry staining and analysis: an integrated protocol. Bioprotocol https://doi.org/10.21769/BioProtoc.3465 (2019).

Takaoka, A. et al. DAI (DLM-1/ZBP1) is a cytosolic DNA sensor and an activator of innate immune response. Nature 448, 501–505 (2007).
Acknowledgements
We thank H.-F. Yang-Yen and S. Robine for providing Tctpflox mice and Villin-Cre-ERT2 mice, respectively. We also thank T. Nitta, T. Tanoue and K. Honda for providing materials. We thank M. Sugahara for technical assistance. This work was supported in part by a Grant-In-Aid for Young Scientists 18030848 (S. Hangai); Scientific Research (S) 15638461 (T.T.); Scientific Research (A) 20298458 (T.T.); and a Research Fellowship for Young Scientists 19J00887 (S. Hibino) from the Ministry of Education, Culture, Sports, Science of Japan (MEXT); Grant AMED-PRIME JP20gm6110008 (H.Y.) from the Japan Agency for Medical Research and Development; the Uehara Memorial Foundation (S. Hangai); the Takeda Science Foundation (S. Hangai); and the Naito Foundation (H.Y.). The Department of Inflammology is supported by the BONAC Corporation.
Ethics declarations
Competing interests
A patent is pending regarding this study; the patent applicant is the University of Tokyo. Inventors are T.T., H.Y. and S. Hangai. The anti-TCTP monoclonal antibody is covered in the patent application (Japanese patent application no. 2020-147222). The remaining authors declare no competing interests.
Additional information
Peer review information Nature Immunology thanks Michael Lotze and Yuting Ma for their contribution to the peer review of this work. Zoltan Fehervari was the primary editor on this article and managed its editorial process and peer review in collaboration with the rest of the editorial team.
Publisher's note Springer Nature remains neutral with regard to jurisdictional claims in published maps and institutional affiliations.
Supplementary information
About this article
Cite this article
Hangai, S., Kawamura, T., Kimura, Y. et al. Orchestration of myeloid-derived suppressor cells in the tumor microenvironment by ubiquitous cellular protein TCTP released by tumor cells. Nat Immunol 22, 947–957 (2021). https://doi.org/10.1038/s41590-021-00967-5
Received:

Accepted:

Published:

Issue Date:

DOI: https://doi.org/10.1038/s41590-021-00967-5
This article is cited by
Guido Kroemer
Claudia Galassi
Lorenzo Galluzzi

Nature Immunology (2022)

Nature Immunology (2021)