Abstract
Sepsis is a biphasic disease characterized by an acute inflammatory response, followed by a prolonged immunosuppressive phase. Therapies aimed at controlling inflammation help to reduce the time patients with sepsis spend in intensive care units, but they do not lead to a reduction in overall mortality. Recently, the focus has been on addressing the immunosuppressive phase, often caused by apoptosis of immune cells. However, molecular triggers of these events are not yet known. Using whole-genome CRISPR screening in mice, we identified a triggering receptor expressed on myeloid cells (TREM) family receptor, TREML4, as a key regulator of inflammation and immune cell death in sepsis. Genetic ablation of Treml4 in mice demonstrated that TREML4 regulates calcium homeostasis, the inflammatory cytokine response, myeloperoxidase activation, the endoplasmic reticulum stress response and apoptotic cell death in innate immune cells, leading to an overall increase in survival rate, both during the acute and chronic phases of polymicrobial sepsis.
Relevant articles
Open Access articles citing this article.
Di Liu

,

Si-Yuan Huang

…

Ling Zeng

Military Medical Research Open Access 09 October 2022

Marianna Ioannou

,

Dennis Hoving

…

Venizelos Papayannopoulos

Nature Communications Open Access 09 August 2022

Yang Liu

,

Renjie Song

…

Xuetao Cao

Signal Transduction and Targeted Therapy Open Access 29 June 2022
Access options
Subscribe to Nature+
Get immediate online access to Nature and 55 other Nature journal
Subscribe to Journal
Get full journal access for 1 year
$79.00
only $6.58 per issue
All prices are NET prices.
VAT will be added later in the checkout.
Tax calculation will be finalised during checkout.
Buy article
Get time limited or full article access on ReadCube.
$32.00
All prices are NET prices.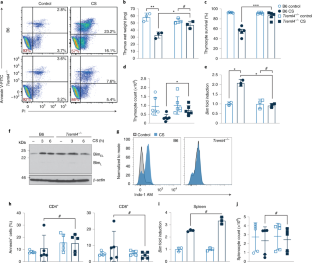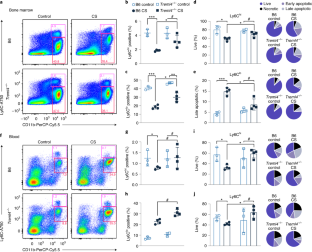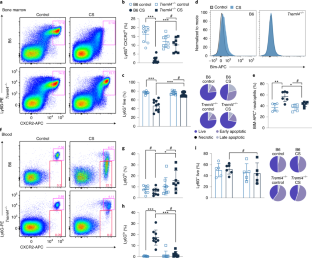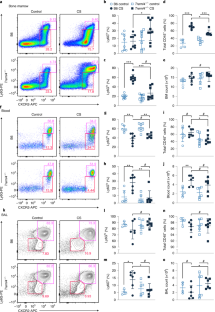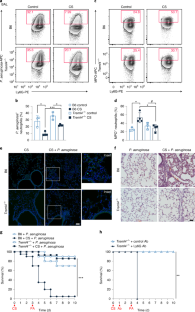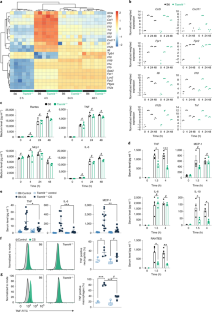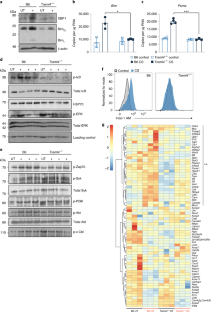 Data availability
The authors declare that all relevant data supporting the findings of this study are available within the paper and the Extended Data. The CRISPR screening data can be accessed from BioStudies under accession number S-BSST399. The complete RNA-seq data is available from the Sequence Read Archive (SRA) under submission number SUB7079928. The mass spectrometric data is available from the PRoteomics IDEntifications (PRIDE) database under submission number PXD019055. Source data are provided with this paper.
References
Dugani, S., Veillard, J. & Kissoon, N. Reducing the global burden of sepsis. CMAJ 189, E2–E3 (2017).

Hotchkiss, R. S., Monneret, G. & Payen, D. Sepsis-induced immunosuppression: from cellular dysfunctions to immunotherapy. Nat. Rev. Immunol. 13, 862–874 (2013).

Davies, R., O'Dea, K. & Gordon, A. Immune therapy in sepsis: are we ready to try again? J. Intensive Care Soc. 19, 326–344 (2018).

Nedeva, C., Menassa, J. & Puthalakath, H. Sepsis: inflammation is a necessary evil. Front. Cell Dev. Biol. 7, 108 (2019).

Delano, M. J. & Ward, P. A. Sepsis-induced immune dysfunction: can immune therapies reduce mortality? J. Clin. Invest. 126, 23–31 (2016).

Ono, S., Tsujimoto, H., Hiraki, S. & Aosasa, S. Mechanisms of sepsis-induced immunosuppression and immunological modification therapies for sepsis. Ann. Gastroenterol. Surg. 2, 351–358 (2018).

Nowill, A. E. et al. Immune response resetting in ongoing sepsis. J. Immunol. 203, 1298–1312 (2019).

Boomer, J. S., Green, J. M. & Hotchkiss, R. S. The changing immune system in sepsis: is individualized immunomodulatory therapy the answer? Virulence 5, 45–56 (2014).

Zhang, H. et al. Sepsis induces hematopoietic stem cell exhaustion and myelosuppression through distinct contributions of TRIF and MYD88. Stem Cell Reports 6, 940–956 (2016).

Tzelepis, K. et al. A CRISPR dropout screen identifies genetic vulnerabilities and therapeutic targets in acute myeloid leukemia. Cell Rep. 17, 1193–1205 (2016).

Doerflinger, M., Glab, J. & Puthalakath, H. Experimental in vivo sepsis models to monitor immune cell apoptosis and survival in laboratory mice. Methods Mol. Biol. 1419, 69–81 (2016).

Hemmi, H. et al. A new triggering receptor expressed on myeloid cells (Trem) family member, Trem-like 4, binds to dead cells and is a DNAX activation protein 12-linked marker for subsets of mouse macrophages and dendritic cells. J. Immunol. 182, 1278–1286 (2009).

Hemmi, H. et al. Treml4, an Ig superfamily member, mediates presentation of several antigens to T cells in vivo, including protective immunity to HER2 protein. J. Immunol. 188, 1147–1155 (2012).

Ramirez-Ortiz, Z. G. et al. The receptor TREML4 amplifies TLR7-mediated signaling during antiviral responses and autoimmunity. Nat. Immunol. 16, 495–504 (2015).

Bouillet, P. et al. Proapoptotic Bcl-2 relative Bim required for certain apoptotic responses, leukocyte homeostasis, and to preclude autoimmunity. Science 286, 1735–1738 (1999).

Cante-Barrett, K., Gallo, E. M., Winslow, M. M. & Crabtree, G. R. Thymocyte negative selection is mediated by protein kinase C- and Ca2+-dependent transcriptional induction of Bim. J. Immunol. 176, 2299–2306 (2006); erratum 176, 3843 (2006).

Caissutti, C. et al. Small fetal thymus and adverse obstetrical outcome: a systematic review and a meta-analysis. Acta Obstet. Gynecol. Scand. 97, 111–121 (2018).

Basu, S., Dewangan, S., Shukla, R. C., Anupurva, S. & Kumar, A. Thymic involution as a predictor of early-onset neonatal sepsis. Paediatr. Int. Child Health 32, 147–151 (2012).

Hatano, S. et al. Recombinant Mycobacterium bovis Bacillus Calmette-Guérin expressing Ag85B-IL-7 fusion protein enhances IL-17A-producing innate γδ T cells. Vaccine 34, 2490–2495 (2016).

Markwart, R. et al. Immunosuppression after sepsis: systemic inflammation and sepsis induce a loss of naive T-cells but no enduring cell-autonomous defects in T cell function. PLoS ONE 9, e115094 (2014).

Siracusa, F. et al. CD69+ memory T lymphocytes of the bone marrow and spleen express the signature transcripts of tissue-resident memory T lymphocytes. Eur. J. Immunol. 49, 966–968 (2019).

Luan, Y. Y., Yao, Y. M., Xiao, X. Z. & Sheng, Z. Y. Insights into the apoptotic death of immune cells in sepsis. J. Interferon Cytokine Res. 35, 17–22 (2015).

Misharin, A. V., Morales-Nebreda, L., Mutlu, G. M., Budinger, G. R. & Perlman, H. Flow cytometric analysis of macrophages and dendritic cell subsets in the mouse lung. Am. J. Respir. Cell Mol. Biol. 49, 503–510 (2013).

Roger, T. & Calandra, T. Interleukin-33 safeguards neutrophils in sepsis. Nat. Med. 16, 638–639 (2010).

Hampson, P. et al. Neutrophil dysfunction, immature granulocytes and cell-free DNA are early biomarkers of sepsis in burn-injured patients: a prospective observational cohort study. Ann. Surg. 265, 1241–1249 (2017).

Matsushima, H. et al. Neutrophil differentiation into a unique hybrid population exhibiting dual phenotype and functionality of neutrophils and dendritic cells. Blood 121, 1677–1689 (2013).

Condotta, S. A., Khan, S. H., Rai, D., Griffith, T. S. & Badovinac, V. P. Polymicrobial sepsis increases susceptibility to chronic viral infection and exacerbates CD8+ T cell exhaustion. J. Immunol. 195, 116–125 (2015).

Chen, W. et al. Ethyl pyruvate reverses development of Pseudomonas aeruginosa pneumonia during sepsis-induced immunosuppression. Int. Immunopharmacol. 52, 61–69 (2017).

Muenzer, J. T. et al. Pneumonia after cecal ligation and puncture: a clinically relevant 'two-hit' model of sepsis. Shock 26, 565–570 (2006).

Kremserova, S. et al. Lung neutrophilia in myeloperoxidase-deficient mice during the course of acute pulmonary inflammation. Oxid. Med. Cell. Longev. 2016, 5219056 (2016).

Galani, I. E. & Andreakos, E. Neutrophils in viral infections: current concepts and caveats. J. Leukoc. Biol. 98, 557–564 (2015).

Tate, M. D., Brooks, A. G. & Reading, P. C. The role of neutrophils in the upper and lower respiratory tract during influenza virus infection of mice. Respir. Res. 9, 57 (2008).

Seeley, J. J. et al. Induction of innate immune memory via microRNA targeting of chromatin remodelling factors. Nature 559, 114–119 (2018).

Cavaillon, J. M. & Adib-Conquy, M. Bench-to-bedside review: endotoxin tolerance as a model of leukocyte reprogramming in sepsis. Crit. Care 10, 233 (2006).

Turnbull, I. R. et al. DAP12 (KARAP) amplifies inflammation and increases mortality from endotoxemia and septic peritonitis. J. Exp. Med. 202, 363–369 (2005).

Futosi, K., Fodor, S. & Mocsai, A. Neutrophil cell surface receptors and their intracellular signal transduction pathways. Int. Immunopharmacol. 17, 638–650 (2013).

Bahar, E., Kim, H. & Yoon, H. ER stress-mediated signaling: action potential and Ca2+ as key players. Int. J. Mol. Sci. 17, 1558–1580 (2016).

Gorudko, I. V. et al. Neutrophil activation in response to monomeric myeloperoxidase. Biochem. Cell Biol. 96, 592–601 (2018).

Hann, J., Bueb, J. L., Tolle, F. & Brechard, S. Calcium signaling and regulation of neutrophil functions: still a long way to go. J. Leukoc. Biol. 107, 285–297 (2019).

Ayala, A., Herdon, C. D., Lehman, D. L., Ayala, C. A. & Chaudry, I. H. Differential induction of apoptosis in lymphoid tissues during sepsis: variation in onset, frequency and the nature of the mediators. Blood 87, 4261–4275 (1996).

Madsen, M. B. et al. Patient's characteristics and outcomes in necrotising soft-tissue infections: results from a Scandinavian, multicentre, prospective cohort study. Intensive Care Med. 45, 1241–1251 (2019).

Bordon, J. et al. Understanding the roles of cytokines and neutrophil activity and neutrophil apoptosis in the protective versus deleterious inflammatory response in pneumonia. Int. J. Infect. Dis. 17, e76–e83 (2013).

Yoshida, T. et al. Relationship between neutrophil influx and oxidative stress in alveolar space in lipopolysaccharide-induced lung injury. Respir. Physiol. Neurobiol. 191, 75–83 (2014).

Delgado-Rizo, V. et al. Neutrophil extracellular traps and its implications in inflammation: an overview. Front. Immunol. 8, 81 (2017).

Warren, H. S. Mouse models to study sepsis syndrome in humans. J. Leukoc. Biol. 86, 199–201 (2009).

Stortz, J. A. et al. Murine models of sepsis and trauma: can we bridge the gap? ILAR J. 58, 90–105 (2017).

Takao, K. & Miyakawa, T. Genomic responses in mouse models greatly mimic human inflammatory diseases. Proc. Natl Acad. Sci. USA 112, 1167–1172 (2015).

Osterburg, A. R. et al. Concerns over interspecies transcriptional comparisons in mice and humans after trauma. Proc. Natl Acad. Sci. USA 110, E3370 (2013).

Feterowski, C. et al. Effects of functional Toll-like receptor-4 mutations on the immune response to human and experimental sepsis. Immunology 109, 426–431 (2003).

Klesney-Tait, J., Turnbull, I. R. & Colonna, M. The TREM receptor family and signal integration. Nat. Immunol. 7, 1266–1273 (2006).

Koike-Yusa, H., Li, Y., Tan, E. P., Velasco-Herrera Mdel, C. & Yusa, K. Genome-wide recessive genetic screening in mammalian cells with a lentiviral CRISPR-guide RNA library. Nat. Biotechnol. 32, 267–273 (2014).

Aubrey, B. J. et al. An inducible lentiviral guide RNA platform enables the identification of tumor-essential genes and tumor-promoting mutations in vivo. Cell Rep. 10, 1422–1432 (2015).

Haviernik, P., Zhang, Y. & Bunting, K. D. Retroviral transduction of murine hematopoietic stem cells. Methods Mol. Biol. 430, 229–241 (2008).

Cheng, H., Liang, P. H. & Cheng, T. Mouse hematopoietic stem cell transplantation. Methods Mol. Biol. 976, 25–35 (2013).

Droop, A. P. fqtools: an efficient software suite for modern FASTQ file manipulation. Bioinformatics 32, 1883–1884 (2016).

Manzanero, S. In Leucocytes. Methods in Molecular Biology Vol. 844 (ed. Ashman, R.) 177–181 (Humana Press, 2012).

Cox, J. & Mann, M. MaxQuant enables high peptide identification rates, individualized p.p.b.-range mass accuracies and proteome-wide protein quantification. Nat. Biotechnol. 26, 1367–1372 (2008).

Mellacheruvu, D. et al. The CRAPome: a contaminant repository for affinity purification-mass spectrometry data. Nat. Methods 10, 730–736 (2013).

Ritchie, M. E. et al. limma powers differential expression analyses for RNA-sequencing and microarray studies. Nucleic Acids Res. 43, e47 (2015).

Rappsilber, J., Mann, M. & Ishihama, Y. Protocol for micro-purification, enrichment, pre-fractionation and storage of peptides for proteomics using StageTips. Nat. Protoc. 2, 1896–1906 (2007).
Acknowledgements
We thank R. Anders and J. Goding for critically reading the manuscript. We thank A. Baxter for reagents, La Trobe University Animal Ethics Committee and the LARTF staff for facilitating mouse experiments and the La Trobe Bioimaging Platform for the maintenance of the flow cytometry facility. We also thank S. Wilcox and P. Hickey (Walter and Eliza Hall Institute) for RNA-seq and bioinformatics. H.P. and C.N. were supported by La Trobe University funding (RFA-UD) and the Strategic Innovation Fund. J.M. is supported by La Trobe University's postgraduate scholarship. The generation of Treml4−/− mice used in this study was supported by the Australian Phenomics Network and the Australian Government through the National Collaborative Research Infrastructure Strategy program.
Ethics declarations
Competing interests
The authors declare no competing interests.
Additional information
Peer review information Peer reviewer reports are available. L. A. Dempsey was the primary editor on this article and managed its editorial process and peer review in collaboration with the rest of the editorial team.
Publisher's note Springer Nature remains neutral with regard to jurisdictional claims in published maps and institutional affiliations.
Supplementary information
About this article
Cite this article
Nedeva, C., Menassa, J., Duan, M. et al. TREML4 receptor regulates inflammation and innate immune cell death during polymicrobial sepsis. Nat Immunol 21, 1585–1596 (2020). https://doi.org/10.1038/s41590-020-0789-z
Received:

Accepted:

Published:

Issue Date:

DOI: https://doi.org/10.1038/s41590-020-0789-z