Abstract
Single-strand RNA (ssRNA) Fiersviridae phages cause host lysis with a product of single gene (sgl for single-gene lysis; product Sgl) that induces autolysis. Many different Sgls have been discovered, but the molecular targets of only a few have been identified. In this study, we used a high-throughput genetic screen to uncover genome-wide host suppressors of diverse Sgls. In addition to validating known molecular mechanisms, we discovered that the Sgl of PP7, an ssRNA phage of Pseudomonas aeruginosa, targets MurJ, the flippase responsible for lipid II export, previously shown to be the target of the Sgl of coliphage M. These two Sgls, which are unrelated and predicted to have opposite membrane topology, thus represent a case of convergent evolution. We extended the genetic screens to other uncharacterized Sgls and uncovered a common set of multicopy suppressors, suggesting that these Sgls act by the same or similar mechanism.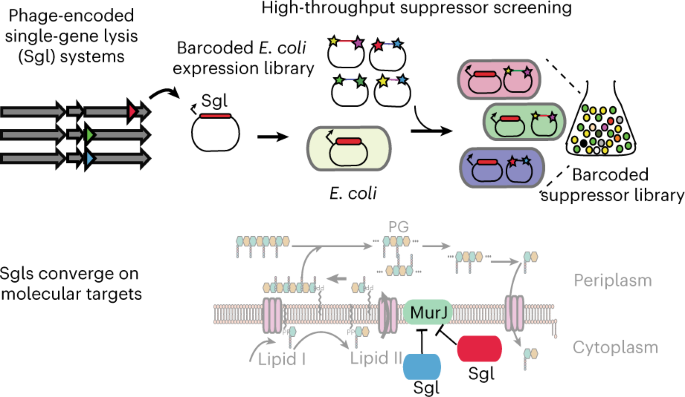 Data availability
Sequencing data have been uploaded to the Sequence Read Archive under BioProject accession number PRJNA800467. Complete data from all experiments (read counts per barcode, fragment scores and gene scores) are available here at https://doi.org/10.6084/m9.figshare.21714296.v2. MurJEC structure was downloaded from the Research Collaboratory for Structural Bioinformatics Protein Data Bank (6CC4). The data underlying Figs. 1c,d, 2b and 4b and Supplementary Figs. 1–6 are provided as source data. Plasmids and strains are available from the corresponding author upon reasonable request. Source data are provided with this paper.
References
Cahill, J. & Young, R. Phage lysis: multiple genes for multiple barriers. Adv. Virus Res. 103, 33–70 (2019).

Chamakura, K. & Young, R. Phage single-gene lysis: finding the weak spot in the bacterial cell wall. J. Biol. Chem. 294, 3350–3358 (2019).

Chamakura, K. R. & Young, R. Single-gene lysis in the metagenomic era. Curr. Opin. Microbiol. 56, 109–117 (2020).

Fiers, W. et al. Complete nucleotide sequence of bacteriophage MS2 RNA: primary and secondary structure of the replicase gene. Nature 260, 500–507 (1976).

Beremand, M. N. & Blumenthal, T. Overlapping genes in RNA phage: a new protein implicated in lysis. Cell 18, 257–266 (1979).

Kastelein, R. A., Remaut, E., Fiers, W. & van Duin, J. Lysis gene expression of RNA phage MS2 depends on a frameshift during translation of the overlapping coat protein gene. Nature 295, 35–41 (1982).

Höltje, J. V. & van Duin, J. MS2 phage induced lysis of E. coli depends upon the activity of the bacterial autolysins. in: Microbial Cell Wall Synthesis and Autolysis (ed Nombela, C.) 195–199 (Elsevier Science Publishers, 1984).

Chamakura, K. R., Tran, J. S. & Young, R. MS2 lysis of Escherichia coli depends on host chaperone DnaJ. J. Bacteriol. 199, e00058-17 (2017).

Chamakura, K. R., Edwards, G. B. & Young, R. Mutational analysis of the MS2 lysis protein L. Microbiology 163, 961–969 (2017).

Krishnamurthy, S. R., Janowski, A. B., Zhao, G., Barouch, D. & Wang, D. Hyperexpansion of RNA bacteriophage diversity. PLoS Biol. 14, e1002409 (2016).

Starr, E. P., Nuccio, E. E., Pett-Ridge, J., Banfield, J. F. & Firestone, M. K. Metatranscriptomic reconstruction reveals RNA viruses with the potential to shape carbon cycling in soil. Proc. Natl Acad. Sci. USA 116, 25900–25908 (2019).

Callanan, J. et al. Expansion of known ssRNA phage genomes: from tens to over a thousand. Sci. Adv. 6, eaay5981 (2020).

Shi, M. et al. Redefining the invertebrate RNA virosphere. Nature 540, 539–543 (2016).

Chamakura, K. R. et al. Rapid de novo evolution of lysis genes in single-stranded RNA phages. Nat. Commun. 11, 6009 (2020).

Mutalik, V. K. et al. Dual-barcoded shotgun expression library sequencing for high-throughput characterization of functional traits in bacteria. Nat. Commun. 10, 308 (2019).

Mutalik, V. K. et al. High-throughput mapping of the phage resistance landscape in E. coli. PLoS Biol. 18, e3000877 (2020).

Bernhardt, T. G., Struck, D. K. & Young, R. The lysis protein E of phi X174 is a specific inhibitor of the MraY-catalyzed step in peptidoglycan synthesis. J. Biol. Chem. 276, 6093–6097 (2001).

Bernhardt, T. G., Wang, I. N., Struck, D. K. & Young, R. A protein antibiotic in the phage Qβ virion: diversity in lysis targets. Science 292, 2326–2329 (2001).

Chamakura, K. R. et al. A viral protein antibiotic inhibits lipid II flippase activity. Nat. Microbiol. 2, 1480–1484 (2017).

Filloux, A. A variety of bacterial pili involved in horizontal gene transfer. J. Bacteriol. 192, 3243–3245 (2010).

Soo, V. W. C., Hanson-Manful, P. & Patrick, W. M. Artificial gene amplification reveals an abundance of promiscuous resistance determinants in Escherichia coli. Proc. Natl Acad. Sci. USA 108, 1484–1489 (2011).

Klein, G. & Raina, S. Regulated assembly of LPS, its structural alterations and cellular response to LPS defects. Int. J. Mol. Sci. 20, 356 (2019).

Shapira, R. & Mimran, E. Isolation and characterization of Escherichia coli mutants exhibiting altered response to thymol. Microb. Drug Resist. 13, 157–165 (2007).

Edgar, R. C. MUSCLE: multiple sequence alignment with high accuracy and high throughput. Nucleic Acids Res. 32, 1792–1797 (2004).

Kitagawa, M. et al. Complete set of ORF clones of Escherichia coli ASKA library (a complete set of E. coli K-12 ORF archive): unique resources for biological research. DNA Res. 12, 291–299 (2005).

Akiyama, Y., Kanehara, K. & Ito, K. RseP (YaeL), an Escherichia coli RIP protease, cleaves transmembrane sequences. EMBO J. 23, 4434–4442 (2004).

Kohga, H. et al. Crystal structure of the lipid flippase MurJ in a 'squeezed' form distinct from its inward- and outward-facing forms. Structure 30, 1088–1097 (2022).

Typas, A., Banzhaf, M., Gross, C. A. & Vollmer, W. From the regulation of peptidoglycan synthesis to bacterial growth and morphology. Nat. Rev. Microbiol. 10, 123–136 (2011).

Johnson, J. W., Fisher, J. F. & Mobashery, S. Bacterial cell-wall recycling. Ann. N. Y. Acad. Sci. 1277, 54–75 (2013).

Dik, D. A., Marous, D. R., Fisher, J. F. & Mobashery, S. Lytic transglycosylases: concinnity in concision of the bacterial cell wall. Crit. Rev. Biochem. Mol. Biol. 52, 503–542 (2017).

Hervé, M., Boniface, A., Gobec, S., Blanot, D. & Mengin-Lecreulx, D. Biochemical characterization and physiological properties of Escherichia coli UDP-N-acetylmuramate:l-alanyl-γ-d-glutamyl-meso-diaminopimelate ligase. J. Bacteriol. 189, 3987–3995 (2007).

Das, D. et al. Structure and function of the first full-length murein peptide ligase (Mpl) cell wall recycling protein. PLoS ONE 6, e17624 (2011).

Baba, T. et al. Construction of Escherichia coli K-12 in-frame, single-gene knockout mutants: the Keio collection. Mol. Syst. Biol. 2, 2006.0008 (2006).

Wan, X., Hendrix, H., Skurnik, M. & Lavigne, R. Phage-based target discovery and its exploitation towards novel antibacterial molecules. Curr. Opin. Biotechnol. 68, 1–7 (2020).

Kuk, A. C. Y., Mashalidis, E. H. & Lee, S.-Y. Crystal structure of the MOP flippase MurJ in an inward-facing conformation. Nat. Struct. Mol. Biol. 24, 171–176 (2017).

Meeske, A. J. et al. MurJ and a novel lipid II flippase are required for cell wall biogenesis in Bacillus subtilis. Proc. Natl Acad. Sci. USA 112, 6437–6442 (2015).

Chen, I.-M. A. et al. The IMG/M data management and analysis system v.6.0: new tools and advanced capabilities. Nucleic Acids Res. 49, D751–D763 (2021).

Roux, S. et al. IMG/VR v3: an integrated ecological and evolutionary framework for interrogating genomes of uncultivated viruses. Nucleic Acids Res. 49, D764–D775 (2021).

Horton, R. M., Cai, Z., Ho, S. M. & Pease, L. R. Gene splicing by overlap extension: tailor-made genes using the polymerase chain reaction. Biotechniques 54, 129–133 (2013).

Wetmore, K. M. et al. Rapid quantification of mutant fitness in diverse bacteria by sequencing randomly bar-coded transposons. mBio 6, e00306–e00315 (2015).
Acknowledgements
The authors thank S. Roux (Joint Genome Institute) for helpful discussions at various stages of this project. This project was funded by the Microbiology Program of the Innovative Genomics Institute, Berkeley (to A.P.A., A.M.D. and V.K.M.) The initial Dub-seq library characterization for this project was funded by ENIGMA, a Scientific Focus Area Program at Lawrence Berkeley National Laboratory, supported by the US Department of Energy, Office of Science, Office of Biological and Environmental Research, under contract DE-AC02-05CH11231 (to A.P.A., A.M.D. and V.K.M.). R.F.Y. acknowledges funding from National Institute of General Medical Sciences grant R35GM136396. V.K.M. acknowledges funding from the Laboratory Directed Research and Development Program of Lawrence Berkeley National Laboratory under US Department of Energy contract DE-AC02-05CH11231. Sequencing was performed at the Vincent J. Coates Genomics Sequencing Laboratory (University of California, Berkeley), supported by National Institutes of Health S10 Instrumentation Grants S10RR029668, S10RR027303 and OD018174.
Ethics declarations
Competing interests
V.K.M. is a co-founder of Felix Biotechnology. A.M.D. is an advisor to Felix Biotechnology. A.P.A. is a co-founder of Boost Biomes and Felix Biotechnology. A.P.A. is a shareholder in and advisor to Nutcracker Therapeutics. The remaining authors declare no competing interests.
Peer review
Peer review information
Nature Chemical Biology thanks Madalena Pimentel, Dann Turner and the other, anonymous, reviewer(s) for their contribution to the peer review of this work.
Additional information
Publisher's note Springer Nature remains neutral with regard to jurisdictional claims in published maps and institutional affiliations.
Supplementary information
Rights and permissions
Open Access This article is licensed under a Creative Commons Attribution 4.0 International License, which permits use, sharing, adaptation, distribution and reproduction in any medium or format, as long as you give appropriate credit to the original author(s) and the source, provide a link to the Creative Commons license, and indicate if changes were made. The images or other third party material in this article are included in the article's Creative Commons license, unless indicated otherwise in a credit line to the material. If material is not included in the article's Creative Commons license and your intended use is not permitted by statutory regulation or exceeds the permitted use, you will need to obtain permission directly from the copyright holder. To view a copy of this license, visit http://creativecommons.org/licenses/by/4.0/.
About this article
Cite this article
Adler, B.A., Chamakura, K., Carion, H. et al. Multicopy suppressor screens reveal convergent evolution of single-gene lysis proteins. Nat Chem Biol 19, 759–766 (2023). https://doi.org/10.1038/s41589-023-01269-7
Received:

Accepted:

Published:

Issue Date:

DOI: https://doi.org/10.1038/s41589-023-01269-7