Abstract
Many biochemical reactions require controlled recruitment of proteins to membranes. This is largely regulated by posttranslational modifications. A frequent one is S-acylation, which consists of the addition of acyl chains and can be reversed by poorly understood acyl protein thioesterases (APTs). Using a panel of computational and experimental approaches, we dissect the mode of action of the major cellular thioesterase APT2 (LYPLA2). We show that soluble APT2 is vulnerable to proteasomal degradation, from which membrane binding protects it. Interaction with membranes requires three consecutive steps: electrostatic attraction, insertion of a hydrophobic loop and S-acylation by the palmitoyltransferases ZDHHC3 or ZDHHC7. Once bound, APT2 is predicted to deform the lipid bilayer to extract the acyl chain bound to its substrate and capture it in a hydrophobic pocket to allow hydrolysis. This molecular understanding of APT2 paves the way to understand the dynamics of APT2-mediated deacylation of substrates throughout the endomembrane system.

Access options
Subscribe to Journal
Get full journal access for 1 year
$119.00
only $9.92 per issue
All prices are NET prices.
VAT will be added later in the checkout.
Tax calculation will be finalised during checkout.
Rent or Buy article
Get time limited or full article access on ReadCube.
from$8.99
All prices are NET prices.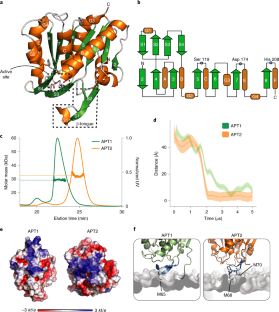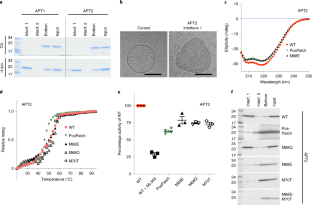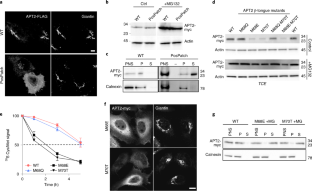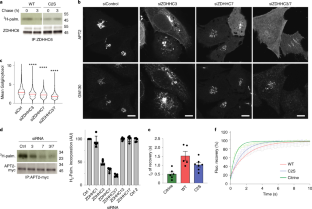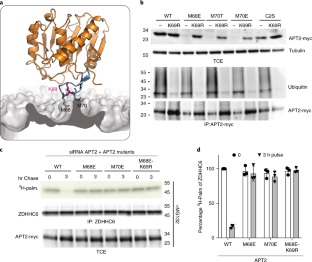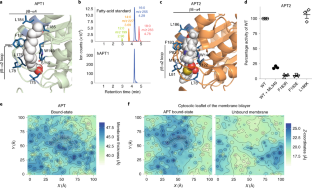 Data availability
Coordinates and structure factors were deposited in the PDB with accession codes: 6QGS for WT/hAPT1; 6QGQ for C2S/hAPT1; 6QGO for S119A/hAPT1 and 6QGN for the 2Br-PLM-C2S/hAPT1 complex. Source data are provided with this paper.
References
1.

Khoury, G. A., Baliban, R. C. & Floudas, C. A. Proteome-wide post-translational modification statistics: frequency analysis and curation of the Swiss-Prot database. Sci. Rep. 1, 90 (2011).

2.

Blanc, M., David, F. P. A. & van der Goot, F. G. SwissPalm 2: protein S-palmitoylation database. Methods Mol. Biol. 2009, 203–214 (2019).

3.

Gadalla, M. R. & Veit, M. Toward the identification of ZDHHC enzymes required for palmitoylation of viral protein as potential drug targets. Expert Opin. Drug Discov. 15, 159–177 (2020).

4.

Brown, R. W. B., Sharma, A. I. & Engman, D. M. Dynamic protein S-palmitoylation mediates parasite life cycle progression and diverse mechanisms of virulence. Crit. Rev. Biochem. Mol. Biol. 52, 145–162 (2017).

5.

Zaballa, M.-E. & van der Goot, F. G. The molecular era of protein S-acylation: spotlight on structure, mechanisms, and dynamics. Crit. Rev. Biochem. Mol. Biol. 53, 420–451 (2018).

6.

Duncan, J. A. & Gilman, A. G. A cytoplasmic acyl-protein thioesterase that removes palmitate from G protein alpha subunits and p21(RAS). J. Biol. Chem. 273, 15830–15837 (1998).

7.

Tomatis, V. M., Trenchi, A., Gomez, G. A. & Daniotti, J. L. Acyl-protein thioesterase 2 catalyzes the deacylation of peripheral membrane-associated GAP-43. PLoS ONE 5, e15045 (2010).

8.

Zingler, P. et al. Palmitoylation is required for TNF-R1 signaling. Cell. Commun. Signal 17, 90 (2019).

9.

Chen, S. et al. Targeting MC1R depalmitoylation to prevent melanomagenesis in redheads. Nat. Commun. 10, 877 (2019).

10.

Abrami, L. et al. Identification and dynamics of the human ZDHHC16-ZDHHC6 palmitoylation cascade. eLife 6, e27826 (2017).

11.

Conibear, E. & Davis, N. G. Palmitoylation and depalmitoylation dynamics at a glance. J. Cell Sci. 123, 4007–4010 (2010).

12.

Fukata, Y., Murakami, T., Yokoi, N. & Fukata, M. Local palmitoylation cycles and specialized membrane domain organization. Curr. Top. Membr. 77, 97–141 (2016).

13.

Lemonidis, K. et al. The zDHHC family of S-acyltransferases. Biochem. Soc. Trans. 43, 217–221 (2015).

14.

Salaun, C., Greaves, J. & Chamberlain, L. H. The intracellular dynamic of protein palmitoylation. J. Cell Biol. 191, 1229–1238 (2010).

15.

Lin, D. T. & Conibear, E. Enzymatic protein depalmitoylation by acyl protein thioesterases. Biochem. Soc. Trans. 43, 193–198 (2015).

16.

Won, S. J., Cheung See Kit, M. & Martin, B. R. Protein depalmitoylases. Crit. Rev. Biochem. Mol. Biol. 53, 83–98 (2018).

17.

Kong, E. et al. Dynamic palmitoylation links cytosol-membrane shuttling of acyl-protein thioesterase-1 and acyl-protein thioesterase-2 with that of proto-oncogene H-ras product and growth-associated protein-43. J. Biol. Chem. 288, 9112–9125 (2013).

18.

Vartak, N. et al. The autodepalmitoylating activity of APT maintains the spatial organization of palmitoylated membrane proteins. Biophys. J. 106, 93–105 (2014).

19.

Shahinian, S. & Silvius, J. R. Doubly-lipid-modified protein sequence motifs exhibit long-lived anchorage to lipid bilayer membranes. Biochemistry 34, 3813–3822 (1995).

20.

Won, S. J. et al. Molecular mechanism for isoform-selective inhibition of acyl protein thioesterases 1 and 2 (APT1 and APT2). ACS Chem. Biol. 11, 3374–3382 (2016).

21.

Devedjiev, Y., Dauter, Z., Kuznetsov, S. R., Jones, T. L. & Derewenda, Z. S. Crystal structure of the human acyl protein thioesterase I from a single X-ray data set to 1.5 A. Structure 8, 1137–1146 (2000).

22.

Wepy, J. A. et al. Lysophospholipases cooperate to mediate lipid homeostasis and lysophospholipid signaling. J. Lipid Res. 60, 360–374 (2019).

23.

Duarte, J. M., Srebniak, A., Schärer, M. A. & Capitani, G. Protein interface classification by evolutionary analysis. BMC Bioinform. 13, 334 (2012).

24.

Mueller, M., Grauschopf, U., Maier, T., Glockshuber, R. & Ban, N. The structure of a cytolytic alpha-helical toxin pore reveals its assembly mechanism. Nature 459, 726–730 (2009).

25.

Kathayat, R. S. et al. Active and dynamic mitochondrial S-depalmitoylation revealed by targeted fluorescent probes. Nat. Commun. 9, 334 (2018).

26.

Pedro, M. P. et al. 2-Bromopalmitate reduces protein deacylation by inhibition of acyl-protein thioesterase enzymatic activities. PLoS ONE 8, e75232 (2013).

27.

Fukata, Y. & Fukata, M. Protein palmitoylation in neuronal development and synaptic plasticity. Nat. Rev. Neurosci. 11, 161–175 (2010).

28.

Ohno, Y., Kihara, A., Sano, T. & Igarashi, Y. Intracellular localization and tissue-specific distribution of human and yeast DHHC cysteine-rich domain-containing proteins. Biochim. Biophys. Acta 1761, 474–483 (2006).

29.

Ernst, A. M. et al. S-palmitoylation sorts membrane cargo for anterograde transport in the Golgi. Dev. Cell 47, 479–493.e7 (2018).

30.

Ngaki, M. N. et al. Evolution of the chalcone-isomerase fold from fatty-acid binding to stereospecific catalysis. Nature 485, 530–533 (2012).

31.

Rocks, O. et al. The palmitoylation machinery is a spatially organizing system for peripheral membrane proteins. Cell 141, 458–471 (2010).

32.

Pedro, M. P., Vilcaes, A. A., Gomez, G. A. & Daniotti, J. L. Individual S-acylated cysteines differentially contribute to H-Ras endomembrane trafficking and acylation/deacylation cycles. Mol. Biol. Cell 28, 962–974 (2017).

33.

Hernandez, J. L. et al. APT2 inhibition restores scribble localization and S-palmitoylation in snail-transformed cells. Cell Chem. Biol. 24, 87–97 (2017).

34.

Lakkaraju, A. K. et al. Palmitoylated calnexin is a key component of the ribosome-translocon complex. EMBO J. 31, 1823–1835 (2012).

35.

Kemp, L. E. et al. Characterization of a serine hydrolase targeted by acyl-protein thioesterase inhibitors in Toxoplasma gondii. J. Biol. Chem. 288, 27002–27018 (2013).

36.

Kabsch, W. XDS. Acta Crystallogr. D. Biol. Crystallogr. 66, 125–132 (2010).

37.

McCoy, A. J. et al. Phaser crystallographic software. J. Appl. Crystallogr. 40, 658–674 (2007).

38.

Emsley, P. & Cowtan, K. Coot: model-building tools for molecular graphics. Acta Crystallogr D. Biol. Crystallogr. 60, 2126–2132 (2004).

39.

Echols, N. et al. Graphical tools for macromolecular crystallography in PHENIX. J. Appl. Crystallogr. 45, 581–586 (2012).

40.

Klauda, J. B. et al. Update of the CHARMM all-atom additive force field for lipids: validation on six lipid types. J. Phys. Chem. B 114, 7830–7843 (2010).

41.

Phillips, J. C. et al. Scalable molecular dynamics with NAMD. J. Comput. Chem. 26, 1781–1802 (2005).

42.

Darden, T., York, D. & Pedersen, L. Particle mesh Ewald: an N⋅log(N) method for Ewald sums in large systems. J. Chem. Phys. 98, 10089–10092 (1993).

43.

Marrink, S. J., Risselada, H. J., Yefimov, S., Tieleman, D. P. & de Vries, A. H. The MARTINI force field: coarse grained model for biomolecular simulations. J. Phys. Chem. B 111, 7812–7824 (2007).

44.

Abraham, M. J. et al. GROMACS: high performance molecular simulations through multi-level parallelism from laptops to supercomputers. SoftwareX 1–2, 19–25 (2015).

45.

Werno, M. W. & Chamberlain, L. H. S-acylation of the insulin-responsive aminopeptidase (IRAP): quantitative analysis and identification of modified cysteines. Sci. Rep. 5, 12413 (2015).

46.

Rueden, C. T. et al. ImageJ2: ImageJ for the next generation of scientific image data. BMC Bioinform. 18, 529 (2017).
Acknowledgements
We thank D. Demurtas and G. Knott from the BioEM EPFL Core Facility for the electron microscopy analysis, S. Vossio and D. Moreau from the ACCESS Geneva screening platform; L. Menin from EPFL ISIC proteomic facility and the beamline scientists of X06DA at SLS (Villigen Switzerland). We thank all the members of the F.G.v.d.G. laboratory for their discussions and suggestions. This work was supported by the Swiss National Science Foundation, the Swiss National Centre of Competence in Research Chemical Biology and the European Research Council under the European Union's Seventh Framework Programme (FP/2007-2013)/ERC grant agreement no. 340260-PalmERa.
Ethics declarations
Competing interests
The authors declare no competing interests.
Additional information
Publisher's note Springer Nature remains neutral with regard to jurisdictional claims in published maps and institutional affiliations.
Supplementary information
Crystallographic data table.
About this article
Cite this article
Abrami, L., Audagnotto, M., Ho, S. et al. Palmitoylated acyl protein thioesterase APT2 deforms membranes to extract substrate acyl chains. Nat Chem Biol 17, 438–447 (2021). https://doi.org/10.1038/s41589-021-00753-2
Received:

Revised:

Accepted:

Published:

Issue Date: