Abstract
Mammalian SWI/SNF (mSWI/SNF) ATP-dependent chromatin remodeling complexes establish and maintain chromatin accessibility and gene expression, and are frequently perturbed in cancer. Clear cell meningioma (CCM), an aggressive tumor of the central nervous system, is uniformly driven by loss of SMARCE1, an integral subunit of the mSWI/SNF core. Here, we identify a structural role for SMARCE1 in selectively stabilizing the canonical BAF (cBAF) complex core–ATPase module interaction. In CCM, cBAF complexes fail to stabilize on chromatin, reducing enhancer accessibility, and residual core module components increase the formation of BRD9-containing non-canonical BAF (ncBAF) complexes. Combined attenuation of cBAF function and increased ncBAF complex activity generates the CCM-specific gene expression signature, which is distinct from that of NF2-mutated meningiomas. Importantly, SMARCE1-deficient cells exhibit heightened sensitivity to small-molecule inhibition of ncBAF complexes. These data inform the function of a previously elusive SWI/SNF subunit and suggest potential therapeutic approaches for intractable SMARCE1-deficient CCM tumors.
Access options
Subscribe to Nature+
Get immediate online access to the entire Nature family of 50+ journals
Subscribe to Journal
Get full journal access for 1 year
$99.00
only $8.25 per issue
All prices are NET prices.
VAT will be added later in the checkout.
Tax calculation will be finalised during checkout.
Buy article
Get time limited or full article access on ReadCube.
$32.00
All prices are NET prices.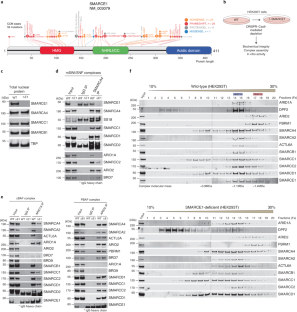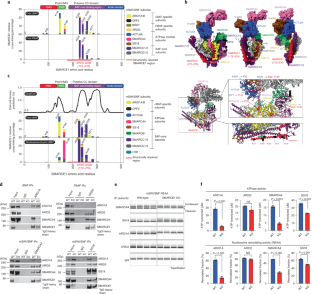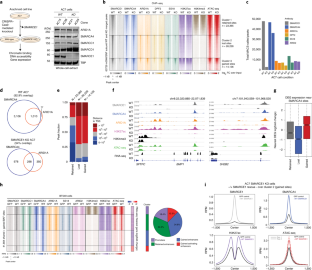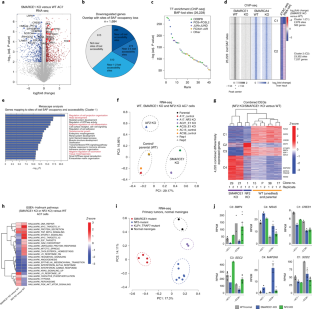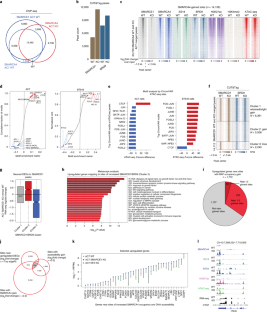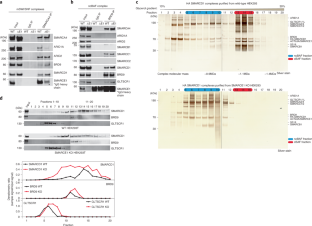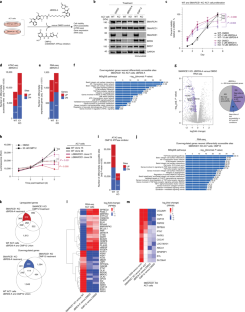 Data availability
All genomic data contained in this manuscript have been deposited on the Gene Expression Omnibus (GEO) repository, https://www.ncbi.nlm.nih.gov/geo/, under accession code GSE174360. Source data are provided with this paper or are provided as Supplementary Information. Raw sequencing data from the fresh-frozen primary meningioma tumor samples (controlled access samples) can be made available upon request to C. Kadoch and D. Meredith, with a time frame for response of 1–2 days, and data availability within 2–3 weeks.
Code availability
No custom code was generated for this study.
References
Clapier, C. R., Iwasa, J., Cairns, B. R. & Peterson, C. L. Mechanisms of action and regulation of ATP-dependent chromatin-remodelling complexes. Nat. Rev. Mol. Cell Biol. 18, 407–422 (2017).

Mashtalir, N. et al. Modular organization and assembly of SWI/SNF family chromatin remodeling complexes. Cell 175, 1272–1288 e20 (2018).

Michel, B. C. et al. A non-canonical SWI/SNF complex is a synthetic lethal target in cancers driven by BAF complex perturbation. Nat. Cell Biol. 20, 1410–1420 (2018).

Kadoch, C. et al. Proteomic and bioinformatic analysis of mSWI/SNF (BAF) complexes reveals extensive roles in human malignancy. Nat. Genet. 45, 592–601 (2013).

Garraway, L. A. & Lander, E. S. Lessons from the cancer genome. Cell 153, 17–37 (2013).

Pulice, J. L. & Kadoch, C. Composition and function of mammalian SWI/SNF chromatin remodeling complexes in human disease. Cold Spring Harb. Symp. Quant. Biol. 81, 53–60 (2016).

Versteege, I. et al. Truncating mutations of hSNF5/INI1 in aggressive paediatric cancer. Nature 393, 203–206 (1998).

Biegel, J. A. et al. Germ-line and acquired mutations of INI1 in atypical teratoid and rhabdoid tumors. Cancer Res. 59, 74–79 (1999).

Storlazzi, C. T. et al. A novel fusion gene, SS18L1/SSX1, in synovial sarcoma. Genes Chromosomes Cancer 37, 195–200 (2003).

Ramos, P. et al. Small cell carcinoma of the ovary, hypercalcemic type, displays frequent inactivating germline and somatic mutations in SMARCA4. Nat. Genet. 46, 427–429 (2014).

Jones, S. et al. Frequent mutations of chromatin remodeling gene ARID1A in ovarian clear cell carcinoma. Science 330, 228–231 (2010).

Sauter, J. L. et al. SMARCA4-deficient thoracic sarcoma: a distinctive clinicopathological entity with undifferentiated rhabdoid morphology and aggressive behavior. Mod. Pathol. 30, 1422–1432 (2017).

Cao, S. et al. Comprehensive characterization of cancer driver genes and mutations. Cell 174, 1034–1035 (2018).

Pan, J. et al. The ATPase module of mammalian SWI/SNF family complexes mediates subcomplex identity and catalytic activity-independent genomic targeting. Nat. Genet. 51, 618–626 (2019).

Mashtalir, N. et al. A structural model of the endogenous human BAF complex informs disease mechanisms. Cell 183, 802–817.e24 (2020).

Nakayama, R. T. et al. SMARCB1 is required for widespread BAF complex-mediated activation of enhancers and bivalent promoters. Nat. Genet. 49, 1613–1623 (2017).

Wang, X. et al. SMARCB1-mediated SWI/SNF complex function is essential for enhancer regulation. Nat. Genet. 49, 289–295 (2017).

Mathur, R. et al. ARID1A loss impairs enhancer-mediated gene regulation and drives colon cancer in mice. Nat. Genet. 49, 296–302 (2017).

Kelso, T. W. R. et al. Chromatin accessibility underlies synthetic lethality of SWI/SNF subunits in ARID1A-mutant cancers. eLife 6, e30506 (2017).

Smith, M. J. et al. Loss-of-function mutations in SMARCE1 cause an inherited disorder of multiple spinal meningiomas. Nat. Genet. 45, 295–298 (2013).

Smith, M. J. et al. Germline SMARCE1 mutations predispose to both spinal and cranial clear cell meningiomas. J. Pathol. 234, 436–440 (2014).

Gerkes, E. H. et al. A heritable form of SMARCE1-related meningiomas with important implications for follow-up and family screening. Neurogenetics 17, 83–89 (2016).

Tauziede-Espariat, A. et al. Loss of SMARCE1 expression is a specific diagnostic marker of clear cell meningioma: a comprehensive immunophenotypical and molecular analysis. Brain Pathol. 28, 466–474 (2018).

Inoue, T. et al. Hereditary clear cell meningiomas in a single family: three-cases report. Acta Neurochir. (Wien.) 160, 2321–2325 (2018).

Libert, D. M. & Prayson, R. A. Pediatric clear cell meningioma involving the middle cranial fossa in the context of NF2 and SMARCE1 mutations. Ann. Diagn. Pathol. 46, 151516 (2020).

Shoakazemi, A. et al. The importance of genetic counseling and screening for people with pathogenic SMARCE1 variants: a family study. Am. J. Med. Genet. A 185, 561–565 (2021).

Navalkele, P., Guzman, M., Kirby, A., Pinz, H. & Kemp, J. Familial pediatric clear cell meningioma with germline SMARCE1 mutation in the United States. J. Neuropathol. Exp. Neurol. 79, 1250–1252 (2020).

Sievers, P. et al. Clear cell meningiomas are defined by a highly distinct DNA methylation profile and mutations in SMARCE1. Acta Neuropathol. 141, 281–290 (2021).

Smith, M. J. Germline and somatic mutations in meningiomas. Cancer Genet. 208, 107–114 (2015).

Clark, V. E. et al. Genomic analysis of non-NF2 meningiomas reveals mutations in TRAF7, KLF4, AKT1, and SMO. Science 339, 1077–1080 (2013).

Abedalthagafi, M. et al. Oncogenic PI3K mutations are as common as AKT1 and SMO mutations in meningioma. Neuro Oncol. 18, 649–655 (2016).

Bi, W. L., Prabhu, V. C. & Dunn, I. F. High-grade meningiomas: biology and implications. Neurosurg. Focus 44, E2 (2018).

Ye, Y. et al. Structure of the RSC complex bound to the nucleosome. Science 366, 838–843 (2019).

He, S. et al. Structure of nucleosome-bound human BAF complex. Science 367, 875–881 (2020).

Han, Y., Reyes, A. A., Malik, S. & He, Y. Cryo-EM structure of SWI/SNF complex bound to a nucleosome. Nature 579, 452–455 (2020).

Wagner, F. R. et al. Structure of SWI/SNF chromatin remodeller RSC bound to a nucleosome. Nature 579, 448–451 (2020).

Estruch, F. & Carlson, M. SNF6 encodes a nuclear protein that is required for expression of many genes in Saccharomyces cerevisiae. Mol. Cell. Biol. 10, 2544–2553 (1990).

Cairns, B. R., Kim, Y. J., Sayre, M. H., Laurent, B. C. & Kornberg, R. D. A multisubunit complex containing the SWI1/ADR6, SWI2/SNF2, SWI3, SNF5, and SNF6 gene products isolated from yeast. Proc. Natl Acad. Sci. USA 91, 1950–1954 (1994).

Kadoch, C. & Crabtree, G. R. Mammalian SWI/SNF chromatin remodeling complexes and cancer: mechanistic insights gained from human genomics. Sci. Adv. 1, e1500447 (2015).

Sen, P. et al. Loss of Snf5 induces formation of an aberrant SWI/SNF complex. Cell Rep. 18, 2135–2147 (2017).

Beauchamp, R. L. et al. A high-throughput kinome screen reveals serum/glucocorticoid-regulated kinase 1 as a therapeutic target for NF2-deficient meningiomas. Oncotarget 6, 16981–16997 (2015).

Vierbuchen, T. et al. AP-1 transcription factors and the BAF complex mediate signal-dependent enhancer selection. Mol. Cell 68, 1067–1082.e12 (2017).

Pan, J. et al. Interrogation of mammalian protein complex structure, function, and membership using genome-scale fitness screens. Cell Syst. 6, 555–568.e7 (2018).

Gatchalian, J. et al. A non-canonical BRD9-containing BAF chromatin remodeling complex regulates naive pluripotency in mouse embryonic stem cells. Nat. Commun. 9, 5139 (2018).

Wang, X. et al. BRD9 defines a SWI/SNF sub-complex and constitutes a specific vulnerability in malignant rhabdoid tumors. Nat. Commun. 10, 1881 (2019).

Remillard, D. et al. Degradation of the BAF complex factor BRD9 by heterobifunctional ligands. Angew. Chem. Int. Ed. Engl. 56, 5738–5743 (2017).

Brien, G. L. et al. Targeted degradation of BRD9 reverses oncogenic gene expression in synovial sarcoma. eLife 7, e41305 (2018).

Papillon, J. P. N. et al. Discovery of orally active inhibitors of brahma homolog (BRM)/SMARCA2 ATPase activity for the treatment of brahma related gene 1 (BRG1)/SMARCA4-mutant cancers. J. Med. Chem. 61, 10155–10172 (2018).

Kadoch, C. & Crabtree, G. R. Reversible disruption of mSWI/SNF (BAF) complexes by the SS18-SSX oncogenic fusion in synovial sarcoma. Cell 153, 71–85 (2013).

Corces, M. R. et al. An improved ATAC-seq protocol reduces background and enables interrogation of frozen tissues. Nat. Methods 14, 959–962 (2017).

Buenrostro, J. D., Wu, B., Chang, H. Y. & Greenleaf, W. J. ATAC-seq: a method for assaying chromatin accessibility genome-wide. Curr. Protoc. Mol. Biol. 109, 21.29.1–21.29.9 (2015).

Pettersen, E. F. et al. UCSF Chimera–a visualization system for exploratory research and analysis. J. Comput Chem. 25, 1605–1612 (2004).

Dobin, A. et al. STAR: ultrafast universal RNA-seq aligner. Bioinformatics 29, 15–21 (2013).

Ramírez, F. et al. deepTools2: a next generation web server for deep-sequencing data analysis. Nucleic Acids Res. 44, W160–W165 (2016).

Langmead, B. & Salzberg, S. L. Fast gapped-read alignment with Bowtie 2. Nat. Methods 9, 357–359 (2012).

Zhang, Y. et al. Model-based analysis of ChIP-Seq (MACS). Genome Biol. 9, R137–R137 (2008).

Bolger, A. M., Lohse, M. & Usadel, B. Trimmomatic: a flexible trimmer for Illumina sequence data. Bioinformatics 30, 2114–2120 (2014).

Li, H. et al. The sequence alignment/map format and SAMtools. Bioinformatics 25, 2078–2079 (2009).

Zhu, Q., Liu, N., Orkin, S. H. & Yuan, G.-C. CUT&RUNTools: a flexible pipeline for CUT&RUN processing and footprint analysis. Genome Biol. 20, 192–192 (2019).

Robinson, M. D., McCarthy, D. J. & Smyth, G. K. edgeR: a Bioconductor package for differential expression analysis of digital gene expression data. Bioinformatics 26, 139–140 (2010).

Kuhn, R. M., Haussler, D. & Kent, W. J. The UCSC genome browser and associated tools. Brief. Bioinforma. 14, 144–161 (2013).

Subramanian, A. et al. Gene Set enrichment analysis: a knowledge-based approach for interpreting genome-wide expression profiles. Proc. Natl Acad. Sci. USA 102, 15545–15550 (2005).

Tripathi, S. et al. Meta- and orthogonal integration of influenza "OMICs" data defines a role for UBR4 in virus budding. Cell Host Microbe 18, 723–735 (2015).

Schäfer, J. & Strimmer, K. A shrinkage approach to large-scale covariance matrix estimation and implications for functional genomics. Stat. Appl. Genet. Mol. Biol. 4, 32 (2005).

Opgen-Rhein, R. & Strimmer, K. Accurate ranking of differentially expressed genes by a distribution-free shrinkage approach. Stat. Appl. Genet. Mol. Biol. 6, 9 (2007).

Shen, L., Shao, N., Liu, X. & Nestler, E. ngs.plot: quick mining and visualization of next-generation sequencing data by integrating genomic databases. BMC Genom. 15, 284–284 (2014).

Quinlan, A. R. & Hall, I. M. BEDTools: a flexible suite of utilities for comparing genomic features. Bioinformatics 26, 841–842 (2010).

Sheffield, N. C. & Bock, C. LOLA: enrichment analysis for genomic region sets and regulatory elements in R and Bioconductor. Bioinformatics 32, 587–589 (2016).

Heinz, S. et al. Simple combinations of lineage-determining transcription factors prime cis-regulatory elements required for macrophage and B Cell Identities. Mol. Cell 38, 576–589 (2010).

Schaar, B. T. et al. GREAT improves functional interpretation of cis -regulatory regions. Nat. Biotechnol. 28, 495–501 (2010).

Schep, A. N., Wu, B., Buenrostro, J. D. & Greenleaf, W. J. chromVAR: inferring transcription-factor-associated accessibility from single-cell epigenomic data. Nat. Methods 14, 975–978 (2017).

Vierstra, J. et al. Global reference mapping of human transcription factor footprints. Nature 583, 729–736 (2020).
Acknowledgements
We thank all members of the Kadoch laboratory for thoughtful discussions throughout the duration of this project. We are grateful to Z. Herbert and M. Sullivan of the DFCI Molecular Biology Core Facility (MBCF) for help with high-throughput sequencing studies. We are grateful to M. Leidl for technical assistance in SMARCE1 cloning and biochemical experiments. We thank N. Gray for the synthesis and scale-up of dBRD9A. This study was supported in part by the Landry Cancer Consortium Award (R.S.P.), the National Institutes of Health 5F31CA228441-02 (R.S.P.), grants 1DP2CA195762-01 (C.K.), the Pew-Stewart Scholars in Cancer Research Award (C.K.), American Brain Tumor Association (ABTA), the American Cancer Society Research Scholar Award RSG-14-051-01-DMC (C.K.), the all-Manchester National Institute for Health and Care Research (NIHR) Biomedical Research Centre (IS-BRC-1215-20007) (M.J.S.), and the U.S. Army Medical Research Acquisition Activity Congressionally Directed Medical Research Program (USAMRAA CDMRP) Neurofibromatosis Research Program, Investigator-Initiated Research Award (W81XWH1910334) (M.J.S.).
Ethics declarations
Competing interests
C.K. is the scientific founder, Fiduciary Board of Directors member, Scientific Advisory Board member, shareholder and consultant for Foghorn Therapeutics, Inc. (Cambridge, MA). C.K. is also a member of the Scientific Advisory Boards of Nereid Therapeutics and Nested Therapeutics, and serves as a consultant for Cell Signaling Technologies. All other authors do not declare any competing interests.
Peer review
Peer review information
Nature Genetics thanks Blaine Bartholomew, Tom Owen-Hughes and the other, anonymous, reviewer(s) for their contribution to the peer review of this work.
Additional information
Publisher's note Springer Nature remains neutral with regard to jurisdictional claims in published maps and institutional affiliations.
Supplementary information
Supplementary Table 1. SMARCE1-mutant clear cell meningoma cases from the literature. Supplementary Table 2. mSWI/SNF cross-linking mass spectrometry data and calculations. Supplementary Table 3. Details of primary meningioma and normal meninges samples used in this study. Supplementary Table 4. Antibody information.
About this article
Cite this article
St. Pierre, R., Collings, C.K., Samé Guerra, D.D. et al. SMARCE1 deficiency generates a targetable mSWI/SNF dependency in clear cell meningioma. Nat Genet 54, 861–873 (2022). https://doi.org/10.1038/s41588-022-01077-0
Received:

Accepted:

Published:

Issue Date:

DOI: https://doi.org/10.1038/s41588-022-01077-0