Abstract
The mechanisms by which the fetal-type β-globin-like genes HBG1 and HBG2 are silenced in adult erythroid precursor cells remain a fundamental question in human biology and have therapeutic relevance to sickle cell disease and β-thalassemia. Here, we identify via a CRISPR–Cas9 genetic screen two members of the NFI transcription factor family—NFIA and NFIX—as HBG1/2 repressors. NFIA and NFIX are expressed at elevated levels in adult erythroid cells compared with fetal cells, and function cooperatively to repress HBG1/2 in cultured cells and in human-to-mouse xenotransplants. Genomic profiling, genome editing and DNA binding assays demonstrate that the potent concerted activity of NFIA and NFIX is explained in part by their ability to stimulate the expression of BCL11A, a known silencer of the HBG1/2 genes, and in part by directly repressing the HBG1/2 genes. Thus, NFI factors emerge as versatile regulators of the fetal-to-adult switch in β-globin production.
Your institute does not have access to this article
Access options
Subscribe to Nature+
Get immediate online access to the entire Nature family of 50+ journals
Subscribe to Journal
Get full journal access for 1 year
$59.00
only $4.92 per issue
All prices are NET prices.
VAT will be added later in the checkout.
Tax calculation will be finalised during checkout.
Buy article
Get time limited or full article access on ReadCube.
$32.00
All prices are NET prices.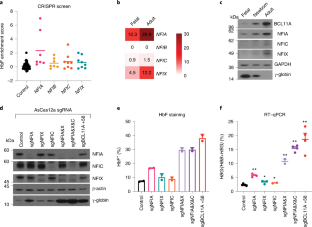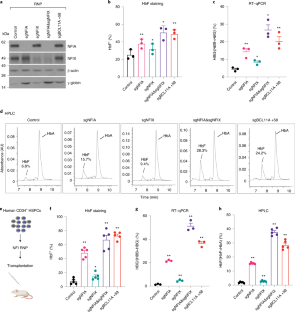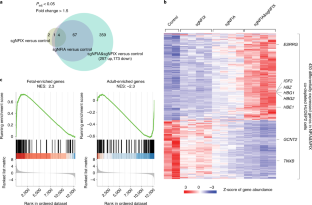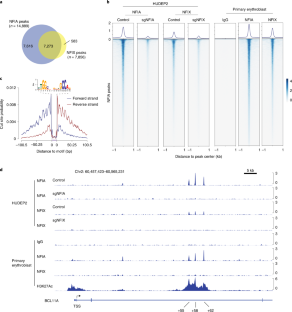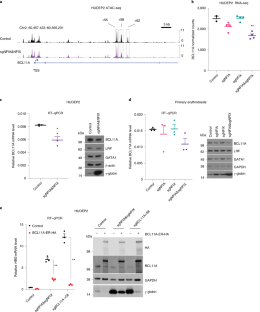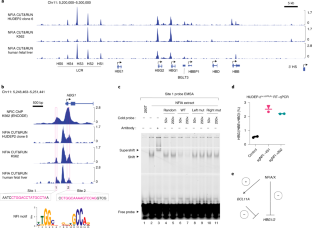 Data availability
All RNA-seq, CUT&RUN and ATAC-seq data generated in this study have been deposited in the NIH Gene Expression Omnibus (GEO) with the accession code GSE180871. Gene abundances in fetal and adult erythroid cells were obtained from GSE90878 (ref. 24). Gene sets used for GSEA analysis are provided in this article. HUDEP2 CRISPR screen results were obtained from Supplementary Table 1 of a published study9. All unprocessed immunoblot scanned images and uncropped gel images are included in the Source data provided with this paper.
Code availability
All codes processing sequencing data were obtained from previous established pipelines and are provided in this article.
References
Orkin, S. H. Molecular medicine: found in translation. Med (N. Y.) 2, 122–136 (2021).

Menzel, S. et al. A QTL influencing F cell production maps to a gene encoding a zinc-finger protein on chromosome 2p15. Nat. Genet. 39, 1197–1199 (2007).

Uda, M. et al. Genome-wide association study shows BCL11A associated with persistent fetal hemoglobin and amelioration of the phenotype of β-thalassemia. Proc. Natl Acad. Sci. USA 105, 1620–1625 (2008).

Sankaran, V. G. et al. Human fetal hemoglobin expression is regulated by the developmental stage-specific repressor BCL11A. Science 322, 1839–1842 (2008).

Masuda, T. et al. Gene regulation: transcription factors LRF and BCL11A independently repress expression of fetal hemoglobin. Science 351, 285–289 (2016).

Liu, N. et al. Direct promoter repression by BCL11A controls the fetal to adult hemoglobin switch. Cell 173, 430–442.e17 (2018).

Martyn, G. E. et al. Natural regulatory mutations elevate the fetal globin gene via disruption of BCL11A or ZBTB7A binding. Nat. Genet. 50, 498–503 (2018).

Xu, J. et al. Corepressor-dependent silencing of fetal hemoglobin expression by BCL11A. Proc. Natl Acad. Sci. USA 110, 6518–6523 (2013).

Huang, P. et al. The HRI-regulated transcription factor ATF4 activates BCL11A transcription to silence fetal hemoglobin expression. Blood 135, 2121–2132 (2020).

Lan, X. et al. ZNF410 uniquely activates the NuRD component CHD4 to silence fetal hemoglobin expression. Mol. Cell 81, 239–254.e8 (2021).

Vinjamur, D. S. et al. ZNF410 represses fetal globin by singular control of CHD4. Nat. Genet. 53, 719–728 (2021).

Liu, N. et al. Transcription factor competition at the γ-globin promoters controls hemoglobin switching. Nat. Genet. 53, 511–520 (2021).

Sher, F. et al. Rational targeting of a NuRD subcomplex guided by comprehensive in situ mutagenesis. Nat. Genet. 51, 1149–1159 (2019).

Zhou, D., Liu, K., Sun, C. W., Pawlik, K. M. & Townes, T. M. KLF1 regulates BCL11A expression and γ- to β-globin gene switching. Nat. Genet. 42, 742–744 (2010).

Tanabe, O. et al. An embryonic/fetal β-type globin gene repressor contains a nuclear receptor TR2/TR4 heterodimer. EMBO J. 21, 3434–3442 (2002).

Rupon, J. W., Wang, S. Z., Gaensler, K., Lloyd, J. & Ginder, G. D. Methyl binding domain protein 2 mediates γ-globin gene silencing in adult human βYAC transgenic mice. Proc. Natl Acad. Sci. USA 103, 6617–6622 (2006).

Krivega, I. & Dean, A. Chromatin looping as a target for altering erythroid gene expression. Ann. N. Y. Acad. Sci. 1368, 31–39 (2016).

Renneville, A. et al. EHMT1 and EHMT2 inhibition induces fetal hemoglobin expression. Blood 126, 1930–1939 (2015).

Macari, E. R. & Lowrey, C. H. Induction of human fetal hemoglobin via the NRF2 antioxidant response signaling pathway. Blood 117, 5987–5997 (2011).

Doerfler, P. A. et al. Activation of γ-globin gene expression by GATA1 and NF-Y in hereditary persistence of fetal hemoglobin. Nat. Genet. 53, 1177–1186 (2021).

Kurita, R., Suda, N., Sudo, K., Miharada, K. & Hiroyama, T. Establishment of immortalized human erythroid progenitor cell lines able to produce enucleated red blood cells. PLoS ONE 8, e59890 (2013).

Gronostajski, R. M. Roles of the NFI/CTF gene family in transcription and development. Gene 249, 31–45 (2000).

Danjou, F. et al. Genome-wide association analyses based on whole-genome sequencing in Sardinia provide insights into regulation of hemoglobin levels. Nat. Genet. 47, 1264–1271 (2015).

Lessard, S., Beaudoin, M., Orkin, S. H., Bauer, D. E. & Lettre, G. 14q32 and let-7 microRNAs regulate transcriptional networks in fetal and adult human erythroblasts. Hum. Mol. Genet. 27, 1411–1420 (2018).

Huang, P. et al. Comparative analysis of three-dimensional chromosomal architecture identifies a novel fetal hemoglobin regulatory element. Genes Dev. 31, 1704–1713 (2017).

Gier, R. A. et al. High-performance CRISPR-Cas12a genome editing for combinatorial genetic screening. Nat. Commun. 11, 3455 (2020).

Bauer, D. E. et al. A erythroid enhancer of BCL11A subject to genetic variation. Science 342, 253–257 (2013).

Grevet, J. D. et al. Domain-focused CRISPR screen identifies HRI as a fetal hemoglobin regulator in human erythroid cells. Science 361, 285–290 (2018).

Starnes, L. M. et al. NFI-A directs the fate of hematopoietic progenitors to the erythroid or granulocytic lineage and controls β-globin and G-CSF receptor expression. Blood 114, 1753–1763 (2009).

McIntosh, B. E. et al. Nonirradiated NOD,B6.SCID Il2rγ−/− KitW41/W41 (NBSGW) mice support multilineage engraftment of human hematopoietic cells. Stem Cell Rep. 4, 171–180 (2015).

Métais, J. Y. et al. Genome editing of HBG1 and HBG2 to induce fetal hemoglobin. Blood Adv. 3, 3379–3392 (2019).

Holmfeldt, P. et al. Nfix is a novel regulator of murine hematopoietic stem and progenitor cell survival. Blood 122, 2987–2996 (2013).

Hall, T. et al. Nfix promotes survival of immature hematopoietic cells via regulation of c-Mpl. Stem Cells 36, 943–950 (2018).

Tangprasittipap, A. et al. Comparison of gene expression profiles between human erythroid cells derived from fetal liver and adult peripheral blood. PeerJ 2018, e5527 (2018).

Skene, P. J. & Henikoff, S. An efficient targeted nuclease strategy for high-resolution mapping of DNA binding sites. eLife 6, e21856 (2017).

Zhu, Q., Liu, N., Orkin, S. & Yuan, G.-C. CUT&RUNTools: a flexible pipeline for CUT&RUN processing and footprint analysis. Genome Biol. 20, 192 (2019).

Piper, M., Gronostajski, R. & Messina, G. Nuclear factor one X in development and disease. Trends Cell Biol. 29, 20–30 (2019).

Klemm, S. L., Shipony, Z. & Greenleaf, W. J. Chromatin accessibility and the regulatory epigenome. Nat. Rev. Genet. 20, 207–220 (2019).

Buenrostro, J., Wu, B., Chang, H. & Greenleaf, W. ATAC-seq: a method for assaying chromatin accessability genome-wide. Curr. Protoc. Mol. Biol. 109, 21.29.1–21.29.9 (2015).

Davis, C. A. et al. The Encyclopedia of DNA Elements (ENCODE): data portal update. Nucleic Acids Res. 46, D794–D801 (2018).

Venkataraman, A. et al. A toolbox of immunoprecipitation-grade monoclonal antibodies to human transcription factors. Nat. Methods 15, 330–338 (2018).

Shah, M., Funnell, A. P. W., Quinlan, K. G. R. & Crossley, M. Hit and run transcriptional repressors are difficult to catch in the act. BioEssays 41, e1900041 (2019).

Xu, J. et al. Correction of sickle cell disease in adult mice by interference with fetal hemoglobin silencing. Science 334, 993–996 (2011).

Jawaid, K., Wahlberg, K., Thein, S. L. & Best, S. Binding patterns of BCL11A in the globin and GATA1 loci and characterization of the BCL11A fetal hemoglobin locus. Blood Cells Mol. Dis. 45, 140–146 (2010).

Xu, J. et al. Transcriptional silencing of γ-globin by BCL11A involves long-range interactions and cooperation with SOX6. Genes Dev. 24, 783–789 (2010).

Khandros, E. et al. Understanding heterogeneity of fetal hemoglobin induction through comparative analysis of F and A erythroblasts. Blood 135, 1957–1968 (2020).

Meers, M. P., Bryson, T. D., Henikoff, J. G. & Henikoff, S. Improved CUT&RUN chromatin profiling tools. eLife 8, e46314 (2019).

Huang, J. et al. Dynamic control of enhancer repertoires drives lineage and stage-specific transcription during hematopoiesis. Dev. Cell 36, 9–23 (2016).

Hiraike, Y. et al. NFIA differentially controls adipogenic and myogenic gene program through distinct pathways to ensure brown and beige adipocyte differentiation. PLoS Genet. 16, e1009044 (2020).

Messina, G. et al. Nfix regulates fetal-specific transcription in developing skeletal muscle. Cell 140, 554–566 (2010).

Taglietti, V. et al. Nfix induces a switch in Sox6 transcriptional activity to regulate MyHC-I expression in fetal muscle. Cell Rep. 17, 2354–2366 (2016).

Yi, Z. et al. Sox6 directly silences epsilon globin expression in definitive erythropoiesis. PLoS Genet. 2, 129–139 (2006).

Quevedo, M. et al. Mediator complex interaction partners organize the transcriptional network that defines neural stem cells. Nat. Commun. 10, 2669 (2019).

Lan, X. et al. The E3 ligase adaptor molecule SPOP regulates fetal hemoglobin levels in adult erythroid cells. Blood Adv. 3, 1586–1597 (2019).

Peslak, S. A. et al. HRI depletion cooperates with pharmacologic inducers to elevate fetal hemoglobin and reduce sickle cell formation. Blood Adv. 4, 4560–4572 (2020).

Bloh, K. et al. Deconvolution of Complex DNA Repair (DECODR): establishing a novel deconvolution algorithm for comprehensive analysis of CRISPR-edited Sanger sequencing data. CRISPR J. 4, 120–131 (2021).

Pinello, L. et al. Analyzing CRISPR genome-editing experiments with CRISPResso. Nat. Biotechnol. 34, 695–697 (2016).

Qin, K. et al. SIRT6-mediated transcriptional suppression of Txnip is critical for pancreatic beta cell function and survival in mice. Diabetologia 61, 906–918 (2018).

Slomiany, B. A., Kelly, M. M. & Kurtz, D. T. Extraction of nuclear proteins with increased DNA binding activity. Biotechniques 28, 938–942 (2000).

Dobin, A. et al. STAR: ultrafast universal RNA-seq aligner. Bioinformatics 29, 15–21 (2013).

Li, B. & Dewey, C. N. RSEM: accurate transcript quantification from RNA-seq data with or without a reference genome. BMC Bioinformatics 12, 323 (2011).

Love, M. I., Huber, W. & Anders, S. Moderated estimation of fold change and dispersion for RNA-seq data with DESeq2. Genome Biol. 15, 550 (2014).

Wu, T. et al. clusterProfiler 4.0: a universal enrichment tool for interpreting omics data. Innovation 2, 100141 (2021).

Yu, F., Sankaran, V. G. & Yuan, G.-C. CUT&RUNTools 2.0: a pipeline for single-cell and bulk-level CUT&RUN and CUT&Tag data analysis. Bioinformatics 38, 252–254 (2021).

Langmead, B. & Salzberg, S. L. Fast gapped-read alignment with Bowtie 2. Nat. Methods 9, 357–359 (2012).

Danecek, P. et al. Twelve years of SAMtools and BCFtools. Gigascience 10, giab008 (2021).

Ramírez, F. et al. deepTools2: a next generation web server for deep-sequencing data analysis. Nucleic Acids Res. 44, W160–W165 (2016).

Zhang, Y. et al. Model-based Analysis of ChIP-Seq (MACS). Genome Biol. 9, R137 (2008).

Robinson, M. D., McCarthy, D. J. & Smyth, G. K. edgeR: a Bioconductor package for differential expression analysis of digital gene expression data. Bioinformatics 26, 139–140 (2009).
Acknowledgements
We thank the staff of CHOP Flow Cytometry Core Facility for assistance with cell sorting, and members of the Blobel laboratory for helpful discussions. HUDEP2 cells were a gift from R. Kurita and Y. Nakamura (RIKEN BioResource Center). The Fred Hutchinson Cancer Research Center Cooperative Center of Excellence in Hematology was supported by NIDDK Grant no. DK106829. This work was supported by NIH grants from the National Heart, Lung, and Blood Institute (grant no. HL119479) and research funding from Pfizer (G.A.B.); the National Institute of Diabetes and Digestive and Kidney Diseases (grant no. R24DK106766) (G.A.B., M.J.W. and R.C.H.); grant no. P01HL053749 (to M.J.W.), grant no. R01HL156647 (to M.J.W.), the Assisi Foundation of Memphis (to M.J.W.); the Doris Duke Charitable Foundation grant no. 2017093 (to M.J.W.); grant no. R01HL147879 (to S.T.C.); a K08 training grant (no. K08-DK129716) and the Doris Duke Charitable Foundation Physician Scientist Fellowship grant no. 2020062 (S.A.P.); a T32 training grant (no. HL007150-42) and an American Society of Hematology Research Training Award for Fellows (E.K.); NIDDK grant no. F32DK118822 and Cooley's Anemia Foundation (to P.A.D.); and the St. Jude Children's Research Hospital Collaborative Research Consortium on Novel Gene Therapies for Sickle Cell Disease. We thank the DiGaetano family for their generous support.
Ethics declarations
Competing interests
The authors declare no competing interests.
Peer review
Peer review information
Nature Genetics thanks John Strouboulis and the other, anonymous, reviewer(s) for their contribution to the peer review of this work.
Additional information
Publisher's note Springer Nature remains neutral with regard to jurisdictional claims in published maps and institutional affiliations.
Supplementary information
Supplementary Tables 6–11.
Supplementary Tables 1–5.
About this article
Cite this article
Qin, K., Huang, P., Feng, R. et al. Dual function NFI factors control fetal hemoglobin silencing in adult erythroid cells. Nat Genet 54, 874–884 (2022). https://doi.org/10.1038/s41588-022-01076-1
Received:

Accepted:

Published:

Issue Date:

DOI: https://doi.org/10.1038/s41588-022-01076-1
Further reading
Peng Huang
Scott A. Peslak
Gerd A. Blobel

Nature Genetics (2022)