Abstract
Mammalian species carry ~100 loss-of-function variants per individual1,2, where ~1–5 of these impact essential genes and cause embryonic lethality or severe disease when homozygous3. The functions of the remainder are more difficult to resolve, although the assumption is that these variants impact fitness in less manifest ways. Here we report one of the largest sequence-resolution screens of cattle to date, targeting discovery and validation of non-additive effects in 130,725 animals. We highlight six novel recessive loci with impacts generally exceeding the largest-effect variants identified from additive genome-wide association studies, presenting analogs of human diseases and hitherto-unrecognized disorders. These loci present compelling missense (PLCD4, MTRF1 and DPF2), premature stop (MUS81) and splice-disrupting (GALNT2 and FGD4) mutations, together explaining substantial proportions of inbreeding depression. These results demonstrate that the frequency distribution of deleterious alleles segregating in selected species can afford sufficient power to directly map novel disorders, presenting selection opportunities to minimize the incidence of genetic disease.
This is a preview of subscription content
Access options
Subscribe to Journal
Get full journal access for 1 year
$59.00
only $4.92 per issue
All prices are NET prices.
VAT will be added later in the checkout.
Tax calculation will be finalised during checkout.
Rent or Buy article
Get time limited or full article access on ReadCube.
from$8.99
All prices are NET prices.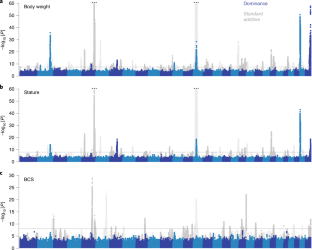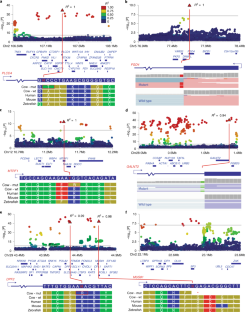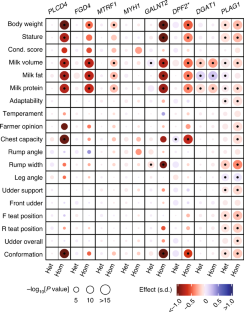 Data availability
Genotype, phenotype and sequence datasets representing the different experimental populations have been deposited in the Dryad digital data repository (kwh70rz1z) and NCBI Sequence Read Archive (PRJNA656361, PRJNA682457 and PRJNA683948). Source data are provided with this paper.
References
1.

Charlier, C. et al. NGS-based reverse genetic screen for common embryonic lethal mutations compromising fertility in livestock. Genome Res. 26, 1333–1341 (2016).

2.

Lek, M. et al. Analysis of protein-coding genetic variation in 60,706 humans. Nature 536, 285–291 (2016).

3.

Gao, Z., Waggoner, D., Stephens, M., Ober, C. & Przeworski, M. An estimate of the average number of recessive lethal mutations carried by humans. Genetics 199, 1243–1254 (2015).

4.

Daetwyler, H. D. et al. Whole-genome sequencing of 234 bulls facilitates mapping of monogenic and complex traits in cattle. Nat. Genet. 46, 858–865 (2014).

5.

Littlejohn, M. D. et al. Functionally reciprocal mutations of the prolactin signalling pathway define hairy and slick cattle. Nat. Commun. 5, 5861 (2014).

6.

Adams, H. A. et al. Identification of a nonsense mutation in APAF1 that is likely causal for a decrease in reproductive efficiency in Holstein dairy cattle. J. Dairy Sci. 99, 6693–6701 (2016).

7.

Reed, D. R., Lawler, M. P. & Tordoff, M. G. Reduced body weight is a common effect of gene knockout in mice. BMC Genet. 9, 4 (2008).

8.

Karim, L. et al. Variants modulating the expression of a chromosome domain encompassing PLAG1 influence bovine stature. Nat. Genet. 43, 405–413 (2011).

9.

Cai, Z., Guldbrandtsen, B., Lund, M. S. & Sahana, G. Weighting sequence variants based on their annotation increases the power of genome-wide association studies in dairy cattle. Genet. Sel. Evol. 51, 20 (2019).

10.

Finno, C. J. et al. A missense mutation in MYH1 is associated with susceptibility to immune-mediated myositis in Quarter Horses. Skelet. Muscle 8, 7 (2018).

11.

Grisart, B. et al. Positional candidate cloning of a QTL in dairy cattle: identification of a missense mutation in the bovine DGAT1 gene with major effect on milk yield and composition. Genome Res. 12, 222–231 (2002).

12.

Lopdell, T. J. et al. Multiple QTL underlie milk phenotypes at the CSF2RB locus. Genet. Sel. Evol. 51, 3 (2019).

13.

Littlejohn, M. D. et al. Sequence-based association analysis reveals an MGST1 eQTL with pleiotropic effects on bovine milk composition. Sci. Rep. 6, 25376 (2016).

14.

Vasileiou, G. et al. Mutations in the BAF-complex subunit DPF2 are associated with Coffin-Siris syndrome. Am. J. Hum. Genet. 102, 468–479 (2018).

15.

Delague, V. et al. Mutations in FGD4 encoding the Rho GDP/GTP exchange factor FRABIN cause autosomal recessive Charcot-Marie-Tooth type 4H. Am. J. Hum. Genet. 81, 1–16 (2007).

16.

Stendel, C. et al. Peripheral nerve demyelination caused by a mutant Rho GTPase guanine nucleotide exchange factor, Frabin/FGD4. Am. J. Hum. Genet. 81, 158–164 (2007).

17.

Khetarpal, S. A. et al. Loss of function of GALNT2 lowers high-density lipoproteins in humans, nonhuman primates, and rodents. Cell Metab. 24, 234–245 (2016).

18.

Zilmer, M. et al. Novel congenital disorder of O-linked glycosylation caused by GALNT2 loss of function. Brain 143, 1114–1126 (2020).

19.

Ge, X., Wang, Y., Lam, K. S. & Xu, A. Metabolic actions of FGF21: molecular mechanisms and therapeutic implications. Acta Pharm. Sin. B 2, 350–357 (2012).

20.

Buniello, A. et al. The NHGRI-EBI GWAS Catalog of published genome-wide association studies, targeted arrays and summary statistics 2019. Nucleic Acids Res. 47, D1005–D1012 (2019).

21.

Bolormaa, S. et al. Detailed phenotyping identifies genes with pleiotropic effects on body composition. BMC Genomics 17, 224 (2016).

22.

Fukami, K. et al. Requirement of phospholipase Cδ4 for the zona pellucida-induced acrosome reaction. Science 292, 920–923 (2001).

23.

Zhu, Z. et al. Dominance genetic variation contributes little to the missing heritability for human complex traits. Am. J. Hum. Genet. 96, 377–385 (2015).

24.

Bolormaa, S. et al. Non-additive genetic variation in growth, carcass and fertility traits of beef cattle. Genet. Sel. Evol. 47, 26 (2015).

25.

Jiang, J. et al. Dissection of additive, dominance, and imprinting effects for production and reproduction traits in Holstein cattle. BMC Genomics 18, 425 (2017).

26.

Jiang, J. et al. A large-scale genome-wide association study in U.S. Holstein cattle. Front. Genet. 10, 412 (2019).

27.

Pausch, H. et al. Evaluation of the accuracy of imputed sequence variant genotypes and their utility for causal variant detection in cattle. Genet. Sel. Evol. 49, 24 (2017).

28.

Advisory Committee on Traits Other than Production. Evaluation System for Traits Other than Production (TOP) for Dairy Cattle in New Zealand (DairyNZ, 2014).

29.

Li, H. Aligning sequence reads, clone sequences and assembly contigs with BWA-MEM. Preprint at https://arxiv.org/abs/1303.3997 (2013).

30.

DePristo, M. A. et al. A framework for variation discovery and genotyping using next-generation DNA sequencing data. Nat. Genet. 43, 491–498 (2011).

31.

Liao, Y., Smyth, G. K. & Shi, W. FeatureCounts: an efficient general purpose program for assigning sequence reads to genomic features. Bioinformatics 30, 923–930 (2014).

32.

Love, M. I., Huber, W. & Anders, S. Moderated estimation of fold change and dispersion for RNA-seq data with DESeq2. Genome Biol. 15, 550 (2014).

33.

Fink, T. et al. A new mechanism for a familiar mutation – bovine DGAT1 K232A modulates gene expression through multi-junction exon splice enhancement. BMC Genomics 21, 591 (2020).

34.

Lucy, M. C. et al. Somatotropic axis components and nutrient partitioning in genetically diverse dairy cows managed under different feed allowances in a pasture system. J. Dairy Sci. 92, 526–539 (2009).

35.

Browning, B. L. & Browning, S. R. A unified approach to genotype imputation and haplotype-phase inference for large data sets of trios and unrelated individuals. Am. J. Hum. Genet. 84, 210–223 (2009).

36.

Jivanji, S. et al. Genome-wide association analysis reveals QTL and candidate mutations involved in white spotting in cattle. Genet. Sel. Evol. 51, 62 (2019).

37.

Fernando, R. L. & Garrick, D. in Genome-Wide Association Studies and Genomic Prediction (eds Gondro, C. et al.) 237–274 (Humana, 2013).

38.

Bernal Rubio, Y. L. et al. Meta-analysis of genome-wide association from genomic prediction models. Anim. Genet. 47, 36–48 (2016).

39.

Yang, J. et al. Conditional and joint multiple-SNP analysis of GWAS summary statistics identifies additional variants influencing complex traits. Nat. Genet. 44, 369–375 (2012).

40.

Cingolani, P. et al. A program for annotating and predicting the effects of single nucleotide polymorphisms, SnpEff: SNPs in the genome of Drosophila melanogaster strain w1118; iso-2; iso-3. Fly (Austin) 6, 80–92 (2012).

41.

Sargolzaei, M. & Schenkel, F. S. QMSim: a large-scale genome simulator for livestock. Bioinformatics 25, 680–681 (2009).

42.

Brito, F. V., Neto, J. B., Sargolzaei, M., Cobuci, J. A. & Schenkel, F. S. Accuracy of genomic selection in simulated populations mimicking the extent of linkage disequilibrium in beef cattle. BMC Genet. 12, 80 (2011).
Acknowledgements
We acknowledge the contributions of T. Hale, S. Delaney, L. Falleni and E. Barnaby at AgResearch Ruakura for management of animals during the farm trial experiments. We also thank K. Brown and A. Yeates of the Livestock Improvement Corporation, S. Morgan and the Farm Technical Team of DairyNZ, F. Hoekstra of VeeHof, K. Schutz and F. Huddart of AgResearch, and C. Rogers, B. Adams, K. Legg, R. Holleboom, B. Ilton and J. Huxley of Massey University for experimental advice and helping to perform these investigations. We also acknowledge J.-M. Wit of the Leiden University Medical Centre for facilitating discussions and contributing ideas regarding the GALNT2 work. We are also particularly grateful for financial support from the Ministry of Business, Innovation and Employment (MBIE; Wellington, New Zealand) and the Ministry for Primary Industries (MPI; Wellington, New Zealand), who independently co-funded the work through the Endeavour Fund (LICX1802) and (now historical) Primary Growth Partnership research programs, respectively. E.G.M.R. is also supported by a Ministry for Primary Industries Postgraduate Scholarship (Wellington, New Zealand) and an Al Rae Centre scholarship (Hamilton, New Zealand). We are additionally grateful for the use of New Zealand eScience Infrastructure (NeSI) high-performance computing facilities as part of this research.
Ethics declarations
Competing interests
C.N., T.L., C.H., C. Couldrey, T.J., K.T., G.W., M.W., S.R.D., R.S., K.C., B.H., R.J.S. and M.D.L. are paid employees of the Livestock Improvement Corporation, a breeding company and supplier of bovine germplasm. The Livestock Improvement Corporation is also the applicant for several patent applications related to some of the mutations detailed in this article, with E.G.M.R., T.L., M.K., C.H., K.T., R.J.S. and M.D.L. named inventors on these applications. Specifically, these patents relate to genetic testing applications of mutations impacting the PLCD4 (749566; filed), GALNT2 (625688; granted), DPF2 (751917; filed), MUS81 (768801; filed), FGD4 (749555; filed), MTRF1 (751919; filed) and MYH1 (756281; filed) genes. All other authors declare no competing interests.
Additional information
Peer review information Nature Genetics thanks Aurelien Capitan, Ben Hayes and the other, anonymous, reviewer(s) for their contribution to the peer review of this work.
Publisher's note Springer Nature remains neutral with regard to jurisdictional claims in published maps and institutional affiliations.
Supplementary information
Supplementary Note and Methods
About this article
Cite this article
Reynolds, E.G.M., Neeley, C., Lopdell, T.J. et al. Non-additive association analysis using proxy phenotypes identifies novel cattle syndromes. Nat Genet 53, 949–954 (2021). https://doi.org/10.1038/s41588-021-00872-5
Received:

Accepted:

Published:

Issue Date:
Further reading
Kathryn M. Tiplady
Thomas J. Lopdell
Mathew D. Littlejohn

Genetics Selection Evolution (2021)