Abstract
Most candidate drugs currently fail later-stage clinical trials, largely due to poor prediction of efficacy on early target selection1. Drug targets with genetic support are more likely to be therapeutically valid2,3, but the translational use of genome-scale data such as from genome-wide association studies for drug target discovery in complex diseases remains challenging4,5,6. Here, we show that integration of functional genomic and immune-related annotations, together with knowledge of network connectivity, maximizes the informativeness of genetics for target validation, defining the target prioritization landscape for 30 immune traits at the gene and pathway level. We demonstrate how our genetics-led drug target prioritization approach (the priority index) successfully identifies current therapeutics, predicts activity in high-throughput cellular screens (including L1000, CRISPR, mutagenesis and patient-derived cell assays), enables prioritization of under-explored targets and allows for determination of target-level trait relationships. The priority index is an open-access, scalable system accelerating early-stage drug target selection for immune-mediated disease.
This is a preview of subscription content
Access options
Subscribe to Journal
Get full journal access for 1 year
$59.00
only $4.92 per issue
All prices are NET prices.
VAT will be added later in the checkout.
Tax calculation will be finalised during checkout.
Rent or Buy article
Get time limited or full article access on ReadCube.
from$8.99
All prices are NET prices.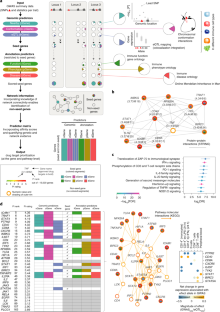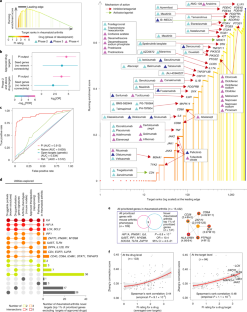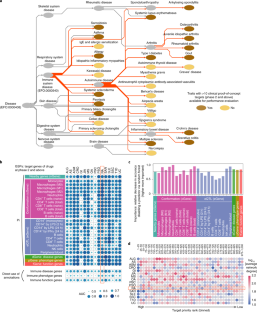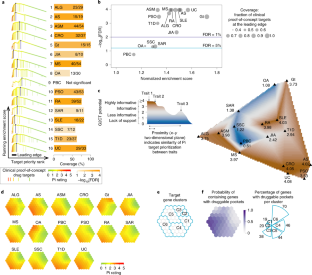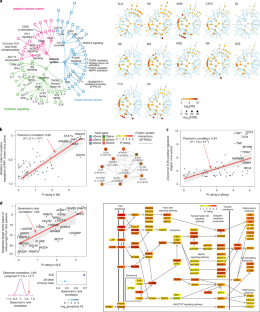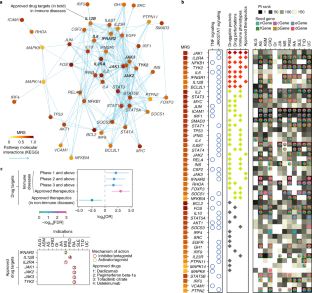 Code availability
Software codes, together with the user and reference manual, have been packaged and deposited into Bioconductor (available at http://bioconductor.org/packages/Pi), including codes for the showcase in this manuscript supporting reproducible research.
References
1.

Hay, M., Thomas, D. W., Craighead, J. L., Economides, C. & Rosenthal, J. Clinical development success rates for investigational drugs. Nat. Biotechnology 32, 40–51 (2014).

2.

Plenge, R. M., Scolnick, E. M. & Altshuler, D. Validating therapeutic targets through human genetics. Nat. Rev. Drug Discov. 12, 581–594 (2013).

3.

Nelson, M. R. et al. The support of human genetic evidence for approved drug indications. Nat. Genet. 47, 856–860 (2015).

4.

Finan, C. et al. The druggable genome and support for target identification and validation in drug development. Sci. Transl. Med. 9, eaag1166 (2017).

5.

Koscielny, G. et al. Open Targets: a platform for therapeutic target identification and validation. Nucleic Acids Res. 45, D985–D994 (2017).

6.

Okada, Y. et al. Genetics of rheumatoid arthritis contributes to biology and drug discovery. Nature 506, 376–381 (2014).

7.

Albert, F. W. & Kruglyak, L. The role of regulatory variation in complex traits and disease. Nat. Rev. Genet. 16, 197–212 (2015).

8.

Fairfax, B. P. et al. Innate immune activity conditions the effect of regulatory variants upon monocyte gene expression. Science 343, 1246949 (2014).

9.

Giambartolomei, C., Vukcevic, D., Schadt, E. E., Franke, L. & Hingorani, A. D. Bayesian test for colocalisation between pairs of genetic association studies using summary statistics. PLoS Genet. 10, e1004383 (2014).

10.

Spalinger, M. R. et al. PTPN2 regulates inflammasome activation and controls onset of intestinal inflammation and colon cancer. Cell Rep. 22, 1835–1848 (2018).

11.

Svensson, M. N. D. et al. Reduced expression of phosphatase PTPN2 promotes pathogenic conversion of Tregs in autoimmunity. J. Clin. Invest. 129, 1193–1210 (2019).

12.

Manguso, R. T. et al. In vivo CRISPR screening identifies Ptpn2 as a cancer immunotherapy target. Nature 547, 413–418 (2017).

13.

Guo, Y. et al. CD40L-dependent pathway is active at various stages of rheumatoid arthritis disease progression. J. Immunol. 198, 4490–4501 (2017).

14.

Schwabe, C. et al. Safety, pharmacokinetics, and pharmacodynamics of multiple rising doses of BI 655064, an antagonistic anti-CD40 antibody, in healthy subjects: a potential novel treatment for autoimmune diseases. J. Clin. Pharmacol. 58, 1566–1577 (2018).

15.

Marigorta, U. M. et al. Transcriptional risk scores link GWAS to eQTLs and predict complications in Crohn's disease. Nat. Genet. 49, 1517–1521 (2017).

16.

Jonkers, I. H. & Wijmenga, C. Context-specific effects of genetic variants associated with autoimmune disease. Hum. Mol. Genet. 26, 185–192 (2017).

17.

Atsumi, T. et al. A point mutation of Tyr-759 in interleukin 6 family cytokine receptor subunit gp130 causes autoimmune arthritis. J. Exp. Med. 196, 979–990 (2002).

18.

Sakaguchi, N. et al. Altered thymic T-cell selection due to a mutation of the ZAP-70 gene causes autoimmune arthritis in mice. Nature 426, 454–460 (2003).

19.

Meng, X. et al. Hypoxia-inducible factor-1α is a critical transcription factor for IL-10-producing B cells in autoimmune disease. Nat. Commun. 9, 251 (2018).

20.

Vermeire, K. et al. Accelerated collagen-induced arthritis in IFN-gamma receptor-deficient mice. J. Immunol. 158, 5507–5513 (1997).

21.

Boe, A., Baiocchi, M., Carbonatto, M., Papoian, R. & Serlupi-crescenzi, O. Interleukin 6 knock-out mice are resistant to antigen-induced experimental arthritis. Cytokine 11, 1057–1064 (1999).

22.

Tada, B. Y., Ho, A., Matsuyama, T. & Mak, T. W. Reduced incidence and severity of antigen-induced autoimmune diseases in mice lacking interferon regulatory factor-1. J. Exp. Med. 185, 231–238 (1997).

23.

Lacey, C. A., Mitchell, W. J., Brown, C. R. & Skyberg, A. Temporal role for MyD88 in a model of Brucella-induced arthritis and musculoskeletal inflammation. Infect. Immun. 85, e00961–16 (2017).

24.

Wong, P. K. K. et al. SOCS-3 negatively regulates innate and adaptive immune mechanisms in acute IL-1-dependent inflammatory arthritis. J. Clin. Invest. 116, 1571–1581 (2006).

25.

Pierer, M., Wagner, U., Rossol, M. & Ibrahim, S. Toll-like receptor 4 is involved in inflammatory and joint destructive pathways in collagen-induced arthritis in DBA1J mice. PLoS ONE 6, e23539 (2011).

26.

De Wolf, H. et al. High-throughput gene expression profiles to define drug similarity and predict compound activity. Assay Drug Dev. Technol. 16, 162–176 (2018).

27.

Fang, H. & Gough, J. supraHex: an R/Bioconductor package for tabular omics data analysis using a supra-hexagonal map. Biochem. Biophys. Res. Commun. 443, 285–289 (2014).

28.

Dargahi, N. et al. Multiple sclerosis: immunopathology and treatment update. Brain Sci. 7, 78 (2017).

29.

Brockmann, M. et al. Genetic wiring maps of single-cell protein states reveal an off-switch for GPCR signalling. Nature 546, 307–311 (2017).

30.

Mujtaba, M. G. et al. Treatment of mice with the suppressor of cytokine signaling-1 mimetic peptide, tyrosine kinase inhibitor peptide, prevents development of the acute form of experimental allergic encephalomyelitis and induces stable remission in the chronic relapsing/remit. J. Immunol. 175, 5077–5086 (2005).

31.

Todd, J. A. et al. Regulatory T cell responses in participants with type 1 diabetes after a single dose of interleukin-2: a non-randomised, open label, adaptive dose-finding trial. PLoS Med. 13, e1002139 (2016).

32.

Danese, S. et al. Tofacitinib as induction and maintenance therapy for ulcerative colitis. N. Engl. J. Med. 377, 1723–1736 (2017).

33.

Panés, J. et al. Tofacitinib for induction and maintenance therapy of Crohn's disease: results of two phase IIb randomised placebo-controlled trials. Gut 66, 1049–1059 (2017).

34.

Tulunay, A. et al. Activation of the JAK/STAT pathway in Behcet's disease. Genes Immun. 16, 170–175 (2015).

35.

Beeh, K., Kanniess, F., Wagner, F., Schilder, C. & Naudts, I. The novel TLR-9 agonist QbG10 shows clinical efficacy in persistent allergic asthma. J. Allergy Clin. Immunol. 131, 866–874 (2013).

36.

Parnas, O. et al. A genome-wide CRISPR screen in primary immune cells to dissect regulatory networks. Cell 162, 675–686 (2015).

37.

Hedrich, C. M. Epigenetics in SLE. Curr. Rheumatol. Rep. 19, 58 (2017).

38.

Singh, N. et al. Alterations in nuclear structure promote lupus autoimmunity in a mouse model. Dis. Model Mech. 9, 885–897 (2016).

39.

Banerjee, S., Biehl, A., Gadina, M., Hasni, S. & Schwartz, D. M. JAK–STAT signaling as a target for inflammatory and autoimmune diseases: current and future prospects. Drugs 77, 521–546 (2017).

40.

Lee, W. H. Open access target validation is a more efficient way to accelerate drug discovery. PLoS Biol. 13, e1002164 (2015).

41.

MacArthur, J. et al. The new NHGRI-EBI Catalog of published genome-wide association studies (GWAS Catalog). Nucleic Acids Res. 45, D896–D901 (2016).

42.

Rao, S. S. P. et al. A 3D map of the human genome at kilobase resolution reveals principles of chromatin looping. Cell 159, 1665–1680 (2014).

43.

Javierre, B. M. et al. Lineage-specific genome architecture links enhancers and non-coding disease variants to target gene promoters. Cell 167, 1369–1384.e19 (2016).

44.

Fairfax, B. P. et al. Genetics of gene expression in primary immune cells identifies cell type-specific master regulators and roles of HLA alleles. Nat. Genet. 44, 502–510 (2012).

45.

Westra, H.-J. et al. Systematic identification of trans eQTLs as putative drivers of known disease associations. Nat. Genet. 45, 1238–1243 (2013).

46.

Naranbhai, V. et al. Genomic modulators of gene expression in human neutrophils. Nat. Commun. 6, 7545 (2015).

47.

Kasela, S. et al. Pathogenic implications for autoimmune mechanisms derived by comparative eQTL analysis of CD4+ versus CD8+ T cells. PLoS Genet. 13, e1006643 (2017).

48.

Zhu, Z. et al. Integration of summary data from GWAS and eQTL studies predicts complex trait gene targets. Nat. Genet. 48, 481–487 (2016).

49.

Ashburner, M. et al. Gene Ontology: tool for the unification of biology. Nat. Genet. 25, 25–29 (2000).

50.

Hamosh, A. Online Mendelian Inheritance in Man (OMIM), a knowledgebase of human genes and genetic disorders. Nucleic Acids Res. 33, D514–D517 (2004).

51.

Kibbe, W. A. et al. Disease Ontology 2015 update: an expanded and updated database of human diseases for linking biomedical knowledge through disease data. Nucleic Acids Res. 43, D1071–D1078 (2015).

52.

Köhler, S. et al. The Human Phenotype Ontology in 2017. Nucleic Acids Res. 45, D865–D876 (2016).

53.

Smith, C. L. & Eppig, J. T. The Mammalian Phenotype Ontology: enabling robust annotation and comparative analysis. Wiley Interdiscip. Rev. Syst. Biol. Med. 1, 390–399 (2009).

54.

Grady, L. Random walks for image segmentation. IEEE Trans. Pattern Anal. Mach. Intell. 28, 1768–1783 (2006).

55.

Szklarczyk, D. et al. The STRING database in 2017: quality-controlled protein–protein association networks, made broadly accessible. Nucleic Acids Res. 39, 561–568 (2016).

56.

Gaulton, A. et al. The ChEMBL database in 2017. Nucleic Acids Res. 45, D945–D954 (2017).

57.

Loughin, T. M. A systematic comparison of methods for combining p-values from independent tests. Comput. Stat. Data Anal. 47, 467–485 (2004).

58.

Subramanian, A. et al. Gene set enrichment analysis: a knowledge-based approach for interpreting genome-wide expression profiles. Proc. Natl Acad. Sci. USA 102, 15545–15550 (2005).

59.

Fabregat, A. et al. The reactome pathway knowledgebase. Nucleic Acids Res. 44, D481–D487 (2016).

60.

Kanehisa, M., Furumichi, M., Tanabe, M., Sato, Y. & Morishima, K. KEGG: new perspectives on genomes, pathways, diseases and drugs. Nucleic Acids Res. 45, D353–D361 (2017).

61.

Fang, H. & Gough, J. The 'dnet' approach promotes emerging research on cancer patient survival. Genome Med. 6, 64 (2014).

62.

Wang, Z. et al. Extraction and analysis of signatures from the Gene Expression Omnibus by the crowd. Nat. Commun. 7, 12846 (2016).

63.

Berman, H. M. et al. The Protein Data Bank. Nucleic Acids Res. 28, 235–242 (2000).

64.

Schmidtke, P. & Barril, X. Understanding and predicting druggability. A high-throughput method for detection of drug binding sites. J. Med. Chem. 53, 5858–5867 (2010).

65.

Mungall, C. J. et al. The Monarch Initiative: an integrative data and analytic platform connecting phenotypes to genotypes across species. Nucleic Acids Res. 45, D712–D722 (2017).

66.

Fang, H. et al. XGR software for enhanced interpretation of genomic summary data, illustrated by application to immunological traits. Genome Med. 8, 129 (2016).
Acknowledgements
We thank A. Edwards for comments on the manuscript. This project was supported by: the European Research Council (FP7/2007-2013), through an EU/EFPIA Innovative Medicines Initiative Joint Undertaking (ULTRA-DD 115766 and 281824 to J.C.K.); Arthritis Research UK (20773 to J.C.K.); the Wellcome Trust Investigator Award (204969/Z/16/Z to J.C.K.); Wellcome Trust grants 090532/Z/09/Z and 203141/Z/16/Z (to the Wellcome Centre for Human Genetics core facility) and 201488/Z/16/Z (to B.P.F.); NIHR Oxford Biomedical Research Centre; Estonian Research Council (PRG184 to L.M.); Alzheimer's Research UK (ARUK-2018DDI-OX to P.E.B.); and Structural Genomics Consortium (charity number 1097737), which receives funds from AbbVie, Bayer Pharma, Boehringer Ingelheim, the Canada Foundation for Innovation, the Eshelman Institute for Innovation, Genome Canada, the Innovative Medicines Initiative (EU/EFPIA) (ULTRA-DD grant number 115766), Janssen, Merck (Darmstadt, Germany), MSD, Novartis Pharma, the Ontario Ministry of Economic Development and Innovation, Pfizer, the São Paulo Research Foundation, Takeda and the Wellcome Trust (106169/ZZ14/Z). For computation, we used the Oxford Biomedical Research Computing facility—a joint development between the Wellcome Centre for Human Genetics and the Big Data Institute, supported by Health Data Research UK and the NIHR Oxford Biomedical Research Centre. The views expressed are those of the author(s) and not necessarily those of the NHS, NIHR or Department of Health. Listed in the ULTRA-DD Consortium are Target Priorization Network (TPN) members (alphabetical order).
Ethics declarations
Competing interests
The Structural Genomics Consortium receives funds from AbbVie, Bayer Pharma, Boehringer Ingelheim, the Canada Foundation for Innovation, the Eshelman Institute for Innovation, Genome Canada, Janssen, Merck (Darmstadt, Germany), MSD, Novartis Pharma, the Ontario Ministry of Economic Development and Innovation, Pfizer, the São Paulo Research Foundation, Takeda and the Wellcome Trust (authors B.D.M., D.D., C.B., Y.S., L.B. and M.S.). These funders had no direct role in study conceptualization, design, data collection, analysis, decision to publish or preparation of the manuscript, except for Janssen (authors H.D.W., J.K.W., H.W.G. and P.J.P.), which generated the L1000 data in house for the compound screen presented in the paper.
Additional information
Publisher's note: Springer Nature remains neutral with regard to jurisdictional claims in published maps and institutional affiliations.
Integrated supplementary information
Supplementary information
About this article
Cite this article
Fang, H., The ULTRA-DD Consortium., De Wolf, H. et al. A genetics-led approach defines the drug target landscape of 30 immune-related traits. Nat Genet 51, 1082–1091 (2019). https://doi.org/10.1038/s41588-019-0456-1
Received:

Accepted:

Published:

Issue Date: