Abstract
Academic institutions play a central role in the biotech industry through technology licensing and the creation of startups, but few data are available on their performance and the magnitude of their impact. Here we present a systematic study of technology licensing by one such institution, the Massachusetts Institute of Technology (MIT). Using data on the 76 therapeutics-focused life sciences companies formed through MIT's Technology Licensing Office from 1983 to 2017, we construct several measures of impact, including MIT patents cited in the Orange Book, capital raised, outcomes from mergers and acquisitions, patents granted to MIT intellectual property licensees, drug candidates discovered and US drug approvals—a key benchmark of innovation in the biopharmaceutical industry. As of December 2017, Orange Book listings for four approved small-molecule drugs cite MIT patents, but another 31 FDA-approved drugs (excluding candidates acquired after phase 3) had some involvement of MIT licensees. Fifty-five percent of the latter were either a new molecular entity or a new biological entity, and 55% were granted priority review, an indication that they address an unmet medical need. The methodology described here may be a useful framework for other academic institutions to track outcomes of intellectual property in the therapeutics domain.
Access options
Subscribe to Nature+
Get immediate online access to Nature and 55 other Nature journal
Subscribe to Journal
Get full journal access for 1 year
$99.00
only $8.25 per issue
All prices are NET prices.
VAT will be added later in the checkout.
Tax calculation will be finalised during checkout.
Buy article
Get time limited or full article access on ReadCube.
$32.00
All prices are NET prices.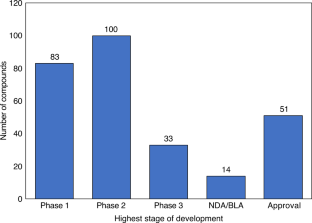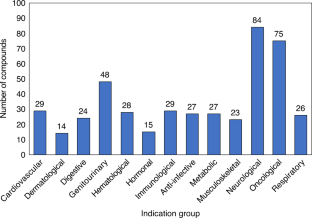 References
Munos, B. Lessons from 60 years of pharmaceutical innovation. Nat. Rev. Drug Discov. 8, 959–968 (2009).

AUTM U.S. Licensing Activity Survey FY 2016 (Association of University Technology Managers, 2016).

Campbell, E. G., Powers, J. B., Blumenthal, D. & Biles, B. Inside the triple helix: technology transfer and commercialization in the life sciences. Health Aff. 23, 64–76 (2004).

Mowery, D. C., Nelson, R. R., Sampat, B. N. & Ziedonis, A. A. in Industrializing Knowledge: University-Industry Linkages in Japan and the United States (eds. Branscomb, L. M., Kodama, F. & Florida, R.) 269–306 (MIT Press, 1999).

Mullard, A. 2016 FDA drug approvals. Nat. Rev. Drug Discov. 16, 73–76 (2017).

Cohen, F. J. Macro trends in pharmaceutical innovation. Nat. Rev. Drug Discov. 4, 78–84 (2005).

Lanthier, M., Miller, K. L., Nardinelli, C. & Woodcock, J. An improved approach to measuring drug innovation finds steady rates of first-in-class pharmaceuticals, 1987–2011. Health Aff. 32, 1433–1439 (2013).

Stevens, A. J. et al. The role of public-sector research in the discovery of drugs and vaccines. N. Engl. J. Med. 364, 535–541 (2011).

Food and Drug Administration. Indevus Pharmaceuticals, Inc.; withdrawal of approval of a new drug application. Federal Register https://www.federalregister.gov/documents/2007/01/30/E7-1414/indevus-pharmaceuticals-inc-withdrawal-of-approval-of-a-new-drug-application (30 January 2007).

Prokesch, S. The Edison of Medicine. Harv. Bus. Rev. March−April, 134–143 (2017).

Herper, M. Lilly gives away Prozac, makes money. Forbes (16 November 2001); https://www.forbes.com/2001/11/16/1116lilly.html#3ecdbf4635ee

Morrison, C. & Lähteenmäki, R. Public biotech in 2014—the numbers. Nat. Biotechnol. 33, 703–709 (2015).

Merck to acquire SmartCells, Inc. Merck https://www.merck.com/news/merck-to-acquire-smartcells-inc/ (2 December 2010).

Matheson, R. The half-billion-dollar idea. MIT News http://news.mit.edu/2013/todd-zion-smartcells-0408 (8 April 2013).

Fidler, B. Alkermes spinoff Civitas, poised for IPO, sells to Acorda for $525M. Xconomy https://xconomy.com/boston/2014/09/24/alkermes-spinoff-civitas-poised-for-ipo-sells-to-acorda-for-525m/ (24 September 2014).

New drugs at FDA: CDER's new molecular entities and new therapeutic biological products. Food and Drug Administration http://www.fda.gov/drugs/development-approval-process-drugs/new-drugs-fda-cders-new-molecular-entities-and-new-therapeutic-biological-products (2020).

Priority Review. Food and Drug Administration http://www.fda.gov/patients/fast-track-breakthrough-therapy-accelerated-approval-priority-review/priority-review (2018).

Millennium and Leukosite agree to merge to accelerate Millennium's move toward commercialization. Millennium Pharmaceuticals https://www.bamsec.com/filing/91205799001797?cik=915320 (14 October 1999).

Weisman, R. Takeda gets FDA approval for multiple myeloma pill. The Boston Globe (20 November 2015); https://www.bostonglobe.com/business/2015/11/20/takeda-gets-fda-approval-for-multiple-myeloma-pill-developed-cambridge/YRxwHUrcljJ3pY5iS6VvtJ/story.html

Raal, F. J. et al. PCSK9 inhibition-mediated reduction in Lp(a) with evolocumab: an analysis of 10 clinical trials and the LDL receptor's role. J. Lipid Res. 57, 1086–1096 (2016).

Alnylam announces first-ever FDA approval of an RNAi therapeutic, ONPATTROTM (patisiran) for the treatment of polyneuropathy of hereditary transthyretin-mediated amyloidosis in adults. Alnylam Pharmaceuticals https://investors.alnylam.com/press-release?id=22946 (10 August 2018).

Tally, F. P. & DeBruin, M. F. Development of daptomycin for Gram-positive infections. J. Antimicrob. Chemother. 46, 523–526 (2000).

Herper, M. Biotech battle scars. Forbes (14 September 2007); https://www.forbes.com/2007/09/14/biotechnology-venture-capital-biz-sci-cx_mh_0914venture.html#20de6b2b681a

Thomson StreetEvents. Q1 2001 Millennium Pharmaceuticals earnings conference call transcript. BamSEC https://www.bamsec.com/fulltext-search/1002637?q=aventis&cik=1002637 (2001).

Tung, R. MIT related to top biotech companies. The Tech http://tech.mit.edu/V115/N67/biotech.67n.html (1996).

Study traces impact of government-funded MIT research on biotechnology and drugs. MIT News Office http://news.mit.edu/1996/biotechmitgov (22 January 1996).

Verastem. Verastem secures $16 million in series A financing for novel cancer stem cell drugs. Biospace https://www.biospace.com/article/releases/-b-verastem-b-secures-16-million-in-series-a-financing-for-novel-cancer-stem-cell-drugs-/ (16 November 2010).

Alnylam Pharmaceuticals. Alnylam announces FDA acceptance of new drug application (NDA) and priority review status for patisiran, an investigational RNAi therapeutic for the treatment of hereditary ATTR (hATTR) amyloidosis. Business Wire https://www.businesswire.com/news/home/20180201006407/en/Alnylam-Announces-FDA-Acceptance-New-Drug-Application (11 August 2018).

Duke University. Duke University & Deerfield Management announce four points innovation. Duke University Office of Licensing & Ventures https://olv.duke.edu/news/duke-deerfield-announce-four-points-innovation/ (18 December 2019).

MPEG LA. MPEG LA Initiative to address CRISPR licensing. Business Wire https://www.businesswire.com/news/home/20161206006182/en/MPEG-LA-Initiative-Address-CRISPR-Licensing (6 December 2016).

Lawrence, S. Celgene backs four NCI Cancer Centers with $50M to create research consortium. FierceBiotech https://www.fiercebiotech.com/biotech/celgene-backs-four-nci-cancer-centers-50m-to-create-research-consortium (22 June 2016).
Acknowledgements
We thank MIT's Technology Licensing Office for agreeing to participate in this study and providing access to their historical data, in particular, G. Lindsay, J. Lura and L. Millar-Nicholson. We thank D. Gifford, R. Horvitz, R. Langer, H. Lodish, E. Roberts, P. Sharp, P. Szolovits, C. Westphal and H. Williams for helpful comments and discussion, and J. Cummings for editorial assistance. Research support from the MIT Laboratory for Financial Engineering is gratefully acknowledged. The views and opinions expressed in this article are those of the authors alone, and do not necessarily represent the views and opinions of any institution or agency, any of their affiliates or employees, or any of the individuals acknowledged above.
Ethics declarations
Competing interests
All authors were affiliated with MIT during the course of this project. L.N. was head of MIT's Technology Licensing Office at the start of the project, and currently consults for biopharma companies and investors. A.W.L. reports personal investments in private and public biotech companies, biotech venture capital funds, and life sciences mutual funds, and is a cofounder and partner of QLS Advisors, a healthcare analytics company; an advisor to BrightEdge Ventures; a director of Roivant Sciences Ltd, BridgeBio Pharma and Annual Reviews; chairman emeritus and senior advisor to the AlphaSimplex Group; and a member of the Board of Overseers at Beth Israel Deaconess Medical Center and the NIH's National Center for Advancing Translational Sciences Advisory Council and Cures Acceleration Network Review Board.
Additional information
Publisher's note Springer Nature remains neutral with regard to jurisdictional claims in published maps and institutional affiliations.
Supplementary information
About this article
Cite this article
Huang, S., Siah, K.W., Vasileva, D. et al. Life sciences intellectual property licensing at the Massachusetts Institute of Technology. Nat Biotechnol 39, 293–301 (2021). https://doi.org/10.1038/s41587-021-00843-5
Received:

Accepted:

Published:

Issue Date:

DOI: https://doi.org/10.1038/s41587-021-00843-5