Abstract
Protein–DNA interactions are critical to the regulation of gene expression, but it remains challenging to define how cell-to-cell heterogeneity in protein–DNA binding influences gene expression variability. Here we report a method for the simultaneous quantification of protein–DNA contacts by combining single-cell DNA adenine methyltransferase identification (DamID) with messenger RNA sequencing of the same cell (scDam&T-seq). We apply scDam&T-seq to reveal how genome–lamina contacts or chromatin accessibility correlate with gene expression in individual cells. Furthermore, we provide single-cell genome-wide interaction data on a polycomb-group protein, RING1B, and the associated transcriptome. Our results show that scDam&T-seq is sensitive enough to distinguish mouse embryonic stem cells cultured under different conditions and their different chromatin landscapes. Our method will enable the analysis of protein-mediated mechanisms that regulate cell-type-specific transcriptional programs in heterogeneous tissues.
Access options
Subscribe to Journal
Get full journal access for 1 year
$59.00
only $4.92 per issue
All prices are NET prices.
VAT will be added later in the checkout.
Tax calculation will be finalised during checkout.
Rent or Buy article
Get time limited or full article access on ReadCube.
from$8.99
All prices are NET prices.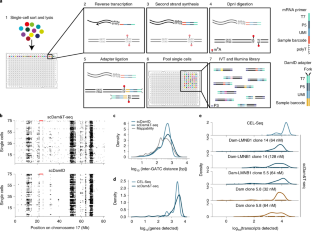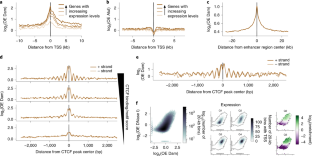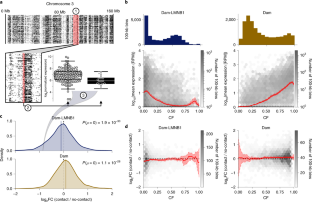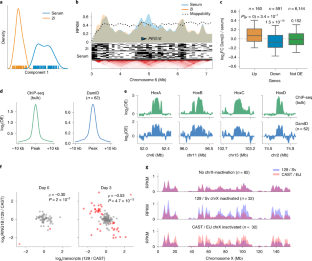 Data availability
The sequencing data from this study are available from the Gene Expression Omnibus, accession number GSE108639.
Code availability
All computational code used for this study is available upon request.
References
1.

Nagano, T. et al. Single-cell Hi-C reveals cell-to-cell variability in chromosome structure. Nature 502, 59–64 (2013).

2.

Kind, J. et al. Genome-wide maps of nuclear lamina interactions in single human cells. Cell 163, 134–147 (2015).

3.

Flyamer, I. M. et al. Single-nucleus Hi-C reveals unique chromatin reorganization at oocyte-to-zygote transition. Nature 544, 110–114 (2017).

4.

Stevens, T. J. et al. 3D structures of individual mammalian genomes studied by single-cell Hi-C. Nature 544, 59–64 (2017).

5.

Cusanovich, D. A. et al. Multiplex single cell profiling of chromatin accessibility by combinatorial cellular indexing. Science 348, 910–914 (2015).

6.

Buenrostro, J. D. et al. Single-cell chromatin accessibility reveals principles of regulatory variation. Nature 523, 486–490 (2015).

7.

Jin, W. et al. Genome-wide detection of DNase I hypersensitive sites in single cells and FFPE tissue samples. Nature 528, 142–146 (2015).

8.

Guo, H. et al. Single-cell methylome landscapes of mouse embryonic stem cells and early embryos analyzed using reduced representation bisulfite sequencing. Genome Res. 23, 2126–2135 (2013).

9.

Smallwood, S. A. et al. Single-cell genome-wide bisulfite sequencing for assessing epigenetic heterogeneity. Nat. Methods 11, 817–820 (2014).

10.

Farlik, M. et al. Single-cell DNA methylome sequencing and bioinformatic inference of epigenomic cell-state dynamics. Cell Rep. 10, 1386–1397 (2015).

11.

Mooijman, D. et al. Single-cell 5hmC sequencing reveals chromosome-wide cell-to-cell variability and enables lineage reconstruction. Nat. Biotechnol. 34, 852–856 (2016).

12.

Zhu, C. et al. Single-cell 5-formylcytosine landscapes of mammalian early embryos and ESCs at single-base resolution. Cell Stem Cell 20, 720–731 (2017).

13.

Wu, X. et al. Simultaneous mapping of active DNA demethylation and sister chromatid exchange in single cells. Genes Dev. 31, 511–523 (2017).

14.

Rotem, A. et al. Single-cell ChIP-seq reveals cell subpopulations defined by chromatin state. Nat. Biotechnol. 33, 1165–1172 (2015).

15.

Dey, S. et al. Integrated genome and transcriptome sequencing of the same cell. Nat. Biotechnol. 33, 285–289 (2015).

16.

Macaulay, I. C. et al. G&T-seq: parallel sequencing of single-cell genomes and transcriptomes. Nat. Methods 12, 519–522 (2015).

17.

Hou, Y. et al. Single-cell triple omics sequencing reveals genetic, epigenetic, and transcriptomic heterogeneity in hepatocellular carcinomas. Cell Res. 26, 304–319 (2016).

18.

Angermueller, C. et al. Parallel single-cell sequencing links transcriptional and epigenetic heterogeneity. Nat. Methods 13, 229–232 (2016).

19.

Clark, S. J. et al. scNMT-seq enables joint profiling of chromatin accessibility DNA methylation and transcription in single cells. Nat. Commun. 9, 781 (2018).

20.

Steensel van, B. et al. Chromatin profiling using targeted DNA adenine methyltransferase. Nat. Genet. 27, 304–308 (2001).

21.

Vogel, M. J. et al. Detection of in vivo protein–DNA interactions using DamID in mammalian cells. Nat. Protoc. 2, 1467–1478 (2007).

22.

Kind, J. et al. Single-cell dynamics of genome–nuclear lamina interactions. Cell 153, 178–192 (2013).

23.

Hashimshony, T. et al. CEL-Seq2: sensitive highly-multiplexed single-cell RNA-Seq. Genome Biol. 17, 77 (2016).

24.

Meuleman, W. et al. Constitutive nuclear lamina–genome interactions are highly conserved and associated with A/T-rich sequence. Genome Res. 23, 270–281 (2013).

25.

Monkhorst, K. et al. X inactivation counting and choice is a stochastic process: evidence for involvement of an X-linked activator. Cell 132, 410–421 (2008).

26.

Nishimura, K. et al. An auxin-based degron system for the rapid depletion of proteins in nonplant cells. Nat. Methods 6, 917–922 (2009).

27.

Peric-Hupkes, D. et al. Molecular maps of the reorganization of genome–nuclear lamina interactions during differentiation. Mol. Cell 38, 603–613 (2010).

28.

Aughey, G. N. et al. CATaDa reveals global remodelling of chromatin accessibility during stem cell differentiation in vivo. eLife 7, e32341 (2018).

29.

Schones, D. E. et al. Dynamic regulation of nucleosome positioning in the human genome. Cell 132, 887–898 (2008).

30.

Valouev, A. et al. Determinants of nucleosome organization in primary human cells. Nature 474, 516–520 (2011).

31.

Boyle, A. P. et al. High-resolution mapping and characterization of open chromatin across the genome. Cell 132, 311–322 (2008).

32.

Wang, H. et al. Role of histone H2A ubiquitination in polycomb silencing. Nature 431, 873–878 (2004).

33.

Zylicz, J. J. et al. The implication of early chromatin changes in X chromosome inactivation. Cell 176, 182–197 (2019).

34.

Bonev, B. et al. Multiscale 3D genome rewiring during mouse neural development. Cell 171, 557–572.e524 (2017).

35.

Wang, Y. et al. The 3D Genome Browser: a web-based browser for visualizing 3D genome organization and long-range chromatin interactions. Genome Biol. 19, 151 (2018).

36.

Sakaue-Sawano, A. et al. Visualizing spatiotemporal dynamics of multicellular cell cycle progression. Cell 132, 487–498 (2008).

37.

Keane, T. M. et al. Mouse genomic variation and its effect on phenotypes and gene regulation. Nature 477, 289–294 (2011).

38.

Lun, A. T. et al. Pooling across cells to normalize single-cell RNA sequencing data with many zero counts. Genome Biol. 17, 75 (2016).

39.

Lun, A. T. et al. A step-by-step workflow for low-level analysis of single-cell RNA-seq data with Bioconductor. F1000Res 5, 2122 (2016).

40.

Boedigheimer, M. J. et al. Sources of variation in baseline gene expression levels from toxicogenomics study control animals across multiple laboratories. BMC Genomics 9, 285 (2008).

41.

Johnson, W. E. et al. Adjusting batch effects in microarray expression data using empirical Bayes methods. Biostatistics 1, 118–127 (2006).

42.

Kent, W. J. et al. The human genome browser at UCSC. Genome Res. 12, 996–1006 (2002).

43.

Ernst, J. et al. Mapping and analysis of chromatin state dynamics in nine human cell types. Nature 473, 43–49 (2011).

44.

Knijnenburg, T. A. et al. Multiscale representation of genomic signals. Nat. Methods 11, 689–694 (2014).

45.

Robinson, M. D. et al. edgeR: a Bioconductor package for differential expression analysis of digital gene expression data. Bioinformatics 26, 139–140 (2010).
Acknowledgements
We would like to thank the members of the Kind, Dey and van Oudenaarden laboratories for their comments on the manuscript and J. Gribnau (Erasmus UMC) for kindly providing the 129/Sv:CAST/EiJ mESCs and for advice on differentiation. We would like to thank B. de Barbanson and J. Yeung for suggestions regarding computational analyses and statistics, R. van der Linden for FACS and M. Muraro and L. Kester for input on the scDam&T-seq technique. S.S.D and A.C. received computational support from the Center of Scientific Computing at UCSB based on funding from NSF MRSEC (DMR-1720256) and NSF CNS-1725797. This work was funded by a European Research Council Starting grant (no. ERC-StG 678423-EpiID) and a Nederlandse Organisatie voor Wetenschappelijk Onderzoek (NWO) Open grant (no. 824.15.019) and ALW/VENI grant (no. 016.Veni.181.013). The Oncode Institute is supported by the KWF Dutch Cancer Society.
Ethics declarations
Competing interests
The authors declare no competing interests.
Additional information
Publisher's note: Springer Nature remains neutral with regard to jurisdictional claims in published maps and institutional affiliations.
Integrated supplementary information
Supplementary information
Supplementary Figs. 1–7 and Supplementary Tables 1–4
About this article
Cite this article
Rooijers, K., Markodimitraki, C.M., Rang, F.J. et al. Simultaneous quantification of protein–DNA contacts and transcriptomes in single cells. Nat Biotechnol 37, 766–772 (2019). https://doi.org/10.1038/s41587-019-0150-y
Received:

Revised:

Accepted:

Published:

Issue Date: