Abstract
Cancer alters the function of multiple organs beyond those targeted by metastasis1,2. Here we show that inflammation, fatty liver and dysregulated metabolism are hallmarks of systemically affected livers in mouse models and in patients with extrahepatic metastasis. We identified tumour-derived extracellular vesicles and particles (EVPs) as crucial mediators of cancer-induced hepatic reprogramming, which could be reversed by reducing tumour EVP secretion via depletion of Rab27a. All EVP subpopulations, exosomes and principally exomeres, could dysregulate hepatic function. The fatty acid cargo of tumour EVPs—particularly palmitic acid—induced secretion of tumour necrosis factor (TNF) by Kupffer cells, generating a pro-inflammatory microenvironment, suppressing fatty acid metabolism and oxidative phosphorylation, and promoting fatty liver formation. Notably, Kupffer cell ablation or TNF blockade markedly decreased tumour-induced fatty liver generation. Tumour implantation or pre-treatment with tumour EVPs diminished cytochrome P450 gene expression and attenuated drug metabolism in a TNF-dependent manner. We also observed fatty liver and decreased cytochrome P450 expression at diagnosis in tumour-free livers of patients with pancreatic cancer who later developed extrahepatic metastasis, highlighting the clinical relevance of our findings. Notably, tumour EVP education enhanced side effects of chemotherapy, including bone marrow suppression and cardiotoxicity, suggesting that metabolic reprogramming of the liver by tumour-derived EVPs may limit chemotherapy tolerance in patients with cancer. Our results reveal how tumour-derived EVPs dysregulate hepatic function and their targetable potential, alongside TNF inhibition, for preventing fatty liver formation and enhancing the efficacy of chemotherapy.
Access options
Access Nature and 54 other Nature Portfolio journals
Get Nature+, our best-value online-access subscription
$29.99 / 30 days
cancel any time
Subscribe to this journal
Receive 51 print issues and online access
$199.00 per year
only $3.90 per issue
Rent or buy this article
Prices vary by article type
from$1.95
to$39.95
Prices may be subject to local taxes which are calculated during checkout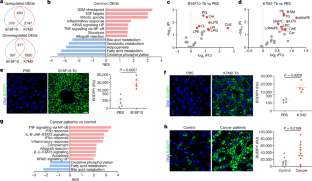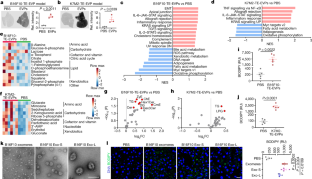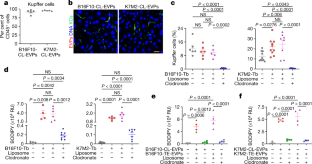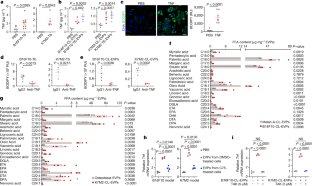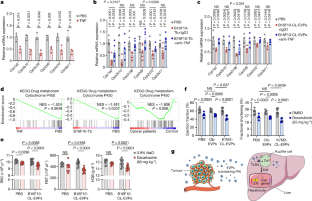 Similar content being viewed by others
References
McAllister, S. S. & Weinberg, R. A. The tumour-induced systemic environment as a critical regulator of cancer progression and metastasis. Nat. Cell Biol. 16, 717–727 (2014).

Wang, G. et al. Metastatic cancers promote cachexia through ZIP14 upregulation in skeletal muscle. Nat. Med. 24, 770–781 (2018).

Lucotti, S., Kenific, C. M., Zhang, H. & Lyden, D. Extracellular vesicles and particles impact the systemic landscape of cancer. EMBO J. 41, e109288 (2022).

Zhang, G. et al. Tumor induces muscle wasting in mice through releasing extracellular Hsp70 and Hsp90. Nat. Commun. 8, 589 (2017).

Zhang, H. et al. Identification of distinct nanoparticles and subsets of extracellular vesicles by asymmetric flow field-flow fractionation. Nat. Cell Biol. 20, 332–343 (2018).

Costa-Silva, B. et al. Pancreatic cancer exosomes initiate pre-metastatic niche formation in the liver. Nat. Cell Biol. 17, 816–826 (2015).

Hoshino, A. et al. Tumour exosome integrins determine organotropic metastasis. Nature 527, 329–335 (2015).

Zhang, H. et al. Exosome-delivered EGFR regulates liver microenvironment to promote gastric cancer liver metastasis. Nat. Commun. 8, 15016 (2017).

Xie, Z. et al. Exosome-delivered CD44v6/C1QBP complex drives pancreatic cancer liver metastasis by promoting fibrotic liver microenvironment. Gut 71, 568–579 (2022).

Peinado, H. et al. Melanoma exosomes educate bone marrow progenitor cells toward a pro-metastatic phenotype through MET. Nat. Med. 18, 883–891 (2012).

Khanna, C. et al. Metastasis-associated differences in gene expression in a murine model of osteosarcoma. Cancer Res. 61, 3750–3759 (2001).

Aslakson, C. J. & Miller, F. R. Selective events in the metastatic process defined by analysis of the sequential dissemination of subpopulations of a mouse mammary tumor. Cancer Res. 52, 1399–1405 (1992).

Tilg, H., Adolph, T. E., Dudek, M. & Knolle, P. Non-alcoholic fatty liver disease: the interplay between metabolism, microbes and immunity. Nat. Metab. 3, 1596–1607 (2021).

Burd, C. E. et al. Mutation-specific RAS oncogenicity explains NRAS codon 61 selection in melanoma. Cancer Discov. 4, 1418–1429 (2014).

Maddipati, R. & Stanger, B. Z. Pancreatic cancer metastases harbor evidence of polyclonality. Cancer Discov. 5, 1086–1097 (2015).

Hoshino, A. et al. Extracellular vesicle and particle biomarkers define multiple human cancers. Cell 182, 1044–1061.e1018 (2020).

Bojmar, L. et al. Extracellular vesicle and particle isolation from human and murine cell lines, tissues, and bodily fluids. STAR Protoc. 2, 100225 (2021).

Ostrowski, M. et al. Rab27a and Rab27b control different steps of the exosome secretion pathway. Nat. Cell Biol. 12, 19–30 (2010).

Stienstra, R. et al. Kupffer cells promote hepatic steatosis via interleukin-1beta-dependent suppression of peroxisome proliferator-activated receptor alpha activity. Hepatology 51, 511–522 (2010).

De Taeye, B. M. et al. Macrophage TNF-α contributes to insulin resistance and hepatic steatosis in diet-induced obesity. Am. J. Physiol. 293, E713–E725 (2007).

Feldstein, A. E. et al. Free fatty acids promote hepatic lipotoxicity by stimulating TNF-α expression via a lysosomal pathway. Hepatology 40, 185–194 (2004).

Korbecki, J. & Bajdak-Rusinek, K. The effect of palmitic acid on inflammatory response in macrophages: an overview of molecular mechanisms. Inflamm. Res. 68, 915–932 (2019).

Kuhajda, F. P. et al. Synthesis and antitumor activity of an inhibitor of fatty acid synthase. Proc. Natl Acad. Sci. USA 97, 3450–3454 (2000).

Rocha, D. M., Caldas, A. P., Oliveira, L. L., Bressan, J. & Hermsdorff, H. H. Saturated fatty acids trigger TLR4-mediated inflammatory response. Atherosclerosis 244, 211–215 (2016).

Milanski, M. et al. Saturated fatty acids produce an inflammatory response predominantly through the activation of TLR4 signaling in hypothalamus: implications for the pathogenesis of obesity. J. Neurosci. 29, 359–370 (2009).

Fearon, K. C., Glass, D. J. & Guttridge, D. C. Cancer cachexia: mediators, signaling, and metabolic pathways. Cell Metab. 16, 153–166 (2012).

Vasilogianni, A. M. et al. Proteomics of colorectal cancer liver metastasis: A quantitative focus on drug elimination and pharmacodynamics effects. Br. J. Clin. Pharmacol. 88, 1811–1823 (2021).

Jamwal, R. & Barlock, B. J. Nonalcoholic fatty liver disease (NAFLD) and hepatic cytochrome P450 (CYP) enzymes. Pharmaceuticals 13, 222 (2020).

Reid, J. M., Kuffel, M. J., Miller, J. K., Rios, R. & Ames, M. M. Metabolic activation of dacarbazine by human cytochromes P450: the role of CYP1A1, CYP1A2, and CYP2E1. Clin. Cancer Res. 5, 2192–2197 (1999).

Lewis, I. J. et al. Improvement in histologic response but not survival in osteosarcoma patients treated with intensified chemotherapy: a randomized phase III trial of the European Osteosarcoma Intergroup. J. Natl Cancer Inst. 99, 112–128 (2007).

Bagdasaryan, A. A. et al. Pharmacogenetics of drug metabolism: the role of gene polymorphism in the regulation of doxorubicin safety and efficacy. Cancers 14, 5436 (2022).

Savarese, G., Stolfo, D., Sinagra, G. & Lund, L. H. Heart failure with mid-range or mildly reduced ejection fraction. Nat. Rev. Cardiol. 19, 100–116 (2022).

Peinado, H. et al. Pre-metastatic niches: organ-specific homes for metastases. Nat. Rev. Cancer 17, 302–317 (2017).

Altea-Manzano, P. et al. A palmitate-rich metastatic niche enables metastasis growth via p65 acetylation resulting in pro-metastatic NF-κB signaling. Nat. Cancer 4, 344–364 (2023).

Allen, A. M., Hicks, S. B., Mara, K. C., Larson, J. J. & Therneau, T. M. The risk of incident extrahepatic cancers is higher in non-alcoholic fatty liver disease than obesity—a longitudinal cohort study. J. Hepatol. 71, 1229–1236 (2019).

Mantovani, A. et al. Non-alcoholic fatty liver disease and increased risk of incident extrahepatic cancers: a meta-analysis of observational cohort studies. Gut 71, 778–788 (2022).

Livak, K. J. & Schmittgen, T. D. Analysis of relative gene expression data using real-time quantitative PCR and the 2−ΔΔCT method. Methods 25, 402–408 (2001).

Chevalier, C. et al. Primary mouse osteoblast and osteoclast culturing and analysis. STAR Protoc. 2, 100452 (2021).

Zhang, H. & Lyden, D. Asymmetric-flow field-flow fractionation technology for exomere and small extracellular vesicle separation and characterization. Nat. Protoc. 14, 1027–1053 (2019).

Rodrigues, G. et al. Tumour exosomal CEMIP protein promotes cancer cell colonization in brain metastasis. Nat. Cell Biol. 21, 1403–1412 (2019).

de Graaf, I. A. et al. Preparation and incubation of precision-cut liver and intestinal slices for application in drug metabolism and toxicity studies. Nat. Protoc. 5, 1540–1551 (2010).

Paish, H. L. et al. A bioreactor technology for modeling fibrosis in human and rodent precision-cut liver slices. Hepatology 70, 1377–1391 (2019).

Hennessey, R. C. et al. Ultraviolet radiation accelerates NRas-mutant melanomagenesis: A cooperative effect blocked by sunscreen. Pigment Cell Melanoma Res. 30, 477–487 (2017).

Bosenberg, M. et al. Characterization of melanocyte-specific inducible Cre recombinase transgenic mice. Genesis 44, 262–267 (2006).

Weiss, T. J. et al. Cell-intrinsic melanin fails to protect melanocytes from ultraviolet-mutagenesis in the absence of epidermal melanin. Pigment Cell Melanoma Res. 36, 6–18 (2023).

Borgogna, J. C. et al. The association of Chlamydia trachomatis and Mycoplasma genitalium infection with the vaginal metabolome. Sci. Rep. 10, 3420 (2020).

Chong, J., Wishart, D. S. & Xia, J. Using MetaboAnalyst 4.0 for comprehensive and integrative metabolomics data analysis. Curr. Protoc. Bioinformatics 68, e86 (2019).

Subramanian, A. et al. Gene set enrichment analysis: a knowledge-based approach for interpreting genome-wide expression profiles. Proc. Natl Acad. Sci. USA 102, 15545–15550 (2005).

Liberzon, A. et al. The Molecular Signatures Database (MSigDB) hallmark gene set collection. Cell Syst. 1, 417–425 (2015).
Acknowledgements
The authors acknowledge the Genomics Resource Core Facility (Weill Cornell Medicine), Electron Microscopy and Histology Core Facility (Weill Cornell Medicine), Molecular Cytology Core Facility (Memorial Sloan Kettering Cancer Center, MSKCC) and Laboratory of Comparative Pathology (MSKCC) for their high-quality service. The authors also acknowledge technical support from Wyatt Technology. The authors thank members of the Lyden laboratory for insightful discussions. The authors gratefully acknowledge support from the National Cancer Institute (CA232093, CA163117 and CA207983 to D.L. and CA218513 to D.L. and H.Z.), the Thompson Family Foundation (to D.L. and D.K.), the Tortolani Foundation (to D.L. and J.B.), the Pediatric Oncology Experimental Therapeutics Investigator's Consortium, the Malcolm Hewitt Weiner Foundation, the Manning Foundation, the Sohn Foundation, the AHEPA Vth District Cancer Research Foundation, the Children's Cancer and Blood Foundation, the Hartwell Foundation (to D.L.), the National Institutes of Health (R01CA234614, 2R01AI107301, R01CA234614 and R01DK121072 to R.E.S.), the United States Department of Defense (W81XWH-21-1-0978 to R.E.S.), the Paul G. Allen Family Foundation UWSC13448 (to R.E.S.), the National Natural Science Foundation of China (81902730 to J.L.), Guangdong Foundation of Medical Science and Technology (A2019213 to J.L.), China Scholarship Council (CSC No. 202008440567 to J.L.), the Swedish Cancer Society Pancreatic Cancer Fellowship (to L.B.), the Lions International Postdoctoral fellowship (to L.B.), the Sweden-America stipend (to L.B.), and the fellowship from Alan and Sandra Gerry Metastasis and Tumor Ecosystems Center of Memorial Sloan Kettering Cancer Center (to C.P.Z.). The part of the research involved in developing osteosarcoma PDXs and tumour imaging was funded in part through the NIH/NCI Cancer Center Support Grant P30 CA008748 to MSKCC, the National Institutes of Health (R01CA237213 to C.E.B and V.P., and R01CA254036 to S.K.B.). R.E.S. is an Irma Hirschl Trust Research Award Scholar. Schematic models were generated in part using Servier Medical Art, provided by Servier, licensed under a Creative Commons Attribution 3.0 unported license, with further modifications.
Ethics declarations
Competing interests
D.L. is on the scientific advisory board of Aufbau Holdings. R.E.S. is on the scientific advisory board of Miromatrix and is a speaker and consultant for Alnylam. M.E. is a member of the research advisory board for brensocatib for Insmed, a member of the scientific advisory board for Vividion Therapeutics and a consultant for Protalix BioTherapeutics, and holds shares in Agios. The other authors declare no competing interests.
Peer review
Peer review information
Nature thanks Ekihiro Seki and the other, anonymous, reviewer(s) for their contribution to the peer review of this work. Peer review reports are available.
Additional information
Publisher's note Springer Nature remains neutral with regard to jurisdictional claims in published maps and institutional affiliations.
Extended data figures and tables
Supplementary information
Rights and permissions
Springer Nature or its licensor (e.g. a society or other partner) holds exclusive rights to this article under a publishing agreement with the author(s) or other rightsholder(s); author self-archiving of the accepted manuscript version of this article is solely governed by the terms of such publishing agreement and applicable law.
About this article
Cite this article
Wang, G., Li, J., Bojmar, L. et al. Tumour extracellular vesicles and particles induce liver metabolic dysfunction. Nature 618, 374–382 (2023). https://doi.org/10.1038/s41586-023-06114-4
Received:

Accepted:

Published:

Issue Date:

DOI: https://doi.org/10.1038/s41586-023-06114-4
This article is cited by
Wenkai Chen
Zongguang Li
Guangrong Ji

Journal of Nanobiotechnology (2023)

Shailendra K. Gautam
Surinder K. Batra
Maneesh Jain

Molecular Cancer (2023)

Nature Reviews Cancer (2023)
Comments
By submitting a comment you agree to abide by our Terms and Community Guidelines. If you find something abusive or that does not comply with our terms or guidelines please flag it as inappropriate.