Abstract
G-protein-coupled receptors (GPCRs), the largest family of signalling receptors, as well as important drug targets, are known to activate extracellular-signal-regulated kinase (ERK)—a master regulator of cell proliferation and survival1. However, the precise mechanisms that underlie GPCR-mediated ERK activation are not clearly understood2,3,4. Here we investigated how spatially organized β2-adrenergic receptor (β2AR) signalling controls ERK. Using subcellularly targeted ERK activity biosensors5, we show that β2AR signalling induces ERK activity at endosomes, but not at the plasma membrane. This pool of ERK activity depends on active, endosome-localized Gαs and requires ligand-stimulated β2AR endocytosis. We further identify an endosomally localized non-canonical signalling axis comprising Gαs, RAF and mitogen-activated protein kinase kinase, resulting in endosomal ERK activity that propagates into the nucleus. Selective inhibition of endosomal β2AR and Gαs signalling blunted nuclear ERK activity, MYC gene expression and cell proliferation. These results reveal a non-canonical mechanism for the spatial regulation of ERK through GPCR signalling and identify a functionally important endosomal signalling axis.
Access options
Access Nature and 54 other Nature Portfolio journals
Get Nature+, our best-value online-access subscription
$29.99 per month
cancel any time
Subscribe to this journal
Receive 51 print issues and online access
$199.00 per year
only $3.90 per issue
Rent or buy this article
Get just this article for as long as you need it
$39.95
Prices may be subject to local taxes which are calculated during checkout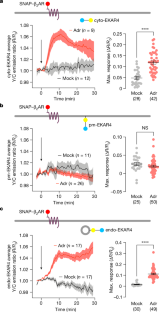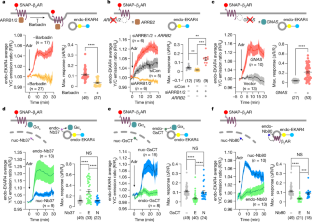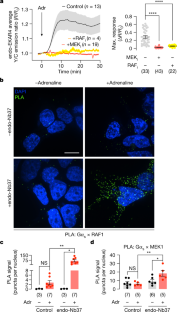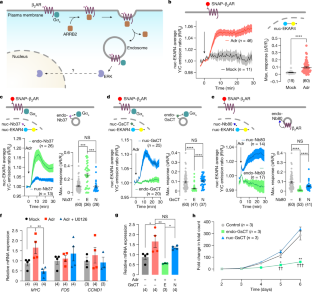 Data availability
 The data supporting the findings of this study are available from the corresponding author on reasonable request. Source data are provided with this paper.
References
Smith, J. S., Lefkowitz, R. J. & Rajagopal, S. Biased signalling: from simple switches to allosteric microprocessors. Nat. Rev. Drug Discov. 17, 243–260 (2018).

O'Hayre, M. et al. Genetic evidence that β-arrestins are dispensable for the initiation of β2-adrenergic receptor signaling to ERK. Sci. Signal. 10, eaal3395 (2017).

Grundmann, M. et al. Lack of beta-arrestin signaling in the absence of active G proteins. Nat. Commun. 9, 341 (2018).

Luttrell, L. M. et al. Manifold roles of β-arrestins in GPCR signaling elucidated with siRNA and CRISPR/Cas9. Sci. Signal. 11, eaat7650 (2018).

Keyes, J. et al. Signaling diversity enabled by Rap1-regulated plasma membrane ERK with distinct temporal dynamics. eLife 9, e57410 (2020).

Smith, J. S. et al. Noncanonical scaffolding of Gαi and β-arrestin by G protein-coupled receptors. Science 371, eaay1833 (2021).

Lavoie, H., Gagnon, J. & Therrien, M. ERK signalling: a master regulator of cell behaviour, life and fate. Nat. Rev. Mol. Cell Biol. 21, 607–632 (2020).

Eichel, K. & von Zastrow, M. Subcellular organization of GPCR signaling. Trends Pharmacol. Sci. 39, 200–208 (2018).

Irannejad, R. et al. Conformational biosensors reveal GPCR signalling from endosomes. Nature 495, 534–538 (2013).

Tsvetanova, N. G. & von Zastrow, M. Spatial encoding of cyclic AMP signaling specificity by GPCR endocytosis. Nat. Chem. Biol. 10, 1061–1065 (2014).

Kotowski, S. J., Hopf, F. W., Seif, T., Bonci, A. & von Zastrow, M. Endocytosis promotes rapid dopaminergic signaling. Neuron 71, 278–290 (2011).

de Rooij, J. et al. Epac is a Rap1 guanine-nucleotide-exchange factor directly activated by cyclic AMP. Nature 396, 474–477 (1998).

Kolch, W. et al. Protein kinase Cα activates RAF-1 by direct phosphorylation. Nature 364, 249–252 (1993).

Daaka, Y. et al. Essential role for G protein-coupled receptor endocytosis in the activation of mitogen-activated protein kinase. J. Biol. Chem. 273, 685–688 (1998).

Pierce, K. L., Maudsley, S., Daaka, Y., Luttrell, L. M. & Lefkowitz, R. J. Role of endocytosis in the activation of the extracellular signal-regulated kinase cascade by sequestering and nonsequestering G protein-coupled receptors. Proc. Natl Acad. Sci. USA 97, 1489–1494 (2000).

Gurevich, V. V. & Gurevich, E. V. Arrestin-mediated signaling: is there a controversy? World J. Biol. Chem. 9, 25–35 (2018).

Luttrell, L. M. et al. Activation and targeting of extracellular signal-regulated kinases by β-arrestin scaffolds. Proc. Natl Acad. Sci. USA 98, 2449–2454 (2001).

Tohgo, A. et al. The stability of the G protein-coupled receptor-beta-arrestin interaction determines the mechanism and functional consequence of ERK activation. J. Biol. Chem. 278, 6258–6267 (2003).

Schmitt, D. L. et al. Spatial regulation of AMPK signaling revealed by a sensitive kinase activity reporter. Nat. Commun. 13, 3856 (2021).

Chen, M., Sun, T., Zhong, Y., Zhou, X. & Zhang, J. A highly sensitive fluorescent Akt biosensor reveals lysosome-selective regulation of lipid second messengers and kinase activity. ACS Cent. Sci. 7, 2009–2020 (2021).

Zhou, X. et al. Dynamic visualization of mTORC1 activity in living cells. Cell Rep. 10, 1767–1777 (2015).

Allen, M. D. & Zhang, J. Subcellular dynamics of protein kinase A activity visualized by FRET-based reporters. Biochem. Biophys. Res. Commun. 348, 716–721 (2006).

Miyamoto, T. et al. Compartmentalized AMPK signaling illuminated by genetically encoded molecular sensors and actuators. Cell Rep. 11, 657–670 (2015).

Vaidyanathan, H. et al. ERK MAP kinase is targeted to RSK2 by the phosphoprotein PEA-15. Proc. Natl Acad. Sci. USA 104, 19837–19842 (2007).

Boned Del Rio, I. et al. SHOC2 complex-driven RAF dimerization selectively contributes to ERK pathway dynamics. Proc. Natl. Acad. Sci. USA 116, 13330–13339 (2019).

Ariotti, N. et al. Modular detection of GFP-labeled proteins for rapid screening by electron microscopy in cells and organisms. Dev. Cell 35, 513–525 (2015).

Gerits, N., Kostenko, S., Shiryaev, A., Johannessen, M. & Moens, U. Relations between the mitogen-activated protein kinase and the cAMP-dependent protein kinase pathways: comradeship and hostility. Cell Signal 20, 1592–1607 (2008).

Eichel, K. et al. Catalytic activation of β-arrestin by GPCRs. Nature 557, 381–386 (2018).

Peng, G. E., Pessino, V., Huang, B. & von Zastrow, M. Spatial decoding of endosomal cAMP signals by a metastable cytoplasmic PKA network. Nat. Chem. Biol. 17, 558–566 (2021).

Luttrell, L. M. et al. β-Arrestin-dependent formation of β2 adrenergic receptor-Src protein kinase complexes. Science 283, 655–661 (1999).

Pierce, K. L., Luttrell, L. M. & Lefkowitz, R. J. New mechanisms in heptahelical receptor signaling to mitogen activated protein kinase cascades. Oncogene 20, 1532–1539 (2001).

Luttrell, L. M. 'Location, location, location': activation and targeting of MAP kinases by G protein-coupled receptors. J. Mol. Endocrinol. 30, 117–126 (2003).

Beautrait, A. et al. A new inhibitor of the β-arrestin/AP2 endocytic complex reveals interplay between GPCR internalization and signalling. Nat. Commun. 8, 15054 (2017).

Martin, B. R. & Lambert, N. A. Activated G protein galphas samples multiple endomembrane compartments. J. Biol. Chem. 291, 20295–20302 (2016).

Lazar, A. M. et al. G protein-regulated endocytic trafficking of adenylyl cyclase type 9. eLife 9, e58039 (2020).

Zhou, X. et al. Location-specific inhibition of Akt reveals regulation of mTORC1 activity in the nucleus. Nat. Commun. 11, 6088 (2020).

Rasmussen, S. G. et al. Structure of a nanobody-stabilized active state of the β2 adrenoceptor. Nature 469, 175–180 (2011).

Feldman, D. S. et al. Selective inhibition of heterotrimeric Gs signaling. Targeting the receptor-G protein interface using a peptide minigene encoding the Gαs carboxyl terminus. J. Biol. Chem. 277, 28631–28640 (2002).

Irannejad, R. et al. Functional selectivity of GPCR-directed drug action through location bias. Nat. Chem. Biol. 13, 799–806 (2017).

Plotnikov, A., Zehorai, E., Procaccia, S. & Seger, R. The MAPK cascades: signaling components, nuclear roles and mechanisms of nuclear translocation. Biochim. Biophys. Acta 1813, 1619–1633 (2011).

Zhang, W. & Liu, H. T. MAPK signal pathways in the regulation of cell proliferation in mammalian cells. Cell Res. 12, 9–18 (2002).

Wheeler, E. C. et al. Integrative RNA-omics discovers GNAS alternative splicing as a phenotypic driver of splicing factor-mutant neoplasms. Cancer Discov. https://doi.org/10.1158/2159-8290.CD-21-0508 (2021).

Weis, W. I. & Kobilka, B. K. The molecular basis of G protein-coupled receptor activation. Annu. Rev. Biochem. 87, 897–919 (2018).

Jones, A. J. Y., Gabriel, F., Tandale, A. & Nietlispach, D. Structure and dynamics of GPCRs in lipid membranes: physical principles and experimental approaches. Molecules 25, 4729 (2020).

Arumugam, S. & Kaur, A. The lipids of the early endosomes: making multimodality work. ChemBioChem 18, 1053–1060 (2017).

Xiao, K. et al. Functional specialization of β-arrestin interactions revealed by proteomic analysis. Proc. Natl Acad. Sci. USA 104, 12011–12016 (2007).

Wu, V. et al. Illuminating the Onco-GPCRome: novel G protein-coupled receptor-driven oncocrine networks and targets for cancer immunotherapy. J. Biol. Chem. 294, 11062–11086 (2019).

Patra, K. C. et al. Mutant GNAS drives pancreatic tumourigenesis by inducing PKA-mediated SIK suppression and reprogramming lipid metabolism. Nat. Cell Biol. 20, 811–822 (2018).

Arang, N. & Gutkind, J. S. G Protein-coupled receptors and heterotrimeric G proteins as cancer drivers. FEBS Lett. 594, 4201–4232 (2020).

Insel, P. A. et al. GPCRomics: GPCR expression in cancer cells and tumors identifies new, potential biomarkers and therapeutic targets. Front. Pharmacol. 9, 431 (2018).
Acknowledgements
We thank A. Inoue for providing the GNAS-knockout HEK293A and ARRB1/2 -double-knockout cell lines; D. Mayer for comments on the manuscript; the members of the Nikon Imaging Center at UC San Diego for help with imaging experiments; the members of the Human Embryonic Stem Cell Core Facility for assistance of the proliferation assay; and L. D. Lavis and the staff at the HHMI Janelia Research Campus and for providing the JF646–SNAP ligand. This work was supported by the NIH (R35 CA197622 and R01 DK073368 to J.Z.) and the University of California Tobacco-Related Disease Research Program (T32FT4691 to Y.K.).
Ethics declarations
Competing interests
The authors declare no competing interests.
Peer review
Peer review information
Nature thanks the anonymous reviewers for their contribution to the peer review of this work.
Additional information
Publisher's note Springer Nature remains neutral with regard to jurisdictional claims in published maps and institutional affiliations.
Extended data figures and tables
Supplementary information
Supplementary Fig. 1: Images of uncropped Western blots; Supplementary Fig. 2: Gating strategy for flow cytometry-based cell proliferation assay; Supplementary Table 1: Detailed transfection information for all of the Figures; and Supplementary Table 2: Detailed replication information for all of the Extended Data Figures.
Time-lapse epifluorescence video of SNAP–β2AR. HEK293T cells expressing SNAP–β2AR and labelled with JF646 stimulated with 10 μM adrenaline. Endocytosis of JF646-labelled SNAP–β2AR is shown. This is a representative video from at least 3 independent experiments. Scale bar, 10 μm.
Rights and permissions
Springer Nature or its licensor holds exclusive rights to this article under a publishing agreement with the author(s) or other rightsholder(s); author self-archiving of the accepted manuscript version of this article is solely governed by the terms of such publishing agreement and applicable law.
About this article
Cite this article
Kwon, Y., Mehta, S., Clark, M. et al. Non-canonical β-adrenergic activation of ERK at endosomes. Nature 611, 173–179 (2022). https://doi.org/10.1038/s41586-022-05343-3
Received:

Accepted:

Published:

Issue Date:

DOI: https://doi.org/10.1038/s41586-022-05343-3
Comments
By submitting a comment you agree to abide by our Terms and Community Guidelines. If you find something abusive or that does not comply with our terms or guidelines please flag it as inappropriate.