Abstract
Entomopathogenic nematodes are widely used as biopesticides1,2. Their insecticidal activity depends on symbiotic bacteria such as Photorhabdus luminescens, which produces toxin complex (Tc) toxins as major virulence factors3,4,5,6. No protein receptors are known for any Tc toxins, which limits our understanding of their specificity and pathogenesis. Here we use genome-wide CRISPR–Cas9-mediated knockout screening in Drosophila melanogaster S2R+ cells and identify Visgun (Vsg) as a receptor for an archetypal P. luminescens Tc toxin (pTc). The toxin recognizes the extracellular O-glycosylated mucin-like domain of Vsg that contains high-density repeats of proline, threonine and serine (HD-PTS). Vsg orthologues in mosquitoes and beetles contain HD-PTS and can function as pTc receptors, whereas orthologues without HD-PTS, such as moth and human versions, are not pTc receptors. Vsg is expressed in immune cells, including haemocytes and fat body cells. Haemocytes from Vsg knockout Drosophila are resistant to pTc and maintain phagocytosis in the presence of pTc, and their sensitivity to pTc is restored through the transgenic expression of mosquito Vsg. Last, Vsg knockout Drosophila show reduced bacterial loads and lethality from P. luminescens infection. Our findings identify a proteinaceous Tc toxin receptor, reveal how Tc toxins contribute to P. luminescens pathogenesis, and establish a genome-wide CRISPR screening approach for investigating insecticidal toxins and pathogens.
Access options
Subscribe to Nature+
Get immediate online access to Nature and 55 other Nature journal
Subscribe to Journal
Get full journal access for 1 year
$199.00
only $3.90 per issue
All prices are NET prices.
VAT will be added later in the checkout.
Tax calculation will be finalised during checkout.
Buy article
Get time limited or full article access on ReadCube.
$32.00
All prices are NET prices.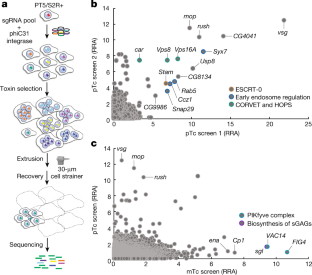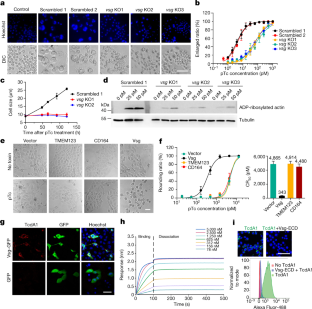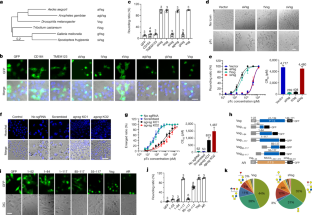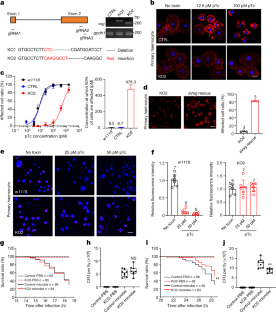 Data availability
All data generated or analysed during this study are included in this published article and its supplementary data. All biological materials are available upon request from the corresponding authors. Source data are provided with this paper.
References
Lacey, L. A. et al. Insect pathogens as biological control agents: back to the future. J. Invertebr. Pathol. 132, 1–41 (2015).

Labaude, S. & Griffin, C. T. Transmission success of entomopathogenic nematodes used in pest control. Insects 9, 72 (2018).

Bowen, D. et al. Insecticidal toxins from the bacterium Photorhabdus luminescens. Science 280, 2129–2132 (1998).

Roderer, D. & Raunser, S. Tc toxin complexes: assembly, membrane permeation, and protein translocation. Annu. Rev. Microbiol. 73, 247–265 (2019).

Waterfield, N. R., Bowen, D. J., Fetherston, J. D., Perry, R. D. & ffrench-Constant, R. H. The tc genes of Photorhabdus: a growing family. Trends Microbiol. 9, 185–191 (2001).

Waterfield, N. R., Ciche, T. & Clarke, D. Photorhabdus and a host of hosts. Annu. Rev. Microbiol. 63, 557–574 (2009).

Clarke, D. J. Photorhabdus: a tale of contrasting interactions. Microbiology (Reading) 166, 335–348 (2020).

Leidreiter, F. et al. Common architecture of Tc toxins from human and insect pathogenic bacteria. Sci. Adv. 5, eaax6497 (2019).

Hares, M. C. et al. The Yersinia pseudotuberculosis and Yersinia pestis toxin complex is active against cultured mammalian cells. Microbiology (Reading) 154, 3503–3517 (2008).

Landsberg, M. J. et al. 3D structure of the Yersinia entomophaga toxin complex and implications for insecticidal activity. Proc. Natl Acad. Sci. USA 108, 20544–20549 (2011).

Song, N. et al. Genome-wide dissection reveals diverse pathogenic roles of bacterial Tc toxins. PLoS Pathog. 17, e1009102 (2021).

Waterfield, N., Hares, M., Yang, G., Dowling, A. & ffrench-Constant, R. Potentiation and cellular phenotypes of the insecticidal Toxin complexes of Photorhabdus bacteria. Cell. Microbiol. 7, 373–382 (2005).

Gatsogiannis, C. et al. A syringe-like injection mechanism in Photorhabdus luminescens toxins. Nature 495, 520–523 (2013).

Meusch, D. et al. Mechanism of Tc toxin action revealed in molecular detail. Nature 508, 61–65 (2014).

Piper, S. J. et al. Cryo-EM structures of the pore-forming A subunit from the Yersinia entomophaga ABC toxin. Nat. Commun. 10, 1952 (2019).

Busby, J. N., Panjikar, S., Landsberg, M. J., Hurst, M. R. & Lott, J. S. The BC component of ABC toxins is an RHS-repeat-containing protein encapsulation device. Nature 501, 547–550 (2013).

Gatsogiannis, C. et al. Tc toxin activation requires unfolding and refolding of a β-propeller. Nature 563, 209–213 (2018).

Roderer, D., Hofnagel, O., Benz, R. & Raunser, S. Structure of a Tc holotoxin pore provides insights into the translocation mechanism. Proc. Natl Acad. Sci. USA 116, 23083–23090 (2019).

Gatsogiannis, C. et al. Membrane insertion of a Tc toxin in near-atomic detail. Nat. Struct. Mol. Biol. 23, 884–890 (2016).

Lang, A. E. et al. Photorhabdus luminescens toxins ADP-ribosylate actin and RhoA to force actin clustering. Science 327, 1139–1142 (2010).

Roderer, D. et al. Glycan-dependent cell adhesion mechanism of Tc toxins. Nat. Commun. 11, 2694 (2020).

Ng'ang'a, P. N. et al. Involvement of N-glycans in binding of Photorhabdus luminescens Tc toxin. Cell. Microbiol. 23, e13326 (2021).

Song, N. et al. N-glycans and sulfated glycosaminoglycans contribute to the action of diverse Tc toxins on mammalian cells. PLoS Pathog. 17, e1009244 (2021).

Shalem, O. et al. Genome-scale CRISPR–Cas9 knockout screening in human cells. Science 343, 84–87 (2014).

Tao, L. et al. Frizzled proteins are colonic epithelial receptors for C. difficile toxin B. Nature 538, 350–355 (2016).

Zhou, Y. et al. High-throughput screening of a CRISPR–Cas9 library for functional genomics in human cells. Nature 509, 487–491 (2014).

Viswanatha, R., Li, Z., Hu, Y. & Perrimon, N. Pooled genome-wide CRISPR screening for basal and context-specific fitness gene essentiality in Drosophila cells. eLife 7, e36333 (2018).

Hacker, U., Lin, X. & Perrimon, N. The Drosophila sugarless gene modulates Wingless signaling and encodes an enzyme involved in polysaccharide biosynthesis. Development 124, 3565–3573 (1997).

Kaiser, E. et al. Membrane translocation of binary actin-ADP-ribosylating toxins from Clostridium difficile and Clostridium perfringens is facilitated by cyclophilin A and Hsp90. Infect. Immun. 79, 3913–3921 (2011).

Zhou, G. Q. et al. The Drosophila ortholog of the endolysosomal membrane protein, endolyn, regulates cell proliferation. J. Cell. Biochem. 99, 1380–1396 (2006).

Watt, S. M., Buhring, H. J., Simmons, P. J. & Zannettino, A. W. C. The stem cell revolution: on the role of CD164 as a human stem cell marker. NPJ Regen. Med. 6, 33 (2021).

Buszczak, M. et al. The carnegie protein trap library: a versatile tool for Drosophila developmental studies. Genetics 175, 1505–1531 (2007).

Airoldi, S. J., McLean, P. F., Shimada, Y. & Cooley, L. Intercellular protein movement in syncytial Drosophila follicle cells. J. Cell Sci. 124, 4077–4086 (2011).

Hoffmann, J. A. & Reichhart, J. M. Drosophila innate immunity: an evolutionary perspective. Nat. Immunol. 3, 121–126 (2002).

Kounatidis, I. & Ligoxygakis, P. Drosophila as a model system to unravel the layers of innate immunity to infection. Open Biol. 2, 120075 (2012).

Boman, H. G., Nilsson, I. & Rasmuson, B. Inducible antibacterial defence system in Drosophila. Nature 237, 232–235 (1972).

Bakkers, M. J. G. et al. CD164 is a host factor for lymphocytic choriomeningitis virus entry. Proc. Natl Acad. Sci. USA 119, e2119676119 (2022).

Liu, J. et al. Genome-wide knockout screen identifies human sialomucin CD164 as an essential entry factor for lymphocytic choriomeningitis virus. mBio 13, e0020522 (2022).

Daborn, P. J., Waterfield, N., Blight, M. A. & ffrench-Constant, R. H. Measuring virulence factor expression by the pathogenic bacterium Photorhabdus luminescens in culture and during insect infection. J. Bacteriol. 183, 5834–5839 (2001).

Silva, C. P. et al. Bacterial infection of a model insect: Photorhabdus luminescens and Manduca sexta. Cell. Microbiol. 4, 329–339 (2002).

Li, W. et al. MAGeCK enables robust identification of essential genes from genome-scale CRISPR–Cas9 knockout screens. Genome Biol. 15, 554 (2014).

Viswanatha, R. et al. Bioinformatic and cell-based tools for pooled CRISPR knockout screening in mosquitos. Nat. Commun. 12, 6825 (2021).

Jones, S. A. & Hurst, M. R. Purification of the Yersinia entomophaga Yen-TC toxin complex using size exclusion chromatography. Methods Mol. Biol. 1477, 39–48 (2016).

Kurz, S. et al. Targeted release and fractionation reveal glucuronylated and sulphated N- and O-glycans in larvae of dipteran insects. J. Proteomics 126, 172–188 (2015).
Acknowledgements
We thank K. Vogel-Bachmayr for technical assistance, and R. Stubbendieck for suggestions on the phylogenetic tree of Vsg proteins. This study was partially supported by grants from National Institutes of Health (NIH) (R01NS080833, R01NS117626, R01AI132387 and R01AI139087 to M.D.; R01AI170835 to M.D. and N.P.), Intelligence Advanced Research Projects Activity (IARPA) (grant number W911NF-17-2-0089 to M.D.), NIH NIGMS P41 GM132087 (to N.P.) and from the Max Planck Society (to S.R.). M.D. acknowledges support from the NIH-funded Harvard Digestive Disease Center (P30DK034854) and the Boston Children's Hospital Intellectual and Developmental Disabilities Research Center (P30HD18655). M.D. holds the Investigator in the Pathogenesis of Infectious Disease award from the Burroughs Wellcome Fund. N.P. is an investigator of the Howard Hughes Medical Institute.
Ethics declarations
Competing interests
The authors declare no conflicts of interest.
Peer review
Peer review information
Nature thanks Klaus Aktories, Holger Barth, Richard ffrench-Constant and the other, anonymous, reviewer(s) for their contribution to the peer review of this work.
Additional information
Publisher's note Springer Nature remains neutral with regard to jurisdictional claims in published maps and institutional affiliations.
Extended data figures and tables
Supplementary information
This file contains Supplementary Figs. 1 and 2 and Supplementary Data 1.
Rights and permissions
Springer Nature or its licensor holds exclusive rights to this article under a publishing agreement with the author(s) or other rightsholder(s); author self-archiving of the accepted manuscript version of this article is solely governed by the terms of such publishing agreement and applicable law.
About this article
Cite this article
Xu, Y., Viswanatha, R., Sitsel, O. et al. CRISPR screens in Drosophila cells identify Vsg as a Tc toxin receptor. Nature 610, 349–355 (2022). https://doi.org/10.1038/s41586-022-05250-7
Received:

Accepted:

Published:

Issue Date:

DOI: https://doi.org/10.1038/s41586-022-05250-7
Comments
By submitting a comment you agree to abide by our Terms and Community Guidelines. If you find something abusive or that does not comply with our terms or guidelines please flag it as inappropriate.