Abstract
Animals must set behavioural priority in a context-dependent manner and switch from one behaviour to another at the appropriate moment1,2,3. Here we probe the molecular and neuronal mechanisms that orchestrate the transition from feeding to courtship in Drosophila melanogaster. We find that feeding is prioritized over courtship in starved males, and the consumption of protein-rich food rapidly reverses this order within a few minutes. At the molecular level, a gut-derived, nutrient-specific neuropeptide hormone—Diuretic hormone 31 (Dh31)—propels a switch from feeding to courtship. We further address the underlying kinetics with calcium imaging experiments. Amino acids from food acutely activate Dh31+ enteroendocrine cells in the gut, increasing Dh31 levels in the circulation. In addition, three-photon functional imaging of intact flies shows that optogenetic stimulation of Dh31+ enteroendocrine cells rapidly excites a subset of brain neurons that express Dh31 receptor (Dh31R). Gut-derived Dh31 excites the brain neurons through the circulatory system within a few minutes, in line with the speed of the feeding–courtship behavioural switch. At the circuit level, there are two distinct populations of Dh31R+ neurons in the brain, with one population inhibiting feeding through allatostatin-C and the other promoting courtship through corazonin. Together, our findings illustrate a mechanism by which the consumption of protein-rich food triggers the release of a gut hormone, which in turn prioritizes courtship over feeding through two parallel pathways.
Relevant articles
Open Access articles citing this article.
Qi Wu

,

Zhi-Jie Gao

…

Ping Wang

Signal Transduction and Targeted Therapy Open Access 23 July 2022

Neuroscience Bulletin Open Access 28 May 2022
Access options
Subscribe to Nature+
Get immediate online access to the entire Nature family of 50+ journals
Subscribe to Journal
Get full journal access for 1 year
$199.00
only $3.90 per issue
All prices are NET prices.
VAT will be added later in the checkout.
Tax calculation will be finalised during checkout.
Buy article
Get time limited or full article access on ReadCube.
$32.00
All prices are NET prices.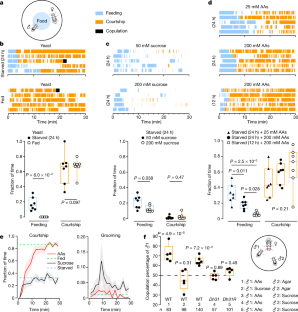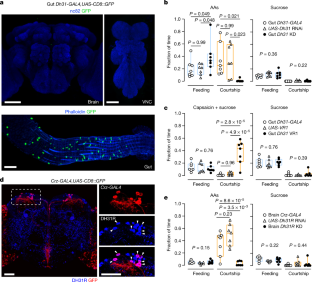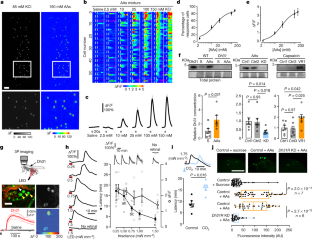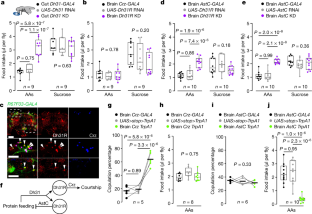 References
Tinbergen, N. The Study of Instinct (Clarendon Press, 1951).

McFarland, D. J. Decision making in animals. Nature 269, 15–21 (1977).

Stearns, S. C. The Evolution of Life Histories (Oxford Univ. Press, 1992).

Sutton, A. K. & Krashes, M. J. Integrating hunger with rival motivations. Trends Endocrinol. Metab. 31, 495–507 (2020).

Marella, S., Mann, K. & Scott, K. Dopaminergic modulation of sucrose acceptance behavior in Drosophila. Neuron 73, 941–950 (2012).

Morton, G. J., Meek, T. H. & Schwartz, M. W. Neurobiology of food intake in health and disease. Nat. Rev. Neurosci. 15, 367–378 (2014).

Inagaki, H. K. et al. Visualizing neuromodulation in vivo: TANGO-mapping of dopamine signaling reveals appetite control of sugar sensing. Cell 148, 583–595 (2012).

Hadjieconomou, D. et al. Enteric neurons increase maternal food intake during reproduction. Nature 587, 455–459 (2020).

Karigo, T. et al. Distinct hypothalamic control of same- and opposite-sex mounting behaviour in mice. Nature 589, 258–263 (2021).

Bayless, D. W. et al. Limbic neurons shape sex recognition and social behavior in sexually naive males. Cell 176, 1190–1205.e20 (2019).

Yang, C. F. et al. Sexually dimorphic neurons in the ventromedial hypothalamus govern mating in both sexes and aggression in males. Cell 153, 896–909 (2013).

Dickson, B. J. Wired for sex: the neurobiology of Drosophila mating decisions. Science 322, 904–909 (2008).

Yamamoto, D., Sato, K. & Koganezawa, M. Neuroethology of male courtship in Drosophila: from the gene to behavior. J. Comp. Physiol. A 200, 251–264 (2014).

Zhang, S. X., Rogulja, D. & Crickmore, M. A. Dopaminergic circuitry underlying mating drive. Neuron 91, 168–181 (2016).

Piper, M. D. W. et al. A holidic medium for Drosophila melanogaster. Nat. Methods 11, 100–105 (2014).

Cheriyamkunnel, S. J. et al. A neuronal mechanism controlling the choice between feeding and sexual behaviors in Drosophila. Curr. Biol. 31, 4231–4245.e4 (2021).

Lin, H.-H. et al. Hormonal modulation of pheromone detection enhances male courtship success. Neuron 90, 1272–1285 (2016).

Schneider, J. E., Wise, J. D., Benton, N. A., Brozek, J. M. & Keen-Rhinehart, E. When do we eat? Ingestive behavior, survival, and reproductive success. Horm. Behav. 64, 702–728 (2013).

Guo, X. et al. The cellular diversity and transcription factor code of Drosophila enteroendocrine cells. Cell Rep. 29, 4172–4185.e5 (2019).

Hung, R.-J. et al. A cell atlas of the adult Drosophila midgut. Proc. Natl Acad. Sci. USA 117, 1514–1523 (2020).

Veenstra, J. A. & Ida, T. More Drosophila enteroendocrine peptides: Orcokinin B and the CCHamides 1 and 2. Cell Tissue Res. 357, 607–621 (2014).

Park, J.-H. et al. A subset of enteroendocrine cells is activated by amino acids in the Drosophila midgut. FEBS Lett. 590, 493–500 (2016).

Bellen, H. J. et al. The BDGP Gene Disruption Project. Genetics 167, 761–781 (2004).

Asahina, K. et al. Tachykinin-expressing neurons control male-specific aggressive arousal in Drosophila. Cell 156, 221–235 (2014).

Hergarden, A. C., Tayler, T. D. & Anderson, D. J. Allatostatin-A neurons inhibit feeding behavior in adult Drosophila. Proc. Natl Acad. Sci. USA 109, 3967–3972 (2012).

Clyne, J. D. & Miesenböck, G. Sex-specific control and tuning of the pattern generator for courtship song in Drosophila. Cell 133, 354–363 (2008).

Marella, S. et al. Imaging taste responses in the fly brain reveals a functional map of taste category and behavior. Neuron 49, 285–295 (2006).

Jordt, S.-E. & Julius, D. Molecular basis for species-specific sensitivity to 'hot' chili peppers. Cell 108, 421–430 (2002).

Klapoetke, N. C. et al. Independent optical excitation of distinct neural populations. Nat. Methods 11, 338–346 (2014).

Johnson, E. C. et al. A novel diuretic hormone receptor in Drosophila: evidence for conservation of CGRP signaling. J. Exp. Biol. 208, 1239–1246 (2005).

Dana, H. et al. High-performance calcium sensors for imaging activity in neuronal populations and microcompartments. Nat. Methods 16, 649–657 (2019).

Tao, X. et al. Transcutical imaging with cellular and subcellular resolution. Biomed. Opt. Express 8, 1277–1289 (2017).

Badre, N. H., Martin, M. E. & Cooper, R. L. The physiological and behavioral effects of carbon dioxide on Drosophila melanogaster larvae. Comp. Biochem. Physiol. A 140, 363–376 (2005).

Masuyama, K., Zhang, Y., Rao, Y. & Wang, J. W. Mapping neural circuits with activity-dependent nuclear import of a transcription factor. J. Neurogenet. 26, 89–102 (2012).

Wu, Q. et al. Excreta quantification (EX-Q) for longitudinal measurements of food intake in Drosophila. iScience 23, 100776 (2020).

Al-Anzi, B. et al. The leucokinin pathway and its neurons regulate meal size in Drosophila. Curr. Biol. 20, 969–978 (2010).

Clark, L., Zhang, J. R., Tobe, S. & Lange, A. B. Proctolin: a possible releasing factor in the corpus cardiacum/corpus allatum of the locust. Peptides 27, 559–566 (2006).

Down, R. E., Matthews, H. J. & Audsley, N. Effects of Manduca sexta allatostatin and an analog on the pea aphid Acyrthosiphon pisum (Hemiptera: Aphididae) and degradation by enzymes from the aphid gut. Peptides 31, 489–497 (2010).

Gáliková, M., Dircksen, H. & Nässel, D. R. The thirsty fly: Ion transport peptide (ITP) is a novel endocrine regulator of water homeostasis in Drosophila. PLoS Genet. 14, e1007618 (2018).

Min, S. et al. Identification of a peptidergic pathway critical to satiety responses in Drosophila. Curr. Biol. 26, 814–820 (2016).

Scopelliti, A. et al. A neuronal relay mediates a nutrient responsive gut/fat body axis regulating energy homeostasis in adult Drosophila. Cell Metab. 29, 269–284.e10 (2019).

Söderberg, J. A. E., Carlsson, M. A. & Nässel, D. R. Insulin-producing cells in the Drosophila brain also express satiety-inducing cholecystokinin-like peptide, drosulfakinin. Front. Endocrinol. 3, 109 (2012).

Wu, Q. et al. Developmental control of foraging and social behavior by the Drosophila neuropeptide Y-like system. Neuron 39, 147–161 (2003).

Pfeiffer, B. D. et al. Refinement of tools for targeted gene expression in Drosophila. Genetics 186, 735–755 (2010).

Ng, R. et al. Amplification of Drosophila olfactory responses by a DEG/ENaC channel. Neuron 104, 947–959.e5 (2019).

Maslow, A. H. A theory of human motivation. Psychol. Rev. 50, 370–396 (1943).

Alhadeff, A. L. et al. A neural circuit for the suppression of pain by a competing need state. Cell 173, 140–152.e15 (2018).

Saper, C. B., Fuller, P. M., Pedersen, N. P., Lu, J. & Scammell, T. E. Sleep state switching. Neuron 68, 1023–1042 (2010).

Jourjine, N., Mullaney, B. C., Mann, K. & Scott, K. Coupled sensing of hunger and thirst signals balances sugar and water consumption. Cell 166, 855–866 (2016).

Kondo, S. & Ueda, R. Highly improved gene targeting by germline-specific Cas9 expression in Drosophila. Genetics 195, 715–721 (2013).

Sakai, T., Isono, K., Tomaru, M. & Oguma, Y. Light-affected male following behavior is involved in light-dependent mating in Drosophila melanogaster. Genes Genet. Syst. 72, 275–281 (1997).

Itskov, P. M. et al. Automated monitoring and quantitative analysis of feeding behaviour in Drosophila. Nat. Commun. 5, 4560 (2014).

Veenstra, J. A., Agricola, H.-J. & Sellami, A. Regulatory peptides in fruit fly midgut. Cell Tissue Res. 334, 499–516 (2008).

Peabody, N. C. et al. Bursicon functions within the Drosophila CNS to modulate wing expansion behavior, hormone secretion, and cell death. J. Neurosci. 28, 14379–14391 (2008).

Goda, T. et al. Calcitonin receptors are ancient modulators for rhythms of preferential temperature in insects and body temperature in mammals. Genes Dev. 32, 140–155 (2018).

Kunst, M. et al. Calcitonin gene-related peptide neurons mediate sleep-specific circadian output in Drosophila. Curr. Biol. 24, 2652–2664 (2014).

Wang, J. W., Wong, A. M., Flores, J., Vosshall, L. B. & Axel, R. Two-photon calcium imaging reveals an odor-evoked map of activity in the fly brain. Cell 112, 271–282 (2003).

Pnevmatikakis, E. A. & Giovannucci, A. NoRMCorre: An online algorithm for piecewise rigid motion correction of calcium imaging data. J. Neurosci. Methods 291, 83–94 (2017).

Dorostkar, M. M., Dreosti, E., Odermatt, B. & Lagnado, L. Computational processing of optical measurements of neuronal and synaptic activity in networks. J. Neurosci. Methods 188, 141–150 (2010).

Lindsay, S. A., Lin, S. J. H. & Wasserman, S. A. Short-form bomanins mediate humoral immunity in Drosophila. J. Innate Immun. 10, 306–314 (2018).

Lee, J., Iyengar, A. & Wu, C.-F. Distinctions among electroconvulsion- and proconvulsant-induced seizure discharges and native motor patterns during flight and grooming: quantitative spike pattern analysis in Drosophila flight muscles. J. Neurogenet. 33, 125–142 (2019).

Klassen, M. P. et al. Age-dependent diastolic heart failure in an in vivo Drosophila model. eLife 6, e20851 (2017).

Dus, M. et al. Nutrient sensor in the brain directs the action of the brain–gut axis in Drosophila. Neuron 87, 139–151 (2015).

Branon, K., Robie, A. A., Bender, J., Perona, P. & Dickinson, M. H. High-throughput ethomics in large groups of Drosophila. Nat. Methods 6, 451–457 (2009).
Acknowledgements
We thank D. Kleinfeld, C.-Y. Su and K. Asahina for comments on the manuscript; Y. Jin for sharing the spectrophotometer; D. Kleinfeld and C. Xu for continuous advice on three-photon microscopy; the following individuals for reagents: J. Veenstra (Dh31, AstB and AstC antiserum), B. White (Bursicon antiserum), F. Hamada (Dh31R antiserum) and R. Bodmer (R94C02::tdTomato transgenic line); and members of the Wang laboratory and the Su laboratory for stimulating discussions. Confocal imaging was supported by NINDS P30 NS047101 (UC San Diego Neuroscience Microscopy Imaging Core). I.H. and M.R. acknowledge funding from the National Science Foundation (1429810). This work was supported by NIH grants to J.W.W. (R01DK127516, R01DK092640 and R01DC009597) and to H.-H.L. (K99DC016338).
Ethics declarations
Competing interests
The authors declare no competing interests.
Peer review
Peer review information
Nature thanks the anonymous reviewers for their contribution to the peer review of this work. Peer review reports are available.
Additional information
Publisher's note Springer Nature remains neutral with regard to jurisdictional claims in published maps and institutional affiliations.
Extended data figures and tables
Supplementary information
This file contains Supplementary Fig. 1 (uncropped images of western blots shown in this study), Tables 1–7, discussion relevant to the main text and additional references.
About this article
Cite this article
Lin, HH., Kuang, M.C., Hossain, I. et al. A nutrient-specific gut hormone arbitrates between courtship and feeding. Nature 602, 632–638 (2022). https://doi.org/10.1038/s41586-022-04408-7
Received:

Accepted:

Published:

Issue Date:

DOI: https://doi.org/10.1038/s41586-022-04408-7
This article is cited by
Qi Wu
Zhi-Jie Gao
Ping Wang

Signal Transduction and Targeted Therapy (2022)

Neuroscience Bulletin (2022)
Comments
By submitting a comment you agree to abide by our Terms and Community Guidelines. If you find something abusive or that does not comply with our terms or guidelines please flag it as inappropriate.