Abstract
The skin serves as a physical barrier and an immunological interface that protects the body from the external environment1,2,3. Aberrant activation of immune cells can induce common skin autoimmune diseases such as vitiligo, which are often characterized by bilateral symmetric lesions in certain anatomic regions of the body4,5,6. Understanding what orchestrates the activities of cutaneous immune cells at an organ level is necessary for the treatment of autoimmune diseases. Here we identify subsets of dermal fibroblasts that are responsible for driving patterned autoimmune activity, by using a robust mouse model of vitiligo that is based on the activation of endogenous auto-reactive CD8+ T cells that target epidermal melanocytes. Using a combination of single-cell analysis of skin samples from patients with vitiligo, cell-type-specific genetic knockouts and engraftment experiments, we find that among multiple interferon-γ (IFNγ)-responsive cell types in vitiligo-affected skin, dermal fibroblasts are uniquely required to recruit and activate CD8+ cytotoxic T cells through secreted chemokines. Anatomically distinct human dermal fibroblasts exhibit intrinsic differences in the expression of chemokines in response to IFNγ. In mouse models of vitiligo, regional IFNγ-resistant fibroblasts determine the autoimmune pattern of depigmentation in the skin. Our study identifies anatomically distinct fibroblasts with permissive or repressive IFNγ responses as the key determinant of body-level patterns of lesions in vitiligo, and highlights mesenchymal subpopulations as therapeutic targets for treating autoimmune diseases.
Relevant articles
Open Access articles citing this article.
Danfeng Zhang

,

Yadan Li

…

Rongqun Guo

Journal of Translational Medicine Open Access 12 August 2022

Leilei Gong

,

Yun Gu

…

Songlin Zhou

Neuroscience Bulletin Open Access 05 July 2022
Access options
Subscribe to Nature+
Get immediate online access to the entire Nature family of 50+ journals
Subscribe to Journal
Get full journal access for 1 year
$199.00
only $3.90 per issue
All prices are NET prices.
VAT will be added later in the checkout.
Tax calculation will be finalised during checkout.
Buy article
Get time limited or full article access on ReadCube.
$32.00
All prices are NET prices.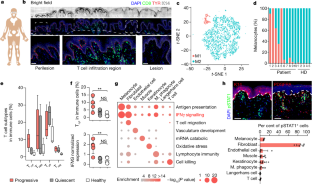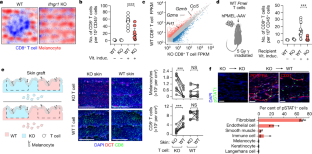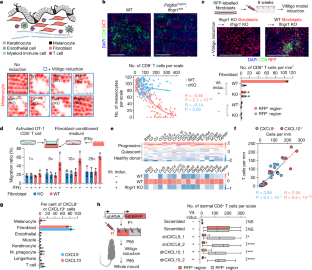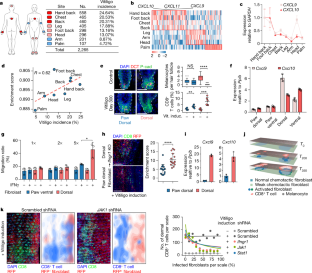 Data availability
The scRNA-seq data, mouse fibroblast RNA-seq data and human fibroblast RNA-seq data have been deposited in the Genome Sequence Archive (GSA) with accession number PRJCA006797. The code for the vitiligo progression model is available at https://github.com/hydrays/vitiligo. Source data are provided with this paper.
References
Larsen, S. B., Cowley, C. J. & Fuchs, E. Epithelial cells: liaisons of immunity. Curr. Opin. Immunol. 62, 45–53 (2019).

Rognoni, E. & Watt, F. M. Skin cell heterogeneity in development, wound healing, and cancer. Trends Cell Biol. 28, 709–722 (2018).

Afshar, M. & Gallo, R. L. Innate immune defense system of the skin. Vet. Dermatol. 24, 32–38 (2013).

Taieb, A. & Picardo, M. Vitiligo. N. Engl. J. Med. 360, 160–169 (2009).

Alikhan, A., Felsten, L. M., Daly, M. & Petronic-Rosic, V. Vitiligo: a comprehensive overview Part I. Introduction, epidemiology, quality of life, diagnosis, differential diagnosis, associations, histopathology, etiology, and work-up. J Am. Acad. Dermatol. 65, 473–491 (2011).

Picardo, M. et al. Vitiligo. Nat. Rev. Dis. Primers 1, 15011 (2015).

Ezzedine, K., Eleftheriadou, V., Whitton, M. & van Geel, N. Vitiligo. Lancet 386, 74–84 (2015).

Taieb, A. Intrinsic and extrinsic pathomechanisms in vitiligo. Pigment Cell Res. 13, 41–47 (2000).

Spritz, R. A. & Santorico, S. A. The genetic basis of vitiligo. J. Invest. Dermatol. 141, 265–273 (2021).

Frisoli, M. L., Essien, K. & Harris, J. E. Vitiligo: mechanisms of pathogenesis and treatment. Annu. Rev. Immunol. 38, 621–648 (2020).

Le Poole, I. C., van den Wijngaard, R. M., Westerhof, W. & Das, P. K. Presence of T cells and macrophages in inflammatory vitiligo skin parallels melanocyte disappearance. Am. J. Pathol. 148, 1219–1228 (1996).

Ogg, G. S., Rod Dunbar, P., Romero, P., Chen, J. L. & Cerundolo, V. High frequency of skin-homing melanocyte-specific cytotoxic T lymphocytes in autoimmune vitiligo. J. Exp. Med. 188, 1203–1208 (1998).

Van den Boorn, J. G. et al. Autoimmune destruction of skin melanocytes by perilesional T cells from vitiligo patients. J. Invest. Dermatol 129, 2220–2232 (2009).

Maeda, Y. et al. Detection of self-reactive CD8+ T cells with an anergic phenotype in healthy individuals. Science 346, 1536–1540 (2014).

Cheuk, S. et al. CD49a expression defines tissue-resident CD8+ T cells poised for cytotoxic function in human skin. Immunity 46, 287–300 (2017).

Iannella, G. et al. Vitiligo: pathogenesis, clinical variants and treatment approaches. Autoimmun. Rev. 15, 335–343 (2016).

Rodrigues, M. et al. Current and emerging treatments for vitiligo. J. Am. Acad. Dermatol. 77, 17–29 (2017).

Kovacs, S. O. Vitiligo. J. Am. Acad. Dermatol. 38, 647–666 (1998).

Gregg, R. K., Nichols, L., Chen, Y., Lu, B. & Engelhard, V. H. Mechanisms of spatial and temporal development of autoimmune vitiligo in tyrosinase-specific TCR transgenic mice. J. Immunol. 184, 1909–1917 (2010).

Harris, J. E. et al. A mouse model of vitiligo with focused epidermal depigmentation requires IFN-gamma for autoreactive CD8+ T-cell accumulation in the skin. J. Invest. Dermatol. 132, 1869–1876 (2012).

Chatterjee, S. et al. A quantitative increase in regulatory T cells controls development of vitiligo. J. Invest. Dermatol. 134, 1285–1294, (2014).

Yang, L. et al. Interferon-gamma inhibits melanogenesis and induces apoptosis in melanocytes: a pivotal role of CD8+ cytotoxic T lymphocytes in vitiligo. Acta Derm. Venereol. 95, 664–670 (2015).

Wang, S. Q. et al. Interferon-γ induces senescence in normal human melanocytes. PLoS One 9, e93232 (2014).

Tulic, M. K. et al. Innate lymphocyte-induced CXCR3B-mediated melanocyte apoptosis is a potential initiator of T-cell autoreactivity in vitiligo. Nat. Commun. 10, 2178 (2019).

Richmond, J. M. et al. Keratinocyte-derived chemokines orchestrate T-cell positioning in the epidermis during vitiligo and may serve as biomarkers of disease. J. Invest. Dermatol. 137, 350–358 (2017).

Biswas, K. B. et al. GPNMB is expressed in human epidermal keratinocytes but disappears in the vitiligo lesional skin. Sci. Rep. 10, 4930 (2020).

Boukhedouni, N. et al. Type-1 cytokines regulate matrix metalloprotease-9 production and E-cadherin disruption to promote melanocyte loss in vitiligo. JCI Insight 4, e133772 (2020).

Ganju, P. et al. Microbial community profiling shows dysbiosis in the lesional skin of vitiligo subjects. Sci Rep. 6, 18761 (2016).

Yuan, X. et al. The impact of NBUVB on microbial community profiling in the lesional skin of vitiligo subjects. Microb. Pathog. 140, 103943 (2020).

Lang, K. S. et al. HLA-A2 restricted, melanocyte-specific CD8+ T lymphocytes detected in vitiligo patients are related to disease activity and are predominantly directed against MelanA/MART1. J. Invest. Dermatol. 116, 891–897 (2001).

Namazi, M. R. Neurogenic dysregulation, oxidative stress, autoimmunity, and melanocytorrhagy in vitiligo: can they be interconnected? Pigment Cell Res. 20, 360–363 (2007).

Lotti, T., D'Erme, A. M. & Hercogova, J. The role of neuropeptides in the control of regional immunity. Clin. Dermatol. 32, 633–645 (2014).

Palermo, B. et al. Specific cytotoxic T lymphocyte responses against Melan-A/MART1, tyrosinase and gp100 in vitiligo by the use of major histocompatibility complex/peptide tetramers: the role of cellular immunity in the etiopathogenesis of vitiligo. J. Invest. Dermatol. 117, 326–332 (2001).

Mantovani, S. et al. Dominant TCR-α requirements for a self antigen recognition in humans. J. Immunol. 169, 6253–6260 (2002).

Byrne, K. T., Zhang, P., Steinberg, S. M. & Turk, M. Autoimmune vitiligo does not require the ongoing priming of naive CD8 T cells for disease progression or associated protection against melanoma. J. Immunol. 192, 1433–1439 (2014).

Mosenson, J. A. et al. Mutant HSP70 reverses autoimmune depigmentation in vitiligo. Sci. Transl. Med. 5, 174ra128 (2013).

Miao, X. et al. PD-L1 reverses depigmentation in Pmel-1 vitiligo mice by increasing the abundance of Tregs in the skin. Sci Rep. 8, 1605 (2018).

Riding, R. L., Richmond, J. M. & Harris, J. E. Mouse model for human vitiligo. Curr. Protoc. Immunol. 124, e63 (2019).

Richmond, J. M. et al. Resident memory and recirculating memory T cells cooperate to maintain disease in a mouse model of vitiligo. J. Invest. Dermatol. 139, 769–778 (2019).

Rashighi, M. et al. CXCL10 is critical for the progression and maintenance of depigmentation in a mouse model of vitiligo. Sci. Transl. Med. 6, 223ra223 (2014).

Yu, Z. et al. Hoxc-dependent mesenchymal niche heterogeneity drives regional hair follicle regeneration. Cell Stem Cell 23, 487–500 (2018).

Groom, J. R. & Luster, A. D. CXCR3 in T cell function. Exp. Cell. Res. 317, 620–631 (2011).

Chang, H. Y. et al. Diversity, topographic differentiation, and positional memory in human fibroblasts. Proc. Natl Acad. Sci. USA. 99, 12877–12882 (2002).

Paus, R., Ito, N., Takigawa, M. & Ito, T. The hair follicle and immune privilege. J. Investig. Dermatol. Symp. Proc. 8, 188–194 (2003).

Farber, E. M., Nickoloff, B. J., Recht, B. & Fraki, J. E. Stress, symmetry, and psoriasis: possible role of neuropeptides. J. Am. Acad. Dermatol. 14, 305–311 (1986).

Boehncke, W.-H. & Schön, M. P. Psoriasis. Lancet 386, 983–994 (2015).

Greb, J. E. et al. Psoriasis. Nat. Rev. Dis. Primers 2, 16082 (2016).

Gabrielli, A., Avvedimento, E. V. & Krieg, T. Scleroderma. N. Engl. J. Med. 360, 1989–2003, (2009).

Kaul, A. et al. Systemic lupus erythematosus. Nat. Rev. Dis. Primers 2, 16039 (2016).

Boyd, A. S. & Neldner, K. H. Lichen planus. J. Am. Acad. Dermatol. 25, 593–619 (1991).

Tang, Y., Harrington, A., Yang, X., Friesel, R. E. & Liaw, L. The contribution of the Tie2+ lineage to primitive and definitive hematopoietic cells. Genesis 48, 563–567 (2010).

Deng, L. et al. A novel mouse model of inflammatory bowel disease links mammalian target of rapamycin-dependent hyperproliferation of colonic epithelium to inflammation-associated tumorigenesis. Am. J. Pathol. 176, 952–967 (2010).

McCubbrey, A. L., Allison, K. C., Lee-Sherick, A. B., Jakubzick, C. V. & Janssen, W. J. Promoter specificity and efficacy in conditional and inducible transgenic targeting of lung macrophages. Front. Immunol. 8, 1618 (2017).

Le Gal, F. A. et al. Direct evidence to support the role of antigen-specific CD8+ T cells in melanoma-associated vitiligo. J. Invest. Dermatol. 117, 1464–1470 (2001).

Lo, J. A. et al. Epitope spreading toward wild-type melanocyte-lineage antigens rescues suboptimal immune checkpoint blockade responses. Sci. Transl. Med. 13, eabd8636 (2021).

Hua, C. et al. Association of vitiligo with tumor response in patients with metastatic melanoma treated with pembrolizumab. JAMA Dermatol. 152, 45–51 (2016).

Herzberg, B. & Fisher, D. E. Metastatic melanoma and immunotherapy. Clin. Immunol. 172, 105–110 (2016).

Nardin, C. et al. Vitiligo under anti-PD1 therapy is associated with increased survival in melanoma patients. J. Am. Acad. Dermatol. 82, 770–772 (2020).

Halprin, K. M. Epidermal "turnover time"–a re-examination. Br. J. Dermatol. 86, 14–19 (1972).

Gellatly, K. J. et al. scRNA-seq of human vitiligo reveals complex networks of subclinical immune activation and a role for CCR5 in Treg function. Sci. Transl. Med. 13, eabd8995 (2021).

Chen, T. et al. An RNA interference screen uncovers a new molecule in stem cell self-renewal and long-term regeneration. Nature 485, 104–108 (2012).

Lander, A. D. Morpheus unbound: reimagining the morphogen gradient. Cell 128, 245–256 (2007).

Chen, C. C. et al. Organ-level quorum sensing directs regeneration in hair stem cell populations. Cell 161, 277–290 (2015).
Acknowledgements
This work was supported by grants from the National Key R&D Program of China (2017YFA0103500), the National Basic Research Program of China 973 Programs (2014CB849602), National Natural Science Foundation of China (11671415) and the Beijing Municipal Natural Science Foundation (7172192). We thank the NIBS Animal Facility for their expert handling and care of mice; the NIBS Biological Resource Centre for FACS; the NIBS imaging facility for assistance with the confocal microscope experiment; the NIBS sequencing centre for sample processing of 10x genomics RNA-seq; V. Hearing for providing the DCT and TYR peptide sequences for in-house-made antibodies; F. Shao for help with importing Ifngr1 KO mice; and all members of the laboratory of T.C. for discussions and technical support.
Ethics declarations
Competing interests
All authors declare no competing interests related to this work.
Additional information
Publisher's note Springer Nature remains neutral with regard to jurisdictional claims in published maps and institutional affiliations.
Extended data figures and tables
Supplementary information
About this article
Cite this article
Xu, Z., Chen, D., Hu, Y. et al. Anatomically distinct fibroblast subsets determine skin autoimmune patterns. Nature 601, 118–124 (2022). https://doi.org/10.1038/s41586-021-04221-8
Received:

Accepted:

Published:

Issue Date:

DOI: https://doi.org/10.1038/s41586-021-04221-8
Further reading
Danfeng Zhang
Yadan Li
Rongqun Guo

Journal of Translational Medicine (2022)

Leilei Gong
Yun Gu
Songlin Zhou

Neuroscience Bulletin (2022)

Juehua Cheng
Yuyao Zhang
Yuan Fan

Molecular Biology Reports (2022)
Comments
By submitting a comment you agree to abide by our Terms and Community Guidelines. If you find something abusive or that does not comply with our terms or guidelines please flag it as inappropriate.