Abstract
Bacteria in the gut can modulate the availability and efficacy of therapeutic drugs. However, the systematic mapping of the interactions between drugs and bacteria has only started recently1 and the main underlying mechanism proposed is the chemical transformation of drugs by microorganisms (biotransformation). Here we investigated the depletion of 15 structurally diverse drugs by 25 representative strains of gut bacteria. This revealed 70 bacteria–drug interactions, 29 of which had not to our knowledge been reported before. Over half of the new interactions can be ascribed to bioaccumulation; that is, bacteria storing the drug intracellularly without chemically modifying it, and in most cases without the growth of the bacteria being affected. As a case in point, we studied the molecular basis of bioaccumulation of the widely used antidepressant duloxetine by using click chemistry, thermal proteome profiling and metabolomics. We find that duloxetine binds to several metabolic enzymes and changes the metabolite secretion of the respective bacteria. When tested in a defined microbial community of accumulators and non-accumulators, duloxetine markedly altered the composition of the community through metabolic cross-feeding. We further validated our findings in an animal model, showing that bioaccumulating bacteria attenuate the behavioural response of Caenorhabditis elegans to duloxetine. Together, our results show that bioaccumulation by gut bacteria may be a common mechanism that alters drug availability and bacterial metabolism, with implications for microbiota composition, pharmacokinetics, side effects and drug responses, probably in an individual manner.
Relevant articles
Open Access articles citing this article.
Xin Tao

,

Wenjin Huang

…

Houkai Li

ISME Communications Open Access 25 April 2023

Luxia Yao

,

Yihan Wang

…

Lianfeng Wu

Communications Biology Open Access 24 January 2023

Anne-Grete Märtson

,

Ana Rita da Silva Ferreira

…

Jan-Willem C. Alffenaar

Annals of Hematology Open Access 17 January 2023
Access options
Access Nature and 54 other Nature Portfolio journals
Get Nature+, our best-value online-access subscription
$29.99 / 30 days
cancel any time
Subscribe to this journal
Receive 51 print issues and online access
$199.00 per year
only $3.90 per issue
Rent or buy this article
Get just this article for as long as you need it
$39.95
Prices may be subject to local taxes which are calculated during checkout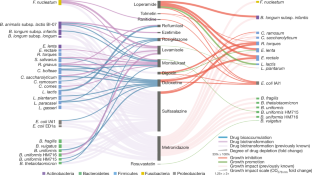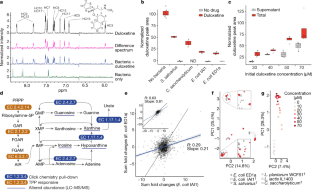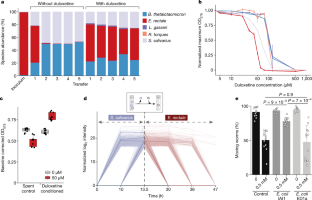 Data availability
All data generated during this study are included in this published Article (and its Supplementary Information files). Supplementary Table 18 provides an overview of the different methods and data associated with all figures. UPLC and mass spectrometry data are deposited at the MetaboLights repository under the accession codes MTBLS1264, MTBLS1757, MTBLS1627, MTBLS1319, MTBLS1791, MTBLS1792, and MTBLS2885. The mass spectrometry proteomics data have been deposited to the ProteomeXchange Consortium with the dataset identifiers PXD016062 and PXD016064. Source data are provided with this paper.
References
Zimmermann, M., Zimmermann-Kogadeeva, M., Wegmann, R. & Goodman, A. L. Mapping human microbiome drug metabolism by gut bacteria and their genes. Nature 570, 462–467 (2019).

Forslund, K., Hildebrand, F., Nielsen, T. & Falony, G. A. Disentangling type 2 diabetes and metformin treatment signatures in the human gut microbiota. Nature 528, 262–266 (2015).

Falony, G. et al. Population-level analysis of gut microbiome variation. Science 352, 560–564 (2016).

Maier, L. & Typas, A. Systematically investigating the impact of medication on the gut microbiome. Curr. Opin. Microbiol. 39, 128–135 (2017).

Jackson, M. A. et al. Gut microbiota associations with common diseases and prescription medications in a population-based cohort. Nat. Commun. 9, 2655 (2018).

Maier, L. et al. Extensive impact of non-antibiotic drugs on human gut bacteria. Nature 555, 623–628 (2018).

Spanogiannopoulos, P., Bess, E. N., Carmody, R. N. & Turnbaugh, P. J. The microbial pharmacists within us: a metagenomic view of xenobiotic metabolism. Nat. Rev. Microbiol. 14, 273–287 (2016).

Alexander, J. L. et al. Gut microbiota modulation of chemotherapy efficacy and toxicity. Nat. Rev. Gastroenterol. Hepatol. 14, 356–365 (2017).

Fuller, A. T. Is p-aminobenzenesulphonamide the active agent in prontosil therapy? Lancet 229, 194–198 (1937).

Goldman, P., Peppercorn, M. A. & Goldin, B. R. Metabolism of drugs by microorganisms in the intestine. Am. J. Clin. Nutr. 27, 1348–1355 (1974).

Chhabra, R. S. Intestinal absorption and metabolism of xenobiotics. Environ. Health Perspect. 33, 61–69 (1979).

Koppel, N., Maini Rekdal, V. & Balskus, E. P. Chemical transformation of xenobiotics by the human gut microbiota. Science 356, eaag2770 (2017).

Sousa, T. et al. The gastrointestinal microbiota as a site for the biotransformation of drugs. Int. J. Pharm. 363, 1–25 (2008).

Klaassen, C. D. & Cui, J. Y. Review: mechanisms of how the intestinal microbiota alters the effects of drugs and bile acids. Drug Metab. Dispos. 43, 1505–1521 (2015).

Haiser, H. J., Seim, K. L., Balskus, E. P. & Turnbaugh, P. J. Mechanistic insight into digoxin inactivation by Eggerthella lenta augments our understanding of its pharmacokinetics. Gut Microbes 5, 233–238 (2014).

Koppel, N., Bisanz, J. E., Pandelia, M.-E., Turnbaugh, P. J. & Balskus, E. P. Discovery and characterization of a prevalent human gut bacterial enzyme sufficient for the inactivation of a family of plant toxins. eLife 7, e33953 (2018).

Wallace, B. D., Wang, H., Lane, K. T. & Scott, J. E. Alleviating cancer drug toxicity by inhibiting a bacterial enzyme. Science 330, 831–835 (2010).

Tramontano, M. et al. Nutritional preferences of human gut bacteria reveal their metabolic idiosyncrasies. Nat. Microbiol. 3, 514–522 (2018).

Chrystal, E. J. T., Koch, R. L., McLafferty, M. A. & Goldman, P. Relationship between metronidazole metabolism and bactericidal activity. Antimicrob. Agents Chemother. 18, 566–573 (1980).

Mahmood, S., Khalid, A., Arshad, M., Mahmood, T. & Crowley, D. E. Detoxification of azo dyes by bacterial oxidoreductase enzymes. Crit. Rev. Biotechnol. 36, 639–651 (2016).

Khan, A. K. A., Guthrie, G., Johnston, H. H., Truelove, S. C. & Williamson, D. H. Tissue and bacterial splitting of sulphasalazine. Clin. Sci. 64, 349–354 (1983).

Goodman, A. L. et al. Extensive personal human gut microbiota culture collections characterized and manipulated in gnotobiotic mice. Proc. Natl Acad. Sci. USA 108, 6252–6257 (2011).

Shu, Y. Z. & Kingston, D. G. A. Metabolism of levamisole, an anti-colon cancer drug, by human intestinal bacteria. Xenobiotica 21, 737–750 (1991).

Schloissnig, S. et al. Genomic variation landscape of the human gut microbiome. Nature 493, 45–50 (2013).

Fenner, K., Canonica, S., Wackett, L. P. & Elsner, M. Evaluating pesticide degradation in the environment: blind spots and emerging opportunities. Science 341, 752–758 (2013).

Gulde, R., Anliker, S., Kohler, H. E. & Fenner, K. Ion trapping of amines in protozoa: a novel removal mechanism for micropollutants in activated sludge. Environ. Sci. Technol. 52, 52–60 (2018).

Congeevaram, S., Dhanarani, S., Park, J., Dexilin, M. & Thamaraiselvi, K. Biosorption of chromium and nickel by heavy metal resistant fungal and bacterial isolates. J. Hazard. Mater. 146, 270–277 (2007).

Bae, W., Chen, W., Mulchandani, A. & Mehra, R. K. Enhanced bioaccumulation of heavy metals by bacterial cells displaying synthetic phytochelatins. Biotechnol. Bioeng. 70, 518–524 (2000).

Becher, I. et al. Thermal profiling reveals phenylalanine hydroxylase as an off-target of panobinostat. Nat. Chem. Biol. 12, 908–910 (2016).

Franken, H. et al. Thermal proteome profiling for unbiased identification of direct and indirect drug targets using multiplexed quantitative mass spectrometry. Nat. Protoc. 10, 1567–1593 (2015).

Brochado, A. R. et al. Species-specific activity of antibacterial drug combinations. Nature 559, 259–263 (2018).

Rakoff-Nahoum, S., Coyne, M. J. & Comstock, L. E. An ecological network of polysaccharide utilization among human intestinal symbionts. Curr. Biol. 24, 40–49 (2014).

Hooper, L. V., Littman, D. R. & Macpherson, A. J. Interactions between the microbiota and the immune system. Science 336, 1268–1273 (2012).

Zhang, F. et al. Caenorhabditis elegans as a model for microbiome research. Front. Microbiol. 8, 485 (2017).

Vetizou, M. et al. Anticancer immunotherapy by CTLA-4 blockade relies on the gut microbiota. Science 350, 1079–107 (2015).

Wu, H. et al. Metformin alters the gut microbiome of individuals with treatment-naive type 2 diabetes, contributing to the therapeutic effects of the drug. Nat. Med. 23, 850–858 (2017).

Macedo, D. et al. Antidepressants, antimicrobials or both? Gut microbiota dysbiosis in depression and possible implications of the antimicrobial effects of antidepressant drugs for antidepressant effectiveness. J. Affect. Disord. 208, 22–32 (2017).

Sharon, G., Sampson, T. R., Geschwind, D. H. & Mazmanian, S. K. The central nervous system and the gut microbiome. Cell 167, 915–932 (2016).

Dent, R. et al. Changes in body weight and psychotropic drugs: a systematic synthesis of the literature. PLoS ONE 7, e36889 (2012).

Cox, J. & Mann, M. MaxQuant enables high peptide identification rates, individualized p.p.b.-range mass accuracies and proteome-wide protein quantification. Nat. Biotechnol. 26, 1367–1372 (2008).

Cox, J. et al. Andromeda: a peptide search engine integrated into the MaxQuant environment. J. Proteome Res. 10, 1794–1805 (2011).

Elias, J. E. & Gygi, S. P. Target–decoy search strategy for increased confidence in large-scale protein identifications by mass spectrometry. Nat. Methods 4, 207–214 (2007).

Gentleman, R. C. et al. Bioconductor: open software development for computational biology and bioinformatics. Genome Biol. 5, R80 (2004).

Benjamini, Y. & Hochberg, Y. Controlling the false discovery rate: a practical and powerful approach to multiple testing. J. R. Stat. Soc. B 57, 289–300 (1995).

Conesa, A. et al. Blast2GO: a universal tool for annotation, visualization and analysis in functional genomics research. Bioinformatics 21, 3674–3676 (2005).

Porollo, A. EC2KEGG: a command line tool for comparison of metabolic pathways. Source Code Biol. Med. 9, 19 (2014).

Mateus, A. et al. Thermal proteome profiling in bacteria: probing protein state in vivo. Mol. Syst. Biol. 14, e8242 (2018).

Hughes, C. S. et al. Ultrasensitive proteome analysis using paramagnetic bead technology. Mol. Syst. Biol. 10, 757 (2014).

Hughes, C. S. et al. Single-pot, solid-phase-enhanced sample preparation for proteomics experiments. Nat. Protoc. 14, 68–85 (2019).

Ortmayr, K., Charwat, V., Kasper, C., Hann, S. & Koellensperger, G. Uncertainty budgeting in fold change determination and implications for non-targeted metabolomics studies in model systems. Analyst, 142, 80–90 (2017).

He, L., Diedrich, J., Chu, Y. Y. & Yates, J. R. 3rd Extracting accurate precursor information for tandem mass spectra by RawConverter. Anal. Chem. 87, 11361–11367 (2015).

Mahieu, N. G., Genenbacher, J. L. & Patti, G. J. A roadmap for the XCMS family of software solutions in metabolomics. Curr. Opin. Chem. Biol. 30, 87–93 (2016).

Smith, C. A., Want, E. J., O'Maille, G., Abagyan, R. & Siuzdak, G. XCMS: processing mass spectrometry data for metabolite profiling using nonlinear peak alignment, matching, and identification. Anal. Chem. 78, 779–787 (2006).

Vinaixa, M. et al. A guideline to univariate statistical analysis for lc/ms-based untargeted metabolomics-derived data. Metabolites 2, 775–795 (2012).

Smith, C. A. et al. METLIN: a metabolite mass spectral database. Ther. Drug Monit. 27, 747–751 (2005).

Tanabe, M. & Kanehisa, M. Using the KEGG database resource. Curr. Protoc. Bioinfomatics 38, 1.12.1–1.12.43 (2012).

Fuhrer, T., Heer, D., Begemann, B. & Zamboni, N. High-throughput, accurate mass metabolome profiling of cellular extracts by flow injection–time-of-flight mass spectrometry. Anal. Chem. 83, 7074–7080 (2011).

Ponomarova, O. et al. yeast creates a niche for symbiotic lactic acid bacteria through nitrogen overflow. Cell Syst. 5, 345–357 (2017).

Wishart, D. S. et al. HMDB 4.0: the human metabolome database for 2018. Nucleic Acids Res. 46, D608–D617 (2018).

Sumner, L. W. et al. Proposed minimum reporting standards for chemical analysis Chemical Analysis Working Group (CAWG) Metabolomics Standards Initiative (MSI). Metabolomics 3, 211–221 (2007).

Caporaso, J. G. et al. Global patterns of 16S rRNA diversity at a depth of millions of sequences per sample. Proc. Natl Acad. Sci. USA 108, 4516–4522 (2011).

Edgar, R. C. Search and clustering orders of magnitude faster than BLAST. Bioinformatics 26, 2460–2461 (2010).

Brenner, S. The genetics of Caenorhabditis elegans. Genetics 77, 71–94 (1974).

Kanehisa, M. et al. Data, information, knowledge and principle: back to metabolism in KEGG. Nucleic Acids Res. 42, D199–D205 (2014).
Acknowledgements
This project was supported by the European Union's Horizon 2020 research and innovation programme under the grant agreement number 686070, and by the UK Medical Research Council (project number MC_UU_00025/11). A.M., L.M., M.T. and V.P. were supported by the EMBL interdisciplinary postdoctoral program. We thank EMBL Genomics, Metabolomics and Proteomics core facilities for their support in respective analyses.
Ethics declarations
Competing interests
M. Klünemann, S.A., L.M., M.T., Y.K., P.B., A.T. and K.R.P. are inventors in a patent application based on the findings reported in this study (US patent application number 16966322). S.B., A.M., P.P., S.D., J.V., B.S., T.A.S., E.K., D.K., K.Z., E.M., M. Banzhaf, M.-T.M., F.H., L.N., A.R.B., T.B., V.P., M. Kumar, C.S., M. Beck, J.H., M.Z., D.C.S., F.C. and M.M.S. declare no competing interests.
Additional information
Peer review information Nature thanks Kim Lewis, Michael Shapira and the other, anonymous, reviewer(s) for their contribution to the peer review of this work.
Publisher's note Springer Nature remains neutral with regard to jurisdictional claims in published maps and institutional affiliations.
Extended data figures and tables
Supplementary information
About this article
Cite this article
Klünemann, M., Andrejev, S., Blasche, S. et al. Bioaccumulation of therapeutic drugs by human gut bacteria. Nature 597, 533–538 (2021). https://doi.org/10.1038/s41586-021-03891-8
Received:

Accepted:

Published:

Issue Date:

DOI: https://doi.org/10.1038/s41586-021-03891-8
Comments
By submitting a comment you agree to abide by our Terms and Community Guidelines. If you find something abusive or that does not comply with our terms or guidelines please flag it as inappropriate.