Abstract
Ionotropic glutamate delta receptors 1 (GluD1) and 2 (GluD2) exhibit the molecular architecture of postsynaptic ionotropic glutamate receptors, but assemble into trans-synaptic adhesion complexes by binding to secreted cerebellins that in turn interact with presynaptic neurexins1,2,3,4. It is unclear whether neurexin–cerebellin–GluD1/2 assemblies serve an adhesive synapse-formation function or mediate trans-synaptic signalling. Here we show in hippocampal synapses, that binding of presynaptic neurexin–cerebellin complexes to postsynaptic GluD1 controls glutamate receptor activity without affecting synapse numbers. Specifically, neurexin-1–cerebellin-2 and neurexin-3–cerebellin-2 complexes differentially regulate NMDA (N-methyl-d-aspartate) receptors and AMPA (α-amino-3-hydroxy-5-methyl-4-isoxazole propionic acid) receptors by activating distinct postsynaptic GluD1 effector signals. Of note, minimal GluD1 and GluD2 constructs containing only their N-terminal cerebellin-binding and C-terminal cytoplasmic domains, joined by an unrelated transmembrane region, fully control the levels of NMDA and AMPA receptors. The distinct signalling specificity of presynaptic neurexin-1 and neurexin-35,6 is encoded by their alternatively spliced splice site 4 sequences, whereas the regulatory functions of postsynaptic GluD1 are mediated by conserved cytoplasmic sequence motifs spanning 5–13 residues. Thus, GluDs are signalling molecules that regulate NMDA and AMPA receptors by an unexpected transduction mechanism that bypasses their ionotropic receptor architecture and directly converts extracellular neurexin–cerebellin signals into postsynaptic receptor responses.
Access options
Subscribe to Nature+
Get immediate online access to Nature and 55 other Nature journal
Subscribe to Journal
Get full journal access for 1 year
$199.00
only $3.90 per issue
All prices are NET prices.
VAT will be added later in the checkout.
Tax calculation will be finalised during checkout.
Buy article
Get time limited or full article access on ReadCube.
$32.00
All prices are NET prices.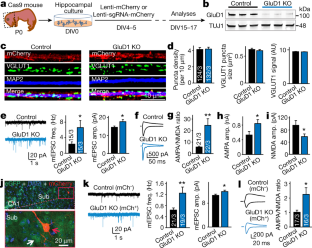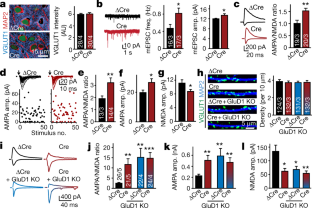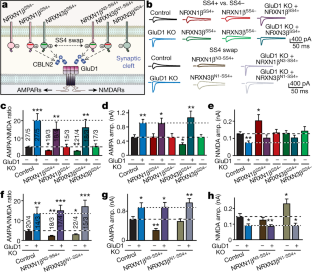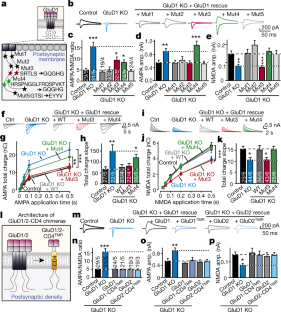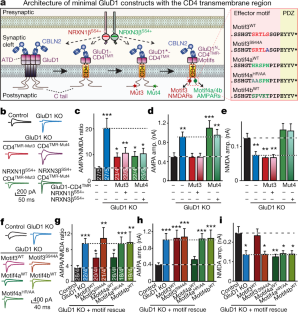 Data availability
Exact P values are included with the source data. Source data are provided with this paper.
References
Uemura, T. et al. Trans-synaptic interaction of GluRδ2 and Neurexin through Cbln1 mediates synapse formation in the cerebellum. Cell 141, 1068–1079 (2010).

Joo, J. Y. et al. Differential interactions of cerebellin precursor protein (Cbln) subtypes and neurexin variants for synapse formation of cortical neurons. Biochem. Biophys. Res. Commun. 406, 627–632 (2011).

Matsuda, K. et al. Cbln1 is a ligand for an orphan glutamate receptor δ2, a bidirectional synapse organizer. Science 328, 363–368 (2010).

Yuzaki, M. & Aricescu, A. R. A GluD coming-of-age story. Trends Neurosci. 40, 138–150 (2017).

Dai, J., Aoto, J. & Südhof, T. C. Alternative splicing of presynaptic neurexins differentially controls postsynaptic NMDA and AMPA receptor responses. Neuron 102, 993–1008.e5 (2019).

Aoto, J., Martinelli, D. C., Malenka, R. C., Tabuchi, K. & Südhof, T. C. Presynaptic neurexin-3 alternative splicing trans-synaptically controls postsynaptic AMPA receptor trafficking. Cell 154, 75–88 (2013).

Zhu, F., et al. Architecture of the mouse brain synaptome. Neuron 99, 781–799 (2018).

Nusser, Z. Creating diverse synapses from the same molecules. Curr. Opin. Neurobiol. 51, 8–15 (2018).

Huganir, R. L. & Nicoll, R. A. AMPARs and synaptic plasticity: the last 25 years. Neuron 80, 704–717 (2013).

Nakazawa, K. & Sapkota, K. The origin of NMDA receptor hypofunction in schizophrenia. Pharmacol. Ther. 205, 107426 (2020).

Singh, T., Neale, B. M., & Daly, M. J. Exome sequencing identifies rare coding variants in 10 genes which confer substantial risk for schizophrenia. Preprint at https://doi.org/10.1101/2020.09.18.20192815 (2020)

Südhof, T. C. Synaptic neurexin complexes: a molecular code for the logic of neural circuits. Cell 171, 745–769 (2017).

Gomez, A. M., Traunmüller, L. & Scheiffele, P. Neurexins: molecular codes for shaping neuronal synapses. Nat. Rev. Neurosci. 22, 137–151 (2021).

Hu, Z., Xiao, X., Zhang, Z. & Li, M. Genetic insights and neurobiological implications from NRXN1 in neuropsychiatric disorders. Mol. Psychiatry 24, 1400–1414 (2019).

Elegheert, J. et al. Structural basis for integration of GluD receptors within synaptic organizer complexes. Science 353, 295–299 (2016).

Zhu, S. & Gouaux, E. Structure and symmetry inform gating principles of ionotropic glutamate receptors. Neuropharmacology 112, 11–15 (2017).

Nakamoto, C. et al. Expression mapping, quantification, and complex formation of GluD1 and GluD2 glutamate receptors in adult mouse brain. J. Comp. Neurol. 528, 1003–1027 (2020).

Platt, R. J. et al. CRISPR–Cas9 knockin mice for genome editing and cancer modeling. Cell 159, 440–455 (2014).

Seigneur, E. & Südhof, T. C. Cerebellins are differentially expressed in selective subsets of neurons throughout the brain. J. Comp. Neurol. 525, 3286–3311 (2017).

Torashima, T. et al. Rescue of abnormal phenotypes in δ2 glutamate receptor-deficient mice by the extracellular N-terminal and intracellular C-terminal domains of the δ2 glutamate receptor. Eur. J. Neurosci. 30, 355–365 (2009).

Hrvatin, S. et al. Single-cell analysis of experience-dependent transcriptomic states in the mouse visual cortex. Nat. Neurosci. 21, 120–129 (2018).

Hirai, H. Ca2+-dependent regulation of synaptic δ2 glutamate receptor density in cultured rat Purkinje neurons. Eur. J. Neurosci. 14, 73–82 (2001).

Sando, R., Jiang, X. & Südhof, T. C. Latrophilin GPCRs direct synapse specificity by coincident binding of FLRTs and teneurins. Science 363, eaav7969 (2019).

Khalaj, A. J. et al. Deorphanizing FAM19A proteins as pan-neurexin ligands with an unusual biosynthetic binding mechanism. J. Cell Biol. 219, e202004164 (2020).

Trotter, J. H. et al. Synaptic neurexin-1 assembles into dynamically regulated active zone nanoclusters. J. Cell Biol. 218, 2677–2698 (2019).

Patzke, C., et al. Neuromodulator signaling bidirectionally controls vesicle numbers in human synapses. Cell 179, 498–513 (2019).

Dai, J., Chen, P., Tian, H. & Sun, J. Spontaneous vesicle release is not tightly coupled to voltage-gated calcium channel-mediated Ca2+ influx and is triggered by a Ca2+ sensor other than synaptotagmin-2 at the juvenile mice calyx of held synapses. J. Neurosci. 35, 9632–9637 (2015).

Jiang, X., Sando, R. & Südhof, T. C. Multiple signaling pathways are essential for synapse formation induced by synaptic adhesion molecules. Proc. Natl Acad. Sci. USA 118, e2000173118 (2021).

Zhang, B. et al. Neuroligins sculpt cerebellar Purkinje-cell circuits by differential control of distinct classes of synapses. Neuron 87, 781–796 (2015).

Zhang, R. S., Liakath-Ali, K. & Südhof, T. C. Latrophilin-2 and latrophilin-3 are redundantly essential for parallel-fiber synapse function in cerebellum. eLife 9, e54443 (2020).

Kakegawa, W. et al. Differential regulation of synaptic plasticity and cerebellar motor learning by the C-terminal PDZ-binding motif of GluRδ2. J. Neurosci. 28, 1460–1468 (2008).

Uemura, T., Mori, H. & Mishina, M. Direct interaction of GluRδ2 with Shank scaffold proteins in cerebellar Purkinje cells. Mol. Cell. Neurosci. 26, 330–341 (2004).
Acknowledgements
We thank L. Chen for advice and the laboratory of H. Hirai for plasmids. This study was supported by a grant from the NIMH (MH052804 to T.C.S.) and fellowships to K.L.-A. from the European Molecular Biology Organization (ALTF 803-2017) and the Larry L. Hillblom Foundation (2020-A-016-FEL).
Ethics declarations
Competing interests
The authors declare no competing interests.
Additional information
Peer review information Nature thanks Zoltan Nusser and the other, anonymous, reviewer(s) for their contribution to the peer review of this work. Peer reviewer reports are available.
Publisher's note Springer Nature remains neutral with regard to jurisdictional claims in published maps and institutional affiliations.
Extended data figures and tables
Supplementary information
Original full-sized immunoblots for all protein level analyses.
About this article
Cite this article
Dai, J., Patzke, C., Liakath-Ali, K. et al. GluD1 is a signal transduction device disguised as an ionotropic receptor. Nature 595, 261–265 (2021). https://doi.org/10.1038/s41586-021-03661-6
Received:

Accepted:

Published:

Issue Date:

DOI: https://doi.org/10.1038/s41586-021-03661-6
Comments
By submitting a comment you agree to abide by our Terms and Community Guidelines. If you find something abusive or that does not comply with our terms or guidelines please flag it as inappropriate.