Abstract
MicroRNAs (miRNAs) have essential functions during embryonic development, and their dysregulation causes cancer1,2. Altered global miRNA abundance is found in different tissues and tumours, which implies that precise control of miRNA dosage is important1,3,4, but the underlying mechanism(s) of this control remain unknown. The protein complex Microprocessor, which comprises one DROSHA and two DGCR8 proteins, is essential for miRNA biogenesis5,6,7. Here we identify a developmentally regulated miRNA dosage control mechanism that involves alternative transcription initiation (ATI) of DGCR8. ATI occurs downstream of a stem-loop in DGCR8 mRNA to bypass an autoregulatory feedback loop during mouse embryonic stem (mES) cell differentiation. Deletion of the stem-loop causes imbalanced DGCR8:DROSHA protein stoichiometry that drives irreversible Microprocessor aggregation, reduced primary miRNA processing, decreased mature miRNA abundance, and widespread de-repression of lipid metabolic mRNA targets. Although global miRNA dosage control is not essential for mES cells to exit from pluripotency, its dysregulation alters lipid metabolic pathways and interferes with embryonic development by disrupting germ layer specification in vitro and in vivo. This miRNA dosage control mechanism is conserved in humans. Our results identify a promoter switch that balances Microprocessor autoregulation and aggregation to precisely control global miRNA dosage and govern stem cell fate decisions during early embryonic development.
Relevant articles
Open Access articles citing this article.
Xiaowen Shi

,

Hua Yang

…

James A. Birchler

Nature Communications Open Access 31 May 2022

Ashley Haluck-Kangas

,

Monal Patel

…

Marcus E. Peter

Journal of Experimental & Clinical Cancer Research Open Access 10 December 2021
Access options
Subscribe to Nature+
Get immediate online access to the entire Nature family of 50+ journals
Subscribe to Journal
Get full journal access for 1 year
$199.00
only $3.90 per issue
All prices are NET prices.
VAT will be added later in the checkout.
Tax calculation will be finalised during checkout.
Buy article
Get time limited or full article access on ReadCube.
$32.00
All prices are NET prices.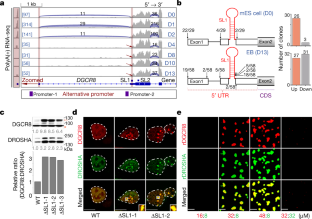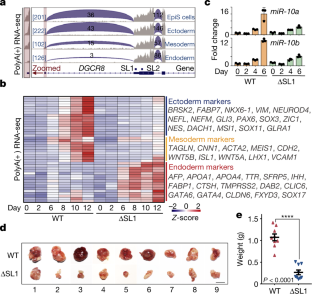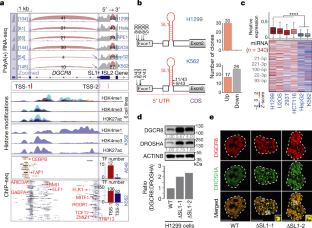 Data availability
The RNA-seq and small RNA-seq data that support the findings of this study have been deposited in GEO with accession number GSE165017. Published polyA(+) RNA-seq data for mES cell differentiation is from the GEO database under accession number GSE11233414. The published polyA(+) RNA-seq for EpiS cells and cells of the three germ layers reported in this paper is available on ArrayExpress (https://www.ebi.ac.uk/arrayexpress/) with accession E-MTAB-490427. Source data are provided with this paper.
References
Lin, S. & Gregory, R. I. MicroRNA biogenesis pathways in cancer. Nat. Rev. Cancer 15, 321–333 (2015).

Bartel, D. P. Metazoan MicroRNAs. Cell 173, 20–51 (2018).

Lu, J. et al. MicroRNA expression profiles classify human cancers. Nature 435, 834–838 (2005).

Landgraf, P. et al. A mammalian microRNA expression atlas based on small RNA library sequencing. Cell 129, 1401–1414 (2007).

Lee, Y. et al. The nuclear RNase III Drosha initiates microRNA processing. Nature 425, 415–419 (2003).

Denli, A. M., Tops, B. B., Plasterk, R. H., Ketting, R. F. & Hannon, G. J. Processing of primary microRNAs by the Microprocessor complex. Nature 432, 231–235 (2004).

Gregory, R. I. et al. The Microprocessor complex mediates the genesis of microRNAs. Nature 432, 235–240 (2004).

Kwon, S. C. et al. Structure of human DROSHA. Cell 164, 81–90 (2016).

Partin, A. C. et al. Cryo-EM structures of human Drosha and DGCR8 in complex with primary MicroRNA. Mol. Cell 78, 411–422.e4 (2020).

Ha, M. & Kim, V. N. Regulation of microRNA biogenesis. Nat. Rev. Mol. Cell Biol. 15, 509–524 (2014).

Han, J. et al. Posttranscriptional crossregulation between Drosha and DGCR8. Cell 136, 75–84 (2009).

Triboulet, R., Chang, H. M., Lapierre, R. J. & Gregory, R. I. Post-transcriptional control of DGCR8 expression by the Microprocessor. RNA 15, 1005–1011 (2009).

Du, P., Wang, L., Sliz, P. & Gregory, R. I. A biogenesis step upstream of Microprocessor controls miR-17∼92 expression. Cell 162, 885–899 (2015).

Du, P. et al. An intermediate pluripotent state controlled by microRNAs is required for the naive-to-primed stem cell transition. Cell Stem Cell 22, 851–864.e5 (2018).

Bernstein, E. et al. Dicer is essential for mouse development. Nat. Genet. 35, 215–217 (2003).

Wang, Y., Medvid, R., Melton, C., Jaenisch, R. & Blelloch, R. DGCR8 is essential for microRNA biogenesis and silencing of embryonic stem cell self-renewal. Nat. Genet. 39, 380–385 (2007).

Zhang, B. et al. A dosage-dependent pleiotropic role of Dicer in prostate cancer growth and metastasis. Oncogene 33, 3099–3108 (2014).

Lambo, S. et al. The molecular landscape of ETMR at diagnosis and relapse. Nature 576, 274–280 (2019).

Alberti, S., Gladfelter, A. & Mittag, T. Considerations and challenges in studying liquid-liquid phase separation and biomolecular condensates. Cell 176, 419–434 (2019).

Maharana, S. et al. RNA buffers the phase separation behavior of prion-like RNA binding proteins. Science 360, 918–921 (2018).

Case, L. B., Zhang, X., Ditlev, J. A. & Rosen, M. K. Stoichiometry controls activity of phase-separated clusters of actin signaling proteins. Science 363, 1093–1097 (2019).

Patel, A. et al. A liquid-to-solid phase transition of the ALS protein FUS accelerated by disease mutation. Cell 162, 1066–1077 (2015).

Lin, Y., Protter, D. S., Rosen, M. K. & Parker, R. Formation and maturation of phase-separated liquid droplets by RNA-binding proteins. Mol. Cell 60, 208–219 (2015).

Hayashi, K., Ohta, H., Kurimoto, K., Aramaki, S. & Saitou, M. Reconstitution of the mouse germ cell specification pathway in culture by pluripotent stem cells. Cell 146, 519–532 (2011).

Sladitschek, H. L. & Neveu, P. A. A gene regulatory network controls the balance between mesendoderm and ectoderm at pluripotency exit. Mol. Syst. Biol. 15, e9043 (2019).

Greve, T. S., Judson, R. L. & Blelloch, R. microRNA control of mouse and human pluripotent stem cell behavior. Annu. Rev. Cell Dev. Biol. 29, 213–239 (2013).

Xie, D. et al. Phase separation of SERRATE drives dicing body assembly and promotes miRNA processing in Arabidopsis. Nat. Cell Biol. 23, 32–39 (2021).

Yao, X. et al. CRISPR/Cas9-mediated targeted integration in vivo using a homology-mediated end joining-based strategy. J. Vis. Exp. 133, 56844 (2018).

Mori, M. et al. Hippo signaling regulates microprocessor and links cell-density-dependent miRNA biogenesis to cancer. Cell 156, 893–906 (2014).

Langmead, B., Trapnell, C., Pop, M. & Salzberg, S. L. Ultrafast and memory-efficient alignment of short DNA sequences to the human genome. Genome Biol. 10, R25 (2009).

Griffiths-Jones, S., Saini, H. K., van Dongen, S. & Enright, A. J. miRBase: tools for microRNA genomics. Nucleic Acids Res. 36, D154–D158 (2008).

Bolger, A. M., Lohse, M. & Usadel, B. Trimmomatic: a flexible trimmer for Illumina sequence data. Bioinformatics 30, 2114–2120 (2014).

Kim, D., Paggi, J. M., Park, C., Bennett, C. & Salzberg, S. L. Graph-based genome alignment and genotyping with HISAT2 and HISAT-genotype. Nat. Biotechnol. 37, 907–915 (2019).

Liao, Y., Smyth, G. K. & Shi, W. featureCounts: an efficient general purpose program for assigning sequence reads to genomic features. Bioinformatics 30, 923–930 (2014).

Chen, J., Bardes, E. E., Aronow, B. J. & Jegga, A. G. ToppGene Suite for gene list enrichment analysis and candidate gene prioritization. Nucleic Acids Res. 37, W305–W311 (2009).

Subramanian, A. et al. Gene set enrichment analysis: a knowledge-based approach for interpreting genome-wide expression profiles. Proc. Natl Acad. Sci. USA 102, 15545–15550 (2005).

Jiang, S. et al. An expanded landscape of human long noncoding RNA. Nucleic Acids Res. 47, 7842–7856 (2019).
Acknowledgements
We thank N. Kim, P. Li, Y. Qi, and X. Fu for discussions; the Biopolymer Facility at Harvard Medical School for RNA-seq and small RNA-seq Illumina high-throughput sequencing; the Core Facilities of the School of Life Sciences at Peking University, particularly S. Qin, C. Shan, L. Fu and S. Huang, for technical help with confocal imaging and radiolabelling assays; and the flow cytometry Core at National Center for Protein Sciences at Peking University, particularly H. Lyu and H. Yang, for technical help. Some work on protein purification was performed in N. Gao's laboratory (Peking University); we thank them for assistance. We thank J. Xiao's laboratory for providing the pFastBac-Dual vector, Sf21 cells and their assistance; H.-Y. Lee's laboratory and Y. Wang's laboratory for providing the K562 cells and DGCR8−/− cells, respectively; and F. Guo for providing the pFastBac-HTb-His6-DROSHA390–1374 vector. This work was supported by grants to P.D. from the Natural Science Foundation of China (32050214 and 32090012) and the National Key Research and Development Program of China (2019YFA0110000), M.P. was supported by the National Institute of Diabetes and Digestive and Kidney Diseases (NIDDK) (K01DK121861), and a grant to R.I.G. from the US National Institute of General Medical Sciences (NIGMS) (R01GM086386).
Ethics declarations
Competing interests
The authors declare no competing interests. R.I.G is a co-founder and scientific advisory board member of 28/7 Therapeutics and Theon Therapeutics.
Additional information
Peer review information Nature thanks Hannele Ruohola-Baker and the other, anonymous, reviewer(s) for their contribution to the peer review of this work.
Publisher's note Springer Nature remains neutral with regard to jurisdictional claims in published maps and institutional affiliations.
Extended data figures and tables
Supplementary information
About this article
Cite this article
Cui, Y., Lyu, X., Ding, L. et al. Global miRNA dosage control of embryonic germ layer specification. Nature 593, 602–606 (2021). https://doi.org/10.1038/s41586-021-03524-0
Received:

Accepted:

Published:

Issue Date:

DOI: https://doi.org/10.1038/s41586-021-03524-0
Further reading
Xiaowen Shi
Hua Yang
James A. Birchler

Nature Communications (2022)

Ashley Haluck-Kangas
Monal Patel
Marcus E. Peter

Journal of Experimental & Clinical Cancer Research (2021)
Comments
By submitting a comment you agree to abide by our Terms and Community Guidelines. If you find something abusive or that does not comply with our terms or guidelines please flag it as inappropriate.