Abstract
Several enteric pathogens can gain specific metabolic advantages over other members of the microbiota by inducing host pathology and inflammation. The pathogen Clostridium difficile is responsible for a toxin-mediated colitis that causes 450,000 infections and 15,000 deaths in the United States each year1; however, the molecular mechanisms by which C. difficile benefits from this pathology remain unclear. To understand how the metabolism of C. difficile adapts to the inflammatory conditions that its toxins induce, here we use RNA sequencing to define, in a mouse model, the metabolic states of wild-type C. difficile and of an isogenic mutant that lacks toxins. By combining bacterial and mouse genetics, we demonstrate that C. difficile uses sorbitol derived from both diet and host. Host-derived sorbitol is produced by the enzyme aldose reductase, which is expressed by diverse immune cells and is upregulated during inflammation—including during toxin-mediated disease induced by C. difficile. This work highlights a mechanism by which C. difficile can use a host-derived nutrient that is generated during toxin-induced disease by an enzyme that has not previously been associated with infection.
Relevant articles
Open Access articles citing this article.
Kali M. Pruss

,

Fatima Enam

…

Justin L. Sonnenburg

Nature Metabolism Open Access 06 January 2022
Access options
Access Nature and 54 other Nature Portfolio journals
Get Nature+, our best-value online-access subscription
$29.99 per month
cancel any time
Subscribe to this journal
Receive 51 print issues and online access
$199.00 per year
only $3.90 per issue
Rent or buy this article
Get just this article for as long as you need it
$39.95
Prices may be subject to local taxes which are calculated during checkout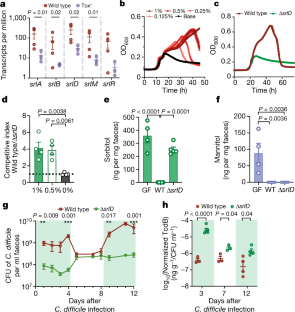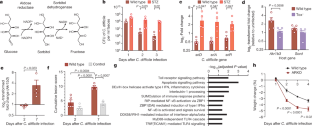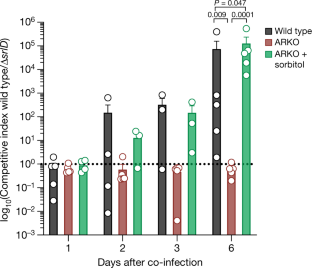 Data availability
Raw RNA-seq source data are available through the NCBI Sequence Read Archive. In vivo RNA-seq (Figs. 1b, 2a, Extended Data Fig. 1c, d, Supplementary Table 2) is available under accession number PRJNA666929, and in vitro RNA-seq (Extended Data Fig. 6, Supplementary Table 3) under accession number PRJNA667108. Publicly available single-cell RNA-seq data (Extended Data Fig. 7b–e) can be obtained from the Single Cell Portal (Broad Institute) under accession numbers SCP259 and SCP241. Microarray data (Fig. 3g) can be found in the Gene Expression Omnibus under accession number GSE44091. Source data are provided with this paper.
References
Lessa, F. C. et al. Burden of Clostridium difficile infection in the United States. N. Engl. J. Med. 372, 825–834 (2015).

Rivera-Chávez, F. & Bäumler, A. J. The pyromaniac inside you: Salmonella metabolism in the host gut. Annu. Rev. Microbiol. 69, 31–48 (2015).

Faber, F. et al. Host-mediated sugar oxidation promotes post-antibiotic pathogen expansion. Nature 534, 697–699 (2016).

Lopez, C. A. et al. Virulence factors enhance Citrobacter rodentium expansion through aerobic respiration. Science 353, 1249–1253 (2016).

Bäumler, A. J. & Sperandio, V. Interactions between the microbiota and pathogenic bacteria in the gut. Nature 535, 85–93 (2016).

Rivera-Chávez, F. & Mekalanos, J. J. Cholera toxin promotes pathogen acquisition of host-derived nutrients. Nature 572, 244–248 (2019).

El Feghaly, R. E. et al. Markers of intestinal inflammation, not bacterial burden, correlate with clinical outcomes in Clostridium difficile infection. Clin. Infect. Dis. 56, 1713–1721 (2013).

Hryckowian, A. J., Pruss, K. M. & Sonnenburg, J. L. The emerging metabolic view of Clostridium difficile pathogenesis. Curr. Opin. Microbiol. 35, 42–47 (2017).

Yamada, M. & Saier, M. H., Jr. Glucitol-specific enzymes of the phosphotransferase system in Escherichia coli. Nucleotide sequence of the gut operon. J. Biol. Chem. 262, 5455–5463 (1987).

Svensäter, G., Edwardsson, S. & Kalfas, S. Purification and properties of sorbitol-6-phosphate dehydrogenase from oral streptococci. Oral Microbiol. Immunol. 7, 148–154 (1992).

Theriot, C. M. et al. Antibiotic-induced shifts in the mouse gut microbiome and metabolome increase susceptibility to Clostridium difficile infection. Nat. Commun. 5, 3114 (2014).

Moing, A. Sugar alcohols as carbohydrate reserves in some higher plants. Dev. Crop Sci. 26, 337–358 (2000).

Hryckowian, A. J. et al. Microbiota-accessible carbohydrates suppress Clostridium difficile infection in a murine model. Nat. Microbiol. 3, 662–669 (2018).

Collins, J. et al. Dietary trehalose enhances virulence of epidemic Clostridium difficile. Nature 553, 291–294 (2018).

Kumar, N. et al. Adaptation of host transmission cycle during Clostridium difficile speciation. Nat. Genet. 51, 1315–1320 (2019).

Di Rienzi, S. C. & Britton, R. A. Adaptation of the gut microbiota to modern dietary sugars and sweeteners. Adv. Nutr. 11, 616–629 (2020).

Tang, W. H., Martin, K. A. & Hwa, J. Aldose reductase, oxidative stress, and diabetic mellitus. Front. Pharmacol. 3, 87 (2012).

Pal, P. B., Sonowal, H., Shukla, K., Srivastava, S. K. & Ramana, K. V. Aldose reductase mediates NLRP3 inflammasome-initiated innate immune response in hyperglycemia-induced Thp1 monocytes and male mice. Endocrinology 158, 3661–3675 (2017).

Kashima, K., Sato, N., Sato, K., Shimizu, H. & Mori, M. Effect of epalrestat, an aldose reductase inhibitor, on the generation of oxygen-derived free radicals in neutrophils from streptozotocin-induced diabetic rats. Endocrinology 139, 3404–3408 (1998).

Antunes, A. et al. Global transcriptional control by glucose and carbon regulator CcpA in Clostridium difficile. Nucleic Acids Res. 40, 10701–10718 (2012).

Shakov, R., Salazar, R. S., Kagunye, S. K., Baddoura, W. J. & DeBari, V. A. Diabetes mellitus as a risk factor for recurrence of Clostridium difficile infection in the acute care hospital setting. Am. J. Infect. Control 39, 194–198 (2011).

Hassan, S. A., Rahman, R. A., Huda, N., Wan Bebakar, W. M. & Lee, Y. Y. Hospital-acquired Clostridium difficile infection among patients with type 2 diabetes mellitus in acute medical wards. J. R. Coll. Physicians Edinb. 43, 103–107 (2013).

Ramana, K. V. Aldose reductase: new insights for an old enzyme. Biomol. Concepts 2, 103–114 (2011).

The Tabula Muris Consortium. Single-cell transcriptomics of 20 mouse organs creates a Tabula Muris. Nature 562, 367–372 (2018).

Biton, M. et al. T helper cell cytokines modulate intestinal stem cell renewal and differentiation. Cell 175, 1307–1320.e22 (2018).

Smillie, C. S. et al. Intra- and inter-cellular rewiring of the human colon during ulcerative colitis. Cell 178, 714–730.e22 (2019).

D'Auria, K. M. et al. In vivo physiological and transcriptional profiling reveals host responses to Clostridium difficile toxin A and toxin B. Infect. Immun. 81, 3814–3824 (2013).

Whitaker, W. R., Shepherd, E. S. & Sonnenburg, J. L. Tunable expression tools enable single-cell strain distinction in the gut microbiome. Cell 169, 538–546.e12 (2017).

Tang, J., Du, Y., Petrash, J. M., Sheibani, N. & Kern, T. S. Deletion of aldose reductase from mice inhibits diabetes-induced retinal capillary degeneration and superoxide generation. PLoS ONE 8, e62081 (2013).

Ho, H. T. et al. Aldose reductase-deficient mice develop nephrogenic diabetes insipidus. Mol. Cell. Biol. 20, 5840–5846 (2000).

Kuehne, S. A. et al. The role of toxin A and toxin B in Clostridium difficile infection. Nature 467, 711–713 (2010).

Kuehne, S. A. et al. Importance of toxin A, toxin B, and CDT in virulence of an epidemic Clostridium difficile strain. J. Infect. Dis. 209, 83–86 (2014).

Karasawa, T., Ikoma, S., Yamakawa, K. & Nakamura, S. A defined growth medium for Clostridium difficile. Microbiology 141, 371–375 (1995).

Ng, K. M. et al. Microbiota-liberated host sugars facilitate post-antibiotic expansion of enteric pathogens. Nature 502, 96–99 (2013).

Ng, Y. K. et al. Expanding the repertoire of gene tools for precise manipulation of the Clostridium difficile genome: allelic exchange using pyrE alleles. PLoS ONE 8, e56051 (2013).

Minton, N. P. et al. A roadmap for gene system development in Clostridium. Anaerobe 41, 104–112 (2016).

Thompson, L. R. et al. A communal catalogue reveals Earth's multiscale microbial diversity. Nature 551, 457–463 (2017).

Caporaso, J. G. et al. Ultra-high-throughput microbial community analysis on the Illumina HiSeq and MiSeq platforms. ISME J. 6, 1621–1624 (2012).

Caporaso, J. G. et al. QIIME allows analysis of high-throughput community sequencing data. Nat. Methods 7, 335–336 (2010).

Love, M. I., Huber, W. & Anders, S. Moderated estimation of fold change and dispersion for RNA-seq data with DESeq2. Genome Biol. 15, 550 (2014).

Ge, S. X., Jung, D. & Yao, R. ShinyGO: a graphical gene-set enrichment tool for animals and plants. Bioinformatics 36, 2628–2629 (2020).

McKenzie, A. T., Katsyv, I., Song, W. M., Wang, M. & Zhang, B. DGCA: A comprehensive R package for differential gene correlation analysis. BMC Syst. Biol. 10, 106 (2016).

Mi, H. et al. Protocol update for large-scale genome and gene function analysis with the PANTHER classification system (v.14.0). Nat. Protoc. 14, 703–721 (2019).

R Core Team. R: a language and environment for statistical computing. https://www.r-project.org/ (R Foundation for Statistical Computing, 2020).

Wickham, H. ggplot2: Elegant Graphics for Data Analysis 2nd edn (Springer, 2016).
Acknowledgements
We thank S. Higginbottom for assistance with all mouse experiments. A. Chien assisted with the development of the GC–MS protocol; S. Kuehne and N. Minton provided the toxin-mutant C. difficile strains; A. Shen provided reagents for the generation of new C. difficile mutants; A. Bhatnagar and D. Mosely provided the aldose reductase knockout mice; and D. Davis shared protocols and advice regarding the development of the streptozotocin model of hyperglycaemia. This study was supported by R01-DK08502510 (with thanks to B. Karp for service and support at NIDDK) and the Chan Zuckerberg Biohub, and a Ford Foundation Pre-Doctoral Fellowship and NSF Graduate Research Fellowship to K.M.P. We thank all members of the Sonnenburg laboratory, who provided feedback throughout the development of the project.
Ethics declarations
Competing interests
The authors declare no competing interests.
Additional information
Peer review information Nature thanks Lora Hooper and the other, anonymous, reviewer(s) for their contribution to the peer review of this work.
Publisher's note Springer Nature remains neutral with regard to jurisdictional claims in published maps and institutional affiliations.
Extended data figures and tables
Supplementary information
About this article
Cite this article
Pruss, K.M., Sonnenburg, J.L. C. difficile exploits a host metabolite produced during toxin-mediated disease. Nature 593, 261–265 (2021). https://doi.org/10.1038/s41586-021-03502-6
Received:

Accepted:

Published:

Issue Date:

DOI: https://doi.org/10.1038/s41586-021-03502-6
This article is cited by
Kali M. Pruss
Fatima Enam
Justin L. Sonnenburg

Nature Metabolism (2022)

Qiaomai Xu
Shumeng Zhang
Lanjuan Li

Applied Microbiology and Biotechnology (2022)
Comments
By submitting a comment you agree to abide by our Terms and Community Guidelines. If you find something abusive or that does not comply with our terms or guidelines please flag it as inappropriate.