Abstract
Lysosomes have fundamental physiological roles and have previously been implicated in Parkinson's disease1,2,3,4,5. However, how extracellular growth factors communicate with intracellular organelles to control lysosomal function is not well understood. Here we report a lysosomal K+ channel complex that is activated by growth factors and gated by protein kinase B (AKT) that we term lysoKGF. LysoKGF consists of a pore-forming protein TMEM175 and AKT: TMEM175 is opened by conformational changes in, but not the catalytic activity of, AKT. The minor allele at rs34311866, a common variant in TMEM175, is associated with an increased risk of developing Parkinson's disease and reduces channel currents. Reduction in lysoKGF function predisposes neurons to stress-induced damage and accelerates the accumulation of pathological α-synuclein. By contrast, the minor allele at rs3488217—another common variant of TMEM175, which is associated with a decreased risk of developing Parkinson's disease—produces a gain-of-function in lysoKGF during cell starvation, and enables neuronal resistance to damage. Deficiency in TMEM175 leads to a loss of dopaminergic neurons and impairment in motor function in mice, and a TMEM175 loss-of-function variant is nominally associated with accelerated rates of cognitive and motor decline in humans with Parkinson's disease. Together, our studies uncover a pathway by which extracellular growth factors regulate intracellular organelle function, and establish a targetable mechanism by which common variants of TMEM175 confer risk for Parkinson's disease.
Your institute does not have access to this article
Access options
Subscribe to Nature+
Get immediate online access to the entire Nature family of 50+ journals
Subscribe to Journal
Get full journal access for 1 year
$199.00
only $3.90 per issue
All prices are NET prices.
VAT will be added later in the checkout.
Tax calculation will be finalised during checkout.
Buy article
Get time limited or full article access on ReadCube.
$32.00
All prices are NET prices.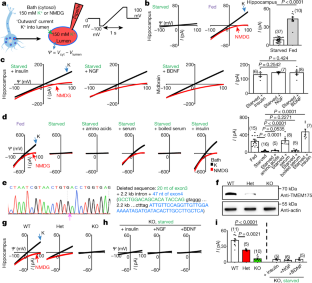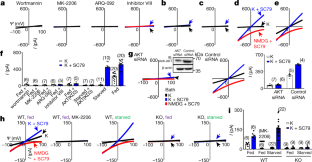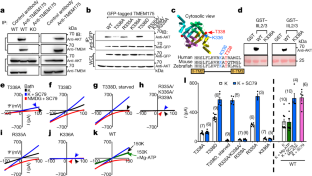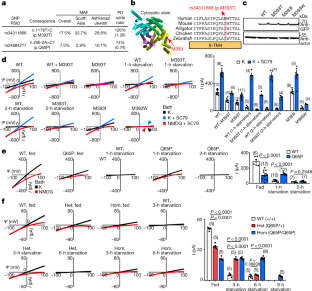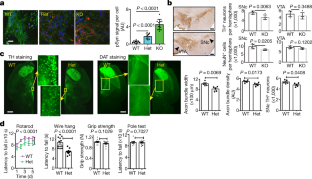 References
Ballabio, A. & Bonifacino, J. S. Lysosomes as dynamic regulators of cell and organismal homeostasis. Nat. Rev. Mol. Cell Biol. 21, 101–118 (2020).

Laplante, M. & Sabatini, D. M. mTOR signaling in growth control and disease. Cell 149, 274–293 (2012).

Wong, Y. C., Kim, S., Peng, W. & Krainc, D. Regulation and function of mitochondria-lysosome membrane contact sites in cellular homeostasis. Trends Cell Biol. 29, 500–513 (2019).

Lie, P. P. Y. & Nixon, R. A. Lysosome trafficking and signaling in health and neurodegenerative diseases. Neurobiol. Dis. 122, 94–105 (2019).

Abeliovich, A. & Gitler, A. D. Defects in trafficking bridge Parkinson's disease pathology and genetics. Nature 539, 207–216 (2016).

Hille, B. Ion Channels of Excitable Membranes, 3rd Edn (Sinauer Associates, 2001).

Jan, L. Y. & Jan, Y. N. Voltage-gated potassium channels and the diversity of electrical signalling. J. Physiol. 590, 2591–2599 (2012).

Xu, H. & Ren, D. Lysosomal physiology. Annu. Rev. Physiol. 77, 57–80 (2015).

Cang, C., Bekele, B. & Ren, D. The voltage-gated sodium channel TPC1 confers endolysosomal excitability. Nat. Chem. Biol. 10, 463–469 (2014).

Cang, C. et al. mTOR regulates lysosomal ATP-sensitive two-pore Na+ channels to adapt to metabolic state. Cell 152, 778–790 (2013).

Brewer, G. J., Torricelli, J. R., Evege, E. K. & Price, P. J. Optimized survival of hippocampal neurons in B27-supplemented neurobasal, a new serum-free medium combination. J. Neurosci. Res. 35, 567–576 (1993).

Cang, C., Aranda, K., Seo, Y. J., Gasnier, B. & Ren, D. TMEM175 is an organelle K+ channel regulating lysosomal function. Cell 162, 1101–1112 (2015).

Chapel, A. et al. An extended proteome map of the lysosomal membrane reveals novel potential transporters. Mol. Cell Proteomics 12, 1572–1588 (2013).

Cao, Q. et al. BK channels alleviate lysosomal storage diseases by providing positive feedback regulation of lysosomal Ca2+ release. Dev. Cell 33, 427–441 (2015).

El-Shewy, H. M., Lee, M. H., Obeid, L. M., Jaffa, A. A. & Luttrell, L. M. The insulin-like growth factor type 1 and insulin-like growth factor type 2/mannose-6-phosphate receptors independently regulate ERK1/2 activity in HEK293 cells. J. Biol. Chem. 282, 26150–26157 (2007).

Anderson, E. M. et al. BDNF–TrkB controls cocaine-induced dendritic spines in rodent nucleus accumbens dissociated from increases in addictive behaviors. Proc. Natl Acad. Sci. USA 114, 9469–9474 (2017).

Perreault, M. et al. Activation of TrkB with TAM-163 results in opposite effects on body weight in rodents and non-human primates. PLoS ONE 8, e62616 (2013).

Manning, B. D. & Toker, A. AKT/PKB signaling: navigating the network. Cell 169, 381–405 (2017).

Jo, H. et al. Small molecule-induced cytosolic activation of protein kinase Akt rescues ischemia-elicited neuronal death. Proc. Natl Acad. Sci. USA 109, 10581–10586 (2012).

Arias, E. et al. Lysosomal mTORC2/PHLPP1/Akt regulate chaperone-mediated autophagy. Mol. Cell 59, 270–284 (2015).

Menon, S. et al. Spatial control of the TSC complex integrates insulin and nutrient regulation of mTORC1 at the lysosome. Cell 156, 771–785 (2014).

Oh, S., Paknejad, N. & Hite, R. K. Gating and selectivity mechanisms for the lysosomal K+ channel TMEM175. eLife 9, e53430 (2020).

Ebner, M., Lucic, I., Leonard, T. A. & Yudushkin, I. PI(3,4,5)P3 engagement restricts Akt activity to cellular membranes. Mol. Cell 65, 416–431 (2017).

Blauwendraat, C. et al. Parkinson's disease age at onset genome-wide association study: defining heritability, genetic loci, and α-synuclein mechanisms. Mov. Disord. 34, 866–875 (2019).

Nalls, M. A. et al. Large-scale meta-analysis of genome-wide association data identifies six new risk loci for Parkinson's disease. Nat. Genet. 46, 989–993 (2014).

Krohn, L. et al. Genetic, structural and functional evidence link TMEM175 to synucleinopathies. Ann. Neurol. 87, 139–153 (2020).

Iwaki, H. et al. Genetic risk of Parkinson disease and progression: an analysis of 13 longitudinal cohorts. Neurol. Genet. 5, e348 (2019).

Lill, C. M. et al. Impact of Parkinson's disease risk loci on age at onset. Mov. Disord. 30, 847–850 (2015).

Davis, A. A. et al. Variants in GBA, SNCA, and MAPT influence Parkinson disease risk, age at onset, and progression. Neurobiol Aging 37, 209.e1–209.e7 (2016).

Jinn, S. et al. Functionalization of the TMEM175 p.M393T variant as a risk factor for Parkinson disease. Hum. Mol. Genet. 28, 3244–3254 (2019).

Lee, C. et al. The lysosomal potassium channel TMEM175 adopts a novel tetrameric architecture. Nature 547, 472–475 (2017).

Brunner, J. D. et al. Structural basis for ion selectivity in TMEM175 K+ channels. eLife 9, e53683 (2020).

Steinberg, B. E. et al. A cation counterflux supports lysosomal acidification. J. Cell Biol. 189, 1171–1186 (2010).

Jinn, S. et al. TMEM175 deficiency impairs lysosomal and mitochondrial function and increases α-synuclein aggregation. Proc. Natl Acad. Sci. USA 114, 2389–2394 (2017).

Aleyasin, H. et al. DJ-1 protects the nigrostriatal axis from the neurotoxin MPTP by modulation of the AKT pathway. Proc. Natl Acad. Sci. USA 107, 3186–3191 (2010).

Humbert, S. et al. The IGF-1/Akt pathway is neuroprotective in Huntington's disease and involves Huntingtin phosphorylation by Akt. Dev. Cell 2, 831–837 (2002).

Niu, J. et al. 2′,3′-Dideoxycytidine protects dopaminergic neurons in a mouse model of Parkinson's disease. Neurochem. Res. 42, 2996–3004 (2017).

Sakamoto, S., Miyara, M., Sanoh, S., Ohta, S. & Kotake, Y. Mild MPP+ exposure-induced glucose starvation enhances autophagosome synthesis and impairs its degradation. Sci. Rep. 7, 46668 (2017).

Whittemore, E. R., Loo, D. T., Watt, J. A. & Cotman, C. W. A detailed analysis of hydrogen peroxide-induced cell death in primary neuronal culture. Neuroscience 67, 921–932 (1995).

Goedert, M., Spillantini, M. G., Del Tredici, K. & Braak, H. 100 years of Lewy pathology. Nat. Rev. Neurol. 9, 13–24 (2013).

Fujiwara, H. et al. α-Synuclein is phosphorylated in synucleinopathy lesions. Nat. Cell Biol. 4, 160–164 (2002).

Luk, K. C. et al. Pathological α-synuclein transmission initiates Parkinson-like neurodegeneration in nontransgenic mice. Science 338, 949–953 (2012).

Volpicelli-Daley, L. A. et al. Exogenous α-synuclein fibrils induce Lewy body pathology leading to synaptic dysfunction and neuron death. Neuron 72, 57–71 (2011).

Gao, J., Perera, G., Bhadbhade, M., Halliday, G. M. & Dzamko, N. Autophagy activation promotes clearance of α-synuclein inclusions in fibril-seeded human neural cells. J. Biol. Chem. 294, 14241–14256 (2019).

Karpowicz, R. J. Jr et al. Selective imaging of internalized proteopathic α-synuclein seeds in primary neurons reveals mechanistic insight into transmission of synucleinopathies. J. Biol. Chem. 292, 13482–13497 (2017).

Davis, A. A., Leyns, C. E. G. & Holtzman, D. M. Intercellular spread of protein aggregates in neurodegenerative disease. Annu. Rev. Cell Dev. Biol. 34, 545–568 (2018).

Aits, S. et al. Sensitive detection of lysosomal membrane permeabilization by lysosomal galectin puncta assay. Autophagy 11, 1408–1424 (2015).

Tropea, T. F. et al. TMEM106B effect on cognition in Parkinson disease and frontotemporal dementia. Ann. Neurol. 85, 801–811 (2019).

Thomas, B. et al. Resistance to MPTP-neurotoxicity in α-synuclein knockout mice is complemented by human α-synuclein and associated with increased β-synuclein and Akt activation. PLoS ONE 6, e16706 (2011).

Datta, S. R., Brunet, A. & Greenberg, M. E. Cellular survival: a play in three Akts. Genes Dev. 13, 2905–2927 (1999).

Yang, H., Wang, H. & Jaenisch, R. Generating genetically modified mice using CRISPR/Cas-mediated genome engineering. Nat. Protoc. 9, 1956–1968 (2014).

Lu, B. et al. The neuronal channel NALCN contributes resting sodium permeability and is required for normal respiratory rhythm. Cell 129, 371–383 (2007).

Lu, B. et al. Extracellular calcium controls background current and neuronal excitability via an UNC79–UNC80–NALCN cation channel complex. Neuron 68, 488–499 (2010).

Bertl, A. et al. Electrical measurements on endomembranes. Science 258, 873–874 (1992).

Kao, L. R. & Megraw, T. L. RNAi in cultured Drosophila cells. Methods Mol. Biol. 247, 443–457 (2004).

Clemens, J. C. et al. Use of double-stranded RNA interference in Drosophila cell lines to dissect signal transduction pathways. Proc. Natl Acad. Sci. USA 97, 6499–6503 (2000).

Gerdts, J., Sasaki, Y., Vohra, B., Marasa, J. & Milbrandt, J. Image-based screening identifies novel roles for IκB kinase and glycogen synthase kinase 3 in axonal degeneration. J. Biol. Chem. 286, 28011–28018 (2011).

Sasaki, Y., Vohra, B. P., Lund, F. E. & Milbrandt, J. Nicotinamide mononucleotide adenylyl transferase-mediated axonal protection requires enzymatic activity but not increased levels of neuronal nicotinamide adenine dinucleotide. J. Neurosci. 29, 5525–5535 (2009).

Wiemerslage, L. & Lee, D. Quantification of mitochondrial morphology in neurites of dopaminergic neurons using multiple parameters. J. Neurosci. Methods 262, 56–65 (2016).

Luk, K. C. et al. Molecular and biological compatibility with host alpha-synuclein influences fibril pathogenicity. Cell Rep. 16, 3373–3387 (2016).

Volpicelli-Daley, L. A., Luk, K. C. & Lee, V. M. Addition of exogenous α-synuclein preformed fibrils to primary neuronal cultures to seed recruitment of endogenous α-synuclein to Lewy body and Lewy neurite-like aggregates. Nat. Protoc. 9, 2135–2146 (2014).

Waxman, E. A. & Giasson, B. I. Specificity and regulation of casein kinase-mediated phosphorylation of α-synuclein. J. Neuropathol. Exp. Neurol. 67, 402–416 (2008).

Angelim, M. K. S. C. et al. Embryonic macrophages and microglia ablation alter the development of dorsal root ganglion sensory neurons in mouse embryos. Glia 66, 2470–2486 (2018).

Flavin, W. P. et al. Endocytic vesicle rupture is a conserved mechanism of cellular invasion by amyloid proteins. Acta Neuropathol. 134, 629–653 (2017).

Renier, N. et al. iDISCO: a simple, rapid method to immunolabel large tissue samples for volume imaging. Cell 159, 896–910 (2014).

Song, H. et al. Targeting Gpr52 lowers mutant HTT levels and rescues Huntington's disease-associated phenotypes. Brain 141, 1782–1798 (2018).

Li, Z. et al. Allele-selective lowering of mutant HTT protein by HTT–LC3 linker compounds. Nature 575, 203–209 (2019).

Khaing, Z. Z. et al. Assessing forelimb function after unilateral cervical spinal cord injury: novel forelimb tasks predict lesion severity and recovery. J. Neurotrauma 29, 488–498 (2012).

Anderson, K. D., Abdul, M. & Steward, O. Quantitative assessment of deficits and recovery of forelimb motor function after cervical spinal cord injury in mice. Exp. Neurol. 190, 184–191 (2004).

Kawashita, E. et al. Altered behavior in mice with deletion of the alpha2-antiplasmin gene. PLoS ONE 9, e97947 (2014).

Gonçalves, F. M. et al. Glutamatergic system and mTOR-signaling pathway participate in the antidepressant-like effect of inosine in the tail suspension test. J. Neural Transm. (Vienna) 124, 1227–1237 (2017).

Matsuura, K., Kabuto, H., Makino, H. & Ogawa, N. Pole test is a useful method for evaluating the mouse movement disorder caused by striatal dopamine depletion. J. Neurosci. Methods 73, 45–48 (1997).

Toledo, J. B. et al. A platform for discovery: the University of Pennsylvania integrated neurodegenerative disease biobank. Alzheimers Dement. 10, 477–484 (2014).

Lucas, J. A. et al. Normative data for the Mattis Dementia Rating Scale. J. Clin. Exp. Neuropsychol. 20, 536–547 (1998).

Pigott, K. et al. Longitudinal study of normal cognition in Parkinson disease. Neurology 85, 1276–1282 (2015).

Van Deerlin, V. M. et al. Common variants at 7p21 are associated with frontotemporal lobar degeneration with TDP-43 inclusions. Nat. Genet. 42, 234–239 (2010).

Mata, I. F. et al. GBA variants are associated with a distinct pattern of cognitive deficits in Parkinson's disease. Mov. Disord. 31, 95–102 (2016).

Laird, N. M. & Ware, J. H. Random-effects models for longitudinal data. Biometrics 38, 963–974 (1982).

Lee, R. S. et al. Relative expression levels rather than specific activity plays the major role in determining in vivo AKT isoform substrate specificity. Enzyme Res. 2011, 720985 (2011).

Chu, N. et al. Akt kinase activation mechanisms revealed using protein semisynthesis. Cell 174, 897–907 (2018).

Franke, T. F. et al. The protein kinase encoded by the Akt proto-oncogene is a target of the PDGF-activated phosphatidylinositol 3-kinase. Cell 81, 727–736 (1995).

Carpten, J. D. et al. A transforming mutation in the pleckstrin homology domain of AKT1 in cancer. Nature 448, 439–444 (2007).

Parikh, C. et al. Disruption of PH-kinase domain interactions leads to oncogenic activation of AKT in human cancers. Proc. Natl Acad. Sci. USA 109, 19368–19373 (2012).

Langston, J. W. The MPTP story. J. Parkinsons Dis. 7, S11–S19 (2017).

Choi, W. S., Kruse, S. E., Palmiter, R. D. & Xia, Z. Mitochondrial complex I inhibition is not required for dopaminergic neuron death induced by rotenone, MPP+, or paraquat. Proc. Natl Acad. Sci. USA 105, 15136–15141 (2008).

Sanchez-Ramos, J. R., Michel, P., Weiner, W. J. & Hefti, F. Selective destruction of cultured dopaminergic neurons from fetal rat mesencephalon by 1-methyl-4-phenylpyridinium: cytochemical and morphological evidence. J. Neurochem. 50, 1934–1944 (1988).

Cohen, E. & Dillin, A. The insulin paradox: aging, proteotoxicity and neurodegeneration. Nat. Rev. Neurosci. 9, 759–767 (2008).
Acknowledgements
The work was supported in part by NIH grants 1 R01 GM133172 and 1 R01 HL147379 (to D.R.), NS088322 (to K.C.L.), and R01 NS115139, P50 NS053488 and U19-AG062418 (to A.S.C.-P.). A.S.C.-P. is also supported by the Parker Family Chair. B.L. is supported in part by the National Natural Science Foundation of China (81925012) and the Newton Advanced Fellowship (NAF_R1_191045). We thank the Transgenic and Chimeric Mouse Core of the University of Pennsylvania for the generation of all transgenic lines (supported by NIH centre grants P30DK050306, P30DK019525, and P30CA016520); A. Caputo for help with preparing the preformed α-syn fibrils; T. O'Brien for discussion on behavioural studies; and D. Weintraub, V. Van Deerlin and J. Trojanowski for help with human cohort studies. Some data used in the preparation of this Article were obtained from the PPMI database (www.ppmi-info.org/data). PPMI—a public–private partnership—is funded by the Michael J. Fox Foundation for Parkinson's Research and funding partners, including Abbvie, Allergan, Amathus therapeutics, Avid Radiopharmaceuticals, Biogen, BioLegend, Bristol–Myers Squibb, Celgene, Denali, GE Healthcare, Genentech, GlaxoSmithKline, Golub Capital, Handl Therapeutics, Insitro, Janssen Neuroscience, Lilly, Lundbeck, Merck, Meso Scale Discovery, Pfizer, Piramal, Prevail Therapeutics, Roche, Sanofi Genzyme, Servier, Takeda, Teva, UCB, Verily and Voyager Therapeutics. Up-to-date information on the study is available at www.ppmi-info.org.
Ethics declarations
Competing interests
The authors declare no competing interests.
Additional information
Peer review information Nature thanks David Stone and the other, anonymous, reviewer(s) for their contribution to the peer review of this work.
Publisher's note Springer Nature remains neutral with regard to jurisdictional claims in published maps and institutional affiliations.
Extended data figures and tables
Supplementary information
This file contains original gel pictures used to make the figure.
About this article
Cite this article
Wie, J., Liu, Z., Song, H. et al. A growth-factor-activated lysosomal K+ channel regulates Parkinson's pathology. Nature 591, 431–437 (2021). https://doi.org/10.1038/s41586-021-03185-z
Received:

Accepted:

Published:

Issue Date:

DOI: https://doi.org/10.1038/s41586-021-03185-z
Further reading
Nature Reviews Drug Discovery (2021)

Song Li
Congcong Jia
Weidong Le

Neuroscience Bulletin (2021)
Comments
By submitting a comment you agree to abide by our Terms and Community Guidelines. If you find something abusive or that does not comply with our terms or guidelines please flag it as inappropriate.