Abstract
An ongoing challenge in chemical research is to design catalysts that select the outcomes of the reactions of complex molecules. Chemists rely on organocatalysts or transition metal catalysts to control stereoselectivity, regioselectivity and periselectivity (selectivity among possible pericyclic reactions). Nature achieves these types of selectivity with a variety of enzymes such as the recently discovered pericyclases—a family of enzymes that catalyse pericyclic reactions1. Most characterized enzymatic pericyclic reactions have been cycloadditions, and it has been difficult to rationalize how the observed selectivities are achieved2,3,4,5,6,7,8,9,10,11,12,13. Here we report the discovery of two homologous groups of pericyclases that catalyse distinct reactions: one group catalyses an Alder-ene reaction that was, to our knowledge, previously unknown in biology; the second catalyses a stereoselective hetero-Diels–Alder reaction. Guided by computational studies, we have rationalized the observed differences in reactivities and designed mutant enzymes that reverse periselectivities from Alder-ene to hetero-Diels–Alder and vice versa. A combination of in vitro biochemical characterizations, computational studies, enzyme co-crystal structures, and mutational studies illustrate how high regioselectivity and periselectivity are achieved in nearly identical active sites.
Access options
Subscribe to Journal
Get full journal access for 1 year
$199.00
only $3.90 per issue
All prices are NET prices.
VAT will be added later in the checkout.
Rent or Buy article
Get time limited or full article access on ReadCube.
from$8.99
All prices are NET prices.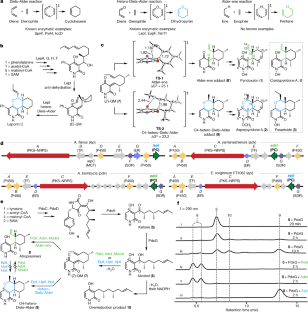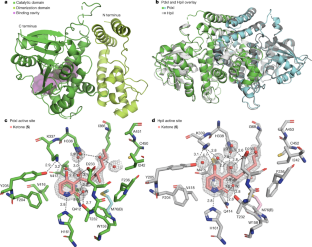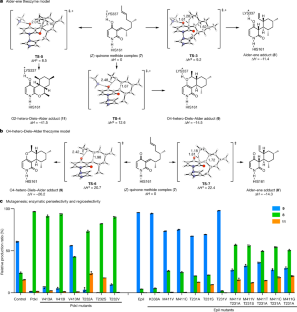 Data availability
Data that support the findings of this study are available within the paper and its Supplementary Information, or are available from the corresponding author upon request. The atomic coordinates of PdxI, PdxI with 5, PdxI with 8, HpiI and HpiI with 5 have been deposited in the Protein Data Bank (http://www.rcsb.org) under accession codes 7BQJ, 7BQK, 7BQL, 7BQP and 7BQO, respectively.
References
1.

Jamieson, C. S., Ohashi, M., Liu, F., Tang, Y. & Houk, K. N. The expanding world of biosynthetic pericyclases: Cooperation of experiment and theory for discovery. Nat. Prod. Rep. 36, 698–713 (2019).

2.

Kim, H. J., Ruszczycky, M. W., Choi, S., Liu, Y. & Liu, H. Enzyme-catalysed [4+2] cycloaddition is a key step in the biosynthesis of spinosyn A. Nature 473, 109–112 (2011).

3.

Wever, W. J. et al. Chemoenzymatic synthesis of thiazolyl peptide natural products featuring an enzyme-catalyzed formal [4 + 2] cycloaddition. J. Am. Chem. Soc. 137, 3494–3497 (2015).

4.

Ohashi, M. et al. SAM-dependent enzyme-catalysed pericyclic reactions in natural product biosynthesis. Nature 549, 502–506 (2017).

5.

Bailey, S. S. et al. Enzymatic control of cycloadduct conformation ensures reversible 1,3-dipolar cycloaddition in a prFMN-dependent decarboxylase. Nat. Chem. 11, 1049–1057 (2019).

6.

Chen, Q. et al. Enzymatic intermolecular hetero-Diels-Alder reaction in the biosynthesis of tropolonic sesquiterpenes. J. Am. Chem. Soc. 141, 14052–14056 (2019).

7.

Zhang, B. et al. Enzyme-catalysed [6+4] cycloadditions in the biosynthesis of natural products. Nature 568, 122–126 (2019).

8.

Little, R. et al. Unexpected enzyme-catalysed [4+2] cycloaddition and rearrangement in polyether antibiotic biosynthesis. Nat. Catal. 2, 1045–1054 (2019).

9.

Dan, Q. et al. Fungal indole alkaloid biogenesis through evolution of a bifunctional reductase/Diels–Alderase. Nat. Chem. 11, 972–980 (2019).

10.

Zhang, Z. et al. Enzyme-catalyzed inverse-electron demand Diels–Alder reaction in the biosynthesis of antifungal ilicicolin H. J. Am. Chem. Soc. 141, 5659–5663 (2019).

11.

Gustin, D. J. et al. Heavy atom isotope effects reveal a highly polarized transition state for chorismate mutase. J. Am. Chem. Soc. 121, 1756–1757 (1999).

12.

DeClue, M. S., Baldridge, K. K., Künzler, D. E., Kast, P. & Hilvert, D. Isochorismate pyruvate lyase: a pericyclic reaction mechanism? J. Am. Chem. Soc. 127, 15002–15003 (2005).

13.

Tian, Z. et al. An enzymatic [4+2] cyclization cascade creates the pentacyclic core of pyrroindomycins. Nat. Chem. Biol. 11, 259–265 (2015).

14.

Woodward, R. B. & Hoffmann, R. The conservation of orbital symmetry. Angew. Chem. Int. Ed. 8, 781–853 (1969).

15.

Nicolaou, K. C., Snyder, S. A., Montagnon, T. & Vassilikogiannakis, G. The Diels–Alder reaction in total synthesis. Angew. Chem. Int. Ed. 41, 1668–1698 (2002).

16.

Corey, E. J. & Cheng, X. M. The Logic of Chemical Synthesis (Wiley, 1989).

17.

Hoffmann, H. M. R. The ene reaction. Angew. Chem. Int. Ed. 8, 556–577 (1969).

18.

Alder, K. in Nobel Lectures, Chemistry 1942–1962 267–303 (Elsevier, 1964).

19.

Niu, D. & Hoye, T. R. The aromatic ene reaction. Nat. Chem. 6, 34–40 (2014).

20.

Mikami, K. & Shimizu, M. Asymmetric ene reactions in organic synthesis. Chem. Rev. 92, 1021–1050 (1992).

21.

Jensen, A. W., Mohanty, D. K. & Dilling, W. L. The growing relevance of biological ene reactions. Bioorg. Med. Chem. 27, 686–691 (2019).

22.

Lin, C.-I., McCarty, R. M. & Liu, H. The enzymology of organic transformations: a survey of name reactions in biological systems. Angew. Chem. Int. Ed. 56, 3446–3489 (2017).

23.

Snider, B. B. & Lu, Q. Total synthesis of (±)-pyridoxatin. J. Org. Chem. 59, 8065–8070 (1994).

24.

Snider, B. B. & Qing, L. A two-step synthesis of pyridoxatin analogues. Tetrahedr. Lett. 35, 531–534 (1994).

25.

Jones, I. L., Moore, F. K. & Chai, C. L. L. Total synthesis of (±)-cordypyridones A and B and related epimers. Org. Lett. 11, 5526–5529 (2009).

26.

Cai, Y. et al. Structural basis for stereoselective dehydration and hydrogen-bonding catalysis by the SAM-dependent pericyclase LepI. Nat. Chem. 11, 812–820 (2019).

27.

Appendino, G., Cravotto, G., Toma, L., Annunziata, R. & Palmisano, G. The chemistry of coumarin derivatives. Part VI. Diels-Alder trapping of 3-methylene-2,4-chromandione. A new entry to substituted pyrano[3,2-c]coumarins. J. Org. Chem. 59, 5556–5564 (1994).

28.

Qiao, Y. et al. Asperpyridone A: an unusual pyridone alkaloid exerts hypoglycemic activity through the insulin signaling pathway. J. Nat. Prod. 82, 2925–2930 (2019).

29.

McBrien, K. D. et al. Fusaricide, a new cytotoxic N-hydroxypyridone from Fusarium sp. J. Nat. Prod. 59, 1151–1153 (1996).

30.

Li, C., Sarotti, A. M., Yang, B., Turkson, J. & Cao, S. A new N-methoxypyridone from the co-cultivation of hawaiian endophytic fungi Camporesia sambuci FT1061 and Epicoccum sorghinum FT1062. Molecules 22, 1166 (2017).

31.

Lee, H. J. et al. Pyridoxatin, an inhibitor of gelatinase A with cytotoxic activity. J. Microbiol. Biotechnol. 6, 445–450 (1996).

32.

Singh, M. S., Nagaraju, A., Anand, N. & Chowdhury, S. Ortho-quinone methide (o-QM): a highly reactive, ephemeral and versatile intermediate in organic synthesis. RSC Advances 4, 55924–55959 (2014).

33.

Singh, S. et al. Structural characterization of the mitomycin 7-O-methyltransferase. Proteins Struct. Funct. Bioinformat. 79, 2181–2188 (2011).

34.

Kabsch, W. XDS. Acta Crystallogr. D Biol. Crystallogr. 66, 125–132 (2010).

35.

Minor, W., Cymboriwski, M., Otwinowski, Z. & Chruszcz, M. HKL-3000: the integration ofdata reduction and structure solution-from diffraction images to an initial model in minutes. Acta Crystallogr. D Biol. Crystallogr. 62, 859–866 (2006).

36.

Adams, P. D. et al. PHENIX: a comprehensive Python-based system for macromolecular structure solution. Acta Crystallogr. D Biol. Crystallogr. 66, 213–221 (2010).

37.

McCoy, A. J. et al. Phaser crystallographic software. J. Appl. Cryst. 40, 658–674 (2007).

38.

Emsley, P., Lohkamp, B., Scott, W. G. & Cowtan, K. Features and development of Coot. Acta Crystallogr. D Biol. Crystallogr. 66, 486–501 (2010).

39.

Laskowski, R. A., MacArthur, M. W., Moss, D. S. & Thornton, J. M. ProCheck: a program to check the stereochemical quality of protein structures. J. Appl. Cryst. 26, 283–291 (1993).

40.

Davis, I. W. et al. MolProbity: all-atom contacts and structure validation for proteins and nucleic acids. Nucleic Acids Res. 35, W375–W383 (2007).

41.

DeLano, W. L. PyMOL: an open-source molecular graphics tool. Ccp4 Newslett. Protein Crystallogr 40, 11 (2002).

42.

Schrödinger Release 2017-2: MacroModel, version 11.2.014 (Schrödinger, 2017).

43.

Frisch, M. J. et al. Gaussian 16 Revision A.03 (Gaussian, 2016).

44.

Chai, J.-D. & Head-Gordon, M. Long-range corrected hybrid density functionals with damped atom–atom dispersion corrections. Phys. Chem. Chem. Phys. 10, 6615–6620 (2008).

45.

Krishnan, R., Binkley, J. S., Seeger, R. & Pople, J. A. Self-consistent molecular orbital methods. XX. A basis set for correlated wave functions. J. Chem. Phys. 72, 650–654 (1980).

46.

Rassolov, V. A., Pople, J. A., Ratner, M. A. & Windus, T. L. 6-31G* basis set for atoms K through Zn. J. Chem. Phys. 109, 1223–1229 (1998).

47.

Francl, M. M. et al. Self-consistent molecular orbital methods. XXIII. A polarization-type basis set for second-row elements. J. Chem. Phys. 77, 3654–3665 (1982).

48.

Dill, J. D. & Pople, J. A. Self-consistent molecular orbital methods. XV. Extended Gaussian-type basis sets for lithium, beryllium, and boron. J. Chem. Phys. 62, 2921–2923 (1975).

49.

Hehre, W. J., Ditchfield, R. & Pople, J. A. Self-consistent molecular orbital methods. XII. further extensions of Gaussian-type basis sets for use in molecular orbital studies of organic molecules. J. Chem. Phys. 56, 2257–2261 (1972).

50.

Linder, M. & Brinck, T. On the method-dependence of transition state asynchronicity in Diels–Alder reactions. Phys. Chem. Chem. Phys. 15, 5108–5114 (2013).

51.

Mardirossian, N. & Head-Gordon, M. Thirty years of density functional theory in computational chemistry: an overview and extensive assessment of 200 density functionals. Mol. Phys. 115, 2315–2372 (2017).

52.

Clark, T., Chandrasekhar, J., Spitznagel, G. W. & Schleyer, P. V. R. Efficient diffuse function-augmented basis sets for anion calculations. III. The 3-21+G basis set for first-row elements, Li–F. J. Comput. Chem. 4, 294–301 (1983).

53.

Blaudeau, J.-P., McGrath, M. P., Curtiss, L. A. & Radom, L. Extension of Gaussian-2 (G2) theory to molecules containing third-row atoms K and Ca. J. Chem. Phys. 107, 5016–5021 (1997).

54.

Schäfer, A., Huber, C. & Ahlrichs, R. Fully optimized contracted Gaussian basis sets of triple zeta valence quality for atoms Li to Kr. J. Chem. Phys. 100, 5829–5835 (1994).

55.

Weigend, F. & Ahlrichs, R. Balanced basis sets of split valence, triple zeta valence and quadruple zeta valence quality for H to Rn: Design and assessment of accuracy. Phys. Chem. Chem. Phys. 7, 3297–3305 (2005).

56.

Case, D. A. et al. AMBER 2016 (UCSF, 2016).

57.

Maier, J. A. et al. ff14SB: improving the accuracy of protein side chain and backbone parameters from ff99SB. J. Chem. Theory Comput. 11, 3696–3713 (2015).
Acknowledgements
This work was supported by grants from the NIH (1R01AI141481) to Y.T., K.N.H., and N.K.G., the NSF (CHE-1806581) to Y.T. and K.N.H., and the NSFC (91856202) and SMSTC (18430721500, 19XD1404800) to J.Z. C.S.J. is supported by generous funding through the Saul Winstein Fellowship. The authors thank the staff of beamlines BL17U1, BL18U1 and BL19U1 of Shanghai Synchrotron Radiation Facility for access and help with the X-ray data collection. Y.C. thanks J. Gan for assistance with structure refinement.
Ethics declarations
Competing interests
The authors declare no competing financial interests.
Additional information
Peer review information Nature thanks Satish Nair and the other, anonymous, reviewer(s) for their contribution to the peer review of this work.
Publisher's note Springer Nature remains neutral with regard to jurisdictional claims in published maps and institutional affiliations.
Extended data figures and tables
Supplementary information
This file contains Supplementary Methods, Supplementary Tables S1-S14 and Supplementary Notes 1-10.
About this article
Cite this article
Ohashi, M., Jamieson, C.S., Cai, Y. et al. An enzymatic Alder-ene reaction. Nature 586, 64–69 (2020). https://doi.org/10.1038/s41586-020-2743-5
Received:

Accepted:

Published:

Issue Date:
Further reading
Mingtao Zhao

,

Xulin Hong

,

Abdullah

,

Ruilian Yao

&

Yi Xiao

Green Chemistry (2021)

Synfacts (2021)
Comments
By submitting a comment you agree to abide by our Terms and Community Guidelines. If you find something abusive or that does not comply with our terms or guidelines please flag it as inappropriate.