Abstract
Adaptive behaviour crucially depends on flexible decision-making, which in mammals relies on the frontal cortex, specifically the orbitofrontal cortex (OFC)1,2,3,4,5,6,7,8,9. How OFC encodes decision variables and instructs sensory areas to guide adaptive behaviour are key open questions. Here we developed a reversal learning task for head-fixed mice, monitored the activity of neurons of the lateral OFC using two-photon calcium imaging and investigated how OFC dynamically interacts with primary somatosensory cortex (S1). Mice learned to discriminate 'go' from 'no-go' tactile stimuli10,11 and adapt their behaviour upon reversal of stimulus–reward contingency ('rule switch'). Imaging individual neurons longitudinally across all behavioural phases revealed a distinct engagement of S1 and lateral OFC, with S1 neural activity reflecting initial task learning, whereas lateral OFC neurons responded saliently and transiently to the rule switch. We identified direct long-range projections from lateral OFC to S1 that can feed this activity back to S1 as value prediction error. This top-down signal updated sensory representations in S1 by functionally remapping responses in a subpopulation of neurons that was sensitive to reward history. Functional remapping crucially depended on top-down feedback as chemogenetic silencing of lateral OFC neurons disrupted reversal learning, as well as plasticity in S1. The dynamic interaction of lateral OFC with sensory cortex thus implements computations critical for value prediction that are history dependent and error based, providing plasticity essential for flexible decision-making.
Access options
Subscribe to Journal
Get full journal access for 1 year
$199.00
only $3.90 per issue
All prices are NET prices.
VAT will be added later in the checkout.
Tax calculation will be finalised during checkout.
Rent or Buy article
Get time limited or full article access on ReadCube.
from$8.99
All prices are NET prices.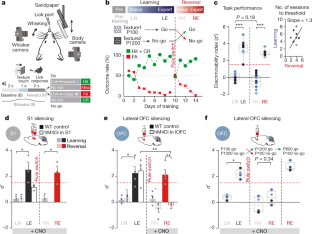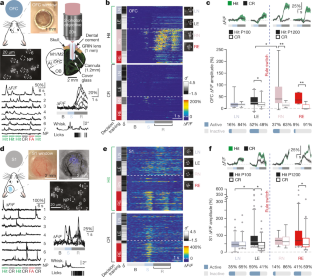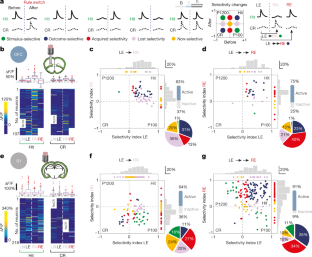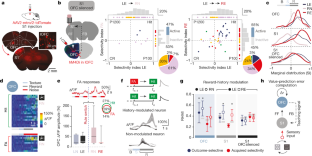 Data availability
The data that support the finding of this study are available upon reasonable request from the corresponding author.
References
1.

Fettes, P., Schulze, L. & Downar, J. Cortico-striatal-thalamic loop circuits of the orbitofrontal cortex: promising therapeutic targets in psychiatric illness. Front. Syst. Neurosci. 11, 25 (2017).

2.

Miller, E. K. The prefrontal cortex and cognitive control. Nat. Rev. Neurosci. 1, 59–65 (2000).

3.

Fuster, J. M. The prefrontal cortex—an update: time is of the essence. Neuron 30, 319–333 (2001).

4.

Rolls, E. T. The orbitofrontal cortex and reward. Cereb. Cortex 10, 284–294 (2000).

5.

Izquierdo, A. Functional heterogeneity within rat orbitofrontal cortex in reward learning and decision making. J. Neurosci. 37, 10529–10540 (2017).

6.

Rudebeck, P. H. & Murray, E. A. The orbitofrontal oracle: cortical mechanisms for the prediction and evaluation of specific behavioral outcomes. Neuron 84, 1143–1156 (2014).

7.

Rushworth, M. F. S., Noonan, M. P., Boorman, E. D., Walton, M. E. & Behrens, T. E. Frontal cortex and reward-guided learning and decision-making. Neuron 70, 1054–1069 (2011).

8.

Wallis, J. D. Orbitofrontal cortex and its contribution to decision-making. Annu. Rev. Neurosci. 30, 31–56 (2007).

9.

Carlén, M. What constitutes the prefrontal cortex? Science 358, 478–482 (2017).

10.

Chen, J. L., Carta, S., Soldado-Magraner, J., Schneider, B. L. & Helmchen, F. Behaviour-dependent recruitment of long-range projection neurons in somatosensory cortex. Nature 499, 336–340 (2013).

11.

Chen, J. L. et al. Pathway-specific reorganization of projection neurons in somatosensory cortex during learning. Nat. Neurosci. 18, 1101–1108 (2015).

12.

Petersen, C. C. H. Sensorimotor processing in the rodent barrel cortex. Nat. Rev. Neurosci. 20, 533–546 (2019).

13.

Bissonette, G. B., Schoenbaum, G., Roesch, M. R. & Powell, E. M. Interneurons are necessary for coordinated activity during reversal learning in orbitofrontal cortex. Biol. Psychiatry 77, 454–464 (2015).

14.

Jennings, J. H. et al. Interacting neural ensembles in orbitofrontal cortex for social and feeding behaviour. Nature 565, 645–649 (2019).

15.

Pho, G. N., Goard, M. J., Woodson, J., Crawford, B. & Sur, M. Task-dependent representations of stimulus and choice in mouse parietal cortex. Nat. Commun. 9, 2596 (2018).

16.

Ramesh, R. N., Burgess, C. R., Sugden, A. U., Gyetvan, M. & Andermann, M. L. Intermingled ensembles in visual association cortex encode stimulus identity or predicted outcome. Neuron 100, 900–915.e9 (2018).

17.

Voigt, F. F. et al. The mesoSPIM initiative: open-source light-sheet microscopes for imaging cleared tissue. Nat. Methods 16, 1105–1108 (2019).

18.

Bastos, A. M. et al. Canonical microcircuits for predictive coding. Neuron 76, 695–711 (2012).

19.

Schoenbaum, G., Roesch, M. R., Stalnaker, T. A. & Takahashi, Y. K. A new perspective on the role of the orbitofrontal cortex in adaptive behaviour. Nat. Rev. Neurosci. 10, 885–892 (2009).

20.

Schultz, W. & Dickinson, A. Neuronal coding of prediction errors. Annu. Rev. Neurosci. 23, 473–500 (2000).

21.

Sul, J. H., Kim, H., Huh, N., Lee, D. & Jung, M. W. Distinct roles of rodent orbitofrontal and medial prefrontal cortex in decision making. Neuron 66, 449–460 (2010).

22.

Chudasama, Y. & Robbins, T. W. Dissociable contributions of the orbitofrontal and infralimbic cortex to Pavlovian autoshaping and discrimination reversal learning: further evidence for the functional heterogeneity of the rodent frontal cortex. J. Neurosci. 23, 8771–8780 (2003).

23.

Groman, S. M. et al. Orbitofrontal circuits control multiple reinforcement-learning processes. Neuron 103, 734–746.e3 (2019).

24.

Hattori, R., Danskin, B., Babic, Z., Mlynaryk, N. & Komiyama, T. Area-specificity and plasticity of history-dependent value coding during learning. Cell 177, 1858–1872 (2019).

25.

Saez, R. A., Saez, A., Paton, J. J., Lau, B. & Salzman, C. D. Distinct roles for the amygdala and orbitofrontal cortex in representing the relative amount of expected reward. Neuron 95, 70–77.e3 (2017).

26.

Rikhye, R. V., Gilra, A. & Halassa, M. M. Thalamic regulation of switching between cortical representations enables cognitive flexibility. Nat. Neurosci. 21, 1753–1763 (2018).

27.

Shuler, M. G. & Bear, M. F. Reward timing in the primary visual cortex. Science 311, 1606–1609 (2006).

28.

Chéreau, R. et al. Dynamic perceptual feature selectivity in primary somatosensory cortex upon reversal learning. Nat. Commun. 11, 3245 (2020).

29.

Bari, A. et al. Serotonin modulates sensitivity to reward and negative feedback in a probabilistic reversal learning task in rats. Neuropsychopharmacology 35, 1290–1301 (2010).

30.

Isaacson, J. S. & Scanziani, M. How inhibition shapes cortical activity. Neuron 72, 231–243 (2011).

31.

Neftci, E. O. & Averbeck, B. B. Reinforcement learning in artificial and biological systems. Nat. Mach. Intell. 1, 133–143 (2019).

32.

Mayford, M. et al. Control of memory formation through regulated expression of a CaMKII transgene. Science 274, 1678–1683 (1996).

33.

Madisen, L. et al. Transgenic mice for intersectional targeting of neural sensors and effectors with high specificity and performance. Neuron 85, 942–958 (2015).

34.

Harris, J. A. et al. Anatomical characterization of Cre driver mice for neural circuit mapping and manipulation. Front. Neural Circuits 8, 76 (2014).

35.

Carandini, M. & Churchland, A. K. Probing perceptual decisions in rodents. Nat. Neurosci. 16, 824–831 (2013).

36.

Bailey, K. R. & Crawley, J. N. in Methods in Behavioral Analysis in Neuroscience (eds Bailey, K. R., Crawley, J. N. & Buccafusco, J. J.) Ch. 5 (CRC, 2009).

37.

Farr, T. D., Liu, L., Colwell, K. L., Whishaw, I. Q. & Metz, G. A. Bilateral alteration in stepping pattern after unilateral motor cortex injury: a new test strategy for analysis of skilled limb movements in neurological mouse models. J. Neurosci. Methods 153, 104–113 (2006).

38.

Banerjee, A. et al. Jointly reduced inhibition and excitation underlies circuit-wide changes in cortical processing in Rett syndrome. Proc. Natl Acad. Sci. USA 113, E7287–E7296 (2016).

39.

Yang, B. et al. Single-cell phenotyping within transparent intact tissue through whole-body clearing. Cell 158, 945–958 (2014).

40.

Chung, K. et al. Structural and molecular interrogation of intact biological systems. Nature 497, 332–337 (2013).

41.

Gomez, J. L. et al. Chemogenetics revealed: DREADD occupancy and activation via converted clozapine. Science 357, 503–507 (2017).

42.

Gilad, A., Gallero-Salas, Y., Groos, D. & Helmchen, F. Behavioral strategy determines frontal or posterior location of short-term memory in neocortex. Neuron 99, 814–828.e7 (2018).

43.

Langer, D. et al. HelioScan: a software framework for controlling in vivo microscopy setups with high hardware flexibility, functional diversity and extendibility. J. Neurosci. Methods 215, 38–52 (2013).

44.

Guo, Z. V. et al. Flow of cortical activity underlying a tactile decision in mice. Neuron 81, 179–194 (2014).

45.

Sreenivasan, V. et al. Movement initiation signals in mouse whisker motor cortex. Neuron 92, 1368–1382 (2016).

46.

Huber, D. et al. Multiple dynamic representations in the motor cortex during sensorimotor learning. Nature 484, 473–478 (2012).
Acknowledgements
This work is supported by a H2020 Marie Skłodowska-Curie fellowship (CIRCDYN, grant 709288) and a NARSAD Young Investigator award (grant 24941) from the Brain & Behavior Research Foundation to A.B., and grants from the Swiss National Science Foundation (310030B_170269), Sinergia SNF grant (CRSII5_180316) and European Research Council (ERC Advanced Grant BRAINCOMPATH, 670757) to F.H. We thank B. Grewe for showing us the preparation for GRIN lens imaging; M. E. Schwab for the use of equipment for open-field and ladder-rung test; S. Carta, L. Shumanovski, D. Göckeritz, L. Egolf and C. Rickenbach for various assistance; and W. Senn, F. Lucantonio, M. Goard, M. Pignatelli and B. Scholl for discussions of the manuscript.
Ethics declarations
Competing interests
The authors declare no competing interests.
Additional information
Peer review information Nature thanks Cornelius Schwarz and the other, anonymous, reviewer(s) for their contribution to the peer review of this work.
Publisher's note Springer Nature remains neutral with regard to jurisdictional claims in published maps and institutional affiliations.
Extended data figures and tables
Supplementary information
About this article
Cite this article
Banerjee, A., Parente, G., Teutsch, J. et al. Value-guided remapping of sensory cortex by lateral orbitofrontal cortex. Nature 585, 245–250 (2020). https://doi.org/10.1038/s41586-020-2704-z
Received:

Accepted:

Published:

Issue Date:
Comments
By submitting a comment you agree to abide by our Terms and Community Guidelines. If you find something abusive or that does not comply with our terms or guidelines please flag it as inappropriate.