Abstract
Integral membrane proteins are encoded by approximately 25% of all protein-coding genes1. In eukaryotes, the majority of membrane proteins are inserted, modified and folded at the endoplasmic reticulum (ER)2. Research over the past several decades has determined how membrane proteins are targeted to the ER and how individual transmembrane domains (TMDs) are inserted into the lipid bilayer3. By contrast, very little is known about how multi-spanning membrane proteins with several TMDs are assembled within the membrane. During the assembly of TMDs, interactions between polar or charged amino acids typically stabilize the final folded configuration4,5,6,7,8. TMDs with hydrophilic amino acids are likely to be chaperoned during the co-translational biogenesis of membrane proteins; however, ER-resident intramembrane chaperones are poorly defined. Here we identify the PAT complex, an abundant obligate heterodimer of the widely conserved ER-resident membrane proteins CCDC47 and Asterix. The PAT complex engages nascent TMDs that contain unshielded hydrophilic side chains within the lipid bilayer, and it disengages concomitant with substrate folding. Cells that lack either subunit of the PAT complex show reduced biogenesis of numerous multi-spanning membrane proteins. Thus, the PAT complex is an intramembrane chaperone that protects TMDs during assembly to minimize misfolding of multi-spanning membrane proteins and maintain cellular protein homeostasis.
Relevant articles
Open Access articles citing this article.
Shan Tang

,

Adam T. Beattie

…

Jason W. Chin

Nature Open Access 16 February 2022
Access options
Subscribe to Nature+
Get immediate online access to the entire Nature family of 50+ journals
Subscribe to Journal
Get full journal access for 1 year
$199.00
only $3.90 per issue
All prices are NET prices.
VAT will be added later in the checkout.
Tax calculation will be finalised during checkout.
Buy article
Get time limited or full article access on ReadCube.
$32.00
All prices are NET prices.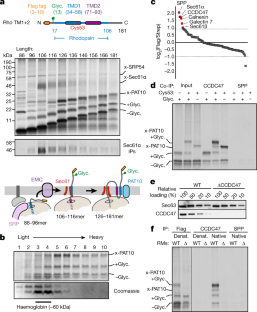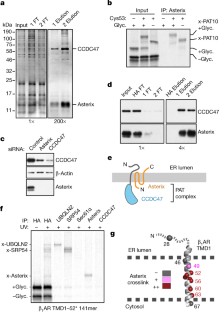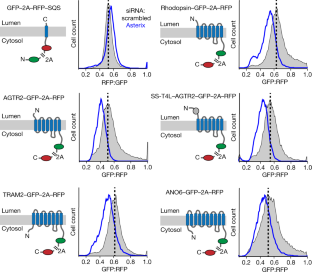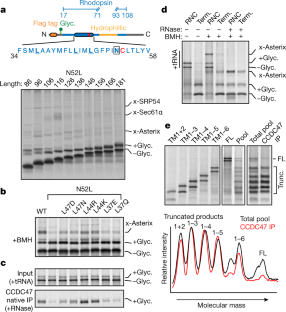 Data availability
All data supporting the findings of this study are available within the Article files. Uncropped images of all gels and autoradiographs in the figures are provided in Supplementary Fig. 1.
References
The UniProt Consortium. UniProt: the universal protein knowledgebase. Nucleic Acids Res. 46, D158–D169 (2018).

von Heijne, G. The membrane protein universe: what's out there and why bother? J. Intern. Med. 261, 543–557 (2007).

Shao, S. & Hegde, R. S. Membrane protein insertion at the endoplasmic reticulum. Annu. Rev. Cell Dev. Biol. 27, 25–56 (2011).

Lu, P. et al. Accurate computational design of multipass transmembrane proteins. Science 359, 1042–1046 (2018).

Harrington, S. E. & Ben-Tal, N. Structural determinants of transmembrane helical proteins. Structure 17, 1092–1103 (2009).

Zhou, F. X., Cocco, M. J., Russ, W. P., Brunger, A. T. & Engelman, D. M. Interhelical hydrogen bonding drives strong interactions in membrane proteins. Nat. Struct. Biol. 7, 154–160 (2000).

Venkatakrishnan, A. J. et al. Molecular signatures of G-protein-coupled receptors. Nature 494, 185–194 (2013).

Choma, C., Gratkowski, H., Lear, J. D. & DeGrado, W. F. Asparagine-mediated self-association of a model transmembrane helix. Nat. Struct. Biol. 7, 161–166 (2000).

Shurtleff, M. J. et al. The ER membrane protein complex interacts cotranslationally to enable biogenesis of multipass membrane proteins. eLife 7, e37018 (2018).

Meacock, S. L., Lecomte, F. J. L., Crawshaw, S. G. & High, S. Different transmembrane domains associate with distinct endoplasmic reticulum components during membrane integration of a polytopic protein. Mol. Biol. Cell 13, 4114–4129 (2002).

Park, P. S.-H. Rhodopsin oligomerization and aggregation. J. Membr. Biol. 252, 413–423 (2019).

Estabrooks, S. & Brodsky, J. L. Regulation of CFTR biogenesis by the proteostatic network and pharmacological modulators. Int. J. Mol. Sci. 21, 452 (2020).

Keenan, R. J., Freymann, D. M., Stroud, R. M. & Walter, P. The signal recognition particle. Annu. Rev. Biochem. 70, 755–775 (2001).

Rapoport, T. A. Protein translocation across the eukaryotic endoplasmic reticulum and bacterial plasma membranes. Nature 450, 663–669 (2007).

Chitwood, P. J., Juszkiewicz, S., Guna, A., Shao, S. & Hegde, R. S. EMC is required to initiate accurate membrane protein topogenesis. Cell 175, 1507–1519.e16 (2018).

Chitwood, P. J. & Hegde, R. S. The role of EMC during membrane protein biogenesis. Trends Cell Biol. 29, 371–384 (2019).

Ismail, N., Crawshaw, S. G. & High, S. Active and passive displacement of transmembrane domains both occur during opsin biogenesis at the Sec61 translocon. J. Cell Sci. 119, 2826–2836 (2006).

Lin, Z. et al. TTC5 mediates autoregulation of tubulin via mRNA degradation. Science 367, 100–104 (2020).

Itakura, E. et al. Ubiquilins chaperone and triage mitochondrial membrane proteins for degradation. Mol. Cell 63, 21–33 (2016).

Talbot, B. E., Vandorpe, D. H., Stotter, B. R., Alper, S. L. & Schlondorff, J. S. Transmembrane insertases and N-glycosylation critically determine synthesis, trafficking, and activity of the nonselective cation channel TRPC6. J. Biol. Chem. 294, 12655–12669 (2019).

Guna, A., Volkmar, N., Christianson, J. C. & Hegde, R. S. The ER membrane protein complex is a transmembrane domain insertase. Science 359, 470–473 (2018).

Görlich, D. & Rapoport, T. A. Protein translocation into proteoliposomes reconstituted from purified components of the endoplasmic reticulum membrane. Cell 75, 615–630 (1993).

Döring, K. et al. Profiling Ssb-nascent chain interactions reveals principles of Hsp70-assisted folding. Cell 170, 298–311.e20 (2017).

Stein, K. C., Kriel, A. & Frydman, J. Nascent polypeptide domain topology and elongation rate direct the cotranslational hierarchy of Hsp70 and TRiC/CCT. Mol. Cell 75, 1117–1130.e5 (2019).

Mayer, M. P. & Bukau, B. Hsp70 chaperones: cellular functions and molecular mechanism. Cell. Mol. Life Sci. 62, 670–684 (2005).

Sato, B. K., Schulz, D., Do, P. H. & Hampton, R. Y. Misfolded membrane proteins are specifically recognized by the transmembrane domain of the Hrd1p ubiquitin ligase. Mol. Cell 34, 212–222 (2009).

Sato, K., Sato, M. & Nakano, A. Rer1p, a retrieval receptor for ER membrane proteins, recognizes transmembrane domains in multiple modes. Mol. Biol. Cell 14, 3605–3616 (2003).

Natarajan, N., Foresti, O., Wendrich, K., Stein, A. & Carvalho, P. Quality control of protein complex assembly by a transmembrane recognition factor. Mol. Cell 77, 108–119.e9 (2020).

Itzhak, D. N., Tyanova, S., Cox, J. & Borner, G. H. Global, quantitative and dynamic mapping of protein subcellular localization. eLife 5, e16950 (2016).

Yamamoto, S. et al. Contribution of calumin to embryogenesis through participation in the endoplasmic reticulum-associated degradation activity. Dev. Biol. 393, 33–43 (2014).

Morimoto, M. et al. Bi-allelic CCDC47 variants cause a disorder characterized by woolly hair, liver dysfunction, dysmorphic features, and global developmental delay. Am. J. Hum. Genet. 103, 794–807 (2018).

Wang, T. et al. Identification and characterization of essential genes in the human genome. Science 350, 1096–1101 (2015).

Kota, J. & Ljungdahl, P. O. Specialized membrane-localized chaperones prevent aggregation of polytopic proteins in the ER. J. Cell Biol. 168, 79–88 (2005).

Gu, S. et al. Brain α7 nicotinic acetylcholine receptor assembly requires NACHO. Neuron 89, 948–955 (2016).

Brechet, A. et al. AMPA-receptor specific biogenesis complexes control synaptic transmission and intellectual ability. Nat. Commun. 8, 15910 (2017).

Fons, R. D., Bogert, B. A. & Hegde, R. S. Substrate-specific function of the translocon-associated protein complex during translocation across the ER membrane. J. Cell Biol. 160, 529–539 (2003).

Walter, P. & Blobel, G. Preparation of microsomal membranes for cotranslational protein translocation. Methods Enzymol. 96, 84–93 (1983).

Sharma, A., Mariappan, M., Appathurai, S. & Hegde, R. S. In vitro dissection of protein translocation into the mammalian endoplasmic reticulum. Methods Mol. Biol. 619, 339–363 (2010).

Feng, Q. & Shao, S. In vitro reconstitution of translational arrest pathways. Methods 137, 20–36 (2018).

Shao, S., von der Malsburg, K. & Hegde, R. S. Listerin-dependent nascent protein ubiquitination relies on ribosome subunit dissociation. Mol. Cell 50, 637–648 (2013).
Acknowledgements
We thank S.-Y. Peak-Chew, F. Begum and M. Skehel for mass spectrometry analysis; S. Juszkiewicz, J. O'Donnell and E. Zavodszky for discussions and advice; and N. Peters and H. Damstra for initial characterization of photo-crosslinking methods. This work was supported by the UK Medical Research Council (MC_UP_A022_1007 to R.S.H.) and a studentship (to P.J.C.) from the MRC International PhD Programme.
Ethics declarations
Competing interests
The authors declare no competing interests.
Additional information
Publisher's note Springer Nature remains neutral with regard to jurisdictional claims in published maps and institutional affiliations.
Extended data figures and tables
Supplementary information
This file contains all uncropped autoradiographs and gels from this study.
About this article
Cite this article
Chitwood, P.J., Hegde, R.S. An intramembrane chaperone complex facilitates membrane protein biogenesis. Nature 584, 630–634 (2020). https://doi.org/10.1038/s41586-020-2624-y
Received:

Accepted:

Published:

Issue Date:

DOI: https://doi.org/10.1038/s41586-020-2624-y
Comments
By submitting a comment you agree to abide by our Terms and Community Guidelines. If you find something abusive or that does not comply with our terms or guidelines please flag it as inappropriate.