Abstract
Deregulation of metabolism and disruption of genome integrity are hallmarks of cancer1. Increased levels of the metabolites 2-hydroxyglutarate, succinate and fumarate occur in human malignancies owing to somatic mutations in the isocitrate dehydrogenase-1 or -2 (IDH1 or IDH2) genes, or germline mutations in the fumarate hydratase (FH) and succinate dehydrogenase genes (SDHA, SDHB, SDHC and SDHD), respectively2,3,4. Recent work has made an unexpected connection between these metabolites and DNA repair by showing that they suppress the pathway of homology-dependent repair (HDR)5,6 and confer an exquisite sensitivity to inhibitors of poly (ADP-ribose) polymerase (PARP) that are being tested in clinical trials. However, the mechanism by which these oncometabolites inhibit HDR remains poorly understood. Here we determine the pathway by which these metabolites disrupt DNA repair. We show that oncometabolite-induced inhibition of the lysine demethylase KDM4B results in aberrant hypermethylation of histone 3 lysine 9 (H3K9) at loci surrounding DNA breaks, masking a local H3K9 trimethylation signal that is essential for the proper execution of HDR. Consequently, recruitment of TIP60 and ATM, two key proximal HDR factors, is substantially impaired at DNA breaks, with reduced end resection and diminished recruitment of downstream repair factors. These findings provide a mechanistic basis for oncometabolite-induced HDR suppression and may guide effective strategies to exploit these defects for therapeutic gain.
Relevant articles
Open Access articles citing this article.
Meng Wang

,

Benjamin D. Sunkel

…

Benjamin Z. Stanton

BMC Molecular and Cell Biology Open Access 28 July 2022

Kexu Xiang

,

Christian Kalthoff

…

Johann Matschke

Cell Death & Disease Open Access 22 July 2022

Peiting Zeng

,

Wenhua Lu

…

Peng Huang

Journal of Hematology & Oncology Open Access 21 March 2022
Access options
Access Nature and 54 other Nature Portfolio journals
Get Nature+, our best-value online-access subscription
$29.99 per month
cancel any time
Subscribe to this journal
Receive 51 print issues and online access
$199.00 per year
only $3.90 per issue
Rent or buy this article
Get just this article for as long as you need it
$39.95
Prices may be subject to local taxes which are calculated during checkout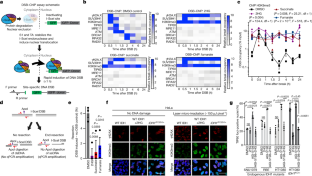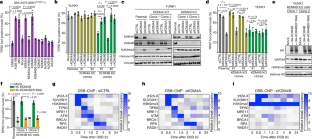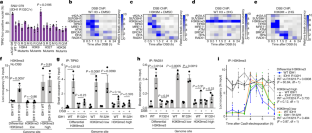 Data availability
All data generated or analysed during this study are included in this published article (and its supplementary information files, including source data). There are no restrictions on data availability.
References
Hanahan, D. & Weinberg, R. A. Hallmarks of cancer: the next generation. Cell 144, 646–674 (2011).

Dang, L. et al. Cancer-associated IDH1 mutations produce 2-hydroxyglutarate. Nature 462, 739–744 (2009).

Toro, J. R. et al. Mutations in the fumarate hydratase gene cause hereditary leiomyomatosis and renal cell cancer in families in North America. Am. J. Hum. Genet. 73, 95–106 (2003).

Pollard, P. J. et al. Accumulation of Krebs cycle intermediates and over-expression of HIF1α in tumours which result from germline FH and SDH mutations. Hum. Mol. Genet. 14, 2231–2239 (2005).

Sulkowski, P. L. et al. 2-Hydroxyglutarate produced by neomorphic IDH mutations suppresses homologous recombination and induces PARP inhibitor sensitivity. Sci. Transl. Med. 9, eaal2463 (2017).

Sulkowski, P. L. et al. Krebs-cycle-deficient hereditary cancer syndromes are defined by defects in homologous-recombination DNA repair. Nat. Genet. 50, 1086–1092 (2018).

Xu, W. et al. Oncometabolite 2-hydroxyglutarate is a competitive inhibitor of α-ketoglutarate-dependent dioxygenases. Cancer Cell 19, 17–30 (2011).

Xiao, M. et al. Inhibition of α-KG-dependent histone and DNA demethylases by fumarate and succinate that are accumulated in mutations of FH and SDH tumor suppressors. Genes Dev. 26, 1326–1338 (2012).

Turcan, S. et al. IDH1 mutation is sufficient to establish the glioma hypermethylator phenotype. Nature 483, 479–483 (2012).

Lu, C. et al. IDH mutation impairs histone demethylation and results in a block to cell differentiation. Nature 483, 474–478 (2012).

Losman, J. A. & Kaelin, W. G. Jr. What a difference a hydroxyl makes: mutant IDH, (R)-2-hydroxyglutarate, and cancer. Genes Dev. 27, 836–852 (2013).

Whetstine, J. R. et al. Reversal of histone lysine trimethylation by the JMJD2 family of histone demethylases. Cell 125, 467–481 (2006).

Polo, S. E. & Jackson, S. P. Dynamics of DNA damage response proteins at DNA breaks: a focus on protein modifications. Genes Dev. 25, 409–433 (2011).

Pierce, A. J., Johnson, R. D., Thompson, L. H. & Jasin, M. XRCC3 promotes homology-directed repair of DNA damage in mammalian cells. Genes Dev. 13, 2633–2638 (1999).

Bindra, R. S., Goglia, A. G., Jasin, M. & Powell, S. N. Development of an assay to measure mutagenic non-homologous end-joining repair activity in mammalian cells. Nucleic Acids Res. 41, e115 (2013).

Zhou, Y., Caron, P., Legube, G. & Paull, T. T. Quantitation of DNA double-strand break resection intermediates in human cells. Nucleic Acids Res. 42, e19 (2014).

Ayrapetov, M. K., Gursoy-Yuzugullu, O., Xu, C., Xu, Y. & Price, B. D. DNA double-strand breaks promote methylation of histone H3 on lysine 9 and transient formation of repressive chromatin. Proc. Natl Acad. Sci. USA 111, 9169–9174 (2014).

Sun, Y. et al. Histone H3 methylation links DNA damage detection to activation of the tumour suppressor Tip60. Nat. Cell Biol. 11, 1376–1382 (2009).

Williamson, E. A., Wray, J. W., Bansal, P. & Hromas, R. Overview for the histone codes for DNA repair. Prog. Mol. Biol. Transl. 110, 207–227 (2012).

Ikura, T. et al. Involvement of the TIP60 histone acetylase complex in DNA repair and apoptosis. Cell 102, 463–473 (2000).

Black, J. C. et al. KDM4A lysine demethylase induces site-specific copy gain and rereplication of regions amplified in tumors. Cell 154, 541–555 (2013).

Young, L. C., McDonald, D. W. & Hendzel, M. J. Kdm4b histone demethylase is a DNA damage response protein and confers a survival advantage following γ-irradiation. J. Biol. Chem. 288, 21376–21388 (2013).

Wang, P. et al. Oncometabolite d-2-hydroxyglutarate inhibits ALKBH DNA repair enzymes and sensitizes IDH mutant cells to alkylating agents. Cell Rep. 13, 2353–2361 (2015).

Pedersen, M. T. et al. Continual removal of H3K9 promoter methylation by Jmjd2 demethylases is vital for ESC self-renewal and early development. EMBO J. 35, 1550–1564 (2016).

Xu, Y. et al. Targeted disruption of ATM leads to growth retardation, chromosomal fragmentation during meiosis, immune defects, and thymic lymphoma. Genes Dev. 10, 2411–2422 (1996).

Shan, C.-M. et al. A histone H3K9M mutation traps histone methyltransferase Clr4 to prevent heterochromatin spreading. eLife 5, e17903 (2016).

Mallette, F. A. et al. RNF8- and RNF168-dependent degradation of KDM4A/JMJD2A triggers 53BP1 recruitment to DNA damage sites. EMBO J. 31, 1865–1878 (2012).

Turcan, S. et al. Mutant-IDH1-dependent chromatin state reprogramming, reversibility, and persistence. Nat. Genet. 50, 62–72 (2018).
Acknowledgements
We thank D. Hegan and A. Dhawan for their assistance. This work was supported by the NIH (grants R01ES005775 and R35CA197574 to P.M.G., and R01CA215453 to R.S.B.) and by the American Cancer Society (Research Scholar Grant to R.S.B.). P.L.S. was supported by the NIH National Institute of General Medical Sciences training grant T32GM007223.
Ethics declarations
Competing interests
R.S.B., P.M.G. and P.L.S. are inventors on US patent application no. 62/344,678 submitted by and assigned to Yale University, which covers compositions and methods for targeting and treating HDR-deficient tumours. P.M.G and R.S.B are founders of and consultants for Cybrexa Therapeutics. P.M.G. is a consultant for pHLIP. Neither company has any conceptual or financial connection to this manuscript.
Additional information
Peer review information Nature thanks Brendan Price, Yue Xiong and the other, anonymous, reviewer(s) for their contribution to the peer review of this work.
Publisher's note Springer Nature remains neutral with regard to jurisdictional claims in published maps and institutional affiliations.
Extended data figures and tables
Supplementary information
About this article
Cite this article
Sulkowski, P.L., Oeck, S., Dow, J. et al. Oncometabolites suppress DNA repair by disrupting local chromatin signalling. Nature 582, 586–591 (2020). https://doi.org/10.1038/s41586-020-2363-0
Received:

Accepted:

Published:

Issue Date:

DOI: https://doi.org/10.1038/s41586-020-2363-0
Comments
By submitting a comment you agree to abide by our Terms and Community Guidelines. If you find something abusive or that does not comply with our terms or guidelines please flag it as inappropriate.