Abstract
Microbiome community typing analyses have recently identified the Bacteroides2 (Bact2) enterotype, an intestinal microbiota configuration that is associated with systemic inflammation and has a high prevalence in loose stools in humans1,2. Bact2 is characterized by a high proportion of Bacteroides, a low proportion of Faecalibacterium and low microbial cell densities1,2, and its prevalence varies from 13% in a general population cohort to as high as 78% in patients with inflammatory bowel disease2. Reported changes in stool consistency3 and inflammation status4 during the progression towards obesity and metabolic comorbidities led us to propose that these developments might similarly correlate with an increased prevalence of the potentially dysbiotic Bact2 enterotype. Here, by exploring obesity-associated microbiota alterations in the quantitative faecal metagenomes of the cross-sectional MetaCardis Body Mass Index Spectrum cohort (n = 888), we identify statin therapy as a key covariate of microbiome diversification. By focusing on a subcohort of participants that are not medicated with statins, we find that the prevalence of Bact2 correlates with body mass index, increasing from 3.90% in lean or overweight participants to 17.73% in obese participants. Systemic inflammation levels in Bact2-enterotyped individuals are higher than predicted on the basis of their obesity status, indicative of Bact2 as a dysbiotic microbiome constellation. We also observe that obesity-associated microbiota dysbiosis is negatively associated with statin treatment, resulting in a lower Bact2 prevalence of 5.88% in statin-medicated obese participants. This finding is validated in both the accompanying MetaCardis cardiovascular disease dataset (n = 282) and the independent Flemish Gut Flora Project population cohort (n = 2,345). The potential benefits of statins in this context will require further evaluation in a prospective clinical trial to ascertain whether the effect is reproducible in a randomized population and before considering their application as microbiota-modulating therapeutics.
Access options
Subscribe to Journal
Get full journal access for 1 year
$199.00
only $3.90 per issue
All prices are NET prices.
VAT will be added later in the checkout.
Tax calculation will be finalised during checkout.
Rent or Buy article
Get time limited or full article access on ReadCube.
from$8.99
All prices are NET prices.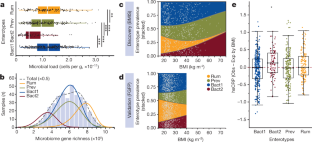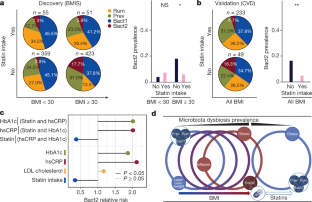 Data availability
Raw amplicon sequencing data used in this study have been deposited in the EMBL-EBI European Nucleotide Archive (ENA) under accession number PRJEB37249. The metadata and processed microbiome data required for the reanalysis of results presented in the manuscript are respectively provided as Supplementary Table 2 and available for download at http://raeslab.org/software/BMIS/. For clinical cohort-related questions, contact K.C.
References
1.

Vandeputte, D. et al. Quantitative microbiome profiling links gut community variation to microbial load. Nature 551, 507–511 (2017).

2.

Vieira-Silva, S. et al. Quantitative microbiome profiling disentangles inflammation- and bile duct obstruction-associated microbiota alterations across PSC/IBD diagnoses. Nat. Microbiol. 4, 1826–1831 (2019).

3.

Probert, C. S., Emmett, P. M. & Heaton, K. W. Some determinants of whole-gut transit time: a population-based study. QJM 88, 311–315 (1995).

4.

Ford, E. S. Body mass index, diabetes, and C-reactive protein among U.S. adults. Diabetes Care 22, 1971–1977 (1999).

5.

Turnbaugh, P. J. et al. An obesity-associated gut microbiome with increased capacity for energy harvest. Nature 444, 1027–1031 (2006).

6.

Sze, M. A. & Schloss, P. D. Looking for a signal in the noise: revisiting obesity and the microbiome. MBio 7, e01018-16 (2016).

7.

Walters, W. A., Xu, Z. & Knight, R. Meta-analyses of human gut microbes associated with obesity and IBD. FEBS Lett. 588, 4223–4233 (2014).

8.

Le Chatelier, E. et al. Richness of human gut microbiome correlates with metabolic markers. Nature 500, 541–546 (2013).

9.

Karlsson, F. H. et al. Symptomatic atherosclerosis is associated with an altered gut metagenome. Nat. Commun. 3, 1245 (2012).

10.

Falony, G. et al. Population-level analysis of gut microbiome variation. Science 352, 560–564 (2016).

11.

Vieira-Silva, S. et al. Species-function relationships shape ecological properties of the human gut microbiome. Nat. Microbiol. 1, 16088 (2016).

12.

Alberti, K. G. M. M., Zimmet, P. & Shaw, J. Metabolic syndrome—a new world-wide definition. A consensus statement from the International Diabetes Federation. Diabet. Med. 23, 469–480 (2006).

13.

Depommier, C. et al. Supplementation with Akkermansia muciniphila in overweight and obese human volunteers: a proof-of-concept exploratory study. Nat. Med. 25, 1096–1103 (2019).

14.

Yun, Y. et al. Comparative analysis of gut microbiota associated with body mass index in a large Korean cohort. BMC Microbiol. 17, 151 (2017).

15.

Quévrain, E. et al. Identification of an anti-inflammatory protein from Faecalibacterium prausnitzii, a commensal bacterium deficient in Crohn's disease. Gut 65, 415–425 (2016).

16.

Louis, P. et al. Restricted distribution of the butyrate kinase pathway among butyrate-producing bacteria from the human colon. J. Bacteriol. 186, 2099–2106 (2004).

17.

Litvak, Y., Byndloss, M. X. & Bäumler, A. J. Colonocyte metabolism shapes the gut microbiota. Science 362, eaat9076 (2018).

18.

Kriss, M., Hazleton, K. Z., Nusbacher, N. M., Martin, C. G. & Lozupone, C. A. Low diversity gut microbiota dysbiosis: drivers, functional implications and recovery. Curr. Opin. Microbiol. 44, 34–40 (2018).

19.

Ding, T. & Schloss, P. D. Dynamics and associations of microbial community types across the human body. Nature 509, 357–360 (2014).

20.

Gardiner, B. J. et al. Clinical and microbiological characteristics of Eggerthella lenta bacteremia. J. Clin. Microbiol. 53, 626–635 (2015).

21.

Mazmanian, S. K., Liu, C. H., Tzianabos, A. O. & Kasper, D. L. An immunomodulatory molecule of symbiotic bacteria directs maturation of the host immune system. Cell 122, 107–118 (2005).

22.

Wexler, H. M. Bacteroides: the good, the bad, and the nitty-gritty. Clin. Microbiol. Rev. 20, 593–621 (2007).

23.

Ridker, P. M. et al. Reduction in C-reactive protein and LDL cholesterol and cardiovascular event rates after initiation of rosuvastatin: a prospective study of the JUPITER trial. Lancet 373, 1175–1182 (2009).

24.

Muscogiuri, G. et al. The good and bad effects of statins on insulin sensitivity and secretion. Endocr. Res. 39, 137–143 (2014).

25.

Khan, T. J. et al. Effect of atorvastatin on the gut microbiota of high fat diet-induced hypercholesterolemic rats. Sci. Rep. 8, 662 (2018).

26.

Maier, L. et al. Extensive impact of non-antibiotic drugs on human gut bacteria. Nature 555, 623–628 (2018).

27.

Forslund, K. et al. Disentangling type 2 diabetes and metformin treatment signatures in the human gut microbiota. Nature 528, 262–266 (2015).

28.

Zeiser, R. Immune modulatory effects of statins. Immunology 154, 69–75 (2018).

29.

Grip, O., Janciauskiene, S. & Bredberg, A. Use of atorvastatin as an anti-inflammatory treatment in Crohn's disease. Br. J. Pharmacol. 155, 1085–1092 (2008).

30.

Ungaro, R. et al. Statins associated with decreased risk of new onset inflammatory bowel disease. Am. J. Gastroenterol. 111, 1416–1423 (2016).

31.

Valles-Colomer, M. et al. The neuroactive potential of the human gut microbiota in quality of life and depression. Nat. Microbiol. 4, 623–632 (2019).

32.

Touch, S. et al. Mucosal-associated invariant T (MAIT) cells are depleted and prone to apoptosis in cardiometabolic disorders. FASEB J. 32, 5078–5089 (2018).

33.

Criscuolo, A. & Brisse, S. AlienTrimmer: a tool to quickly and accurately trim off multiple short contaminant sequences from high-throughput sequencing reads. Genomics 102, 500–506 (2013).

34.

Li, J. et al. An integrated catalog of reference genes in the human gut microbiome. Nat. Biotechnol. 32, 834–841 (2014).

35.

Cotillard, A. et al. Dietary intervention impact on gut microbial gene richness. Nature 500, 585–588 (2013).

36.

Prifti, E. & Le Chatelier, E. MetaOMineR: a quantitative metagenomics data analyses pipeline. R package v.1.1 (2015).

37.

Kultima, J. R. et al. MOCAT2: a metagenomic assembly, annotation and profiling framework. Bioinformatics 32, 2520–2523 (2016).

38.

Nielsen, H. B. et al. Identification and assembly of genomes and genetic elements in complex metagenomic samples without using reference genomes. Nat. Biotechnol. 32, 822–828 (2014).

39.

Prest, E. I., Hammes, F., Kötzsch, S., van Loosdrecht, M. C. M. & Vrouwenvelder, J. S. Monitoring microbiological changes in drinking water systems using a fast and reproducible flow cytometric method. Water Res. 47, 7131–7142 (2013).

40.

Kultima, J. R. et al. MOCAT: a metagenomics assembly and gene prediction toolkit. PLoS ONE 7, e47656 (2012).

41.

Falony, G., Vieira-Silva, S. & Raes, J. Microbiology meets big data: the case of gut microbiota-derived trimethylamine. Annu. Rev. Microbiol. 69, 305–321 (2015).

42.

Darzi, Y., Falony, G., Vieira-Silva, S. & Raes, J. Towards biome-specific analysis of meta-omics data. ISME J. 10, 1025–1028 (2016).

43.

Oksanen, J. et al. vegan: Community Ecology Package. R package v.2.2-1 (2015).

44.

McMurdie, P. J. & Holmes, S. phyloseq: an R package for reproducible interactive analysis and graphics of microbiome census data. PLoS ONE 8, e61217 (2013).

45.

Ogle, D. H. FSA: Fisheries Stock Analysis. R package v.0.8.13. (2017).

46.

Hothorn, T., Hornik, K., van de Wiel, M. A. & Zeileis, A. A Lego system for conditional inference. Am. Stat. 60, 257–263 (2006).

47.

Morgan, M. DirichletMultinomial: Dirichlet-multinomial mixture model machine learning for microbiome data. R package v.1.18.0 (2017).

48.

Harrell, F. E. Hmisc: Harrell Miscellaneous. R package v.4.1-1 (2018).

49.

Fox, J. & Weisberg, S. An R Companion to Applied Regression. (Sage, 2011).

50.

Lüdecke, D. sjstats: Statistical Functions for Regression Models v.0.17.5 (2019).

51.

Venables, W. N. & Ripley, B. D. Modern Applied Statistics with S. (Springer, 2002).

52.

Holmes, I., Harris, K. & Quince, C. Dirichlet multinomial mixtures: generative models for microbial metagenomics. PLoS ONE 7, e30126 (2012).

53.

Duvallet, C., Gibbons, S. M., Gurry, T., Irizarry, R. A. & Alm, E. J. Meta-analysis of gut microbiome studies identifies disease-specific and shared responses. Nat. Commun. 8, 1784 (2017).

54.

Grant, R. L. Converting an odds ratio to a range of plausible relative risks for better communication of research findings. Br. Med. J. 348, f7450 (2014).
Acknowledgements
We thank the study participants and nurses for their contributions to the project. MetaCardis was funded by European Union's Seventh Framework Programme for research, technological development and demonstration under grant agreement HEALTH-F4-2012-305312 (MetaCardis project) and the French National Agency of Research (ANR; 'Investissement d'Avenir' FORCE, Metagenopolis grant ANR-11-DPBS-0001 and ICAN ANR-10-IAHU-05). The promotor of the clinical study was the Assistance Publique Hôpitaux de Paris (APHP). S.V.-S. was supported by a post-doctoral fellowship from the Research Foundation Flanders (FWO Vlaanderen). The Raes laboratory is supported by the VIB Grand Challenges programme, KU Leuven, the Rega Institute for Medical Research, and the FWO EOS program (30770923). The Novo Nordisk Foundation Center for Basic Metabolic Research is an independent research institution at the University of Copenhagen partially funded by an unrestricted donation from the Novo Nordisk Foundation. M.-E.D. was funded by the NIHR Imperial Biomedical Research Centre.
Ethics declarations
Competing interests
J.R., S.V.-S., G.F. and M.V.-C. are listed as inventors on patent application PCT/EP2018/084920, in the name of VIB VZW, Katholieke Universiteit Leuven, KU Leuven R&D and Vrije Universiteit Brussel, covering the features of the microbiome associated with inflammation described in ref. 2.
Additional information
Peer review information Nature thanks Peter Turnbaugh and the other, anonymous, reviewer(s) for their contribution to the peer review of this work.
Publisher's note Springer Nature remains neutral with regard to jurisdictional claims in published maps and institutional affiliations.
Extended data figures and tables
Supplementary information
This file contains Supplementary Figures 1-2. STROBE flow chart of MetaCardis participant recruitment and illustration of flow cytometry gating strategy.
This file contains Supplementary Tables 1-19.
About this article
Cite this article
Vieira-Silva, S., Falony, G., Belda, E. et al. Statin therapy is associated with lower prevalence of gut microbiota dysbiosis. Nature 581, 310–315 (2020). https://doi.org/10.1038/s41586-020-2269-x
Received:

Accepted:

Published:

Issue Date:
Comments
By submitting a comment you agree to abide by our Terms and Community Guidelines. If you find something abusive or that does not comply with our terms or guidelines please flag it as inappropriate.