Abstract
During cell division, remodelling of the nuclear envelope enables chromosome segregation by the mitotic spindle1. The reformation of sealed nuclei requires ESCRTs (endosomal sorting complexes required for transport) and LEM2, a transmembrane ESCRT adaptor2,3,4. Here we show how the ability of LEM2 to condense on microtubules governs the activation of ESCRTs and coordinated spindle disassembly. The LEM motif of LEM2 binds BAF, conferring on LEM2 an affinity for chromatin5,6, while an adjacent low-complexity domain (LCD) promotes LEM2 phase separation. A proline–arginine-rich sequence within the LCD binds to microtubules and targets condensation of LEM2 to spindle microtubules that traverse the nascent nuclear envelope. Furthermore, the winged-helix domain of LEM2 activates the ESCRT-II/ESCRT-III hybrid protein CHMP7 to form co-oligomeric rings. Disruption of these events in human cells prevented the recruitment of downstream ESCRTs, compromised spindle disassembly, and led to defects in nuclear integrity and DNA damage. We propose that during nuclear reassembly LEM2 condenses into a liquid-like phase and coassembles with CHMP7 to form a macromolecular O-ring seal at the confluence between membranes, chromatin and the spindle. The properties of LEM2 described here, and the homologous architectures of related inner nuclear membrane proteins7,8, suggest that phase separation may contribute to other critical envelope functions, including interphase repair8,9,10,11,12,13 and chromatin organization14,15,16,17.
Relevant articles
Open Access articles citing this article.
Maddison Rose

,

Joshua T. Burgess

…

Emma Bolderson

Cancer and Metastasis Reviews Open Access 07 October 2022

Tokuko Haraguchi

,

Takako Koujin

…

Yasushi Hiraoka

Communications Biology Open Access 20 January 2022
Access options
Subscribe to Nature+
Get immediate online access to Nature and 55 other Nature journal
Subscribe to Journal
Get full journal access for 1 year
$199.00
only $3.90 per issue
All prices are NET prices.
VAT will be added later in the checkout.
Tax calculation will be finalised during checkout.
Buy article
Get time limited or full article access on ReadCube.
$32.00
All prices are NET prices.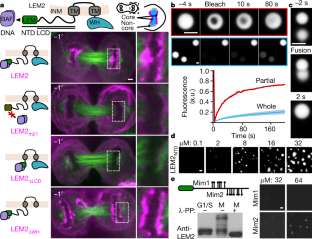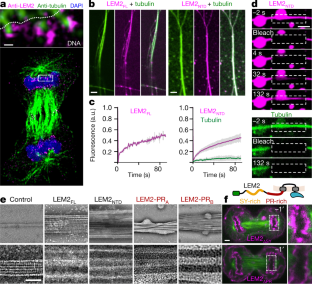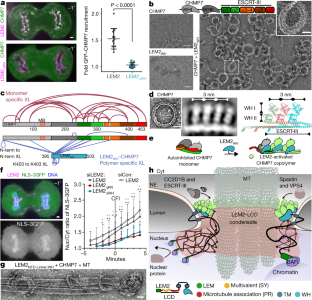 Data availablility
Raw data and peaklists from the quantitative crosslinking mass spectrometry analysis can be accessed with MassIVE: ftp://massive.ucsd.edu/MSV000084837/. Crosslinked peptide spectral assignments are accessible using accession: rgf6hriush at http://msviewer.ucsf.edu/prospector/cgi-bin/msform.cgi?form=msviewer. The uncropped blots and gels are provided in Supplementary Fig. 1. Source Data for Figs. 1–3 and Extended Data Figs. 1–4, 5, 7, 8 are provided online.
References
Ungricht, R. & Kutay, U. Mechanisms and functions of nuclear envelope remodelling. Nat. Rev. Mol. Cell Biol. 18, 229–245 (2017).

Vietri, M. et al. Spastin and ESCRT-III coordinate mitotic spindle disassembly and nuclear envelope sealing. Nature 522, 231–235 (2015).

Olmos, Y., Hodgson, L., Mantell, J., Verkade, P. & Carlton, J. G. ESCRT-III controls nuclear envelope reformation. Nature 522, 236–239 (2015).

Gu, M. et al. LEM2 recruits CHMP7 for ESCRT-mediated nuclear envelope closure in fission yeast and human cells. Proc. Natl Acad. Sci. USA 114, E2166–E2175 (2017).

Haraguchi, T. et al. BAF is required for emerin assembly into the reforming nuclear envelope. J. Cell Sci. 114, 4575–4585 (2001).

Margalit, A., Segura-Totten, M., Gruenbaum, Y. & Wilson, K. L. Barrier-to-autointegration factor is required to segregate and enclose chromosomes within the nuclear envelope and assemble the nuclear lamina. Proc. Natl Acad. Sci. USA 102, 3290–3295 (2005).

Herrada, I. et al. Purification and structural analysis of LEM-domain proteins. Methods Enzymol. 569, 43–61 (2016).

Barton, L. J., Soshnev, A. A. & Geyer, P. K. Networking in the nucleus: a spotlight on LEM-domain proteins. Curr. Opin. Cell Biol. 34, 1–8 (2015).

Raab, M. et al. ESCRT III repairs nuclear envelope ruptures during cell migration to limit DNA damage and cell death. Science 352, 359–362 (2016).

Denais, C. M. et al. Nuclear envelope rupture and repair during cancer cell migration. Science 352, 353–358 (2016).

Halfmann, C. T. et al. Repair of nuclear ruptures requires barrier-to-autointegration factor. J. Cell Biol. 218, 2136–2149 (2019).

Thaller, D. J. et al. An ESCRT-LEM protein surveillance system is poised to directly monitor the nuclear envelope and nuclear transport system. eLife 8, e45284 (2019).

Penfield, L. et al. Dynein-pulling forces counteract lamin-mediated nuclear stability during nuclear envelope repair. Mol. Biol. Cell 29, 852–868 (2018).

Mekhail, K. & Moazed, D. The nuclear envelope in genome organization, expression and stability. Nat. Rev. Mol. Cell Biol. 11, 317–328 (2010).

Barrales, R. R., Forn, M., Georgescu, P. R., Sarkadi, Z. & Braun, S. Control of heterochromatin localization and silencing by the nuclear membrane protein Lem2. Genes Dev. 30, 133–148 (2016).

Ebrahimi, H., Masuda, H., Jain, D. & Cooper, J. P. Distinct 'safe zones' at the nuclear envelope ensure robust replication of heterochromatic chromosome regions. eLife 7, e32911 (2018).

Pieper, G. H., Sprenger, S., Teis, D. & Oliferenko, S. ESCRT-III/Vps4 controls heterochromatin-nuclear envelope attachments. Dev. Cell https://doi.org/10.1016/j.devcel.2020.01.028 (2019).

Brachner, A., Reipert, S., Foisner, R. & Gotzmann, J. LEM2 is a novel MAN1-related inner nuclear membrane protein associated with A-type lamins. J. Cell Sci. 118, 5797–5810 (2005).

Ulbert, S., Antonin, W., Platani, M. & Mattaj, I. W. The inner nuclear membrane protein Lem2 is critical for normal nuclear envelope morphology. FEBS Lett. 580, 6435–6441 (2006).

Lee, K. K. et al. Distinct functional domains in emerin bind lamin A and DNA-bridging protein BAF. J. Cell Sci. 114, 4567–4573 (2001).

Banani, S. F., Lee, H. O., Hyman, A. A. & Rosen, M. K. Biomolecular condensates: organizers of cellular biochemistry. Nat. Rev. Mol. Cell Biol. 18, 285–298 (2017).

Alberti, S., Gladfelter, A. & Mittag, T. Considerations and challenges in studying liquid-liquid phase separation and biomolecular condensates. Cell 176, 419–434 (2019).

Shin, Y. & Brangwynne, C. P. Liquid phase condensation in cell physiology and disease. Science 357, eaaf4382 (2017).

Rai, A. K., Chen, J. X., Selbach, M. & Pelkmans, L. Kinase-controlled phase transition of membraneless organelles in mitosis. Nature 559, 211–216 (2018).

Huguet, F., Flynn, S. & Vagnarelli, P. The role of phosphatases in nuclear envelope disassembly and reassembly and their relevance to pathologies. Cells 8, E687 (2019).

Hornbeck, P. V. et al. PhosphoSitePlus, 2014: mutations, PTMs and recalibrations. Nucleic Acids Res. 43, D512–D520 (2015).

Boeynaems, S. et al. Spontaneous driving forces give rise to protein-RNA condensates with coexisting phases and complex material properties. Proc. Natl Acad. Sci. USA 116, 7889–7898 (2019).

Im, Y. J., Wollert, T., Boura, E. & Hurley, J. H. Structure and function of the ESCRT-II-III interface in multivesicular body biogenesis. Dev. Cell 17, 234–243 (2009).

McCullough, J. et al. Structure and membrane remodeling activity of ESCRT-III helical polymers. Science 350, 1548–1551 (2015).

Tang, S. et al. Structural basis for activation, assembly and membrane binding of ESCRT-III Snf7 filaments. eLife 4, e12548 (2015).

Samwer, M. et al. DNA cross-bridging shapes a single nucleus from a set of mitotic chromosomes. Cell 170, 956–972.e923 (2017).

Bradley, C. M., Ronning, D. R., Ghirlando, R., Craigie, R. & Dyda, F. Structural basis for DNA bridging by barrier-to-autointegration factor. Nat. Struct. Mol. Biol. 12, 935–936 (2005).

Hamon, L., Savarin, P., Curmi, P. A. & Pastré, D. Rapid assembly and collective behavior of microtubule bundles in the presence of polyamines. Biophys. J. 101, 205–216 (2011).

Gibson, B. A. et al. Organization of chromatin by intrinsic and regulated phase separation. Cell 179, 470–484.e421 (2019).

Mastronarde, D. N. Automated electron microscope tomography using robust prediction of specimen movements. J. Struct. Biol. 152, 36–51 (2005).

Bui, K. H. et al. Integrated structural analysis of the human nuclear pore complex scaffold. Cell 155, 1233–1243 (2013).

Leitner, A. et al. Expanding the chemical cross-linking toolbox by the use of multiple proteases and enrichment by size exclusion chromatography. Mol. Cell Proteomics 11, M111.014126 (2012).

Trnka, M. J., Baker, P. R., Robinson, P. J., Burlingame, A. L. & Chalkley, R. J. Matching cross-linked peptide spectra: only as good as the worse identification. Mol. Cell. Proteomics 13, 420–434 (2014).

Schilling, B. et al. Platform-independent and label-free quantitation of proteomic data using MS1 extracted ion chromatograms in skyline: application to protein acetylation and phosphorylation. Mol. Cell. Proteomics 11, 202–214 (2012).

Müller, F., Fischer, L., Chen, Z. A., Auchynnikava, T. & Rappsilber, J. On the reproducibility of label-free quantitative cross-linking/mass spectrometry. J. Am. Soc. Mass Spectrom. 29, 405–412 (2018).

Combe, C. W., Fischer, L. & Rappsilber, J. xiNET: cross-link network maps with residue resolution. Mol. Cell. Proteomics 14, 1137–1147 (2015).

Kelley, L. A., Mezulis, S., Yates, C. M., Wass, M. N. & Sternberg, M. J. E. The Phyre2 web portal for protein modeling, prediction and analysis. Nat. Protocols 10, 845–858 (2015).

Pettersen, E. F. et al. UCSF Chimera—a visualization system for exploratory research and analysis. J. Comput. Chem. 25, 1605–1612 (2004).

Kosinski, J. et al. Xlink Analyzer: software for analysis and visualization of cross-linking data in the context of three-dimensional structures. J. Struct. Biol. 189, 177–183 (2015).

Bajorek, M. et al. Biochemical analyses of human IST1 and its function in cytokinesis. Mol. Biol. Cell 20, 1360–1373 (2009).

Donahue, D. A. et al. SUN2 overexpression deforms nuclear shape and inhibits HIV. J. Virol. 90, 4199–4214 (2016).

Mackay, D. R., Makise, M. & Ullman, K. S. Defects in nuclear pore assembly lead to activation of an Aurora B-mediated abscission checkpoint. J. Cell Biol. 191, 923–931 (2010).

Mackay, D. R., Elgort, S. W. & Ullman, K. S. The nucleoporin Nup153 has separable roles in both early mitotic progression and the resolution of mitosis. Mol. Biol. Cell 20, 1652–1660 (2009).

Morita, E. et al. Human ESCRT-III and VPS4 proteins are required for centrosome and spindle maintenance. Proc. Natl Acad. Sci. USA 107, 12889–12894 (2010).

Kinoshita, E., Kinoshita-Kikuta, E., Takiyama, K. & Koike, T. Phosphate-binding tag, a new tool to visualize phosphorylated proteins. Mol. Cell. Proteomics 5, 749–757 (2006).

Cai, M. et al. Solution NMR structure of the barrier-to-autointegration factor-Emerin complex. J. Biol. Chem. 282, 14525–14535 (2007).
Acknowledgements
We thank W. I. Sundquist and S. Redding for critically reading the manuscript. For reagents, technical advice, and discussions we thank the Redding, Narlikar, Ullman, and Frost laboratories, as well as the Nikon Imaging Center at UCSF. We thank L. Williams for helping to score cell phenotypes and M. Mendoza and J. Rosenblatt for sharing microscope and other resources. We also thank the UCSF Center for Advanced cryoEM, including A. Myasnikov, D. Bulkley and M. Braunfeld. Our research was supported by NIH grants P50 GM082545, 1DP2-GM110772 (A.F.), 1R01-GM131052 (K.S.U.), and the Huntsman Cancer Foundation (K.S.U.). Shared resources used at the University of Utah were funded in part by the Huntsman Cancer Institute Cancer Center Support Grant NIH P30CA042014. Mass spectrometry analysis at the UCSF Mass Spectrometry Resource was supported by the Dr. Miriam and Sheldon G. Adelson Medical Research Foundation and a shared instrument grant (NIH S10OD016229). A.v.A. was funded by EMBO (ALTF 455-2016) and the German Research Foundation (DFG AP 298/1-1). I.E.J. was funded by the NSF Graduate Research Fellowship (1000232072) and a Mortiz-Heyman Discovery Fellowship. A.F. is a Chan Zuckerberg Biohub investigator and an HHMI faculty scholar.
Ethics declarations
Competing interests
The authors declare no competing interests.
Additional information
Peer review information Nature thanks Stephen Michnick and the other, anonymous, reviewer(s) for their contribution to the peer review of this work.
Publisher's note Springer Nature remains neutral with regard to jurisdictional claims in published maps and institutional affiliations.
Extended data figures and tables
Supplementary information
About this article
Cite this article
von Appen, A., LaJoie, D., Johnson, I.E. et al. LEM2 phase separation promotes ESCRT-mediated nuclear envelope reformation. Nature 582, 115–118 (2020). https://doi.org/10.1038/s41586-020-2232-x
Received:

Accepted:

Published:

Issue Date:

DOI: https://doi.org/10.1038/s41586-020-2232-x
Comments
By submitting a comment you agree to abide by our Terms and Community Guidelines. If you find something abusive or that does not comply with our terms or guidelines please flag it as inappropriate.