Abstract
Grafts of spinal-cord-derived neural progenitor cells (NPCs) enable the robust regeneration of corticospinal axons and restore forelimb function after spinal cord injury1; however, the molecular mechanisms that underlie this regeneration are unknown. Here we perform translational profiling specifically of corticospinal tract (CST) motor neurons in mice, to identify their 'regenerative transcriptome' after spinal cord injury and NPC grafting. Notably, both injury alone and injury combined with NPC grafts elicit virtually identical early transcriptomic responses in host CST neurons. However, in mice with injury alone this regenerative transcriptome is downregulated after two weeks, whereas in NPC-grafted mice this transcriptome is sustained. The regenerative transcriptome represents a reversion to an embryonic transcriptional state of the CST neuron. The huntingtin gene (Htt) is a central hub in the regeneration transcriptome; deletion of Htt significantly attenuates regeneration, which shows that Htt has a key role in neural plasticity after injury.
Relevant articles
Open Access articles citing this article.
Michael Pitonak

,

Miriam Aceves

…

Jennifer N. Dulin

Nature Communications Open Access 14 September 2022

Beatriz Martínez-Rojas

,

Esther Giraldo

…

Victoria Moreno-Manzano

Cellular and Molecular Life Sciences Open Access 29 July 2022

Takahiro Muraoka

&

Itsuki Ajioka

Neurochemical Research Open Access 06 June 2022
Access options
Subscribe to Nature+
Get immediate online access to the entire Nature family of 50+ journals
Subscribe to Journal
Get full journal access for 1 year
$199.00
only $3.90 per issue
All prices are NET prices.
VAT will be added later in the checkout.
Tax calculation will be finalised during checkout.
Buy article
Get time limited or full article access on ReadCube.
$32.00
All prices are NET prices.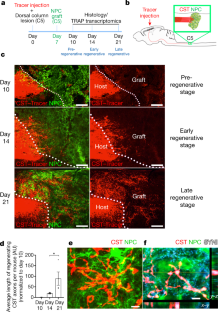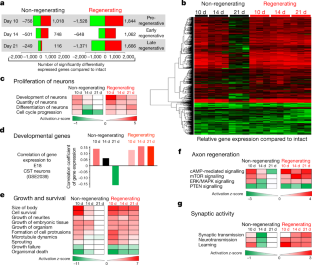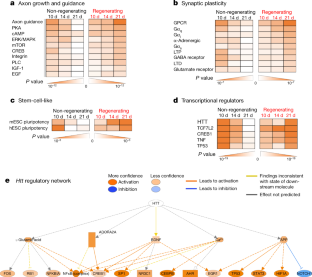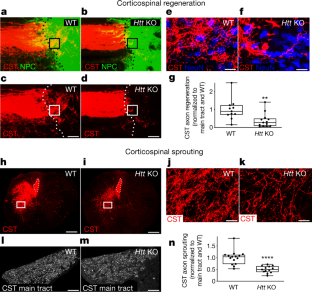 References
Kadoya, K. et al. Spinal cord reconstitution with homologous neural grafts enables robust corticospinal regeneration. Nat. Med. 22, 479–487 (2016).

Nathan, P. W. Effects on movement of surgical incisions into the human spinal cord. Brain 117, 337–346 (1994).

Friedli, L. et al. Pronounced species divergence in corticospinal tract reorganization and functional recovery after lateralized spinal cord injury favors primates. Sci. Transl. Med. 7, 302ra134 (2015).

Oudega, M. & Perez, M. A. Corticospinal reorganization after spinal cord injury. J. Physiol. (Lond.) 590, 3647–3663 (2012).

Liu, K. et al. PTEN deletion enhances the regenerative ability of adult corticospinal neurons. Nat. Neurosci. 13, 1075–1081 (2010).

Jin, D. et al. Restoration of skilled locomotion by sprouting corticospinal axons induced by co-deletion of PTEN and SOCS3. Nat. Commun. 6, 8074 (2015).

Coumans, J. V. et al. Axonal regeneration and functional recovery after complete spinal cord transection in rats by delayed treatment with transplants and neurotrophins. J. Neurosci. 21, 9334–9344 (2001).

Doyle, J. P. et al. Application of a translational profiling approach for the comparative analysis of CNS cell types. Cell 135, 749–762 (2008).

Lu, P. et al. Long-distance growth and connectivity of neural stem cells after severe spinal cord injury. Cell 150, 1264–1273 (2012).

Kumamaru, H. et al. Generation and post-injury integration of human spinal cord neural stem cells. Nat. Methods 15, 723–731 (2018).

Heiman, M., Kulicke, R., Fenster, R. J., Greengard, P. & Heintz, N. Cell type-specific mRNA purification by translating ribosome affinity purification (TRAP). Nat. Protocols 9, 1282–1291 (2014).

Groh, A. et al. Cell-type specific properties of pyramidal neurons in neocortex underlying a layout that is modifiable depending on the cortical area. Cereb. Cortex 20, 826–836 (2010).

Lein, E. S. et al. Genome-wide atlas of gene expression in the adult mouse brain. Nature 445, 168–176 (2007).

Lodato, S. et al. Gene co-regulation by Fezf2 selects neurotransmitter identity and connectivity of corticospinal neurons. Nat. Neurosci. 17, 1046–1054 (2014).

Fink, K. L., Strittmatter, S. M. & Cafferty, W. B. Comprehensive corticospinal labeling with μ-crystallin transgene reveals axon regeneration after spinal cord trauma in ngr1 -/- mice. J. Neurosci. 35, 15403–15418 (2015).

Woodworth, M. B., Greig, L. C., Kriegstein, A. R. & Macklis, J. D. SnapShot: cortical development. Cell 151, 918–918.e1 (2012).

Karow, M. et al. Reprogramming of pericyte-derived cells of the adult human brain into induced neuronal cells. Cell Stem Cell 11, 471–476 (2012).

Arlotta, P. et al. Neuronal subtype-specific genes that control corticospinal motor neuron development in vivo. Neuron 45, 207–221 (2005).

Hollis, E. R. II, Jamshidi, P., Löw, K., Blesch, A. & Tuszynski, M. H. Induction of corticospinal regeneration by lentiviral trkB-induced Erk activation. Proc. Natl Acad. Sci. USA 106, 7215–7220 (2009).

Park, K. K. et al. Promoting axon regeneration in the adult CNS by modulation of the PTEN/mTOR pathway. Science 322, 963–966 (2008).

Liu, Y. et al. A sensitized IGF1 treatment restores corticospinal axon-dependent functions. Neuron 95, 817–833 (2017).

Qiu, J. et al. Spinal axon regeneration induced by elevation of cyclic AMP. Neuron 34, 895–903 (2002).

He, Z. & Jin, Y. Intrinsic control of axon regeneration. Neuron 90, 437–451 (2016).

Sekine, Y., Siegel, C. S., Sekine-Konno, T., Cafferty, W. B. J. & Strittmatter, S. M. The nociceptin receptor inhibits axonal regeneration and recovery from spinal cord injury. Sci. Signal. 11, eaao4180 (2018).

Vodrazka, P. et al. The semaphorin 4D–plexin-B signalling complex regulates dendritic and axonal complexity in developing neurons via diverse pathways. Eur. J. Neurosci. 30, 1193–1208 (2009).

Hayashi, N., Miyata, S., Yamada, M., Kamei, K. & Oohira, A. Neuronal expression of the chondroitin sulfate proteoglycans receptor-type protein-tyrosine phosphatase β and phosphacan. Neuroscience 131, 331–348 (2005).

Maden, C. H. et al. NRP1 and NRP2 cooperate to regulate gangliogenesis, axon guidance and target innervation in the sympathetic nervous system. Dev. Biol. 369, 277–285 (2012).

Samuels, I. S., Saitta, S. C. & Landreth, G. E. MAP'ing CNS development and cognition: an ERKsome process. Neuron 61, 160–167 (2009).

Poplawski, G. et al. Adult rat myelin enhances axonal outgrowth from neural stem cells. Sci. Transl. Med. 10, eaal2563 (2018).

Dulin, J. N. et al. Injured adult motor and sensory axons regenerate into appropriate organotypic domains of neural progenitor grafts. Nat. Commun. 9, 84 (2018).

Adler, A. F., Lee-Kubli, C., Kumamaru, H., Kadoya, K. & Tuszynski, M. H. Comprehensive monosynaptic rabies virus mapping of host connectivity with neural progenitor grafts after spinal cord injury. Stem Cell Reports 8, 1525–1533 (2017).

Koffler, J. et al. Biomimetic 3D-printed scaffolds for spinal cord injury repair. Nat. Med. 25, 263–269 (2019).

Belin, S. et al. Injury-induced decline of intrinsic regenerative ability revealed by quantitative proteomics. Neuron 86, 1000–1014 (2015).

McKinstry, S. U. et al. Huntingtin is required for normal excitatory synapse development in cortical and striatal circuits. J. Neurosci. 34, 9455–9472 (2014).

Phillips, O. et al. The corticospinal tract in Huntington's disease. Cereb. Cortex 25, 2670–2682 (2015).

Zeitlin, S., Liu, J. P., Chapman, D. L., Papaioannou, V. E. & Efstratiadis, A. Increased apoptosis and early embryonic lethality in mice nullizygous for the Huntington's disease gene homologue. Nat. Genet. 11, 155–163 (1995).

Dietrich, P., Johnson, I. M., Alli, S. & Dragatsis, I. Elimination of huntingtin in the adult mouse leads to progressive behavioral deficits, bilateral thalamic calcification, and altered brain iron homeostasis. PLoS Genet. 13, e1006846 (2017).

Wang, G., Liu, X., Gaertig, M. A., Li, S. & Li, X. J. Ablation of huntingtin in adult neurons is nondeleterious but its depletion in young mice causes acute pancreatitis. Proc. Natl Acad. Sci. USA 113, 3359–3364 (2016).

Landles, C. & Bates, G. P. Huntingtin and the molecular pathogenesis of Huntington's disease. EMBO Rep. 5, 958–963 (2004).

Butler, R. & Bates, G. P. Histone deacetylase inhibitors as therapeutics for polyglutamine disorders. Nat. Rev. Neurosci. 7, 784–796 (2006).

Duyao, M. P. et al. Inactivation of the mouse Huntington's disease gene homolog Hdh. Science 269, 407–410 (1995).

Ross, C. A. et al. Huntington disease: natural history, biomarkers and prospects for therapeutics. Nat. Rev. Neurol. 10, 204–216 (2014).

Marcora, E. & Kennedy, M. B. The Huntington's disease mutation impairs Huntingtin's role in the transport of NF-κB from the synapse to the nucleus. Hum. Mol. Genet. 19, 4373–4384 (2010).

Trushina, E. et al. Mutant huntingtin impairs axonal trafficking in mammalian neurons in vivo and in vitro. Mol. Cell. Biol. 24, 8195–8209 (2004).

Dragatsis, I., Levine, M. S. & Zeitlin, S. Inactivation of Hdh in the brain and testis results in progressive neurodegeneration and sterility in mice. Nat. Genet. 26, 300–306 (2000).

Fouad, K., Pedersen, V., Schwab, M. E. & Brösamle, C. Cervical sprouting of corticospinal fibers after thoracic spinal cord injury accompanies shifts in evoked motor responses. Curr. Biol. 11, 1766–1770 (2001).

Weidner, N., Ner, A., Salimi, N. & Tuszynski, M. H. Spontaneous corticospinal axonal plasticity and functional recovery after adult central nervous system injury. Proc. Natl Acad. Sci. USA 98, 3513–3518 (2001).

Bareyre, F. M. et al. The injured spinal cord spontaneously forms a new intraspinal circuit in adult rats. Nat. Neurosci. 7, 269–277 (2004).

Patel, A. et al. AxonTracer: a novel ImageJ plugin for automated quantification of axon regeneration in spinal cord tissue. BMC Neurosci. 19, 8 (2018).

Heiman, M. et al. A translational profiling approach for the molecular characterization of CNS cell types. Cell 135, 738–748 (2008).

Auer, P. L. & Doerge, R. W. Statistical design and analysis of RNA sequencing data. Genetics 185, 405–416 (2010).

Dobin, A. et al. STAR: ultrafast universal RNA-seq aligner. Bioinformatics 29, 15–21 (2013).

Robinson, J. T. et al. Integrative genomics viewer. Nat. Biotechnol. 29, 24–26 (2011).

Robinson, M. D., McCarthy, D. J. & Smyth, G. K. edgeR: a Bioconductor package for differential expression analysis of digital gene expression data. Bioinformatics 26, 139–140 (2010).

Plaisier, S. B., Taschereau, R., Wong, J. A. & Graeber, T. G. Rank–rank hypergeometric overlap: identification of statistically significant overlap between gene-expression signatures. Nucleic Acids Res. 38, e169 (2010).
Acknowledgements
This work was supported by the Dr. Miriam and Sheldon G. Adelson Medical Research Foundation, the Veterans Administration (The Gordon Mansfield Consortium for Spinal Cord Regeneration), the NIH (NS09881 and EB014986) and the Gerbic Family Foundation. We acknowledge the support of the NINDS Informatics Center for Neurogenetics and Neurogenomics (P30 NS062691 to G.C.). We appreciate the assistance of J. Dulin.
Ethics declarations
Competing interests
The authors declare no competing interests.
Additional information
Publisher's note Springer Nature remains neutral with regard to jurisdictional claims in published maps and institutional affiliations.
Extended data figures and tables
Supplementary information
This file contains Supplementary Tables 1-4 and Supplementary Item 1 - Selective Enrichment of Corticospinal Neuronal Genes in Sampled BacTRAP Animals.
Complete dataset of significantly differentially expressed genes (FDR < 0.1) at day 10, 14 and 21 (logFC and p-values).
About this article
Cite this article
Poplawski, G.H.D., Kawaguchi, R., Van Niekerk, E. et al. Injured adult neurons regress to an embryonic transcriptional growth state. Nature 581, 77–82 (2020). https://doi.org/10.1038/s41586-020-2200-5
Received:

Accepted:

Published:

Issue Date:

DOI: https://doi.org/10.1038/s41586-020-2200-5
Comments
By submitting a comment you agree to abide by our Terms and Community Guidelines. If you find something abusive or that does not comply with our terms or guidelines please flag it as inappropriate.