Abstract
Global insights into cellular organization and genome function require comprehensive understanding of the interactome networks that mediate genotype–phenotype relationships1,2. Here we present a human 'all-by-all' reference interactome map of human binary protein interactions, or 'HuRI'. With approximately 53,000 protein–protein interactions, HuRI has approximately four times as many such interactions as there are high-quality curated interactions from small-scale studies. The integration of HuRI with genome3, transcriptome4 and proteome5 data enables cellular function to be studied within most physiological or pathological cellular contexts. We demonstrate the utility of HuRI in identifying the specific subcellular roles of protein–protein interactions. Inferred tissue-specific networks reveal general principles for the formation of cellular context-specific functions and elucidate potential molecular mechanisms that might underlie tissue-specific phenotypes of Mendelian diseases. HuRI is a systematic proteome-wide reference that links genomic variation to phenotypic outcomes.
Your institute does not have access to this article
Relevant articles
Open Access articles citing this article.
Stephen K. Grady

,

Faisal N. Abu-Khzam

…

Michael A. Langston

Scientific Reports Open Access 13 July 2022

Ruyi Wang

,

Xiaoman You

…

Yuese Ning

Genome Biology Open Access 11 July 2022

Rebeca Queiroz Figueiredo

,

Sara Díaz del Ser

…

Daniel Domingo-Fernández

BMC Bioinformatics Open Access 15 June 2022
Access options
Subscribe to Nature+
Get immediate online access to the entire Nature family of 50+ journals
Subscribe to Journal
Get full journal access for 1 year
$199.00
only $3.90 per issue
All prices are NET prices.
VAT will be added later in the checkout.
Tax calculation will be finalised during checkout.
Buy article
Get time limited or full article access on ReadCube.
$32.00
All prices are NET prices.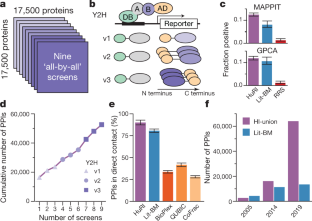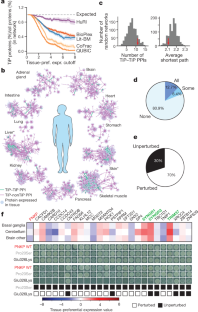 Code availability
Analysis code is available at github.com/CCSB-DFCI/HuRI_paper.
References
Vidal, M., Cusick, M. E. & Barabási, A.-L. Interactome networks and human disease. Cell 144, 986–998 (2011).

Rolland, T. et al. A proteome-scale map of the human interactome network. Cell 159, 1212–1226 (2014).

Amberger, J. S., Bocchini, C. A., Schiettecatte, F., Scott, A. F. & Hamosh, A. OMIM.org: Online Mendelian Inheritance in Man (OMIM®), an online catalog of human genes and genetic disorders. Nucleic Acids Res. 43, D789–D798 (2015).

Melé, M. et al. The human transcriptome across tissues and individuals. Science 348, 660–665 (2015).

Thul, P. J. et al. A subcellular map of the human proteome. Science 356, eaal3321 (2017).

Lek, M. et al. Analysis of protein-coding genetic variation in 60,706 humans. Nature 536, 285–291 (2016).

The FANTOM Consortium and the RIKEN PMI and CLST (DGT). A promoter-level mammalian expression atlas. Nature 507, 462–470 (2014).

Regev, A. et al. The human cell atlas. eLife 6, e27041 (2017).

Lander, E. S. et al. Initial sequencing and analysis of the human genome. Nature 409, 860–921 (2001).

Venter, J. C. et al. The sequence of the human genome. Science 291, 1304–1351 (2001).

Wan, C. et al. Panorama of ancient metazoan macromolecular complexes. Nature 525, 339–344 (2015).

Hein, M. Y. et al. A human interactome in three quantitative dimensions organized by stoichiometries and abundances. Cell 163, 712–723 (2015).

Huttlin, E. L. et al. Architecture of the human interactome defines protein communities and disease networks. Nature 545, 505–509 (2017).

Rual, J.-F. et al. Towards a proteome-scale map of the human protein-protein interaction network. Nature 437, 1173–1178 (2005).

Braun, P. et al. An experimentally derived confidence score for binary protein-protein interactions. Nat. Methods 6, 91–97 (2009).

Venkatesan, K. et al. An empirical framework for binary interactome mapping. Nat. Methods 6, 83–90 (2009).

Chen, Y.-C., Rajagopala, S. V., Stellberger, T. & Uetz, P. Exhaustive benchmarking of the yeast two-hybrid system. Nat. Methods 7, 667–668 (2010).

Choi, S. G. et al. Maximizing binary interactome mapping with a minimal number of assays. Nat. Commun. 10, 3907 (2019).

Eyckerman, S. et al. Design and application of a cytokine-receptor-based interaction trap. Nat. Cell Biol. 3, 1114–1119 (2001).

Cassonnet, P. et al. Benchmarking a luciferase complementation assay for detecting protein complexes. Nat. Methods 8, 990–992 (2011).

Mosca, R., Céol, A. & Aloy, P. Interactome3D: adding structural details to protein networks. Nat. Methods 10, 47–53 (2013).

Tompa, P., Davey, N. E., Gibson, T. J. & Babu, M. M. A million peptide motifs for the molecular biologist. Mol. Cell 55, 161–169 (2014).

Sambourg, L. & Thierry-Mieg, N. New insights into protein-protein interaction data lead to increased estimates of the S. cerevisiae interactome size. BMC Bioinformatics 11, 605 (2010).

Leid, M. et al. Purification, cloning, and RXR identity of the HeLa cell factor with which RAR or TR heterodimerizes to bind target sequences efficiently. Cell 68, 377–395 (1992).

Willy, P. J. et al. LXR, a nuclear receptor that defines a distinct retinoid response pathway. Genes Dev. 9, 1033–1045 (1995).

Kovács, I. A. et al. Network-based prediction of protein interactions. Nat. Commun. 10, 1240 (2019).

Baryshnikova, A. Systematic functional annotation and visualization of biological networks. Cell Syst. 2, 412–421 (2016).

Graham, D. B. et al. TMEM258 is a component of the oligosaccharyltransferase complex controlling ER stress and intestinal inflammation. Cell Rep. 17, 2955–2965 (2016).

Yamamoto, Y., Yoshida, A., Miyazaki, N., Iwasaki, K. & Sakisaka, T. Arl6IP1 has the ability to shape the mammalian ER membrane in a reticulon-like fashion. Biochem. J. 458, 69–79 (2014).

Abdel-Salam, G. M. H. et al. A homozygous IER3IP1 mutation causes microcephaly with simplified gyral pattern, epilepsy, and permanent neonatal diabetes syndrome (MEDS). Am. J. Med. Genet. A. 158A, 2788–2796 (2012).

Jeong, H., Mason, S. P., Barabási, A.-L. & Oltvai, Z. N. Lethality and centrality in protein networks. Nature 411, 41–42 (2001).

Capra, J. A., Williams, A. G. & Pollard, K. S. ProteinHistorian: tools for the comparative analysis of eukaryote protein origin. PLOS Comput. Biol. 8, e1002567 (2012).

Pan, J. et al. Interrogation of mammalian protein complex structure, function, and membership using genome-scale fitness screens. Cell Syst. 6, 555–568 (2018).

Yu, H. et al. High-quality binary protein interaction map of the yeast interactome network. Science 322, 104–110 (2008).

Kim, D. K. et al. EVpedia: a community web portal for extracellular vesicles research. Bioinformatics 31, 933–939 (2015).

Hessvik, N. P. & Llorente, A. Current knowledge on exosome biogenesis and release. Cell. Mol. Life Sci. 75, 193–208 (2018).

Imjeti, N. S. et al. Syntenin mediates SRC function in exosomal cell-to-cell communication. Proc. Natl Acad. Sci. USA 114, 12495–12500 (2017).

Calderone, A., Castagnoli, L. & Cesareni, G. mentha: a resource for browsing integrated protein-interaction networks. Nat. Methods 10, 690–691 (2013).

Kiran, M. & Nagarajaram, H. A. Global versus local hubs in human protein-protein interaction network. J. Proteome Res. 12, 5436–5446 (2013).

Yang, L. et al. Comparative analysis of housekeeping and tissue-selective genes in human based on network topologies and biological properties. Mol. Genet. Genomics 291, 1227–1241 (2016).

Paulson, J. N. et al. Tissue-aware RNA-Seq processing and normalization for heterogeneous and sparse data. BMC Bioinformatics 18, 437 (2017).

Bossi, A. & Lehner, B. Tissue specificity and the human protein interaction network. Mol. Syst. Biol. 5, 260 (2009).

Barshir, R., Shwartz, O., Smoly, I. Y. & Yeger-Lotem, E. Comparative analysis of human tissue interactomes reveals factors leading to tissue-specific manifestation of hereditary diseases. PLOS Comput. Biol. 10, e1003632 (2014).

Sahni, N. et al. Widespread macromolecular interaction perturbations in human genetic disorders. Cell 161, 647–660 (2015).

Reynolds, J. J., Walker, A. K., Gilmore, E. C., Walsh, C. A. & Caldecott, K. W. Impact of PNKP mutations associated with microcephaly, seizures and developmental delay on enzyme activity and DNA strand break repair. Nucleic Acids Res. 40, 6608–6619 (2012).

Landrum, M. J. et al. ClinVar: improving access to variant interpretations and supporting evidence. Nucleic Acids Res. 46 (D1), D1062–D1067 (2018).

Bhatnagar, S. et al. TRIM37 is a new histone H2A ubiquitin ligase and breast cancer oncoprotein. Nature 516, 116–120 (2014).

Olivé, M. et al. New cardiac and skeletal protein aggregate myopathy associated with combined MuRF1 and MuRF3 mutations. Hum. Mol. Genet. 24, 3638–3650 (2015).

Novarino, G. et al. Exome sequencing links corticospinal motor neuron disease to common neurodegenerative disorders. Science 343, 506–511 (2014).

Yang, X. et al. Widespread expansion of protein interaction capabilities by alternative splicing. Cell 164, 805–817 (2016).
Acknowledgements
The authors gratefully acknowledge, in memoriam, support and insight from D. Allinger. We thank P. Porras Millan and the IntAct team for their help in disseminating our PPI data via IntAct, before and after publication. We thank U. Braunschweig, J. Ellis and B. J. Blencowe for help with data analysis. We also thank Q. Zhu, O. G. Troyanskaya, J. Pan and C. Kadoch for sharing co-expression and co-fitness data, respectively. We thank K. S. Tuttle for help with graphics. This work was primarily supported by the National Institutes of Health (NIH) National Human Genome Research Institute (NHGRI) grant U41HG001715 (M.V., F.P.R., D.E.H., M.A.C., G.D.B. and J.T.) with additional support from NIH grants P50HG004233 (M.V. and F.P.R.), U01HL098166 (M.V.), U01HG007690 (M.V.), R01GM109199 (M.A.C.), Canadian Institute for Health Research (CIHR) Foundation Grants (F.P.R. and J. Rak), the Canada Excellence Research Chairs Program (F.P.R.) and an American Heart Association grant 15CVGPS23430000 (M.V.). D.-K.K. was supported by a Banting Postdoctoral Fellowship through the Natural Sciences and Engineering Research Council (NSERC) of Canada and by the Basic Science Research Program through the National Research Foundation (NRF) of Korea funded by the Ministry of Education (2017R1A6A3A03004385). C. Pons was supported by a Ramon Cajal fellowship (RYC-2017-22959). G.M.S. was supported by NIH Training Grant T32CA009361. M.V. is a Chercheur Qualifié Honoraire from the Fonds de la Recherche Scientifique (FRS-FNRS, Wallonia-Brussels Federation, Belgium).
Ethics declarations
Competing interests
J.C.M. is a founder and CEO of seqWell, Inc; F.P.R. and M.V. are shareholders and scientific advisors of seqWell, Inc.
Additional information
Peer review information Nature thanks Ulrich Stelzl and the other, anonymous, reviewer(s) for their contribution to the peer review of this work.
Publisher's note Springer Nature remains neutral with regard to jurisdictional claims in published maps and institutional affiliations.
Extended data figures and tables
Supplementary information
About this article
Cite this article
Luck, K., Kim, DK., Lambourne, L. et al. A reference map of the human binary protein interactome. Nature 580, 402–408 (2020). https://doi.org/10.1038/s41586-020-2188-x
Received:

Accepted:

Published:

Issue Date:

DOI: https://doi.org/10.1038/s41586-020-2188-x
Comments
By submitting a comment you agree to abide by our Terms and Community Guidelines. If you find something abusive or that does not comply with our terms or guidelines please flag it as inappropriate.