Abstract
The activation of adenosine monophosphate-activated protein kinase (AMPK) in skeletal muscle coordinates systemic metabolic responses to exercise1. Autophagy—a lysosomal degradation pathway that maintains cellular homeostasis2—is upregulated during exercise, and a core autophagy protein, beclin 1, is required for AMPK activation in skeletal muscle3. Here we describe a role for the innate immune-sensing molecule Toll-like receptor 9 (TLR9)4, and its interaction with beclin 1, in exercise-induced activation of AMPK in skeletal muscle. Mice that lack TLR9 are deficient in both exercise-induced activation of AMPK and plasma membrane localization of the GLUT4 glucose transporter in skeletal muscle, but are not deficient in autophagy. TLR9 binds beclin 1, and this interaction is increased by energy stress (glucose starvation and endurance exercise) and decreased by a BCL2 mutation3,5 that blocks the disruption of BCL2–beclin 1 binding. TLR9 regulates the assembly of the endolysosomal phosphatidylinositol 3-kinase complex (PI3KC3-C2)—which contains beclin 1 and UVRAG—in skeletal muscle during exercise, and knockout of beclin 1 or UVRAG inhibits the cellular AMPK activation induced by glucose starvation. Moreover, TLR9 functions in a muscle-autonomous fashion in ex vivo contraction-induced AMPK activation, glucose uptake and beclin 1–UVRAG complex assembly. These findings reveal a heretofore undescribed role for a Toll-like receptor in skeletal-muscle AMPK activation and glucose metabolism during exercise, as well as unexpected crosstalk between this innate immune sensor and autophagy proteins.
Access options
Subscribe to Journal
Get full journal access for 1 year
$199.00
only $3.90 per issue
All prices are NET prices.
VAT will be added later in the checkout.
Tax calculation will be finalised during checkout.
Rent or Buy article
Get time limited or full article access on ReadCube.
from$8.99
All prices are NET prices.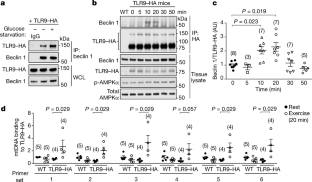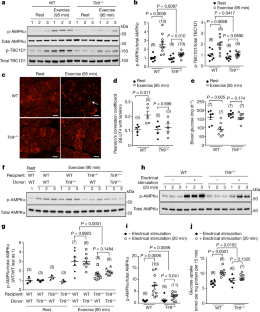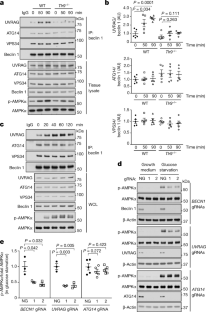 References
1.

Kjøbsted, R. et al. AMPK in skeletal muscle function and metabolism. FASEB J. 32, 1741–1777 (2018).

2.

Levine, B. & Kroemer, G. Biological functions of autophagy genes: a disease perspective. Cell 176, 11–42 (2019).

3.

He, C. et al. Exercise-induced BCL2-regulated autophagy is required for muscle glucose homeostasis. Nature 481, 511–515 (2012).

4.

Pandey, S., Kawai, T. & Akira, S. Microbial sensing by Toll-like receptors and intracellular nucleic acid sensors. Cold Spring Harb. Perspect. Biol. 7, a016246 (2015).

5.

Wei, Y., Pattingre, S., Sinha, S., Bassik, M. & Levine, B. JNK1-mediated phosphorylation of Bcl-2 regulates starvation-induced autophagy. Mol. Cell 30, 678–688 (2008).

6.

West, A. P. & Shadel, G. S. Mitochondrial DNA in innate immune responses and inflammatory pathology. Nat. Rev. Immunol. 17, 363–375 (2017).

7.

Shintani, Y. et al. TLR9 mediates cellular protection by modulating energy metabolism in cardiomyocytes and neurons. Proc. Natl Acad. Sci. USA 110, 5109–5114 (2013).

8.

Zhou, D. C. et al. CpG oligodeoxynucleotide preconditioning improves cardiac function after myocardial infarction via modulation of energy metabolism and angiogenesis. J. Cell. Physiol. 233, 4245–4257 (2018).

9.

Omiya, S. et al. Toll-like receptor 9 prevents cardiac rupture after myocardial infarction in mice independently of inflammation. Am. J. Physiol. Heart Circ. Physiol. 311, H1485–H1497 (2016).

10.

Rostislavleva, K. et al. Structure and flexibility of the endosomal Vps34 complex reveals the basis of its function on membranes. Science 350, aac7365 (2015).

11.

Guan, Y., Drake, J. C. & Yan, Z. Exercise-induced mitophagy in skeletal muscle and heart. Exerc. Sport Sci. Rev. 47, 151–156 (2019).

12.

De Leo, M. G. et al. Autophagosome-lysosome fusion triggers a lysosomal response mediated by TLR9 and controlled by OCRL. Nat. Cell Biol. 18, 839–850 (2016).

13.

Ewald, S. E. et al. The ectodomain of Toll-like receptor 9 is cleaved to generate a functional receptor. Nature 456, 658–662 (2008).

14.

Majer, O. et al. Release from UNC93B1 reinforces the compartmentalized activation of select TLRs. Nature 575, 371–374 (2019).

15.

Hemmi, H. et al. A Toll-like receptor recognizes bacterial DNA. Nature 408, 740–745 (2000).

16.

Zisman, A. et al. Targeted disruption of the glucose transporter 4 selectively in muscle causes insulin resistance and glucose intolerance. Nat. Med. 6, 924–928 (2000).

17.

Xie, Z., Dong, Y., Scholz, R., Neumann, D. & Zou, M. H. Phosphorylation of LKB1 at serine 428 by protein kinase C-ζ is required for metformin-enhanced activation of the AMP-activated protein kinase in endothelial cells. Circulation 117, 952–962 (2008).

18.

Cokorinos, E.C. et al. Activation of skeletal muscle AMPK promotes glucose disposal and glucose lowering in non-human primates and mice. Cell Metab. 25, 1147–1159 (2017).

19.

Wei, Y. et al. The stress-responsive kinases MAPKAPK2/MAPKAPK3 activate starvation-induced autophagy through Beclin 1 phosphorylation. eLife 4, e05289 (2015).

20.

Hurley, J. H. & Young, L. N. Mechanisms of autophagy initiation. Annu. Rev. Biochem. 86, 225–244 (2017).

21.

Henault, J. et al. Noncanonical autophagy is required for type I interferon secretion in response to DNA-immune complexes. Immunity 37, 986–997 (2012).

22.

Mizushima, N., Yamamoto, A., Matsui, M., Yoshimori, T. & Ohsumi, Y. In vivo analysis of autophagy in resporense to nutrient starvation using transgenic mice expressing a fluorescent autophagosome marker. Mol. Biol. Cell 15, 1101–1111 (2004).

23.

Shoji-Kawata, S. et al. Identification of a candidate therapeutic autophagy-inducing peptide. Nature 494, 201–206 (2013).

24.

Lee, B. L. et al. UNC93B1 mediates differential trafficking of endosomal TLRs. eLife 2, e00291 (2013).

25.

Ranaghan, M. J. et al. The autophagy-related beclin-1 protein requires the coiled-coil and BARA domains to form a homodimer with submicromolar affinity. Biochemistry 56, 6639–6651 (2017).

26.

Agathocleous, M. et al. Ascorbate regulates haematopoietic stem cell function and leukaemogenesis. Nature 549, 476–481 (2017).

27.

Aslesen, R. & Jensen, J. Effects of epinephrine on glucose metabolism in contracting rat skeletal muscles. Am. J. Physiol. 275, E448–E456 (1998).

28.

Jensen, T. E. et al. PT-1 selectively activates AMPK-γ1 complexes in mouse skeletal muscle, but activates all three γ subunit complexes in cultured human cells by inhibiting the respiratory chain. Biochem. J. 467, 461–472 (2015).

29.

Chen, H. et al. Mitochondrial fusion is required for mtDNA stability in skeletal muscle and tolerance of mtDNA mutations. Cell 141, 280–289 (2010).

30.

White, M. J. et al. Apoptotic caspases suppress mtDNA-induced STING-mediated type I IFN production. Cell 159, 1549–1562 (2014).

31.

Millay, D. P. et al. Myomaker is a membrane activator of myoblast fusion and muscle formation. Nature 499, 301–305 (2013).

32.

Plaideau, C. et al. Effects of pharmacological AMP deaminase inhibition and Ampd1 deletion on nucleotide levels and AMPK activation in contracting skeletal muscle. Chem. Biol. 21, 1497–1510 (2014).
Acknowledgements
We thank R. Bassel-Duby, C. He, R. Medzhitov and P. Scherer for helpful discussions; C. Chang, J. Doench, G. Barton, J. Jensen, J. Hurley, N. Mizushima, M. Ranaghan and F. Yarovinsky for providing critical reagents; L. Nguyen for technical assistance; and L. Bennett and H. Smith for assistance with manuscript preparation. This work was supported by NIH grants RO1 CA109618 (B.L.), U19 AI109725 (B.L), and U19 AI142784 (B.L.); Cancer Prevention Research Institute of Texas grant RP120718 (B.L.); and a Fondation Leducq grant 15CBD04 (B.L). M.J. was supported by a 'chargé de recherché' post-doctoral grant from the Belgian F.N.R.S.
Ethics declarations
Competing interests
B.L. is a Scientific Co-Founder of Casma Therapeutics, Inc.
Additional information
Publisher's note Springer Nature remains neutral with regard to jurisdictional claims in published maps and institutional affiliations.
Extended data figures and tables
Supplementary information
This file contains uncropped gels for all the main and Extended Data Figures.
About this article
Cite this article
Liu, Y., Nguyen, P.T., Wang, X. et al. TLR9 and beclin 1 crosstalk regulates muscle AMPK activation in exercise. Nature 578, 605–609 (2020). https://doi.org/10.1038/s41586-020-1992-7
Received:

Accepted:

Published:

Issue Date:
Comments
By submitting a comment you agree to abide by our Terms and Community Guidelines. If you find something abusive or that does not comply with our terms or guidelines please flag it as inappropriate.