Abstract
In the adult hippocampus, synapses are constantly formed and eliminated1,2. However, the exact function of synapse elimination in the adult brain, and how it is regulated, are largely unknown. Here we show that astrocytic phagocytosis3 is important for maintaining proper hippocampal synaptic connectivity and plasticity. By using fluorescent phagocytosis reporters, we find that excitatory and inhibitory synapses are eliminated by glial phagocytosis in the CA1 region of the adult mouse hippocampus. Unexpectedly, we found that astrocytes have a major role in the neuronal activity-dependent elimination of excitatory synapses. Furthermore, mice in which astrocytes lack the phagocytic receptor MEGF10 show a reduction in the elimination of excitatory synapses; as a result, excessive but functionally impaired synapses accumulate. Finally, Megf10-knockout mice show defective long-term synaptic plasticity and impaired formation of hippocampal memories. Together, our data provide strong evidence that astrocytes eliminate unnecessary excitatory synaptic connections in the adult hippocampus through MEGF10, and that this astrocytic function is crucial for maintaining circuit connectivity and thereby supporting cognitive function.
Relevant articles
Open Access articles citing this article.
Xuelian Hu

,

Guangdan Yu

…

Lan Xiao

Neuroscience Bulletin Open Access 12 November 2022

Monica van den Berg

,

Mohit H. Adhikari

…

Marleen Verhoye

Alzheimer's Research & Therapy Open Access 10 October 2022

Yohan S. S. Auguste

,

Austin Ferro

…

Lucas Cheadle

Nature Neuroscience Open Access 28 September 2022
Access options
Subscribe to Nature+
Get immediate online access to Nature and 55 other Nature journal
Subscribe to Journal
Get full journal access for 1 year
$199.00
only $3.90 per issue
All prices are NET prices.
VAT will be added later in the checkout.
Tax calculation will be finalised during checkout.
Buy article
Get time limited or full article access on ReadCube.
$32.00
All prices are NET prices.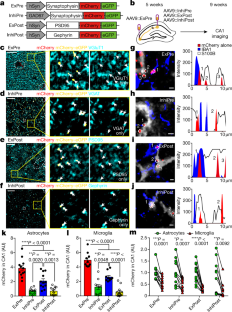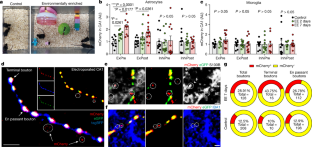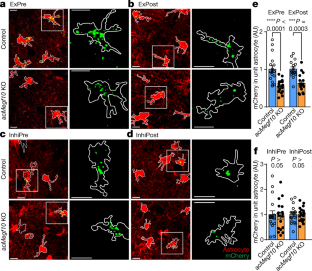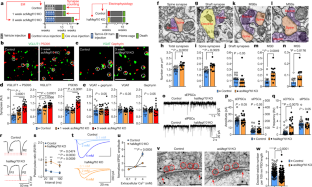 Data availability
All primary antibodies used in this study are listed in the Methods. Recipes for reporters used in this study are provided in the Methods. All data are available upon reasonable request. For further inquiries, please contact the corresponding author. Source data are provided with this paper.
Code availability
All codes used are available upon reasonable request.
References
Toni, N., Buchs, P. A., Nikonenko, I., Bron, C. R. & Muller, D. LTP promotes formation of multiple spine synapses between a single axon terminal and a dendrite. Nature 402, 421–425 (1999).

Attardo, A., Fitzgerald, J. E. & Schnitzer, M. J. Impermanence of dendritic spines in live adult CA1 hippocampus. Nature 523, 592–596 (2015).

Chung, W. S. et al. Astrocytes mediate synapse elimination through MEGF10 and MERTK pathways. Nature 504, 394–400 (2013).

Maletic-Savatic, M., Malinow, R. & Svoboda, K. Rapid dendritic morphogenesis in CA1 hippocampal dendrites induced by synaptic activity. Science 283, 1923–1927 (1999).

Okabe, S., Kim, H. D., Miwa, A., Kuriu, T. & Okado, H. Continual remodeling of postsynaptic density and its regulation by synaptic activity. Nat. Neurosci. 2, 804–811 (1999).

Xu, T. et al. Rapid formation and selective stabilization of synapses for enduring motor memories. Nature 462, 915–919 (2009).

Stevens, B. et al. The classical complement cascade mediates CNS synapse elimination. Cell 131, 1164–1178 (2007).

Schafer, D. P. et al. Microglia sculpt postnatal neural circuits in an activity and complement-dependent manner. Neuron 74, 691–705 (2012).

Paolicelli, R. C. et al. Synaptic pruning by microglia is necessary for normal brain development. Science 333, 1456–1458 (2011).

Leeman, D. S. et al. Lysosome activation clears aggregates and enhances quiescent neural stem cell activation during aging. Science 359, 1277–1283 (2018).

Doherty, G. P., Bailey, K. & Lewis, P. J. Stage-specific fluorescence intensity of GFP and mCherry during sporulation in Bacillus subtilis. BMC Res. Notes 3, 303 (2010).

Wang, C. et al. Microglia mediate forgetting via complement-dependent synaptic elimination. Science 367, 688–694 (2020).

Hong, S. et al. Complement and microglia mediate early synapse loss in Alzheimer mouse models. Science 352, 712–716 (2016).

Steward, O., Torre, E. R., Tomasulo, R. & Lothman, E. Neuronal activity up-regulates astroglial gene expression. Proc. Natl Acad. Sci. USA 88, 6819–6823 (1991).

Srinivasan, R. et al. New transgenic mouse lines for selectively targeting astrocytes and studying calcium signals in astrocyte processes in situ and in vivo. Neuron 92, 1181–1195 (2016).

Howard, C. V. & Reed, M. G. Unbiased Stereology: Three-Dimensional Measurement in Microscopy 1st edition, 69–105 (Springer, 1999)

Elmore, M. R. et al. Colony-stimulating factor 1 receptor signaling is necessary for microglia viability, unmasking a microglia progenitor cell in the adult brain. Neuron 82, 380–397 (2014).

Rice, R. A. et al. Elimination of microglia improves functional outcomes following extensive neuronal loss in the hippocampus. J. Neurosci. 35, 9977–9989 (2015).

Rhee, J.-S. et al. Augmenting neurotransmitter release by enhancing the apparent Ca2+ affinity of synaptotagmin 1. Proc. Natl Acad. Sci. USA 102, 18664–18669 (2005).

Schneggenburger, R., Meyer, A. C. & Neher, E. Released fraction and total size of a pool of immediately available transmitter quanta at a calyx synapse. Neuron 23, 399–409 (1999).

Elmqvist, D. & Quastel, D. M. J. A quantitative study of end-plate potentials in isolated human muscle. J. Physiol. (Lond.) 178, 505–529 (1965).

Caroni, P., Donato, F. & Muller, D. Structural plasticity upon learning: regulation and functions. Nat. Rev. Neurosci. 13, 478–490 (2012).

Kandel, E. R. The molecular biology of memory storage: a dialogue between genes and synapses. Science 294, 1030–1038 (2001).

Vogel-Ciernia, A. & Wood, M. A. Examining object location and object recognition memory in mice. Curr. Protoc. Neurosci. 69, 1–17 (2014).

Tonegawa, S., Morrissey, M. D. & Kitamura, T. The role of engram cells in the systems consolidation of memory. Nat. Rev. Neurosci. 19, 485–498 (2018).

Skelton, P. D., Frazel, P. W., Lee, D., Suh, H. & Luikart, B. W. Pten loss results in inappropriate excitatory connectivity. Mol. Psychiatry 24, 1627–1640 (2019).

Guang, S. et al. Synaptopathology involved in autism spectrum disorder. Front. Cell. Neurosci. 12, 470 (2018).

Fischer, D., Bieber, T., Li, Y., Elsässer, H. P. & Kissel, T. A novel non-viral vector for DNA delivery based on low molecular weight, branched polyethylenimine: effect of molecular weight on transfection efficiency and cytotoxicity. Pharm. Res. 16, 1273–1279 (1999).

Guo, P. et al. A simplified purification method for AAV variant by polyethylene glycol aqueous two-phase partitioning. Bioengineered 4, 103–106 (2013).

Gibson, D. G. et al. Enzymatic assembly of DNA molecules up to several hundred kilobases. Nat. Methods 6, 343–345 (2009).

Choi, J. H. et al. Optimization of AAV expression cassettes to improve packaging capacity and transgene expression in neurons. Mol. Brain 7, 17 (2014).

Gilles, J. F., Dos Santos, M., Boudier, T., Bolte, S. & Heck, N. DiAna, an ImageJ tool for object-based 3D co-localization and distance analysis. Methods 115, 55–64 (2017).

Bloss, E. B., Cembrowski, M. S., Karsh, B., Fetter, R. D. & Spruston, N. Single excitatory axons form clustered synapses onto CA1 pyramidal cell dendrites. Nat. Neurosci. 21, 353–363 (2018).

Vandael, D., Borges-Merjane, C., Zhang, X. & Jonas, P. Short-term plasticity at hippocampal mossy fiber synapses is induced by natural activity patterns and associated with vesicle pool engram formation. Neuron 107, 509–521.e7 (2020).

Rosenmund, C. & Stevens, C. F. Definition of the readily releasable pool of vesicles at hippocampal synapses. Neuron 16, 1197–1207 (1996).
Acknowledgements
We thank all members of the Chung, Mun, and Park laboratories for helpful discussions, and C. Cho for reading the paper. This work was supported by grants from the Samsung Science & Technology Foundation (SSTF-BA1701-18, W.-S.C.), the National Research Foundation of Korea (NRF) (2019R1A2C1010634 (J.Y.M.), 2016M3C7A1905391), and the KBRI basic research program (20-BR-01-04 (H.P.), 20-BR-01-09 (J.Y.M)) funded by the Ministry of Science and ICT. J.-H.L is partly supported by the Global PhD Fellowship Program through the NRF funded by the Ministry of Education (2017H1A2A1042287). Instruments (SEM and TEM) and whole-cell patch clamp data were acquired at the Brain Research Core Facilities in KBRI. Imaris software was supported by Bio Core facilities in KAIST.
Ethics declarations
Competing interests
The authors declare no competing interests.
Additional information
Peer review information Nature thanks Marc Freeman, Jeremy Kay and the other, anonymous, reviewer(s) for their contribution to the peer review of this work.
Publisher's note Springer Nature remains neutral with regard to jurisdictional claims in published maps and institutional affiliations.
Extended data figures and tables
Supplementary information
This file contains Supplementary Table 1: Electrophysiological properties of recorded CA1 neurons.
This file contains raw blot data for extended data figure 9b.
About this article
Cite this article
Lee, JH., Kim, Jy., Noh, S. et al. Astrocytes phagocytose adult hippocampal synapses for circuit homeostasis. Nature 590, 612–617 (2021). https://doi.org/10.1038/s41586-020-03060-3
Received:

Accepted:

Published:

Issue Date:

DOI: https://doi.org/10.1038/s41586-020-03060-3
Comments
By submitting a comment you agree to abide by our Terms and Community Guidelines. If you find something abusive or that does not comply with our terms or guidelines please flag it as inappropriate.