Abstract
Altered expression of mitochondrial DNA (mtDNA) occurs in ageing and a range of human pathologies (for example, inborn errors of metabolism, neurodegeneration and cancer). Here we describe first-in-class specific inhibitors of mitochondrial transcription (IMTs) that target the human mitochondrial RNA polymerase (POLRMT), which is essential for biogenesis of the oxidative phosphorylation (OXPHOS) system1,2,3,4,5,6. The IMTs efficiently impair mtDNA transcription in a reconstituted recombinant system and cause a dose-dependent inhibition of mtDNA expression and OXPHOS in cell lines. To verify the cellular target, we performed exome sequencing of mutagenized cells and identified a cluster of amino acid substitutions in POLRMT that cause resistance to IMTs. We obtained a cryo-electron microscopy (cryo-EM) structure of POLRMT bound to an IMT, which further defined the allosteric binding site near the active centre cleft of POLRMT. The growth of cancer cells and the persistence of therapy-resistant cancer stem cells has previously been reported to depend on OXPHOS7,8,9,10,11,12,13,14,15,16,17, and we therefore investigated whether IMTs have anti-tumour effects. Four weeks of oral treatment with an IMT is well-tolerated in mice and does not cause OXPHOS dysfunction or toxicity in normal tissues, despite inducing a strong anti-tumour response in xenografts of human cancer cells. In summary, IMTs provide a potent and specific chemical biology tool to study the role of mtDNA expression in physiology and disease.
Access options
Subscribe to Journal
Get full journal access for 1 year
$199.00
only $3.90 per issue
All prices are NET prices.
VAT will be added later in the checkout.
Rent or Buy article
Get time limited or full article access on ReadCube.
from$8.99
All prices are NET prices.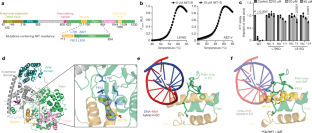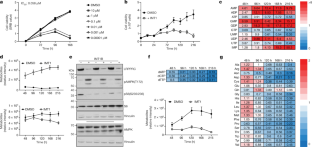 Data availability
All relevant data generated and analysed in this study are included in the Article. Uncropped gels are provided in Supplementary Fig. 1. Publicly available datasets used in this study are the human proteome database (UP000005640, UniProt) and POLRMT structures (PBD codes 5OLA and 4BOC). Further information and requests for unique reagents should be directed to the corresponding authors. Proteomics data and R scripts for analysis have been deposited in PRIDE with the dataset identifier PXD018426. The electron microscopy maps have been deposited with the Electron Microscopy Data Bank (accession code EMD-11679) and the structural model of POLRMT bound to IMT1B has been deposited in the PDB (accession code 7A8P). Source data are provided with this paper.
References
1.

Kühl, I. et al. POLRMT does not transcribe nuclear genes. Nature 514, E7–E11 (2014).

2.

Kühl, I. et al. Transcriptomic and proteomic landscape of mitochondrial dysfunction reveals secondary coenzyme Q deficiency in mammals. eLife 6, e30952 (2017).

3.

Kühl, I. et al. POLRMT regulates the switch between replication primer formation and gene expression of mammalian mtDNA. Sci. Adv. 2, e1600963 (2016).

4.

Posse, V. et al. The amino terminal extension of mammalian mitochondrial RNA polymerase ensures promoter specific transcription initiation. Nucleic Acids Res. 42, 3638–3647 (2014).

5.

Ringel, R. et al. Structure of human mitochondrial RNA polymerase. Nature 478, 269–273 (2011).

6.

Schwinghammer, K. et al. Structure of human mitochondrial RNA polymerase elongation complex. Nat. Struct. Mol. Biol. 20, 1298–1303 (2013).

7.

Birsoy, K. et al. Metabolic determinants of cancer cell sensitivity to glucose limitation and biguanides. Nature 508, 108–112 (2014).

8.

Bosc, C., Selak, M. A. & Sarry, J. E. Resistance is futile: targeting mitochondrial energetics and metabolism to overcome drug resistance in cancer treatment. Cell Metab. 26, 705–707 (2017).

9.

Funes, J. M. et al. Transformation of human mesenchymal stem cells increases their dependency on oxidative phosphorylation for energy production. Proc. Natl Acad. Sci. USA 104, 6223–6228 (2007).

10.

Kuntz, E. M. et al. Targeting mitochondrial oxidative phosphorylation eradicates therapy-resistant chronic myeloid leukemia stem cells. Nat. Med. 23, 1234–1240 (2017).

11.

Lee, J. et al. Effective breast cancer combination therapy targeting BACH1 and mitochondrial metabolism. Nature 568, 254–258 (2019).

12.

Shi, Y. et al. Gboxin is an oxidative phosphorylation inhibitor that targets glioblastoma. Nature 567, 341–346 (2019).

13.

Škrtić, M. et al. Inhibition of mitochondrial translation as a therapeutic strategy for human acute myeloid leukemia. Cancer Cell 20, 674–688 (2011).

14.

Vander Heiden, M. G. & DeBerardinis, R. J. Understanding the intersections between metabolism and cancer biology. Cell 168, 657–669 (2017).

15.

Viale, A. et al. Oncogene ablation-resistant pancreatic cancer cells depend on mitochondrial function. Nature 514, 628–632 (2014).

16.

Martínez-Reyes, I. et al. Mitochondrial ubiquinol oxidation is necessary for tumour growth. Nature 585, 288–292 (2020).

17.

Vasan, K., Werner, M. & Chandel, N. S. Mitochondrial metabolism as a target for cancer therapy. Cell Metab. 32, 341–352 (2020).

18.

Bergbrede, T., Hoberg, E., Larsson, N. G., Falkenberg, M. & Gustafsson, C. M. An adaptable high-throughput technology enabling the identification of specific transcription modulators. SLAS Discov. 22, 378–386 (2017).

19.

Horn, M. et al. Unbiased compound-protein interface mapping and prediction of chemoresistance loci through forward genetics in haploid stem cells. Oncotarget 9, 9838–9851 (2018).

20.

Hillen, H. S. et al. Mechanism of transcription anti-termination in human mitochondria. Cell 171, 1082–1093 (2017).

21.

Hillen, H. S., Morozov, Y. I., Sarfallah, A., Temiakov, D. & Cramer, P. Structural basis of mitochondrial transcription initiation. Cell 171, 1072–1081 (2017).

22.

Sriskanthadevan, S. et al. AML cells have low spare reserve capacity in their respiratory chain that renders them susceptible to oxidative metabolic stress. Blood 125, 2120–2130 (2015).

23.

Weinberg, F. et al. Mitochondrial metabolism and ROS generation are essential for Kras-mediated tumorigenicity. Proc. Natl Acad. Sci. USA 107, 8788–8793 (2010).

24.

Bralha, F. N. et al. Targeting mitochondrial RNA polymerase in acute myeloid leukemia. Oncotarget 6, 37216–37228 (2015).

25.

Wang, J. et al. Dilated cardiomyopathy and atrioventricular conduction blocks induced by heart-specific inactivation of mitochondrial DNA gene expression. Nat. Genet. 21, 133–137 (1999).

26.

Sörensen, L. et al. Late-onset corticohippocampal neurodepletion attributable to catastrophic failure of oxidative phosphorylation in MILON mice. J. Neurosci. 21, 8082–8090 (2001).

27.

Viader, A. et al. Schwann cell mitochondrial metabolism supports long-term axonal survival and peripheral nerve function. J. Neurosci. 31, 10128–10140 (2011).

28.

Wredenberg, A. et al. Increased mitochondrial mass in mitochondrial myopathy mice. Proc. Natl Acad. Sci. USA 99, 15066–15071 (2002).

29.

Larsson, N. G. et al. Mitochondrial transcription factor A is necessary for mtDNA maintenance and embryogenesis in mice. Nat. Genet. 18, 231–236 (1998).

30.

Hillen, H. S., Temiakov, D. & Cramer, P. Structural basis of mitochondrial transcription. Nat. Struct. Mol. Biol. 25, 754–765 (2018).

31.

Peter, B. et al. Defective mitochondrial protease LonP1 can cause classical mitochondrial disease. Hum. Mol. Genet. 27, 1743–1753 (2018).

32.

Falkenberg, M. et al. Mitochondrial transcription factors B1 and B2 activate transcription of human mtDNA. Nat. Genet. 31, 289–294 (2002).

33.

Morozov, Y. I. et al. A novel intermediate in transcription initiation by human mitochondrial RNA polymerase. Nucleic Acids Res. 42, 3884–3893 (2014).

34.

Vos, S. M., Farnung, L., Urlaub, H. & Cramer, P. Structure of paused transcription complex Pol II–DSIF–NELF. Nature 560, 601–606 (2018).

35.

Vos, S. M., Farnung, L., Linden, A., Urlaub, H. & Cramer, P. Structure of complete Pol II–DSIF–PAF–SPT6 transcription complex reveals RTF1 allosteric activation. Nat. Struct. Mol. Biol. 27, 668–677 (2020).

36.

Macao, B. et al. The exonuclease activity of DNA polymerase γ is required for ligation during mitochondrial DNA replication. Nat. Commun. 6, 7303 (2015).

37.

Tegunov, D. & Cramer, P. Real-time cryo-electron microscopy data preprocessing with Warp. Nat. Methods 16, 1146–1152 (2019).

38.

Punjani, A., Rubinstein, J. L., Fleet, D. J. & Brubaker, M. A. cryoSPARC: algorithms for rapid unsupervised cryo-EM structure determination. Nat. Methods 14, 290–296 (2017).

39.

Scheres, S. H. RELION: implementation of a Bayesian approach to cryo-EM structure determination. J. Struct. Biol. 180, 519–530 (2012).

40.

Tan, Y. Z. et al. Addressing preferred specimen orientation in single-particle cryo-EM through tilting. Nat. Methods 14, 793–796 (2017).

41.

Emsley, P., Lohkamp, B., Scott, W. G. & Cowtan, K. Features and development of Coot. Acta Crystallogr. D 66, 486–501 (2010).

42.

Adams, P. D. et al. PHENIX: a comprehensive Python-based system for macromolecular structure solution. Acta Crystallogr. D 66, 213–221 (2010).

43.

Ruzzenente, B. et al. LRPPRC is necessary for polyadenylation and coordination of translation of mitochondrial mRNAs. EMBO J. 31, 443–456 (2012).

44.

Kauppila, J. H. K. et al. Base-excision repair deficiency alone or combined with increased oxidative stress does not increase mtDNA point mutations in mice. Nucleic Acids Res. 46, 6642–6669 (2018).

45.

Busch, J. D. et al. MitoRibo-tag mice provide a tool for in vivo studies of mitoribosome composition. Cell Rep. 29, 1728–1738 (2019).

46.

Rappsilber, J., Ishihama, Y. & Mann, M. Stop and go extraction tips for matrix-assisted laser desorption/ionization, nanoelectrospray, and LC/MS sample pretreatment in proteomics. Anal. Chem. 75, 663–670 (2003).

47.

Cox, J. & Mann, M. MaxQuant enables high peptide identification rates, individualized p.p.b.-range mass accuracies and proteome-wide protein quantification. Nat. Biotechnol. 26, 1367–1372 (2008).

48.

Ritchie, M. E. et al. limma powers differential expression analyses for RNA-sequencing and microarray studies. Nucleic Acids Res. 43, e47 (2015).

49.

R Development Core Team. R: A Language and Environment for Statistical Computing (R Foundation for Statistical Computing, 2010).

50.

Perez-Riverol, Y. et al. The PRIDE database and related tools and resources in 2019: improving support for quantification data. Nucleic Acids Res. 47, D442–D450 (2019).

51.

Wong, J. M. et al. Benzoyl chloride derivatization with liquid chromatography-mass spectrometry for targeted metabolomics of neurochemicals in biological samples. J. Chromatogr. A 1446, 78–90 (2016).

52.

Schwaiger, M. et al. Anion-exchange chromatography coupled to high-resolution mass spectrometry: a powerful tool for merging targeted and non-targeted metabolomics. Anal. Chem. 89, 7667–7674 (2017).
Acknowledgements
This work was supported by the Max Planck Society, the Swedish Research Council (2015-00418 to N.-G.L., 2013-3621 to M.F., 2012-2583 to C.M.G.), Swedish Cancer Foundation (to M.F., C.M.G. and N.-G.L.), the Knut and Alice Wallenberg foundation (to M.F., C.M.G. and N.-G.L.), the Deutsche Forschungsgemeinschaft (SFB1218/A06 to N.-G.L.), European Research Council (Advanced Grant 2016-741366 to N.-G.L.) and grants from the Swedish state under the agreement between the Swedish government and the county councils, the ALF agreement to M.F. (ALFGBG-727491), C.M.G. (ALFGBG-728151) and N.-G.L. (SLL2018.0471). P.C. was supported by the Deutsche Forschungsgemeinschaft (SFB860, SPP1935), the European Research Council (advanced investigator grant TRANSREGULON, grant agreement no. 693023), the Volkswagen Foundation and Germany's Excellence Strategy (EXC 2067/1- 390729940). H.S.H. was supported by the Deutsche Forschungsgemeinschaft (FOR2848). We thank N. Hochhard and S. Miethe for technical assistance; M. del Pilar Miranda for assistance; T. Colby, A. Taha, Y. Hinze, S. Perin and C. Edlich-Muth for support; I. Ivanov at Oncolead for providing cell panel data; C. Dienemann for assistance with cryo-EM data collection and processing; and Y. Chen for providing purified RNA polymerase II.
Ethics declarations
Competing interests
The IMT compound intellectual property is published as WO 2019/057821 and has been licensed by the Max Planck Society and the Lead Discovery Center GmbH.
Additional information
Peer review information Nature thanks Navdeep Chandel, Angela Koehler and the other, anonymous, reviewer(s) for their contribution to the peer review of this work. Peer reviewer reports are available.
Publisher's note Springer Nature remains neutral with regard to jurisdictional claims in published maps and institutional affiliations.
Extended data figures and tables
Supplementary information
This file contains Supplementary Figure 1: Uncropped gels of Figures 1, 3–4 and Extended Data Figures 1–4, 6-8, Supplementary Methods: Detail description of the synthesis procedure and quality control for IMTs and Supplementary Tables 1-6.
About this article
Cite this article
Bonekamp, N.A., Peter, B., Hillen, H.S. et al. Small-molecule inhibitors of human mitochondrial DNA transcription. Nature 588, 712–716 (2020). https://doi.org/10.1038/s41586-020-03048-z
Received:

Accepted:

Published:

Issue Date:
Further reading
Nature Reviews Drug Discovery (2021)
Comments
By submitting a comment you agree to abide by our Terms and Community Guidelines. If you find something abusive or that does not comply with our terms or guidelines please flag it as inappropriate.