Abstract
Nuclear magnetic resonance (NMR) is a powerful method for determining the structure of molecules and proteins1. Whereas conventional NMR requires averaging over large ensembles, recent progress with single-spin quantum sensors2,3,4,5,6,7,8,9 has created the prospect of magnetic imaging of individual molecules10,11,12,13. As an initial step towards this goal, isolated nuclear spins and spin pairs have been mapped14,15,16,17,18,19,20,21. However, large clusters of interacting spins—such as those found in molecules—result in highly complex spectra. Imaging these complex systems is challenging because it requires high spectral resolution and efficient spatial reconstruction with sub-ångström precision. Here we realize such atomic-scale imaging using a single nitrogen vacancy centre as a quantum sensor, and demonstrate it on a model system of 27 coupled 13C nuclear spins in diamond. We present a multidimensional spectroscopy method that isolates individual nuclear–nuclear spin interactions with high spectral resolution (less than 80 millihertz) and high accuracy (2 millihertz). We show that these interactions encode the composition and inter-connectivity of the cluster, and develop methods to extract the three-dimensional structure of the cluster with sub-ångström resolution. Our results demonstrate a key capability towards magnetic imaging of individual molecules and other complex spin systems9,10,11,12,13.
Relevant articles
Open Access articles citing this article.
Domingo Olivares-Postigo

,

Federico Gorrini

…

Angelo Bifone

Nanoscale Research Letters Open Access 26 September 2022

M. H. Abobeih

,

Y. Wang

…

T. H. Taminiau

Nature Open Access 05 May 2022

Takaya Nakazato

,

Raustin Reyes

…

Hideo Kosaka

Communications Physics Open Access 27 April 2022
Access options
Subscribe to Nature+
Get immediate online access to the entire Nature family of 50+ journals
Subscribe to Journal
Get full journal access for 1 year
$199.00
only $3.90 per issue
All prices are NET prices.
VAT will be added later in the checkout.
Tax calculation will be finalised during checkout.
Buy article
Get time limited or full article access on ReadCube.
$32.00
All prices are NET prices.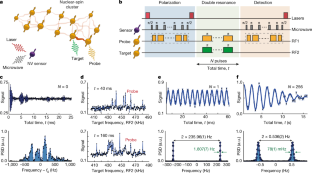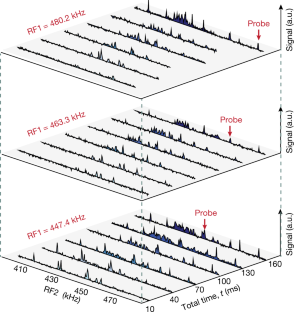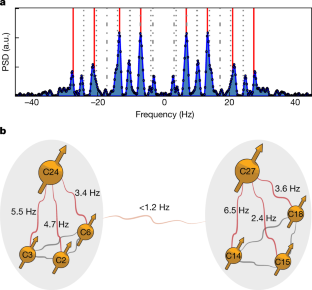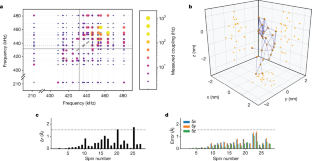 Data availability
The data that support the findings of this study are available from the corresponding author upon request.
References
Rule, G. S. & Hitchens, T. K. Fundamentals of Protein NMR Spectroscopy Vol. 5 (Springer Science & Business Media, 2006).

Mamin, H. et al. Nanoscale nuclear magnetic resonance with a nitrogen-vacancy spin sensor. Science 339, 557–560 (2013).

Staudacher, T. et al. Nuclear magnetic resonance spectroscopy on a (5-nanometer)3 sample volume. Science 339, 561–563 (2013).

Shi, F. et al. Single-protein spin resonance spectroscopy under ambient conditions. Science 347, 1135–1138 (2015).

Lovchinsky, I. et al. Nuclear magnetic resonance detection and spectroscopy of single proteins using quantum logic. Science 351, 836–841 (2016).

Aslam, N. et al. Nanoscale nuclear magnetic resonance with chemical resolution. Science 357, 67–71 (2017).

Glenn, D. R. et al. High-resolution magnetic resonance spectroscopy using a solid-state spin sensor. Nature 555, 351–354 (2018).

Smits, J. et al. Two-dimensional nuclear magnetic resonance spectroscopy with a microfluidic diamond quantum sensor. Sci. Adv. 5, eaaw7895 (2019).

Lovchinsky, I. et al. Magnetic resonance spectroscopy of an atomically thin material using a single-spin qubit. Science 355, 503–507 (2017).

Ajoy, A., Bissbort, U., Lukin, M. D., Walsworth, R. L. & Cappellaro, P. Atomic-scale nuclear spin imaging using quantum-assisted sensors in diamond. Phys. Rev. X 5, 011001 (2015).

Kost, M., Cai, J. & Plenio, M. B. Resolving single molecule structures with nitrogen-vacancy centers in diamond. Sci. Rep. 5, 11007 (2015).

Perunicic, V., Hill, C., Hall, L. & Hollenberg, L. A quantum spin-probe molecular microscope. Nat. Commun. 7, 12667 (2016).

Wang, Z.-Y., Haase, J. F., Casanova, J. & Plenio, M. B. Positioning nuclear spins in interacting clusters for quantum technologies and bioimaging. Phys. Rev. B 93, 174104 (2016).

Sushkov, A. et al. Magnetic resonance detection of individual proton spins using quantum reporters. Phys. Rev. Lett. 113, 197601 (2014).

Müller, C. et al. Nuclear magnetic resonance spectroscopy with single spin sensitivity. Nat. Commun. 5, 4703 (2014).

Shi, F. et al. Sensing and atomic-scale structure analysis of single nuclear-spin clusters in diamond. Nat. Phys. 10, 21–25 (2014).

Zopes, J. et al. Three-dimensional localization spectroscopy of individual nuclear spins with sub-angstrom resolution. Nat. Commun. 9, 4678 (2018).

Zopes, J., Herb, K., Cujia, K. S. & Degen, C. L. Three-dimensional nuclear spin positioning using coherent radio-frequency control. Phys. Rev. Lett. 121, 170801 (2018).

Sasaki, K., Itoh, K. M. & Abe, E. Determination of the position of a single nuclear spin from free nuclear precessions detected by a solid-state quantum sensor. Phys. Rev. B 98, 121405 (2018).

Abobeih, M. H. et al. One-second coherence for a single electron spin coupled to a multi-qubit nuclear-spin environment. Nat. Commun. 9, 2552 (2018).

Yang, Z. et al. Structural analysis of nuclear spin clusters via two-dimensional nanoscale nuclear magnetic resonance spectroscopy. Preprint at https://arxiv.org/abs/1902.05676v2 (2019).

Rosenfeld, E. L., Pham, L. M., Lukin, M. D. & Walsworth, R. L. Sensing coherent dynamics of electronic spin clusters in solids. Phys. Rev. Lett. 120, 243604 (2018).

Knowles, H. S., Kara, D. M. & Atatüre, M. Demonstration of a coherent electronic spin cluster in diamond. Phys. Rev. Lett. 117, 100802 (2016).

Cramer, J. et al. Repeated quantum error correction on a continuously encoded qubit by real-time feedback. Nat. Commun. 7, 11526 (2016).

Pfender, M. et al. High-resolution spectroscopy of single nuclear spins via sequential weak measurements. Nat. Commun. 10, 594 (2019).

Cujia, K., Boss, J., Herb, K., Zopes, J. & Degen, C. Tracking the precession of single nuclear spins by weak measurements. Nature 571, 230–233 (2019).

Slichter, C. Principles of Magnetic Resonance (Springer, 1996).

Bradley, C. E. et al. A ten-qubit solid-state spin register with quantum memory up to one minute. Phys. Rev. X 9, 031045 (2019).

Laraoui, A. et al. High-resolution correlation spectroscopy of 13C spins near a nitrogen-vacancy centre in diamond. Nat. Commun. 4, 1651 (2013).

Pfender, M. et al. Nonvolatile nuclear spin memory enables sensor-unlimited nanoscale spectroscopy of small spin clusters. Nat. Commun. 8, 834 (2017).

Maurer, P. C. et al. Room-temperature quantum bit memory exceeding one second. Science 336, 1283–1286 (2012).

Dutt, M. G. et al. Quantum register based on individual electronic and nuclear spin qubits in diamond. Science 316, 1312–1316 (2007).

Nizovtsev, A. P. et al. Non-flipping 13C spins near an NV center in diamond: hyperfine and spatial characteristics by density functional theory simulation of the C510[NV]H252 cluster. New J. Phys. 20, 023022 (2018).

Robledo, L. et al. High-fidelity projective read-out of a solid-state spin quantum register. Nature 477, 574–578 (2011).

Toyli, D. M., de las Casas, C. F., Christle, D. J., Dobrovitski, V. V. & Awschalom, D. D. Fluorescence thermometry enhanced by the quantum coherence of single spins in diamond. Proc. Natl Acad. Sci. USA 110, 8417–8421 (2013).

Taminiau, T. H. et al. Detection and control of individual nuclear spins using a weakly coupled electron spin. Phys. Rev. Lett. 109, 137602 (2012).

Kolkowitz, S., Unterreithmeier, Q. P., Bennett, S. D. & Lukin, M. D. Sensing distant nuclear spins with a single electron spin. Phys. Rev. Lett. 109, 137601 (2012).

Zhao, N. et al. Sensing single remote nuclear spins. Nat. Nanotechnol. 7, 657–662 (2012).

Boss, J. M., Cujia, K., Zopes, J. & Degen, C. L. Quantum sensing with arbitrary frequency resolution. Science 356, 837–840 (2017).

Schmitt, S. et al. Submillihertz magnetic spectroscopy performed with a nanoscale quantum sensor. Science 356, 832–837 (2017).

Laraoui, A., Pagliero, D. & Meriles, C. A. Imaging nuclear spins weakly coupled to a probe paramagnetic center. Phys. Rev. B 91, 205410 (2015).

Gullion, T., Baker, D. B. & Conradi, M. S. New, compensated Carr–Purcell sequences. J. Magn. Reson. 89, 479–484 (1990).

Warren, W. S. Effects of arbitrary laser or NMR pulse shapes on population inversion and coherence. J. Chem. Phys. 81, 5437–5448 (1984).

Zhao, N., Hu, J.-L., Ho, S.-W., Wan, J. T. K. & Liu, R. B. Atomic-scale magnetometry of distant nuclear spin clusters via nitrogen-vacancy spin in diamond. Nat. Nanotechnol. 6, 242–246 (2011).
Acknowledgements
We thank V. V. Dobrovitski, T. van der Sar, W. Hahn, M. Scheer and R. Zia for valuable discussions. We thank R. F. L. Vermeulen and R. N. Schouten for assistance with the RF electronics, and M. Eschen for assistance with the experimental setup. We acknowledge support from the Netherlands Organisation for Scientific Research (NWO/OCW) through a Vidi grant, as part of the Frontiers of Nanoscience (NanoFront) programme and as part of the Quantum Software Consortium programme (project number 024.003.037/3368).
Ethics declarations
Competing interests
The authors declare no competing interests.
Additional information
Peer review information Nature thanks Nir Bar-Gill, Vidya Praveen Bhallamudi and the other, anonymous, reviewer(s) for their contribution to the peer review of this work.
Extended data figures and tables
Supplementary information
This file contains additional details of the methods used in the paper, including supplementary discussion and derivations. In addition, it includes six supplementary figures and five supplementary tables, which summarize the experimental parameters used, nuclear spin properties, measured coupling strengths and obtained spatial coordinates of the spins in the cluster.
About this article
Cite this article
Abobeih, M.H., Randall, J., Bradley, C.E. et al. Atomic-scale imaging of a 27-nuclear-spin cluster using a quantum sensor. Nature 576, 411–415 (2019). https://doi.org/10.1038/s41586-019-1834-7
Received:

Accepted:

Published:

Issue Date:

DOI: https://doi.org/10.1038/s41586-019-1834-7
Comments
By submitting a comment you agree to abide by our Terms and Community Guidelines. If you find something abusive or that does not comply with our terms or guidelines please flag it as inappropriate.