Abstract
Multiplexed RNA sequencing in individual cells is transforming basic and clinical life sciences1,2,3,4. Often, however, tissues must first be dissociated, and crucial information about spatial relationships and communication between cells is thus lost. Existing approaches to reconstruct tissues assign spatial positions to each cell, independently of other cells, by using spatial patterns of expression of marker genes5,6—which often do not exist. Here we reconstruct spatial positions with little or no prior knowledge, by searching for spatial arrangements of sequenced cells in which nearby cells have transcriptional profiles that are often (but not always) more similar than cells that are farther apart. We formulate this task as a generalized optimal-transport problem for probabilistic embedding and derive an efficient iterative algorithm to solve it. We reconstruct the spatial expression of genes in mammalian liver and intestinal epithelium, fly and zebrafish embryos, sections from the mammalian cerebellum and whole kidney, and use the reconstructed tissues to identify genes that are spatially informative. Thus, we identify an organization principle for the spatial expression of genes in animal tissues, which can be exploited to infer meaningful probabilities of spatial position for individual cells. Our framework ('novoSpaRc') can incorporate prior spatial information and is compatible with any single-cell technology. Additional principles that underlie the cartography of gene expression can be tested using our approach.
Relevant articles
Open Access articles citing this article.
Zixuan Cang

,

Yanxiang Zhao

…

Qing Nie

Nature Methods Open Access 23 January 2023

Enric Llorens-Bobadilla

,

Margherita Zamboni

…

Patrik L. Ståhl

Nature Biotechnology Open Access 05 January 2023

Zhiyuan Yuan

,

Yisi Li

…

Michael Q. Zhang

Nature Communications Open Access 28 November 2022
Access options
Subscribe to Nature+
Get immediate online access to Nature and 55 other Nature journal
Subscribe to Journal
Get full journal access for 1 year
$199.00
only $3.90 per issue
All prices are NET prices.
VAT will be added later in the checkout.
Tax calculation will be finalised during checkout.
Buy article
Get time limited or full article access on ReadCube.
$32.00
All prices are NET prices.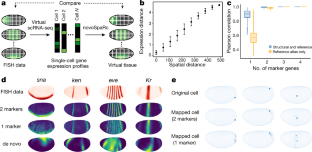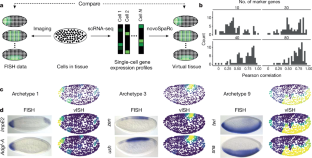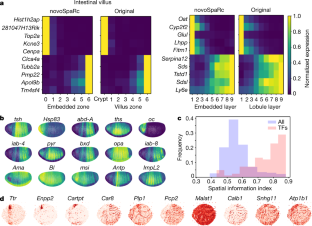 Data availability
The scRNA-seq datasets were acquired from the Gene Expression Omnibus (GEO) database with the following accession numbers: GSE99457 for the intestinal epithelium10, GSE84490 for the liver7, GSE95025 for the Drosophila embryo12, GSE66688 for the zebrafish embryo5 and GSE107585 for the kidney24. The cerebellum Slide-seq datasets23 were acquired from the Broad Institute Single Cell Portal (https://portals.broadinstitute.org/single_cell/study/slide-seq-study). The individual Drosophila embryos dataset22 is available as a supplementary information file of the original manuscript22. The BDTNP dataset was downloaded directly from the BDTNP webpage13.
References
Shapiro, E., Biezuner, T. & Linnarsson, S. Single-cell sequencing-based technologies will revolutionize whole-organism science. Nat. Rev. Genet. 14, 618–630 (2013).

Wagner, A., Regev, A. & Yosef, N. Revealing the vectors of cellular identity with single-cell genomics. Nat. Biotechnol. 34, 1145–1160 (2016).

Altschuler, S. J. & Wu, L. F. Cellular heterogeneity: do differences make a difference? Cell 141, 559–563 (2010).

Kolodziejczyk, A. A., Kim, J. K., Svensson, V., Marioni, J. C. & Teichmann, S. A. The technology and biology of single-cell RNA sequencing. Mol. Cell 58, 610–620 (2015).

Satija, R., Farrell, J. A., Gennert, D., Schier, A. F. & Regev, A. Spatial reconstruction of single-cell gene expression data. Nat. Biotechnol. 33, 495–502 (2015).

Achim, K. et al. High-throughput spatial mapping of single-cell RNA-seq data to tissue of origin. Nat. Biotechnol. 33, 503–509 (2015).

Halpern, K. B. et al. Single-cell spatial reconstruction reveals global division of labour in the mammalian liver. Nature 542, 352–356 (2017).

Durruthy-Durruthy, R. et al. Reconstruction of the mouse otocyst and early neuroblast lineage at single-cell resolution. Cell 157, 964–978 (2014).

Waldhaus, J., Durruthy-Durruthy, R. & Heller, S. Quantitative high-resolution cellular map of the organ of Corti. Cell Rep. 11, 1385–1399 (2015).

Moor, A. E., et al., Spatial reconstruction of single enterocytes uncovers broad zonation along the intestinal villus axis. Cell 175, 1156–1167 (2018).

Habib, N. et al. Div-Seq: Single-nucleus RNA-seq reveals dynamics of rare adult newborn neurons. Science 353, 925–928 (2016).

Karaiskos, N. et al. The Drosophila embryo at single-cell transcriptome resolution. Science 358, 194–199 (2017).

Berkeley Drosophila Transcription Network Project. http://bdtnp.lbl.gov:8080/Fly-Net/.

Monge, G. Mémoire sur la théorie des déblais et des remblais. Historie de l'Academie Royale des Sciences de Paris 1781, 666–704 (1781).

Villani, C. Topics in Optimal Transportation (American Mathematical Society, 2003).

Villani, C. Optimal Transport: Old and New Vol. 338 (Springer, 2008).

Schiebinger, G. et al. Optimal-transport analysis of single-cell gene expression identifies developmental trajectories in reprogramming. Cell 176, 928–943 (2019).

Forrow, A. et al. Statistical optimal transport via geodesic hubs. Preprint at https://arxiv.org/abs/1806.07348 (2018).If ref. 18 (preprint) has now been published in final peer-reviewed form, please update the reference details if appropriate.

Mémoli, F., On the use of Gromov–Hausdorff distances for shape comparison. In Eurographics Symposium on Point-Based Graphics (eds Botsch, M. & Pajarola, R.) (Eurographics Association, 2007).

Peyré, G., Cuturi, M. & Solomon, J. Gromov–Wasserstein averaging of kernel and distance matrices. In Proc. 33rd International Conference on Machine Learning (Journal of Machine Learning Research, 2016).

Cuturi, M. Sinkhorn distances: lightspeed computation of optimal transport. In Advances in Neural Information Processing Systems 26 (eds Burges, et al.) (NIPS, 2013).

Petkova, M. D., Tkačik, G., Bialek, W., Wieschaus, E. F. & Gregor, T. Optimal decoding of cellular identities in a genetic network. Cell 176, 844–855 (2019).

Rodriques, S. G. et al. Slide-seq: A scalable technology for measuring genome-wide expression at high spatial resolution. Science 363, 1463–1467 (2019).

Park, J. et al. Single-cell transcriptomics of the mouse kidney reveals potential cellular targets of kidney disease. Science 360, 758–763 (2018).

Eden, E., Navon, R., Steinfeld, I., Lipson, D. & Yakhini, Z. GOrilla: a tool for discovery and visualization of enriched GO terms in ranked gene lists. BMC Bioinformatics 10, 48 (2009).

Nüsslein-Volhard, C. & Wieschaus, E. Mutations affecting segment number and polarity in Drosophila. Nature 287, 795–801 (1980).

Rey, S. J. & Anselin, L. in Handbook of Applied Spatial Analysis (eds Fischer, M. & Getis, A.) 175–193 (Springer, 2010).

Tomancak, P. et al. Global analysis of patterns of gene expression during Drosophila embryogenesis. Genome Biol. 8, R145 (2007).
Acknowledgements
We thank A. Murray, A. Regev, T. Gregor, P. Rigollet, all members of our labs and many colleagues in the field for valuable comments and discussions. We thank L. Friedman for help with graphic design and illustration. This work was supported by the Israeli Science Foundation, through the I-CORE program (N.F.) and an Alexander von Humboldt Foundation Research Award (N.F.). N.K. was supported by grants DFG/GZ (Geschäftszeichen): RA 838/8-2 and DFG/GZ: KA 5006/1-1; and HGF Neurocure/GZ 0036-Phase 2-3. M.N. was supported by the James S. McDonnell Foundation, Schmidt Futures, the Israel Council for Higher Education and the John Harvard Distinguished Science Fellows Program within the FAS Division of Science of Harvard University. N.R. thanks Anna-Carina for useful discussions.
Ethics declarations
Competing interests
The authors declare no competing interests.
Additional information
Publisher's note Springer Nature remains neutral with regard to jurisdictional claims in published maps and institutional affiliations.
Peer review information Nature thanks Eileen Furlong and the other, anonymous, reviewer(s) for their contribution to the peer review of this work.
Extended data figures and tables
Supplementary information
This file contains Supplementary Methods, a Supplementary Discussion, Supplementary Tables 1-2 and Supplementary References.
This file contains 8 Supplementary Data files and a Supplementary Data guide.
About this article
Cite this article
Nitzan, M., Karaiskos, N., Friedman, N. et al. Gene expression cartography. Nature 576, 132–137 (2019). https://doi.org/10.1038/s41586-019-1773-3
Received:

Accepted:

Published:

Issue Date:

DOI: https://doi.org/10.1038/s41586-019-1773-3
Comments
By submitting a comment you agree to abide by our Terms and Community Guidelines. If you find something abusive or that does not comply with our terms or guidelines please flag it as inappropriate.