Abstract
Inorganic materials have essential roles in society, including in building construction, optical devices, mechanical engineering and as biomaterials1,2,3,4. However, the manufacture of inorganic materials is limited by classical crystallization5, which often produces powders rather than monoliths with continuous structures. Several precursors that enable non-classical crystallization—such as pre-nucleation clusters6,7,8, dense liquid droplets9,10, polymer-induced liquid precursor phases11,12,13 and nanoparticles14—have been proposed to improve the construction of inorganic materials, but the large-scale application of these precursors in monolith preparations is limited by availability and by practical considerations. Inspired by the processability of polymeric materials that can be manufactured by crosslinking monomers or oligomers15, here we demonstrate the construction of continuously structured inorganic materials by crosslinking ionic oligomers. Using calcium carbonate as a model, we obtain a large quantity of its oligomers (CaCO3)n with controllable molecular weights, in which triethylamine acts as a capping agent to stabilize the oligomers. The removal of triethylamine initiates crosslinking of the (CaCO3)n oligomers, and thus the rapid construction of pure monolithic calcium carbonate and even single crystals with a continuous internal structure. The fluid-like behaviour of the oligomer precursor enables it to be readily processed or moulded into shapes, even for materials with structural complexity and variable morphologies. The material construction strategy that we introduce here arises from a fusion of classic inorganic and polymer chemistry, and uses the same cross-linking process for the manufacture the materials.
Relevant articles
Open Access articles citing this article.
Wenwen Wang

,

Shuzhe Wang

…

Shidong Ji

Heritage Science Open Access 20 October 2022

Liang Dong

,

Yun-Jun Xu

…

Shu-Hong Yu

Nature Communications Open Access 29 August 2022

Simon M. Clark

,

Bruno Colas

…

Stephan E. Wolf

Scientific Reports Open Access 27 April 2022
Access options
Subscribe to Nature+
Get immediate online access to Nature and 55 other Nature journal
Subscribe to Journal
Get full journal access for 1 year
$199.00
only $3.90 per issue
All prices are NET prices.
VAT will be added later in the checkout.
Tax calculation will be finalised during checkout.
Buy article
Get time limited or full article access on ReadCube.
$32.00
All prices are NET prices.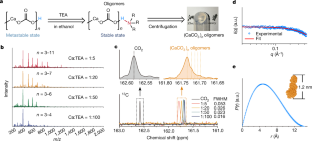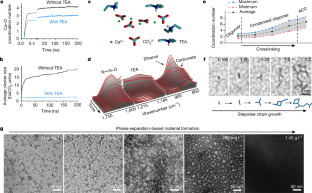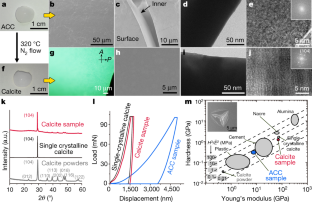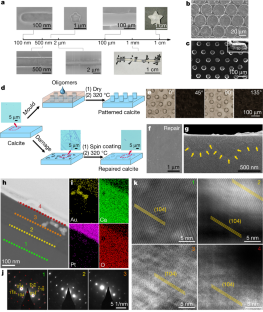 Data availability
The data that support the findings of this study are available from the corresponding author upon reasonable request.
References
Meyers, M. A., Chen, P. Y., Lin, A. Y. M. & Seki, Y. Biological materials: structure and mechanical properties. Prog. Mater. Sci. 53, 1–206 (2008).

Riley, F. L. Silicon nitride and related materials. J. Am. Ceram. Soc. 83, 245–265 (2000).

Xu, H. H. K. et al. Calcium phosphate cements for bone engineering and their biological properties. Bone Res. 5, 17056 (2017).

Hu, C. L. & Li, Z. J. A review on the mechanical properties of cement-based materials measured by nanoindentation. Constr. Build. Mater. 90, 80–90 (2015).

Thanh, N. T. K., Maclean, N. & Mahiddine, S. Mechanisms of nucleation and growth of nanoparticles in solution. Chem. Rev. 114, 7610–7630 (2014).

Gebauer, D., Kellermeier, M., Gale, J. D., Bergstrom, L. & Colfen, H. Pre-nucleation clusters as solute precursors in crystallisation. Chem. Soc. Rev. 43, 2348–2371 (2014).

Gebauer, D., Volkel, A. & Colfen, H. Stable prenucleation calcium carbonate clusters. Science 322, 1819–1822 (2008).

Kellermeier, M. et al. Colloidal stabilization of calcium carbonate prenucleation clusters with silica. Adv. Funct. Mater. 22, 4301–4311 (2012).

Wolf, S. E. et al. Carbonate-coordinated metal complexes precede the formation of liquid amorphous mineral emulsions of divalent metal carbonates. Nanoscale 3, 1158–1165 (2011).

Smeets, P. J. M. et al. A classical view on nonclassical nucleation. Proc. Natl Acad. Sci. USA 114, E7882–E7890 (2017).

Gower, L. B. & Odom, D. J. Deposition of calcium carbonate films by a polymer-induced liquid-precursor (PILP) process. J. Cryst. Growth 210, 719–734 (2000).

Cheng, X. G. & Gower, L. B. Molding mineral within microporous hydrogels by a polymer-induced liquid-precursor (PILP) process. Biotechnol. Prog. 22, 141–149 (2006).

Wolf, S. E. et al. Strong stabilization of amorphous calcium carbonate emulsion by ovalbumin: gaining insight into the mechanism of 'polymer-induced liquid precursor' processes. J. Am. Chem. Soc. 133, 12642–12649 (2011).

De Yoreo, J. J. et al. Crystallization by particle attachment in synthetic, biogenic, and geologic environments. Science 349, aaa6760 (2015).

Koltzenburg, S., Maskos, M. & Nuyken, O. (eds) Polymer Chemistry Ch. 14 (Springer, 2017).

Lewis, J. A. Colloidal processing of ceramics. J. Am. Ceram. Soc. 83, 2341–2359 (2000).

Eckel, Z. C. et al. Additive manufacturing of polymer-derived ceramics. Science 351, 58–62 (2016).

Liu, H. L., Gong, Q. H., Yue, Y. H., Guo, L. & Wang, X. Sub-1 nm nanowire based superlattice showing high strength and low modulus. J. Am. Chem. Soc. 139, 8579–8585 (2017).

Truby, R. L. & Lewis, J. A. Printing soft matter in three dimensions. Nature 540, 371–378 (2016).

Feinle, A., Elsaesser, M. S. & Husing, N. Sol-gel synthesis of monolithic materials with hierarchical porosity. Chem. Soc. Rev. 45, 3377–3399 (2016).

Caminade, A. M., Hey-Hawkins, E. & Manners, I. Smart inorganic polymers. Chem. Soc. Rev. 45, 5144–5146 (2016).

Drake, K., Mukherjee, I., Mirza, K., Ji, H. F. & Wei, Y. Phenylethynyl and phenol end-capping studies of polybiphenyloxydiphenylsilanes for cross-linking and enhanced thermal stability. Macromolecules 44, 4107–4115 (2011).

Sautter, A., Thalacker, C., Heise, B. & Wurthner, F. Hydrogen bond-directed aggregation of diazadibenzoperylene dyes in low-polarity solvents and the solid state. Proc. Natl Acad. Sci. USA 99, 4993–4996 (2002).

Liu, Z. M. et al. Ionization controls for biomineralization-inspired CO2 chemical looping at constant room temperature. Phys. Chem. Chem. Phys. 17, 10080–10085 (2015).

Franke, D. & Svergun, D. I. DAMMIF, a program for rapid ab-initio shape determination in small-angle scattering. J. Appl. Crystallogr. 42, 342–346 (2009).

Demichelis, R., Raiteri, P., Gale, J. D., Quigley, D. & Gebauer, D. Stable prenucleation mineral clusters are liquid-like ionic polymers. Nat. Commun. 2, 590 (2011).

Michel, F. M. et al. Structural characteristics of synthetic amorphous calcium carbonate. Chem. Mater. 20, 4720–4728 (2008).

Weaver, J. C. et al. Analysis of an ultra hard magnetic biomineral in chiton radular teeth. Mater. Today 13, 42–52 (2010).

Broz, M. E., Cook, R. F. & Whitney, D. L. Microhardness, toughness, and modulus of Mohs scale minerals. Am. Mineral. 91, 135–142 (2006).

Hirano, S., Yogo, T. & Kikuta, K. Synthetic calcite single-crystals for optical-device. Prog. Cryst. Growth Charact. Mater. 23, 341–367 (1992).

Nielsen, S. S. et al. BioXTAS RAW, a software program for high-throughput automated small-angle X-ray scattering data reduction and preliminary analysis. J. Appl. Crystallogr. 42, 959–964 (2009).

Franke, D. et al. ATSAS 2.8: a comprehensive data analysis suite for small-angle scattering from macromolecular solutions. J. Appl. Crystallogr. 50, 1212–1225 (2017).

Juhás, P., Davis, T., Farrow, C. L. & Billinge, S. J. L. PDFgetX3: a rapid and highly automatable program for processing powder diffraction data into total scattering pair distribution functions. J. Appl. Crystallogr. 46, 560–566 (2013).

Van Der Spoel, D. et al. GROMACS: fast, flexible, and free. J. Comput. Chem. 26, 1701–1718 (2005).

Van der Spoel, D. et al. Gromacs User Manual version 4.5 (2010).

Humphrey, W., Dalke, A. & Schulten, K. VMD: visual molecular dynamics. J. Mol. Graph. 14, 33–38 (1996).

Berendsen, H. J., Postma, J. V., van Gunsteren, W. F., DiNola, A. & Haak, J. Molecular dynamics with coupling to an external bath. J. Chem. Phys. 81, 3684–3690 (1984).

Darden, T., York, D. & Pedersen, L. Particle mesh Ewald: an N·log(N) method for Ewald sums in large systems. J. Chem. Phys. 98, 10089–10092 (1993).

Shen, J. W., Li, C., van der Vegt, N. F. & Peter, C. Understanding the control of mineralization by polyelectrolyte additives: simulation of preferential binding to calcite surfaces. J. Phys. Chem. C 117, 6904–6913 (2013).

Raiteri, P., Gale, J. D., Quigley, D. & Rodger, P. M. Derivation of an accurate force-field for simulating the growth of calcium carbonate from aqueous solution: a new model for the calcite−water interface. J. Phys. Chem. C 114, 5997–6010 (2010).

Jorgensen, W. L. & Tiradorives, J. The Opls potential functions for proteins. Energy minimizations for crystals of cyclic peptides and crambin. J. Am. Chem. Soc. 110, 1657–1666 (1988).

Nielsen, M. H., Aloni, S. & De Yoreo, J. J. In situ TEM imaging of CaCO3 nucleation reveals coexistence of direct and indirect pathways. Science 345, 1158–1162 (2014).

Smeets, P. J., Cho, K. R., Kempen, R. G., Sommerdijk, N. A. & De Yoreo, J. J. Calcium carbonate nucleation driven by ion binding in a biomimetic matrix revealed by in situ electron microscopy. Nat. Mater. 14, 394–399 (2015).

Brinker, C. J. & Scherer, G. W. Sol-gel-glass. 1. Gelation and gel structure. J. Non-Cryst. Solids 70, 301–322 (1985).

Oshida, K. et al. Analysis of pore structure of activated carbon-fibers using high-resolution transmission electron-microscopy and image-processing. J. Mater. Res. 10, 2507–2517 (1995).

Ihli, J., Kulak, A. N. & Meldrum, F. C. Freeze-drying yields stable and pure amorphous calcium carbonate (ACC). Chem. Commun. 49, 3134–3136 (2013).

Konrad, F., Gallien, F., Gerard, D. E. & Dietzel, M. Transformation of amorphous calcium carbonate in air. Cryst. Growth Des. 16, 6310–6317 (2016).

Ihli, J. et al. Dehydration and crystallization of amorphous calcium carbonate in solution and in air. Nat. Commun. 5, 3169 (2014).

Xu, X., Han, J. T., Kim, D. H. & Cho, K. Two modes of transformation of amorphous calcium carbonate films in air. J. Phys. Chem. B 110, 2764–2770 (2006).

Tao, J. H., Zhou, D. M., Zhang, Z. S., Xu, X. R. & Tang, R. K. Magnesium-aspartate-based crystallization switch inspired from shell molt of crustacean. Proc. Natl Acad. Sci. USA 106, 22096–22101 (2009).

Kim, Y. Y. et al. An artificial biomineral formed by incorporation of copolymer micelles in calcite crystals. Nat. Mater. 10, 890–896 (2011).

Sánchez-Iglesias, A. et al. High-yield seeded growth of monodisperse pentatwinned gold nanoparticles through thermally induced seed twinning. J. Am. Chem. Soc. 139, 107–110 (2017).

Politi, Y., Arad, T., Klein, E., Weiner, S. & Addadi, L. Sea urchin spine calcite forms via a transient amorphous calcium carbonate phase. Science 306, 1161–1164 (2004).

Li, L. et al. Bio-inspired enamel repair via Glu-directed assembly of apatite nanoparticles: an approach to biomaterials with optimal characteristics. Adv. Mater. 23, 4695–4701 (2011).

Koeppe, B. et al. Polar solvent fluctuations drive proton transfer in hydrogen bonded complexes of carboxylic acid with pyridines: NMR, IR and ab initio MD study. Phys. Chem. Chem. Phys. 19, 1010–1028 (2017).

Shawoosh, A. S. & Kutub, A. A. An investigation of the electrical, optical and DSC properties of a copper phosphate-glass composition. J. Mater. Sci. 28, 5060–5064 (1993).
Acknowledgements
We thank J. J. De Yoreo, H. Cölfen, P. Fratzl, N. A. J. M. Sommerdijk, D. Joester and L. B. Gower for discussions; Y. Li and Y. Qiu for help with SAXS data analysis; C. Yang and B. Wang for assistance with synchrotron SAXS at the Shanghai Synchrotron Radiation Facility; C. Jin, F. Chen, W. Wang and Y. Wang for assistance with electron microscopy; J. Liu for assistance with XRD; and M. Yu and Y. Liu for assistance with NMR. This work was supported by the National Natural Science Foundation of China (21625105 and 21805241) and the China Postdoctoral Science Foundation (2017M621909 and 2018T110585). We thank W. Liu for his help and inspiration.
Ethics declarations
Competing interests
The authors declare no competing interests.
Additional information
Publisher's note Springer Nature remains neutral with regard to jurisdictional claims in published maps and institutional affiliations.
Peer review information Nature thanks Kazuo Onuma and the other, anonymous, reviewer(s) for their contribution to the peer review of this work.
Extended data figures and tables
About this article
Cite this article
Liu, Z., Shao, C., Jin, B. et al. Crosslinking ionic oligomers as conformable precursors to calcium carbonate. Nature 574, 394–398 (2019). https://doi.org/10.1038/s41586-019-1645-x
Received:

Accepted:

Published:

Issue Date:

DOI: https://doi.org/10.1038/s41586-019-1645-x
Comments
By submitting a comment you agree to abide by our Terms and Community Guidelines. If you find something abusive or that does not comply with our terms or guidelines please flag it as inappropriate.