Abstract
A fossil hominin cranium was discovered in mid-Pliocene deltaic strata in the Godaya Valley of the northwestern Woranso-Mille study area in Ethiopia. Here we show that analyses of chemically correlated volcanic layers and the palaeomagnetic stratigraphy, combined with Bayesian modelling of dated tuffs, yield an age range of 3.804 ± 0.013 to 3.777 ± 0.014 million years old (mean ± 1σ) for the deltaic strata and the fossils that they contain. We also document deposits of a perennial lake beneath the deltaic sequence. Mammalian fossils associated with the cranium represent taxa that were widespread at the time and data from botanical remains indicate that the vegetation in the lake and delta catchment was predominantly dry shrubland with varying proportions of grassland, wetland and riparian forest. In addition, we report high rates of sediment accumulation and depositional features that are typical of a steep topographic relief and differ from younger Woranso-Mille fossil localities, reflecting the influence of active rift processes on the palaeolandscape.
Access options
Access options
Subscribe to Journal
Get full journal access for 1 year
$199.00
only $3.90 per issue
All prices are NET prices.
VAT will be added later in the checkout.
Rent or Buy article
Get time limited or full article access on ReadCube.
from$8.99
All prices are NET prices.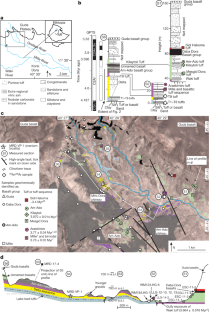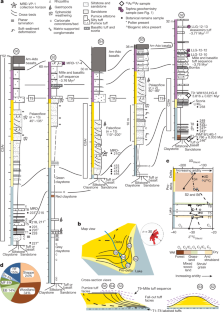 Data availability
Any data supporting the findings of this study that are not included in the paper and Supplementary Information are available from the corresponding author upon reasonable request.
Code availability
A data analysis version of the 40Ar/39Ar dating software is available at no cost from A.D. (adeino@bgc.org). The Bayesian age–stratigraphic analysis model is available at https://github.com/brenhinkeller.
References
1.

Deino, A. L. et al. 40Ar/39Ar dating, paleomagnetism, and tephrochemistry of Pliocene strata of the hominid-bearing Woranso-Mille area, west-central Afar Rift, Ethiopia. J. Hum. Evol. 58, 111–126 (2010).

2.

Haile-Selassie, Y. et al. An early Australopithecus afarensis postcranium from Woranso-Mille, Ethiopia. Proc. Natl Acad. Sci. USA 107, 12121–12126 (2010).

3.

Haile-Selassie, Y. et al. A new hominin foot from Ethiopia shows multiple Pliocene bipedal adaptations. Nature 483, 565–569 (2012).

4.

Haile-Selassie, Y. et al. New species from Ethiopia further expands Middle Pliocene hominin diversity. Nature 521, 483–488 (2015).

5.

Haile-Selassie, Y. et al. Dentognathic remains of Australopithecus afarensis from Nefuraytu (Woranso-Mille, Ethiopia): comparative description, geology, and paleoecological context. J. Hum. Evol. 100, 35–53 (2016).

6.

Haile-Selassie, Y., Saylor, B. Z., Deino, A., Alene, M. & Latimer, B. M. New hominid fossils from Woranso-Mille (Central Afar, Ethiopia) and taxonomy of early Australopithecus. Am. J. Phys. Anthropol. 141, 406–417 (2010).

7.

Haile-Selassie, Y. et al. A 3.8-million-year-old hominin cranium from Woranso-Mille, Ethiopia. Nature https://doi.org/10.1038/s41586-019-1513-8 (2019).

8.

Taieb, M., Johanson, D. C., Coppens, Y. & Aronson, J. L. Geological and palaeontological background of Hadar hominid site, Afar, Ethiopia. Nature 260, 289–293 (1976).

9.

Campisano, C. J. & Feibel, C. S. in The Geology of Early Humans in the Horn of Africa Vol. 446 (eds Quade, J. &Wynn, J.) 179–201 (Geological Society of America, 2008).

10.

Wynn, J. G. et al. in The Geology of Early Humans in the Horn of Africa Vol. 446 (eds Quade, J. & Wynn, J.) 87–118 (Geological Society of America, 2008).

11.

Renne, P. R., WoldeGabriel, G., Hart, W. K., Heiken, G. & White, T. D. Chronostratigraphy of the Miocene–Pliocene Sagantole Formation, Middle Awash Valley, Afar rift, Ethiopia. Geol. Soc. Am. Bull. 111, 869–885 (1999).

12.

White, T. D. et al. Asa Issie, Aramis and the origin of Australopithecus. Nature 440, 883–889 (2006).

13.

Quade, J. et al. in The Geology of Early Humans in the Horn of Africa Vol. 446 (eds Quade, J. & Wynn, J.) 1–31 (Geological Society of America, 2008).

14.

Asfaw, B. The Belohdelie frontal: new evidence of early hominid cranial morphology from the Afar of Ethiopia. J. Hum. Evol. 16, 611–624 (1987).

15.

White, T. D. et al. New discoveries of Australopithecus at Maka in Ethiopia. Nature 366, 261–265 (1993).

16.

Leakey, M. G., Feibel, C. S., McDougall, I. & Walker, A. New four-million-year-old hominid species from Kanapoi and Allia Bay, Kenya. Nature 376, 565–571 (1995).

17.

Leakey, M. G., Feibel, C. S., McDougall, I., Ward, C. & Walker, A. New specimens and confirmation of an early age for Australopithecus anamensis. Nature 393, 62–66 (1998).

18.

Deino, A. in Paleontology and Geology of Laetoli: Human Evolution in Context Vol. 1 (ed. Harrison, T.) 77–97 (Springer, 2011).

19.

Fleagle, J. G., Rasmussen, D. T., Yirga, S., Bown, T. M. & Grine, F. E. New hominid fossils from Fejej, southern Ethiopia. J. Hum. Evol. 21, 145–152 (1991).

20.

Kappelman, J. et al. Age of Australopithecus afarensis from Fejej, Ethiopia. J. Hum. Evol. 30, 139–146 (1996).

21.

Alene, M. et al. Geochemistry of Woranso-Mille Pliocene basalts from west-central Afar, Ethiopia: implications for mantle source characteristics and rift evolution. Lithos 282–283, 187–200 (2017).

22.

Saylor, B. Z. et al. Tephrostratigraphy of the Waki-Mille area of the Woranso-Mille paleoanthropological research project, Afar, Ethiopia. J. Hum. Evol. 93, 25–45 (2016).

23.

Walter, R. C. & Aronson, J. L. Age and source of the Sidi Hakoma Tuff, Hadar Formation, Ethiopia. J. Hum. Evol. 25, 229–240 (1993).

24.

Lourens, L., Hilgen, F., Laskar, J. & Wilson, D. S. in A Geological Time Scale (eds Gradstein, F. M. et al.) 409–440 (Cambridge Univ. Press, 2004).

25.

Saylor, B. Z. et al. in The Postcranial Anatomy of Australopithecus afarensis (eds Haile-Selassie, Y. & Su, D.) 13–23 (Springer, 2016).

26.

Middleton, G. V. & Hampton, M. A. in Marine Sediment Transport and Environmental Management Ch. 11 (eds Stanley, D. J. & Swift, P.) 197–218 (Wiley, 1976).

27.

Elliot, T. in Sedimentary Environments and Facies (ed. Reading, H. G.) 113–154 (Blackwell Scientific, 1986).

28.

Prospero, J. M. et al. Environmental characterization of global sources of atmospheric soil dust identified with the NIMBUS 7 Total Ozone Mapping Spectrometer (TOMS) absorbing aerosol product. Rev. Geophys. 40, 1002 (2002).

29.

Liddy, H. M., Feakins, S. J. & Tierney, J. E. Cooling and drying in northeast Africa across the Pliocene. Earth Planet. Sci. Lett. 449, 430–438 (2016).

30.

Bonnefille, R. Cenozoic vegetation, climate changes and hominid evolution in tropical Africa. Global Planet. Change 72, 390–411 (2010).

31.

Winters, Y. D., Lowenstein, T. K. & Timofeeff, M. N. Identification of carotenoids in ancient salt from Death Valley, Saline Valley, and Searles Lake, California, using laser Raman spectroscopy. Astrobiology 13, 1065–1080 (2013).

32.

Stab, M. et al. Modes of rifting in magma-rich settings: tsectono-magmatic evolution of Central Afar. Tectonics 35, 2–38 (2016).

33.

Friis, I., Demissew, S. & van Breugel, P. Atlas of the Potential Vegetation of Ethiopia (The Royal Danish Academy of Sciences and Letters, 2010).

34.

Lahitte, P., Gillot, P. Y. & Courtillot, V. Silicic central volcanoes as precursors to rift propagation: the Afar case. Earth Planet. Sci. Lett. 207, 103–116 (2003).

35.

Prentice, I. C., Guiot, J., Huntley, B., Jolly, D., & Cheddadi, R. Reconstructing biomes from palaeoecological data: a general method and its application to European pollen data at 0 and 6 ka. Clim. Dyn. 12, 185–194 (1996).

36.

Mertzman, S. A. K–Ar results from the southern Oregon-northern California Cascade range. Or. Geol. 62, 99–122 (2000).

37.

Niespolo, E. M., Rutte, D., Deino, A. L. & Renne, P. R. Intercalibration and age of the Alder Creek sanidine 40Ar/39Ar standard. Quat. Geochronol. 39, 205–213 (2017).

38.

Lee, J.-Y. A redetermination of the isotopic abundances of atmospheric Ar. Geochim. Cosmochim. Acta 70, 4507–4512 (2006).

39.

Min, K. W., Mundil, R., Renne, P. R. & Ludwig, K. R. A test for systematic errors in 40Ar/39Ar-geochronology through comparison with U/Pb analysis of a 1.1-Ga rhyolite. Geochim. Cosmochim. Acta 64, 73–98 (2000).

40.

Lee, H. et al. Comparison of three methods for the methylation of aliphatic and aromatic compounds. Rapid Commun. Mass Spectrom. 31, 1633–1640 (2017).

41.

Bonnefille, R., Vincens, A. & Buchet, A. Palynology, stratigraphy and palaeoenvironment of a Pliocene hominid site (2.9–3.3 M.Y.) at Hadar, Ethiopia. Palaeogeogr. Palaeoclimatol. Palaeoecol. 60, 249–281 (1987).

42.

Bonnefille, R., Potts, R., Chalié, F., Jolly, D. & Peyron, O. High-resolution vegetation and climate change associated with Pliocene Australopithecus afarensis. Proc. Natl Acad. Sci. USA 101, 12125–12129 (2004).

43.

Strömberg, C. A. E. The Origin and Spread of Grass-Dominated Ecosystems during the Tertiary of North America and How It Relates to the Evolution of Hypsodonty in Equids. PhD Thesis, Univ. California Berkeley (2003).

44.

Deino, A. L. et al. Chronostratigraphic model of a high-resolution drill core record of the past million years from the Koora Basin, south Kenya Rift: overcoming the difficulties of variable sedimentation rate and hiatuses. Quat. Sci. Rev. 215, 213–231 (2019).

45.

Miall, A.D. The Geology of Fluvial Deposits: Sedimentary Facies, Basin Analysis and Petroleum Geology (Springer, 1996).

46.

DiMaggio, E. N. et al. Late Pliocene fossiliferous sedimentary record and the environmental context of early Homo from Afar, Ethiopia. Science 347, 1355–1359 (2015).

47.

Kirschvink, J. L. The least-squares line and plane and the analysis of palaeomagnetic data. Geophys. J. Int. 62, 699–718 (1980).

48.

Sournia, A. Diatomées planctoniques du Canal de Mozambique et de l'Île de la Réunion (ORSTOM, 1968).

49.

Foged, N. Some Littoral Diatoms from the Coast of Tanzania (Biblioteca Phycologia, 1975).

50.

Ryan, W. B. F. et al. Global multi-resolution topography synthesis. Geochem. Geophys. Geosyst. 10, Q03014 (2009).
Acknowledgements
We thank the Authority for Research and Conservation of Cultural Heritage for permission to conduct field and laboratory work, the Afar people of Woranso-Millle for their hospitality, and the project's fieldwork crew members for their tireless support of field activities; M. Atkins and I. Van Orman for assistance with the preparation of tephrochemical samples and J. Fournelle for assistance with their analysis. This research was supported by grants from the Spanish Government CGL2016-79458-P, Catalan Government 2017-SGR 824, the European Union's Horizon 2020 research and innovation programme under the Marie Skłodowska-Curie grant agreement no. 659596 and the US National Science Foundation (1124705, 1124716, 1125157, 1125345, 1322017).
Ethics declarations
Competing interests
The authors declare no competing interests.
Additional information
Publisher's note: Springer Nature remains neutral with regard to jurisdictional claims in published maps and institutional affiliations.
Peer review information Nature thanks Craig S. Feibel, John W. Kappelman and the other, anonymous, reviewer(s) for their contribution to the peer review of this work.
Extended data figures and tables
Supplementary information
This file contains Supplementary Tables 1-10.
Further reading
Yohannes Haile-Selassie

,

Stephanie M. Melillo

,

Antonino Vazzana

,

Stefano Benazzi

&

Timothy M. Ryan

Nature (2019)

Nature (2019)
Comments
By submitting a comment you agree to abide by our Terms and Community Guidelines. If you find something abusive or that does not comply with our terms or guidelines please flag it as inappropriate.