Abstract
Cytotoxic T cells are essential mediators of protective immunity to viral infection and malignant tumours and are a key target of immunotherapy approaches. However, prolonged exposure to cognate antigens often attenuates the effector capacity of T cells and limits their therapeutic potential1,2,3,4. This process, known as T cell exhaustion or dysfunction1, is manifested by epigenetically enforced changes in gene regulation that reduce the expression of cytokines and effector molecules and upregulate the expression of inhibitory receptors such as programmed cell-death 1 (PD-1)5,6,7,8. The underlying molecular mechanisms that induce and stabilize the phenotypic and functional features of exhausted T cells remain poorly understood9,10,11,12. Here we report that the development and maintenance of populations of exhausted T cells in mice requires the thymocyte selection-associated high mobility group box (TOX) protein13,14,15. TOX is induced by high antigen stimulation of the T cell receptor and correlates with the presence of an exhausted phenotype during chronic infections with lymphocytic choriomeningitis virus in mice and hepatitis C virus in humans. Removal of its DNA-binding domain reduces the expression of PD-1 at the mRNA and protein level, augments the production of cytokines and results in a more polyfunctional T cell phenotype. T cells with this deletion initially mediate increased effector function and cause more severe immunopathology, but ultimately undergo a massive decline in their quantity, notably among the subset of TCF-1+ self-renewing T cells. Altogether, we show that TOX is a critical factor for the normal progression of T cell dysfunction and the maintenance of exhausted T cells during chronic infection, and provide a link between the suppression of effector function intrinsic to CD8 T cells and protection against immunopathology.
Relevant articles
Open Access articles citing this article.
Feng-Ming Tien

,

Hsuan-Hsuan Lu

…

Hsing-Chen Tsai

Journal of Biomedical Science Open Access 10 January 2023

Qin Dang

,

Ziqi Sun

…

Xinwei Han

Cell Death & Disease Open Access 05 November 2022

Feng Xie

,

Xiaoxue Zhou

…

Fangfang Zhou

Nature Communications Open Access 01 August 2022
Access options
Subscribe to Nature+
Get immediate online access to Nature and 55 other Nature journal
Subscribe to Journal
Get full journal access for 1 year
$199.00
only $3.90 per issue
All prices are NET prices.
VAT will be added later in the checkout.
Tax calculation will be finalised during checkout.
Buy article
Get time limited or full article access on ReadCube.
$32.00
All prices are NET prices.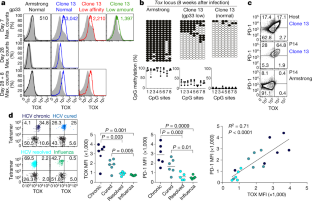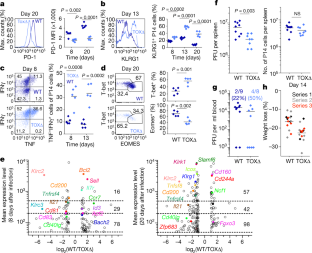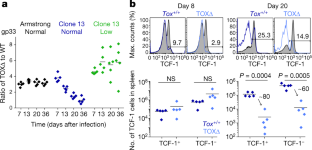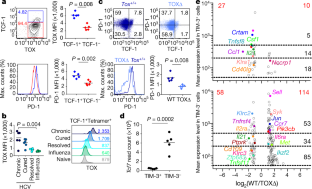 Data availability
Next-generation sequencing data, RNA microarray data, ATAC-sequencing data and whole-genome methylation datasets are available in the NCBI GEO repository with accession number GSE131643. All other datasets generated during the current study are available from the corresponding authors on reasonable request.
References
Wherry, E. J. T cell exhaustion. Nat. Immunol. 12, 492–499 (2011).

Speiser, D. E. et al. T cell differentiation in chronic infection and cancer: functional adaptation or exhaustion? Nat. Rev. Immunol. 14, 768–774 (2014).

Schietinger, A. & Greenberg, P. D. Tolerance and exhaustion: defining mechanisms of T cell dysfunction. Trends Immunol. 35, 51–60 (2014).

Gallimore, A., Hengartner, H. & Zinkernagel, R. Hierarchies of antigen-specific cytotoxic T-cell responses. Immunol. Rev. 164, 29–32 (1998).

Barber, D. L. et al. Restoring function in exhausted CD8 T cells during chronic viral infection. Nature 439, 682–687 (2006).

Chihara, N. et al. Induction and transcriptional regulation of the co-inhibitory gene module in T cells. Nature 558, 454–459 (2018).

Youngblood, B. et al. Chronic virus infection enforces demethylation of the locus that encodes PD-1 in antigen-specific CD8+ T cells. Immunity 35, 400–412 (2011).

Ghoneim, H. E. et al. De novo epigenetic programs inhibit PD-1 blockade-mediated T cell rejuvenation. Cell 170, 142–157 (2017).

Pauken, K. E. et al. Epigenetic stability of exhausted T cells limits durability of reinvigoration by PD-1 blockade. Science 354, 1160–1165 (2016).

Utzschneider, D. T. et al. T cells maintain an exhausted phenotype after antigen withdrawal and population reexpansion. Nat. Immunol. 14, 603–610 (2013).

Philip, M. et al. Chromatin states define tumour-specific T cell dysfunction and reprogramming. Nature 545, 452–456 (2017).

Wieland, D. et al. TCF1+ hepatitis C virus-specific CD8+ T cells are maintained after cessation of chronic antigen stimulation. Nat. Commun. 8, 15050 (2017).

Aliahmad, P., Seksenyan, A. & Kaye, J. The many roles of TOX in the immune system. Curr. Opin. Immunol. 24, 173–177 (2012).

O'Flaherty, E. & Kaye, J. TOX defines a conserved subfamily of HMG-box proteins. BMC Genomics 4, 13 (2003).

Page, N. et al. Expression of the DNA-binding factor TOX promotes the encephalitogenic potential of microbe-induced autoreactive CD8+ T cells. Immunity 48, 937–950 (2018).

Wherry, E. J. et al. Molecular signature of CD8+ T cell exhaustion during chronic viral infection. Immunity 27, 670–684 (2007).

Utzschneider, D. T. et al. High antigen levels induce an exhausted phenotype in a chronic infection without impairing T cell expansion and survival. J. Exp. Med. 213, 1819–1834 (2016).

Martinez, G. J. et al. The transcription factor NFAT promotes exhaustion of activated CD8+ T cells. Immunity 42, 265–278 (2015).

Utzschneider, D. T. et al. T cell factor 1-expressing memory-like CD8+ T cells sustain the immune response to chronic viral infections. Immunity 45, 415–427 (2016).

Lin, W. W. et al. CD8+ T lymphocyte self-renewal during effector cell determination. Cell Rep. 17, 1773–1782 (2016).

Yu, S. et al. The TCF-1 and LEF-1 transcription factors have cooperative and opposing roles in T cell development and malignancy. Immunity 37, 813–826 (2012).

Delpoux, A., Lai, C. Y., Hedrick, S. M. & Doedens, A. L. FOXO1 opposition of CD8+ T cell effector programming confers early memory properties and phenotypic diversity. Proc. Natl Acad. Sci. USA 114, E8865–E8874 (2017).

Odorizzi, P. M., Pauken, K. E., Paley, M. A., Sharpe, A. & Wherry, E. J. Genetic absence of PD-1 promotes accumulation of terminally differentiated exhausted CD8+ T cells. J. Exp. Med. 212, 1125–1137 (2015).

Im, S. J. et al. Defining CD8+ T cells that provide the proliferative burst after PD-1 therapy. Nature 537, 417–421 (2016).

Doedens, A. L. et al. Hypoxia-inducible factors enhance the effector responses of CD8+ T cells to persistent antigen. Nat. Immunol. 14, 1173–1182 (2013).

Frebel, H. et al. Programmed death 1 protects from fatal circulatory failure during systemic virus infection of mice. J. Exp. Med. 209, 2485–2499 (2012).

Pircher, H., Bürki, K., Lang, R., Hengartner, H. & Zinkernagel, R. M. Tolerance induction in double specific T-cell receptor transgenic mice varies with antigen. Nature 342, 559–561 (1989).

Dillon, S. R., Jameson, S. C. & Fink, P. J. Vβ5+ T cell receptors skew toward OVA + H-2Kb recognition. J. Immunol. 152, 1790–1801 (1994).

Puglielli, M. T. et al. In vivo selection of a lymphocytic choriomeningitis virus variant that affects recognition of the GP33-43 epitope by H-2Db but not H-2Kb. J. Virol. 75, 5099–5107 (2001).

Wlodarczyk, M. F., Kraft, A. R., Chen, H. D., Kenney, L. L. & Selin, L. K. Anti-IFN-γ and peptide-tolerization therapies inhibit acute lung injury induced by cross-reactive influenza A-specific memory T cells. J. Immunol. 190, 2736–2746 (2013).

Chen, H. D., Fraire, A. E., Joris, I., Welsh, R. M. & Selin, L. K. Specific history of heterologous virus infections determines anti-viral immunity and immunopathology in the lung. Am. J. Pathol. 163, 1341–1355 (2003).

Cornberg, M. et al. Clonal exhaustion as a mechanism to protect against severe immunopathology and death from an overwhelming CD8 T cell response. Front. Immunol. 4, 475 (2013).

Nitschke, K. et al. Tetramer enrichment reveals the presence of phenotypically diverse hepatitis C virus-specific CD8+ T cells in chronic infection. J. Virol. 89, 25–34 (2015).

Eisenberg, V. et al. Targeting multiple tumors using T-cells engineered to express a natural cytotoxicity receptor 2-based chimeric receptor. Front. Immunol. 8, 1212 (2017).

Tal, Y. et al. An NCR1-based chimeric receptor endows T-cells with multiple anti-tumor specificities. Oncotarget 5, 10949–10958 (2014).

Thurber, S. E., Khong, H. T., Kammula, U. S. & Rosenberg, S. A. Identification of endogenous HLA-A2-restricted reactivity against shared melanoma antigens in patients using the quantitative real-time polymerase chain reaction. J. Immunother. 25, 63–71 (2002).

Carey, T. E., Takahashi, T., Resnick, L. A., Oettgen, H. F. & Old, L. J. Cell surface antigens of human malignant melanoma: mixed hemadsorption assays for humoral immunity to cultured autologous melanoma cells. Proc. Natl Acad. Sci. USA 73, 3278–3282 (1976).

Ritchie, M. E. et al. limma powers differential expression analyses for RNA-sequencing and microarray studies. Nucleic Acids Res. 43, e47 (2015).

Silver, J. D., Ritchie, M. E. & Smyth, G. K. Microarray background correction: maximum likelihood estimation for the normal–exponential convolution. Biostatistics 10, 352–363 (2009).

Bolstad, B. M., Irizarry, R. A., Astrand, M. & Speed, T. P. A comparison of normalization methods for high density oligonucleotide array data based on variance and bias. Bioinformatics 19, 185–193 (2003).

Köster, J. & Rahmann, S. Snakemake—a scalable bioinformatics workflow engine. Bioinformatics 28, 2520–2522 (2012).

Andrews, S. FastQC: a quality control tool for high throughput sequence data. Version 0.11.6 http://www.bioinformatics.babraham.ac.uk/projects/fastqc (2017).

Bolger, A. M., Lohse, M. & Usadel, B. Trimmomatic: a flexible trimmer for Illumina sequence data. Bioinformatics 30, 2114–2120 (2014).

Dobin, A. et al. STAR: ultrafast universal RNA-seq aligner. Bioinformatics 29, 15–21 (2013).

Anders, S., Pyl, P. T. & Huber, W. HTSeq—a Python framework to work with high-throughput sequencing data. Bioinformatics 31, 166–169 (2015).

Ewels, P., Magnusson, M., Lundin, S. & Käller, M. MultiQC: summarize analysis results for multiple tools and samples in a single report. Bioinformatics 32, 3047–3048 (2016).

Love, M. I., Huber, W. & Anders, S. Moderated estimation of fold change and dispersion for RNA-seq data with DESeq2. Genome Biol. 15, 550 (2014).

Benjamini, Y. & Hochberg, Y. Controlling the false discovery rate: a practical and powerful approach to multiple testing. J. R. Stat. Soc. B 57, 289–300 (1995).

Kolde, R. pheatmap: Pretty Heatmaps. R package version 1.0.10 https://cran.r-project.org/web/packages/pheatmap/index.html (2012)

Zhang, Y. et al. Model-based analysis of ChIP–seq (MACS). Genome Biol. 9, R137 (2008).

Trinh, B. N., Long, T. I. & Laird, P. W. DNA methylation analysis by MethyLight technology. Methods 25, 456–462 (2001).

Youngblood, B. et al. Effector CD8 T cells dedifferentiate into long-lived memory cells. Nature 552, 404–409 (2017).

Xi, Y. & Li, W. BSMAP: whole genome bisulfite sequence MAPping program. BMC Bioinformatics 10, 232 (2009).

Feng, H., Conneely, K. N. & Wu, H. A Bayesian hierarchical model to detect differentially methylated loci from single nucleotide resolution sequencing data. Nucleic Acids Res. 42, e69 (2014).

Kuleshov, M. V. et al. Enrichr: a comprehensive gene set enrichment analysis web server 2016 update. Nucleic Acids Res. 44, W90–W97 (2016).
Acknowledgements
We thank M. J. Bevan and M. Prlic for input, feedback and suggestions; T. Herbinger and B. Dötterböck; W. Schmid and C. Amette for technical assistance; and S. Schleicher and C. Lechner for animal husbandry. Work in the D.Z. laboratory was supported by a 'European Research Council starting grant' (ProtecTC) and subsequently a 'European Research Council consolidator grant' (ToCCaTa), grants from the Swiss National Science Foundation (CRSII3_160708, 310030E-164187, 51PHP0_157319 and PP00P3_144883), the Swiss Vaccine Research Institute (SVRI) and grants from the German Research Foundation (SFB1054). D.Z. and C.J.C. are supported by a German-Israeli Foundation for Scientific Research and Development (GIF) grant (I-1440-414.13/2017). K.S. is supported by German Research Foundation grants (SFB824 and SFB1335). R.T. and M.H. are funded by a German Research Foundation grant (TRR179-TP01). B.Y. is supported by the NIH (R01AI114442) and the American Lebanese Syrian Associated Charities (ALSAC). P.A.K. is supported by the Germany Center for Infection Research Munich site and the CRC TRR179.
Reviewer information
Nature thanks Axel Kallies and the other anonymous reviewer(s) for their contribution to the peer review of this work.
Ethics declarations
Competing interests
The authors declare no competing interests.
Additional information
Publisher's note: Springer Nature remains neutral with regard to jurisdictional claims in published maps and institutional affiliations.
Extended data figures and tables
Supplementary information
This file contains the uncropped blot shown in Extended Data Fig. 2.
About this article
Cite this article
Alfei, F., Kanev, K., Hofmann, M. et al. TOX reinforces the phenotype and longevity of exhausted T cells in chronic viral infection. Nature 571, 265–269 (2019). https://doi.org/10.1038/s41586-019-1326-9
Received:

Accepted:

Published:

Issue Date:

DOI: https://doi.org/10.1038/s41586-019-1326-9
Comments
By submitting a comment you agree to abide by our Terms and Community Guidelines. If you find something abusive or that does not comply with our terms or guidelines please flag it as inappropriate.