Abstract
Individuals vary widely in their responses to medicinal drugs, which can be dangerous and expensive owing to treatment delays and adverse effects. Although increasing evidence implicates the gut microbiome in this variability, the molecular mechanisms involved remain largely unknown. Here we show, by measuring the ability of 76 human gut bacteria from diverse clades to metabolize 271 orally administered drugs, that many drugs are chemically modified by microorganisms. We combined high-throughput genetic analyses with mass spectrometry to systematically identify microbial gene products that metabolize drugs. These microbiome-encoded enzymes can directly and substantially affect intestinal and systemic drug metabolism in mice, and can explain the drug-metabolizing activities of human gut bacteria and communities on the basis of their genomic contents. These causal links between the gene content and metabolic activities of the microbiota connect interpersonal variability in microbiomes to interpersonal differences in drug metabolism, which has implications for medical therapy and drug development across multiple disease indications.
This is a preview of subscription content
Access options
Subscribe to Journal
Get full journal access for 1 year
$199.00
only $3.90 per issue
All prices are NET prices.
VAT will be added later in the checkout.
Tax calculation will be finalised during checkout.
Rent or Buy article
Get time limited or full article access on ReadCube.
from$8.99
All prices are NET prices.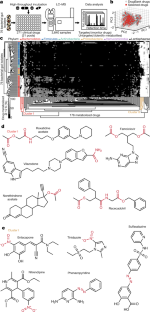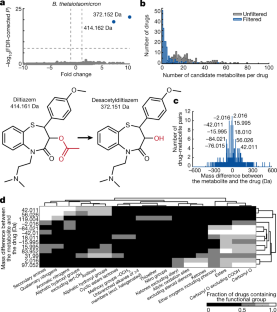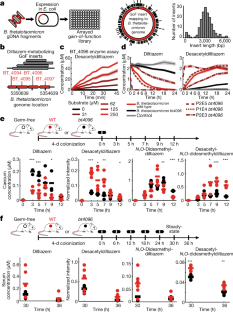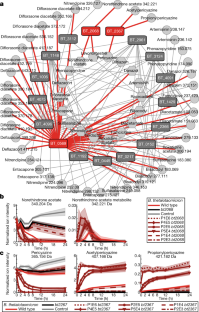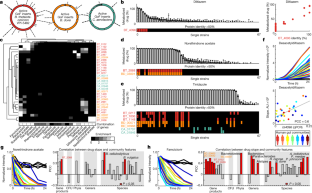 Data availability
All data generated during this study are included in the published Article and its Supplementary Tables. Data are available from figshare, at https://doi.org/10.6084/m9.figshare.8119058. Raw sequencing data have been deposited on the ENA server, with accession number PRJEB31790. Raw metabolomics data have been deposited in the MetaboLights repository, with accession number MTBLS896.
References
1.

Obach, R. S. Pharmacologically active drug metabolites: impact on drug discovery and pharmacotherapy. Pharmacol. Rev. 65, 578–640 (2013).

2.

Sousa, T. et al. On the colonic bacterial metabolism of azo-bonded prodrugs of 5-aminosalicylic acid. J. Pharm. Sci. 103, 3171–3175 (2014).

3.

Haiser, H. J. et al. Predicting and manipulating cardiac drug inactivation by the human gut bacterium Eggerthella lenta. Science 341, 295–298 (2013).

4.

Okuda, H., Ogura, K., Kato, A., Takubo, H. & Watabe, T. A possible mechanism of eighteen patient deaths caused by interactions of sorivudine, a new antiviral drug, with oral 5-fluorouracil prodrugs. J. Pharmacol. Exp. Ther. 287, 791–799 (1998).

5.

Zimmermann, M., Zimmermann-Kogadeeva, M., Wegmann, R. & Goodman, A. L. Separating host and microbiome contributions to drug pharmacokinetics and toxicity. Science 363, eaat9931 (2019).

6.

Wallace, B. D. et al. Alleviating cancer drug toxicity by inhibiting a bacterial enzyme. Science 330, 831–835 (2010).

7.

Klatt, N. R. et al. Vaginal bacteria modify HIV tenofovir microbicide efficacy in African women. Science 356, 938–945 (2017).

8.

Aziz, R. K., Hegazy, S. M., Yasser, R., Rizkallah, M. R. & ElRakaiby, M. T. Drug pharmacomicrobiomics and toxicomicrobiomics: from scattered reports to systematic studies of drug–microbiome interactions. Expert Opin. Drug Metab. Toxicol. 14, 1043–1055 (2018).

9.

Goodman, A. L. et al. Identifying genetic determinants needed to establish a human gut symbiont in its habitat. Cell Host Microbe 6, 279–289 (2009).

10.

Wilson, I. D. & Nicholson, J. K. Gut microbiome interactions with drug metabolism, efficacy, and toxicity. Transl. Res. 179, 204–222 (2017).

11.

Winter, J. et al. Mode of action of steroid desmolase and reductases synthesized by Clostridium "scindens" (formerly Clostridium strain 19). J. Lipid Res. 25, 1124–1131 (1984).

12.

Morris, G. N., Winter, J., Cato, E. P., Ritchie, A. E. & Bokkenheuser, V. D. Clostridium scindens sp. nov., a human intestinal bacterium with desmolytic activity on corticoids. Int. J. Syst. Evol. Microbiol. 35, 478–481 (1985).

13.

Ridlon, J. M. et al. Clostridium scindens: a human gut microbe with a high potential to convert glucocorticoids into androgens. J. Lipid Res. 54, 2437–2449 (2013).

14.

Boyd, R. A. et al. The pharmacokinetics and pharmacodynamics of diltiazem and its metabolites in healthy adults after a single oral dose. Clin. Pharmacol. Ther. 46, 408–419 (1989).

15.

Molden, E., Åsberg, A. & Christensen, H. Desacetyl-diltiazem displays severalfold higher affinity to CYP2D6 compared with CYP3A4. Drug Metab. Dispos. 30, 1–3 (2002).

16.

Subramanian, A. et al. Gene set enrichment analysis: a knowledge-based approach for interpreting genome-wide expression profiles. Proc. Natl Acad. Sci. USA 102, 15545–15550 (2005).

17.

Maier, L. et al. Extensive impact of non-antibiotic drugs on human gut bacteria. Nature 555, 623–628 (2018).

18.

Wu, H. et al. Metformin alters the gut microbiome of individuals with treatment-naive type 2 diabetes, contributing to the therapeutic effects of the drug. Nat. Med. 23, 850–858 (2017).

19.

Clayton, T. A., Baker, D., Lindon, J. C., Everett, J. R. & Nicholson, J. K. Pharmacometabonomic identification of a significant host-microbiome metabolic interaction affecting human drug metabolism. Proc. Natl Acad. Sci. USA 106, 14728–14733 (2009).

20.

Björkholm, B. et al. Intestinal microbiota regulate xenobiotic metabolism in the liver. PLoS ONE 4, e6958 (2009).

21.

Wishart, D. S. et al. DrugBank 5.0: a major update to the DrugBank database for 2018. Nucleic Acids Res. 46, D1074–D1082 (2018).

22.

Goodman, A. L. et al. Extensive personal human gut microbiota culture collections characterized and manipulated in gnotobiotic mice. Proc. Natl Acad. Sci. USA 108, 6252–6257 (2011).

23.

Holdeman, L. V., Moore, W. E. C. & Cato, E. P. Anaerobe Laboratory Manual (Virginia Polytechnic Institute and State Univ., 1977).

24.

Forsberg, K. J. et al. The shared antibiotic resistome of soil bacteria and human pathogens. Science 337, 1107–1111 (2012).

25.

Goodman, A. L., Wu, M. & Gordon, J. I. Identifying microbial fitness determinants by insertion sequencing using genome-wide transposon mutant libraries. Nat. Protoc. 6, 1969–1980 (2011).

26.

Koropatkin, N. M., Martens, E. C., Gordon, J. I. & Smith, T. J. Starch catabolism by a prominent human gut symbiont is directed by the recognition of amylose helices. Structure 16, 1105–1115 (2008).

27.

Warrens, A. N., Jones, M. D. & Lechler, R. I. Splicing by overlap extension by PCR using asymmetric amplification: an improved technique for the generation of hybrid proteins of immunological interest. Gene 186, 29–35 (1997).

28.

Whitaker, W. R., Shepherd, E. S. & Sonnenburg, J. L. Tunable expression tools enable single-cell strain distinction in the gut microbiome. Cell 169, 538–546.e12 (2017).

29.

Petersen, T. N., Brunak, S., von Heijne, G. & Nielsen, H. SignalP 4.0: discriminating signal peptides from transmembrane regions. Nat. Methods 8, 785–786 (2011).

30.

Lim, B., Zimmermann, M., Barry, N. A. & Goodman, A. L. Engineered regulatory systems modulate gene expression of human commensals in the gut. Cell 169, 547–558.e15 (2017).

31.

Cullen, T. W. et al. Antimicrobial peptide resistance mediates resilience of prominent gut commensals during inflammation. Science 347, 170–175 (2015).

32.

Camacho, C. et al. BLAST+: architecture and applications. BMC Bioinformatics 10, 421 (2009).

33.

Shannon, P. et al. Cytoscape: a software environment for integrated models of biomolecular interaction networks. Genome Res. 13, 2498–2504 (2003).

34.

McIver, L. J. et al. bioBakery: a meta'omic analysis environment. Bioinformatics 34, 1235–1237 (2018).

35.

Bolger, A. M., Lohse, M. & Usadel, B. Trimmomatic: a flexible trimmer for Illumina sequence data. Bioinformatics 30, 2114–2120 (2014).

36.

Truong, D. T. et al. MetaPhlAn2 for enhanced metagenomic taxonomic profiling. Nat. Methods 12, 902–903 (2015).

37.

Caporaso, J. G. et al. QIIME allows analysis of high-throughput community sequencing data. Nat. Methods 7, 335–336 (2010).

38.

Kaminski, J. et al. High-specificity targeted functional profiling in microbial communities with ShortBRED. PLOS Comput. Biol. 11, e1004557 (2015).

39.

Suzek, B. E., Wang, Y., Huang, H., McGarvey, P. B. & Wu, C. H. UniRef clusters: a comprehensive and scalable alternative for improving sequence similarity searches. Bioinformatics 31, 926–932 (2015).

40.

Edgar, R. C. Search and clustering orders of magnitude faster than BLAST. Bioinformatics 26, 2460–2461 (2010).

41.

Yeung, P. K. et al. Pharmacokinetics and metabolism of diltiazem in healthy males and females following a single oral dose. Eur. J. Drug Metab. Pharmacokinet. 18, 199–206 (1993).
Acknowledgements
We thank the Goodman laboratory for helpful discussions and N. A. Barry, L. Valle, D. Lazo, W. B. Schofield, P. H. Degnan, T. Wu and the Yale Center for Molecular Discovery for technical assistance. This work was supported by NIH grants GM118159, GM105456, AI124275, DK114793, the Center for Microbiome Informatics and Therapeutics, the Burroughs Wellcome Fund, the Yale Cancer Center, and the HHMI Faculty and Pew Scholars Programs to A.L.G. M.Z. received Early and Advanced Postdoc Mobility Fellowships from the Swiss National Science Foundation (P2EZP3_162256 and P300PA_177915, respectively) and a Long-Term Fellowship (ALTF 670-2016) from the European Molecular Biology Organization. M.Z.-K. received an Early Postdoc Mobility Fellowship from the Swiss National Science Foundation (P2EZP3_178482).
Ethics declarations
Competing interests
M.Z., M.Z.-K. and A.L.G. have filed a patent application based on these studies with the US Patent and Trademark Office (62/693,741). The specific aspects included in the patent application include methods for measuring microbial drug metabolism and for identifying microbial taxa and gene products associated with drug metabolism.
Additional information
Publisher's note: Springer Nature remains neutral with regard to jurisdictional claims in published maps and institutional affiliations.
Extended data figures and tables
Supplementary information
This file contains Supplementary Tables 1-21 – see contents sheet for details.
About this article
Cite this article
Zimmermann, M., Zimmermann-Kogadeeva, M., Wegmann, R. et al. Mapping human microbiome drug metabolism by gut bacteria and their genes. Nature 570, 462–467 (2019). https://doi.org/10.1038/s41586-019-1291-3
Received:

Accepted:

Published:

Issue Date:
Comments
By submitting a comment you agree to abide by our Terms and Community Guidelines. If you find something abusive or that does not comply with our terms or guidelines please flag it as inappropriate.