Abstract
Two-dimensional (2D) materials such as graphene and transition-metal dichalcogenides reveal the electronic phases that emerge when a bulk crystal is reduced to a monolayer1,2,3,4. Transition-metal oxide perovskites host a variety of correlated electronic phases5,6,7,8,9,10,11,12, so similar behaviour in monolayer materials based on transition-metal oxide perovskites would open the door to a rich spectrum of exotic 2D correlated phases that have not yet been explored. Here we report the fabrication of freestanding perovskite films with high crystalline quality almost down to a single unit cell. Using a recently developed method based on water-soluble Sr3Al2O6 as the sacrificial buffer layer13,14 we synthesize freestanding SrTiO3 and BiFeO3 ultrathin films by reactive molecular beam epitaxy and transfer them to diverse substrates, in particular crystalline silicon wafers and holey carbon films. We find that freestanding BiFeO3 films exhibit unexpected and giant tetragonality and polarization when approaching the 2D limit. Our results demonstrate the absence of a critical thickness for stabilizing the crystalline order in the freestanding ultrathin oxide films. The ability to synthesize and transfer crystalline freestanding perovskite films without any thickness limitation onto any desired substrate creates opportunities for research into 2D correlated phases and interfacial phenomena that have not previously been technically possible.
Relevant articles
Open Access articles citing this article.
Ke Gu

,

Yicheng Guan

…

Stuart S. P. Parkin

Nature Nanotechnology Open Access 22 September 2022

Ruiqing Cheng

,

Lei Yin

…

Jun He

Nature Communications Open Access 06 September 2022

Songhua Cai

,

Yingzhuo Lun

…

Xiaoqing Pan

Nature Communications Open Access 31 August 2022
Access options
Subscribe to Nature+
Get immediate online access to Nature and 55 other Nature journal
Subscribe to Journal
Get full journal access for 1 year
$199.00
only $3.90 per issue
All prices are NET prices.
VAT will be added later in the checkout.
Tax calculation will be finalised during checkout.
Buy article
Get time limited or full article access on ReadCube.
$32.00
All prices are NET prices.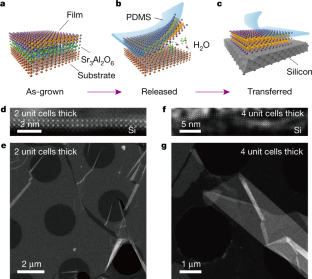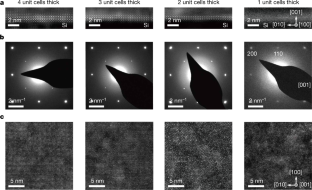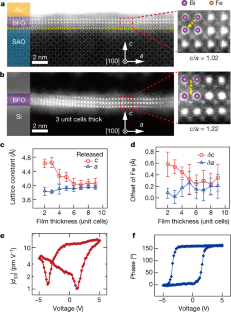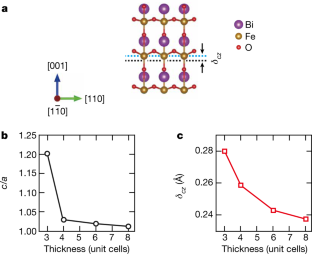 Data availability
The data that support the plots within this paper and other findings of this study are available from the corresponding authors upon reasonable request.
References
Novoselov, K. S. et al. Electric field effect in atomically thin carbon films. Science 306, 666–669 (2004).

Radisavljevic, B., Radenovic, A., Brivio, J., Giacometti, V. & Kis, A. Single-layer MoS2 transistors. Nat. Nanotechnol. 6, 147–150 (2011).

Lopez-Sanchez, O., Lembke, D., Kayci, M., Radenovic, A. & Kis, A. Ultrasensitive photodetectors based on monolayer MoS2. Nat. Nanotechnol. 8, 497–501 (2013).

Mak, K. F., He, K., Shan, J. & Heinz, T. F. Control of valley polarization in monolayer MoS2 by optical helicity. Nat. Nanotechnol. 7, 494–498 (2012).

Bednorz, J. G. & Müller, K. A. Possible high T c superconductivity in the Ba–La–Cu–O system. Z. Phys. B 64, 189–193 (1986).

Dagotto, E. Correlated electrons in high-temperature superconductors. Rev. Mod. Phys. 66, 763–840 (1994).

Jin, S. et al. Thousandfold change in resistivity in magnetoresistive La–Ca–Mn–O films. Science 264, 413–415 (1994).

Tokura, Y. & Tomioka, Y. Colossal magnetoresistive manganites. J. Magn. Magn. Mater. 200, 1–23 (1999).

Imada, M., Fujimori, A. & Tokura, Y. Metal-insulator transitions. Rev. Mod. Phys. 70, 1039–1263 (1998).

Ahn, K. H., Lookman, T. & Bishop, A. R. Strain-induced metal–insulator phase coexistence in perovskite manganites. Nature 428, 401–404 (2004).

Ramesh, R. & Spaldin, N. A. Multiferroics: progress and prospects in thin films. Nat. Mater. 6, 21–29 (2007).

Cheong, S.-W. & Mostovoy, M. Multiferroics: a magnetic twist for ferroelectricity. Nat. Mater. 6, 13–20 (2007).

Lu, D. et al. Synthesis of freestanding single-crystal perovskite films and heterostructures by etching of sacrificial water-soluble layers. Nat. Mater. 15, 1255–1260 (2016).

Hong, S. S. et al. Two-dimensional limit of crystalline order in perovskite membrane films. Sci. Adv. 3, eaao5173 (2017).

Bakaul, S. R. et al. Single crystal functional oxides on silicon. Nat. Commun. 7, 10547 (2016).

Paskiewicz, D. M., Sichel-Tissot, R., Karapetrova, E., Stan, L. & Fong, D. D. Single-crystalline SrRuO3 nanomembranes: a platform for flexible oxide electronics. Nano Lett. 16, 534–542 (2016).

Matthews, J. W. Growth of face-centered-cubic metals on sodium chloride substrates. J. Vac. Sci. Technol. 3, 133–145 (1966).

Wong, W. S., Sands, T. & Cheung, N. W. Damage-free separation of GaN thin films from sapphire substrates. Appl. Phys. Lett. 72, 599–601 (1998).

Bruel, M. Application of hydrogen ion beams to silicon on insulator material technology. Nucl. Instrum. Methods Phys. Res. B 108, 313–319 (1996).

Meyer, J. C. et al. The structure of suspended graphene sheets. Nature 446, 60 (2007).

Jang, H. W. et al. Strain-induced polarization rotation in epitaxial (001) BiFeO3 thin films. Phys. Rev. Lett. 101, 107602 (2008).

Béa, H. et al. Evidence for room-temperature multiferroicity in a compound with a giant axial ratio. Phys. Rev. Lett. 102, 217603 (2009).

Yang, J. C. et al. Orthorhombic BiFeO3. Phys. Rev. Lett. 109, 247606 (2012).

Xu, G. et al. Low symmetry phase in (001) BiFeO3 epitaxial constrained thin films. Appl. Phys. Lett. 86, 182905 (2005).

Xu, G., Li, J. & Viehland, D. Ground state monoclinic (M b) phase in (110)c BiFeO3 epitaxial thin films. Appl. Phys. Lett. 89, 222901 (2006).

Yan, L., Cao, H., Li, J. F. & Viehland, D. Triclinic phase in tilted (001) oriented BiFeO3 epitaxial thin films. Appl. Phys. Lett. 94, 132901 (2009).

Ricinschi, D., Yun, K. Y. & Okuyama, M. First-principles study of BiFeO3 films with giant polarization and its dependence on structural parameters. Ferroelectrics 335, 181–190 (2006).

Zhang, J. X. et al. Microscopic origin of the giant ferroelectric polarization in tetragonal-like BiFeO3. Phys. Rev. Lett. 107, 147602 (2011).

Ederer, C. & Spaldin, N. Effect of epitaxial strain on the spontaneous polarization of thin film ferroelectrics. Phys. Rev. Lett. 95, 257601 (2005).

Lebeugle, D., Colson, D., Forget, A. & Viret, M. Very large spontaneous electric polarization in BiFeO3 single crystals at room temperature and its evolution under cycling fields. Appl. Phys. Lett. 91, 022907 (2007).

Wang, H. et al. Direct observation of room-temperature out-of-plane ferroelectricity and tunneling electroresistance at the two-dimensional limit. Nat. Commun. 9, 3319 (2018).

Cao, Y. et al. Unconventional superconductivity in magic-angle graphene superlattices. Nature 556, 43–50 (2018).

Cao, Y. et al. Correlated insulator behaviour at half-filling in magic-angle graphene superlattices. Nature 556, 80–84 (2018).

Neaton, J., Ederer, C., Waghmare, U., Spaldin, N. & Rabe, K. First-principles study of spontaneous polarization in multiferroic BiFeO3. Phys. Rev. B 71, 014113 (2005).

Nelson, C. T. et al. Domain dynamics during ferroelectric switching. Science 334, 968–971 (2011).

Tang, Y. L. et al. Observation of a periodic array of flux-closure quadrants in strained ferroelectric PbTiO3 films. Science 348, 547–551 (2015).

Yadav, A. K. et al. Observation of polar vortices in oxide superlattices. Nature 530, 198–201 (2016).

Kresse, G. & Furthmüller, J. Efficient iterative schemes for ab initio total-energy calculations using a plane-wave basis set. Phys. Rev. B 54, 11169–11186 (1996).

Kresse, G. & Joubert, D. From ultrasoft pseudopotentials to the projector augmented-wave method. Phys. Rev. B 59, 1758–1775 (1999).

Blöchl, P. E. Projector augmented-wave method. Phys. Rev. B 50, 17953–17979 (1994).

Monkhorst, H. J. & Pack, J. D. Special points for Brillouin-zone integrations. Phys. Rev. B 13, 5188–5192 (1976).

Paudel, T. R., Jaswal, S. S. & Tsymbal, E. Y. Intrinsic defects in multiferroic BiFeO3 and their effect on magnetism. Phys. Rev. B 85, 104409 (2012).

Dudarev, S. L., Botton, G. A., Savrasov, S. Y., Humphreys, C. J. & Sutton, A. P. Electron-energy-loss spectra and the structural stability of nickel oxide: an LSDA+U study. Phys. Rev. B 57, 1505–1509 (1998).
Acknowledgements
This paper is dedicated to the memory of N. B. Ming, who supported the Center for Microstructure of Quantum Materials at Nanjing University. This work was supported by the National Basic Research Program of China (grant 2015CB654901), the National Natural Science Foundation of China (grants 11574135, 51772143, 11474147, 51672125, 11774153 and 11874199), the Fundamental Research Funds for the Central Universities (grant 0213-14380058), and the National Natural Science Foundation of China/The Research Grants Council of Hong Kong (NSFC/RGC, grant 11861161004). Y.N. and P.W. are supported by the National Thousand-Young-Talents Program and the Program for High-Level Entrepreneurial and Innovative Talents Introduction, Jiangsu Province. S.C. is supported by Program A for Outstanding Ph.D. candidate of Nanjing University (grant 201801A013) and the Postgraduate Research and Practice Innovation Program of Jiangsu Province (grant KYCX18_0045). TEM work at the University of California, Irvine used the facilities of the Irvine Materials Research Institute (IMRI) and was supported by the US Department of Energy (DOE), Office of Basic Energy Sciences, Division of Materials Sciences and Engineering under grant DE-SC0014430. The research at the University of Nebraska–Lincoln is supported by the National Science Foundation (NSF) under the Nebraska MRSEC programme (grant DMR-1420645). Y.N. acknowledges discussions with H. Hwang, D. Li and S. S. Hong.
Reviewer information
Nature thanks Gertjan Koster and the other anonymous reviewer(s) for their contribution to the peer review of this work.
Ethics declarations
Competing interests
The authors declare no competing interests.
Additional information
Publisher's note: Springer Nature remains neutral with regard to jurisdictional claims in published maps and institutional affiliations.
Extended data figures and tables
About this article
Cite this article
Ji, D., Cai, S., Paudel, T.R. et al. Freestanding crystalline oxide perovskites down to the monolayer limit. Nature 570, 87–90 (2019). https://doi.org/10.1038/s41586-019-1255-7
Received:

Accepted:

Published:

Issue Date:

DOI: https://doi.org/10.1038/s41586-019-1255-7
Comments
By submitting a comment you agree to abide by our Terms and Community Guidelines. If you find something abusive or that does not comply with our terms or guidelines please flag it as inappropriate.