Abstract
Much of the American Arctic was first settled 5,000 years ago, by groups of people known as Palaeo-Eskimos. They were subsequently joined and largely displaced around 1,000 years ago by ancestors of the present-day Inuit and Yup'ik1,2,3. The genetic relationship between Palaeo-Eskimos and Native American, Inuit, Yup'ik and Aleut populations remains uncertain4,5,6. Here we present genomic data for 48 ancient individuals from Chukotka, East Siberia, the Aleutian Islands, Alaska, and the Canadian Arctic. We co-analyse these data with data from present-day Alaskan Iñupiat and West Siberian populations and published genomes. Using methods based on rare-allele and haplotype sharing, as well as established techniques4,7,8,9, we show that Palaeo-Eskimo-related ancestry is ubiquitous among people who speak Na-Dene and Eskimo–Aleut languages. We develop a comprehensive model for the Holocene peopling events of Chukotka and North America, and show that Na-Dene-speaking peoples, people of the Aleutian Islands, and Yup'ik and Inuit across the Arctic region all share ancestry from a single Palaeo-Eskimo-related Siberian source.
Access options
Access Nature and 54 other Nature Portfolio journals
Get Nature+, our best-value online-access subscription
$29.99 / 30 days
cancel any time
Subscribe to this journal
Receive 51 print issues and online access
$199.00 per year
only $3.90 per issue
Rent or buy this article
Prices vary by article type
from$1.95
to$39.95
Prices may be subject to local taxes which are calculated during checkout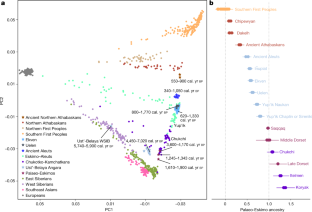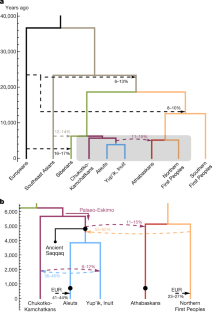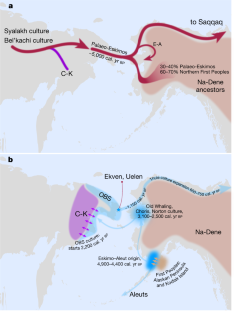 Similar content being viewed by others
Data availability
Raw sequence data (.bam files) from the 48 ancient individuals that we studied here are available from the European Nucleotide Archive under accession number PRJEB30575. The genotype data for the Iñupiat were obtained through informed consent, which does not allow us to provide the data through public or controlled-access data repositories; it also does not allow analyses of phenotypic traits, or commercial use of the data. To protect the privacy of participants and ensure that their wishes with respect to data usage are followed, researchers wishing to use data from the Iñupiat samples should contact M.G.H. (ghayes@northwestern.edu) and D.A.B. (deborah.bolnick@uconn.edu), who can then arrange to share the data with researchers who can affirm that they will abide by the relevant conditions through a signed data-sharing agreement. The SNP genotyping data for West Siberians (Enets, Kets, Nganasans, and Selkups) are publicly available at the Edmond database, under the permalink https://doi.org/10.17617/3.1z.
References
Rasmussen, M. et al. Ancient human genome sequence of an extinct Palaeo-Eskimo. Nature 463, 757–762 (2010).

Raghavan, M. et al. The genetic prehistory of the New World Arctic. Science 345, 1255832 (2014).

Friesen, T. M. in The Oxford Handbook of the Prehistoric Arctic (eds Friesen, T. M. & Mason, O. K.) 673–692 (Oxford Univ. Press, New York, 2016).

Reich, D. et al. Reconstructing Native American population history. Nature 488, 370–374 (2012).

Raghavan, M. et al. Genomic evidence for the Pleistocene and recent population history of Native Americans. Science 349, aab3884 (2015).

Moreno-Mayar, J. V. et al. Terminal Pleistocene Alaskan genome reveals first founding population of Native Americans. Nature 553, 203–207 (2018).

Haak, W. et al. Massive migration from the steppe was a source for Indo-European languages in Europe. Nature 522, 207–211 (2015).

Patterson, N. et al. Ancient admixture in human history. Genetics 192, 1065–1093 (2012).

Schiffels, S. et al. Iron Age and Anglo-Saxon genomes from East England reveal British migration history. Nat. Commun. 7, 10408 (2016).

Skoglund, P. et al. Genetic evidence for two founding populations of the Americas. Nature 525, 104–108 (2015).

Moreno-Mayar, J. V. et al. Early human dispersals within the Americas. Science 362, eaav2621 (2018).

Posth, C. et al. Reconstructing the deep population history of Central and South America. Cell 175, 1185–1197.e22 (2018).

Potter, B. A. et al. Early colonization of Beringia and Northern North America: chronology, routes, and adaptive strategies. Quat. Int. 444, 36–55 (2017).

Llamas, B. et al. Ancient mitochondrial DNA provides high-resolution time scale of the peopling of the Americas. Sci. Adv. 2, e1501385 (2016).

Raff, J. A., Rzhetskaya, M., Tackney, J. & Hayes, M. G. Mitochondrial diversity of Iñupiat people from the Alaskan North Slope provides evidence for the origins of the Paleo- and Neo-Eskimo peoples. Am. J. Phys. Anthropol. 157, 603–614 (2015).

Friesen, T. M. On the naming of Arctic archaeological traditions: the case for Paleo-Inuit. Arctic 68, iii–iv (2015).

Park, R. W. in The Oxford Handbook of the Prehistoric Arctic (eds Friesen, T. M. & Mason, O. K.) 417–442 (Oxford Univ. Press, New York, 2016).

Prentiss, A. M., Walsh, M. J., Foor, T. A. & Barnett, K. D. Cultural macroevolution among high latitude hunter–gatherers: a phylogenetic study of the Arctic Small Tool tradition. J. Archaeol. Sci. 59, 64–79 (2015).

Tremayne, A. H. & Rasic, J. T. in The Oxford Handbook of the Prehistoric Arctic (eds Friesen, T. M. & Mason, O. K.) 303–322 (Oxford Univ. Press, New York, 2016).

Friesen, T. M. Contemporaneity of Dorset and Thule cultures in the North American Arctic: new radiocarbon dates from Victoria Island, Nunavut. Curr. Anthropol. 45, 685–691 (2004).

Dabney, J. et al. Complete mitochondrial genome sequence of a Middle Pleistocene cave bear reconstructed from ultrashort DNA fragments. Proc. Natl Acad. Sci. USA 110, 15758–15763 (2013).

Rohland, N., Harney, E., Mallick, S., Nordenfelt, S. & Reich, D. Partial uracil-DNA-glycosylase treatment for screening of ancient DNA. Phil. Trans. R. Soc. Lond. B 370, 20130624 (2015).

Fu, Q. et al. An early modern human from Romania with a recent Neanderthal ancestor. Nature 524, 216–219 (2015).

Bardill, J. et al. Advancing the ethics of paleogenomics. Science 360, 384–385 (2018).

Lawson, D. J., Hellenthal, G., Myers, S. & Falush, D. Inference of population structure using dense haplotype data. PLoS Genet. 8, e1002453 (2012).

Hellenthal, G. et al. A genetic atlas of human admixture history. Science 343, 747–751 (2014).

Smith, S. E. et al. Inferring population continuity versus replacement with aDNA: a cautionary tale from the Aleutian Islands. Human Biol. 81 407–426 (2009).

Scally, A. & Durbin, R. Revising the human mutation rate: implications for understanding human evolution. Nat. Rev. Genet. 13, 745–753 (2012).

Fenner, J. N. Cross-cultural estimation of the human generation interval for use in genetics-based population divergence studies. Am. J. Phys. Anthropol. 128, 415–423 (2005).

Kari, J. in The Dene-Yeniseian Connection, Anthropological Papers of the University of Alaska: New Series, vol. 5 (eds Kari, J. & Potter, B. A.) 194–222 (Univ. of Alaska and Alaska Native Language Centre, Fairbanks, Alaska, 2010).

Reynolds, A. W. et al. Comparing signals of natural selection between three Indigenous North American populations. Proc. Natl Acad. Sci. USA 116, 9312–9317.

Flegontov, P. et al. Genomic study of the Ket: a Paleo-Eskimo-related ethnic group with significant ancient North Eurasian ancestry. Sci. Rep. 6, 20768 (2016).

Mallick, S. et al. The Simons Genome Diversity Project: 300 genomes from 142 diverse populations. Nature 538, 201–206 (2016).

Li, H. & Durbin, R. Inference of human population history from individual whole-genome sequences. Nature 475, 493–496 (2011).

Rasmussen, M. et al. The genome of a Late Pleistocene human from a Clovis burial site in western Montana. Nature 506, 225–229 (2014).

Raghavan, M. et al. Upper Palaeolithic Siberian genome reveals dual ancestry of Native Americans. Nature 505, 87–91 (2014).

Lazaridis, I. et al. Ancient human genomes suggest three ancestral populations for present-day Europeans. Nature 513, 409–413 (2014).

O'Connell, J. et al. A general approach for haplotype phasing across the full spectrum of relatedness. PLoS Genet. 10, e1004234 (2014).

Purcell, S. et al. PLINK: a tool set for whole-genome association and population-based linkage analyses. Am. J. Hum. Genet. 81, 559–575 (2007).

Alexander, D. H., Novembre, J. & Lange, K. Fast model-based estimation of ancestry in unrelated individuals. Genome Res. 19, 1655–1664 (2009).

Loh, P. R. et al. Inferring admixture histories of human populations using linkage disequilibrium. Genetics 193, 1233–1254 (2013).

Lazaridis, I. et al. Genomic insights into the origin of farming in the ancient Near East. Nature 536, 419–424 (2016).

Verdu, P. et al. Patterns of admixture and population structure in native populations of Northwest North America. PLoS Genet. 10, e1004530 (2014).
Acknowledgements
We acknowledge the ancient people whose skeletal samples were studied, the Aleut Corporation, the Aleutians Pribilof Islands Association, and the Chaluka Corporation for granting permissions to conduct genetic analyses on the eastern Aleutians. We thank the staff at the Smithsonian Institution's National Museum of Natural History for facilitating the sample collection; the McGrath Native Village Council and MTNT Ltd for granting permissions to conduct genetic analyses on the Tochak McGrath remains; J. Clark, who performed biological age estimates on these remains; the research participants in Alaska (Genetics of Alaskan North Slope (GeANS) project funded by NSF OPP-0732857) and West Siberia who donated samples for genome-wide analysis; J. B. Coltrain for sharing data on stable isotopes; and J. W. Ives, J. Tackney, L. Norman, and K. TallBear for comments on earlier drafts of this paper. Sample collection and the initial molecular, isotopic, and accelerator mass spectrometry (AMS) 14C dating of the samples described here were funded by National Science Foundation Office of Polar Program grants OPP-9726126, OPP-9974623, and OPP-0327641; the Natural Sciences and Engineering Research Council of Canada; and the Wenner-Gren Foundation for Anthropological Research (6364). This work was supported by the Czech Ministry of Education, Youth and Sports from the project 'IT4Innovations National Supercomputing Center – LM2015070'. P.F., P.C., O.F., and N.E.A. were supported by the Institutional Development Program of the University of Ostrava; P.F. and P.C. were supported by the EU Operational Programme 'Research and Development for Innovations' (CZ.1.05/2.1.00/19.0388) and P.C. was also supported by the Statutory City of Ostrava (0924/2016/ŠaS) and the Moravian-Silesian Region (01211/2016/RRC); P.S. was funded by the Francis Crick Institute, which receives its core funding from Cancer Research UK (FC001595), the UK Medical Research Council (FC001595), and the Wellcome Trust (FC001595); D.R. was funded by NSF HOMINID (grant BCS-1032255), NIH (NIGMS), the Allen Discovery Center of the Paul Allen Foundation (grant GM100233), and is an Investigator of the Howard Hughes Medical Institute; D.A.B. was supported by a Norman Hackerman Advanced Research Program grant from the Texas Higher Education Coordinating Board; AMS 14C work at Pennsylvania State University by D.J.K. and B.J.C was funded by the NSF Archaeometry programme (BCS-1460369); and C.J., T.C.L., J.K., and S.S. were supported by the Max Planck Society.
Reviewer information
Nature thanks Carles Lalueza-Fox, John Lindo and the other anonymous reviewer(s) for their contribution to the peer review of this work.
Ethics declarations
Competing interests
The authors declare no competing interests.
Additional information
Publisher's note: Springer Nature remains neutral with regard to jurisdictional claims in published maps and institutional affiliations.
Extended data figures and tables
Supplementary information
About this article
Cite this article
Flegontov, P., Altınışık, N.E., Changmai, P. et al. Palaeo-Eskimo genetic ancestry and the peopling of Chukotka and North America. Nature 570, 236–240 (2019). https://doi.org/10.1038/s41586-019-1251-y
Received:

Accepted:

Published:

Issue Date:

DOI: https://doi.org/10.1038/s41586-019-1251-y
Comments
By submitting a comment you agree to abide by our Terms and Community Guidelines. If you find something abusive or that does not comply with our terms or guidelines please flag it as inappropriate.