Abstract
The extracellular matrix is a major component of the local environment—that is, the niche—that determines cell behaviour1. During metastatic growth, cancer cells shape the extracellular matrix of the metastatic niche by hydroxylating collagen to promote their own metastatic growth2,3. However, only particular nutrients might support the ability of cancer cells to hydroxylate collagen, because nutrients dictate which enzymatic reactions are active in cancer cells4,5. Here we show that breast cancer cells rely on the nutrient pyruvate to drive collagen-based remodelling of the extracellular matrix in the lung metastatic niche. Specifically, we discovered that pyruvate uptake induces the production of α-ketoglutarate. This metabolite in turn activates collagen hydroxylation by increasing the activity of the enzyme collagen prolyl-4-hydroxylase (P4HA). Inhibition of pyruvate metabolism was sufficient to impair collagen hydroxylation and consequently the growth of breast-cancer-derived lung metastases in different mouse models. In summary, we provide a mechanistic understanding of the link between collagen remodelling and the nutrient environment in the metastatic niche.
Access options
Subscribe to Journal
Get full journal access for 1 year
$199.00
only $3.90 per issue
All prices are NET prices.
VAT will be added later in the checkout.
Rent or Buy article
Get time limited or full article access on ReadCube.
from$8.99
All prices are NET prices.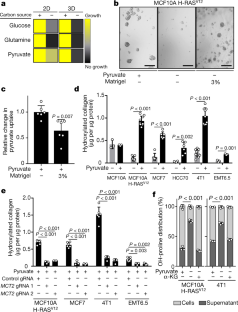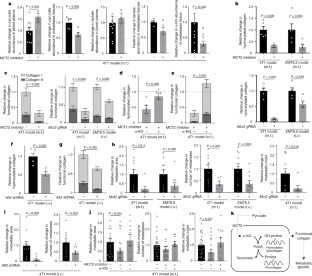 References
1.

Bonnans, C., Chou, J. & Werb, Z. Remodelling the extracellular matrix in development and disease. Nat. Rev. Mol. Cell Biol. 15, 786–801 (2014).

2.

Gilkes, D. M. et al. Collagen prolyl hydroxylases are essential for breast cancer metastasis. Cancer Res. 73, 3285–3296 (2013).

3.

Xiong, G., Deng, L., Zhu, J., Rychahou, P. G. & Xu, R. Prolyl-4-hydroxylase α subunit 2 promotes breast cancer progression and metastasis by regulating collagen deposition. BMC Cancer 14, 1 (2014).

4.

Elia, I. & Fendt, S.-M. In vivo cancer metabolism is defined by the nutrient microenvironment. Transl. Cancer Res. 5, S1284–S1287 (2016).

5.

Elia, I., Doglioni, G. & Fendt, S.-M. Metabolic hallmarks of metastasis formation. Trends Cell Biol. 28, 673–684 (2018).

6.

Christen, S. et al. Breast cancer-derived lung metastasis show increased pyruvate carboxylase-dependent anaplerosis. Cell Rep. 17, 837–848 (2016).

7.

Shinde, A., Wilmanski, T., Chen, H., Teegarden, D. & Wendt, M. K. Pyruvate carboxylase supports the pulmonary tropism of metastatic breast cancer. Breast Cancer Res. 20, 76 (2018).

8.

Faubert, B. et al. Lactate metabolism in human lung tumors. Cell 171, 358–371 (2017).

9.

Buescher, J. M. et al. A roadmap for interpreting 13C metabolite labeling patterns from cells. Curr. Opin. Biotechnol. 34, 189–201 (2015).

10.

Lorendeau, D., Christen, S., Rinaldi, G. & Fendt, S.-M. Metabolic control of signalling pathways and metabolic auto-regulation. Biol. Cell 107, 251–272 (2015).

11.

Stegen, S. HIF-1α metabolically controls collagen synthesis and modification in chondrocytes. Nature 565, 511–515 (2019).

12.

Gilkes, D. M., Semenza, G. L. & Wirtz, D. Hypoxia and the extracellular matrix: drivers of tumour metastasis. Nat. Rev. Cancer 14, 430–439 (2014).

13.

Elia, I. et al. Proline metabolism supports metastasis formation and could be inhibited to selectively target metastasizing cancer cells. Nat. Commun. 8, 15267 (2017).

14.

Kojima, Y. et al. Autocrine TGF-β and stromal cell-derived factor-1 (SDF-1) signaling drives the evolution of tumor-promoting mammary stromal myofibroblasts. Proc. Natl Acad. Sci. USA 107, 20009–20014 (2010).

15.

van Gorsel, M., Elia, I. & Fendt, S.-M. 13C tracer analysis and metabolomics in 3D cultured cancer cells. Methods Mol. Biol. 1862, 53–66 (2019).

16.

Mandegar, M. A. et al. CRISPR interference efficiently induces specific and reversible gene silencing in human iPSCs. Cell Stem Cell 18, 541–553 (2016).

17.

Gilbert, L. A. et al. Genome-scale CRISPR-mediated control of gene repression and activation. Cell 159, 647–661 (2014).

18.

Lorendeau, D. et al. Dual loss of succinate dehydrogenase (SDH) and complex I activity is necessary to recapitulate the metabolic phenotype of SDH mutant tumors. Metab. Eng. 43, 187–197 (2017).

19.

Creemers, L. B., Jansen, D. C., van Veen-Reurings, A., van den Bos, T. & Everts, V. Microassay for the assessment of low levels of hydroxyproline. Biotechniques 22, 656–658 (1997).

20.

Sunic, D., Belford, D. A., McNeil, J. D. & Wiebkin, O. W. Insulin-like growth factor binding proteins (IGF-BPs) in bovine articular and ovine growth-plate chondrocyte cultures: their regulation by IGFs and modulation of proteoglycan synthesis. Biochim. Biophys. Acta 1245, 43–48 (1995).

21.

Broekaert, D. & Fendt, S.-M. Measuring in vivo tissue metabolism using 13C glucose infusions in mice. Methods Mol. Biol. 1862, 67–82 (2019).

22.

Oskarsson, T. Extracellular matrix components in breast cancer progression and metastasis. Breast 22 (Suppl. 2), S66–S72 (2013).
Acknowledgements
We thank P. Carmeliet for providing P5CS shRNA constructs, L. Van Den Bosch and A. Orimo for providing (myo)fibroblasts, J. Norman, B. Hemmeryckx, F. Stanchi, L. Allen and G. Bergers for their advice, D. Anastasiou for providing reagents, D. Nittner (VIB histology core) for performing immunohistochemistry staining, R. Anderson for providing EMT6.5 cells. S.S. and M.R. are supported by FWO postdoctoral fellowships. M.v.G. and G.D. are supported by Kom op tegen Kanker fellowships. S.-M.F. acknowledges funding from the European Research Council under ERC Consolidator Grant Agreement number 771486 MetaRegulation, FWO Odysseus II, FWO Research Grants and Projects, and KU Leuven Methusalem Co-Funding.
Reviewer information
Nature thanks Mario Paolo Colombo and the other anonymous reviewer(s) for their contribution to the peer review of this work.
Ethics declarations
Competing interests
S.-M.F. has received research funding from Bayer AG and Merck. The other authors declare no competing interests.
Additional information
Publisher's note: Springer Nature remains neutral with regard to jurisdictional claims in published maps and institutional affiliations.
Extended data figures and tables
Supplementary information
This file contains the uncropped blots shown in Extended Data Figure 10.
About this article
Cite this article
Elia, I., Rossi, M., Stegen, S. et al. Breast cancer cells rely on environmental pyruvate to shape the metastatic niche. Nature 568, 117–121 (2019). https://doi.org/10.1038/s41586-019-0977-x
Received:

Accepted:

Published:

Issue Date:
Comments
By submitting a comment you agree to abide by our Terms and Community Guidelines. If you find something abusive or that does not comply with our terms or guidelines please flag it as inappropriate.