Abstract
Microglia have critical roles not only in neural development and homeostasis, but also in neurodegenerative and neuroinflammatory diseases of the central nervous system1,2,3,4. These highly diverse and specialized functions may be executed by subsets of microglia that already exist in situ, or by specific subsets of microglia that develop from a homogeneous pool of cells on demand. However, little is known about the presence of spatially and temporally restricted subclasses of microglia in the central nervous system during development or disease. Here we combine massively parallel single-cell analysis, single-molecule fluorescence in situ hybridization, advanced immunohistochemistry and computational modelling to comprehensively characterize subclasses of microglia in multiple regions of the central nervous system during development and disease. Single-cell analysis of tissues of the central nervous system during homeostasis in mice revealed specific time- and region-dependent subtypes of microglia. Demyelinating and neurodegenerative diseases evoked context-dependent subtypes of microglia with distinct molecular hallmarks and diverse cellular kinetics. Corresponding clusters of microglia were also identified in healthy human brains, and the brains of patients with multiple sclerosis. Our data provide insights into the endogenous immune system of the central nervous system during development, homeostasis and disease, and may also provide new targets for the treatment of neurodegenerative and neuroinflammatory pathologies.
Relevant articles
Open Access articles citing this article.
Rosalía Fernández-Calle

,

Sabine C. Konings

…

Tomas Deierborg

Molecular Neurodegeneration Open Access 24 September 2022

Chao Gao

,

Xin Shen

…

Shengdi Chen

Journal of Neuroinflammation Open Access 04 September 2022

Iki Sonn

,

Fumiko Honda-Ozaki

…

Hideyuki Okano

Inflammation and Regeneration Open Access 01 July 2022
Access options
Subscribe to Nature+
Get immediate online access to the entire Nature family of 50+ journals
Subscribe to Journal
Get full journal access for 1 year
$199.00
only $3.90 per issue
All prices are NET prices.
VAT will be added later in the checkout.
Tax calculation will be finalised during checkout.
Buy article
Get time limited or full article access on ReadCube.
$32.00
All prices are NET prices.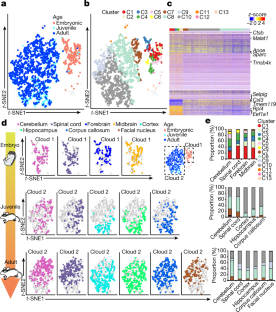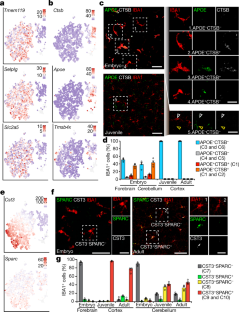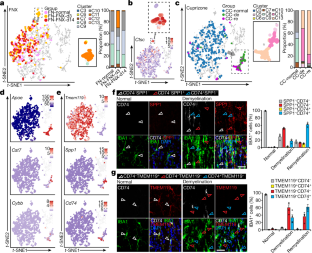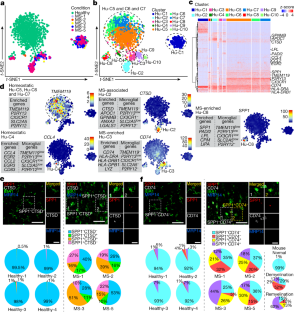 Data availability
Raw data for mouse and human single cell RNA-sequencing have been deposited in the Gene Expression Omnibus, and are available at the following accession numbers: GSE120629 (mouse), GSE120747 (mouse) and GSE124335 (human). All other data are available from the corresponding author on reasonable request.
References
Prinz, M. & Priller, J. Microglia and brain macrophages in the molecular age: from origin to neuropsychiatric disease. Nat. Rev. Neurosci. 15, 300–312 (2014).

Colonna, M. & Butovsky, O. Microglia function in the central nervous system during health and neurodegeneration. Annu. Rev. Immunol. 35, 441–468 (2017).

Herz, J., Filiano, A. J., Smith, A., Yogev, N. & Kipnis, J. Myeloid cells in the central nervous system. Immunity 46, 943–956 (2017).

Prinz, M., Erny, D. & Hagemeyer, N. Ontogeny and homeostasis of CNS myeloid cells. Nat. Immunol. 18, 385–392 (2017).

Kierdorf, K. et al. Microglia emerge from erythromyeloid precursors via Pu.1- and Irf8-dependent pathways. Nat. Neurosci. 16, 273–280 (2013).

Hagemeyer, N. et al. Microglia contribute to normal myelinogenesis and to oligodendrocyte progenitor maintenance during adulthood. Acta Neuropathol. 134, 441–458 (2017).

Matcovitch-Natan, O. et al. Microglia development follows a stepwise program to regulate brain homeostasis. Science 353, aad8670 (2016).

Mathys, H. et al. Temporal tracking of microglia activation in neurodegeneration at single-cell resolution. Cell Reports 21, 366–380 (2017).

Jordao, M. J. et al. Single-cell profiling identifies myeloid cell subsets with distinct fates during neuroinflammation. Science 363, eaat7554 (2019).

Keren-Shaul, H. et al. A unique microglia type associated with restricting development of Alzheimer's disease. Cell 169, 1276–1290 (2017).

Grabert, K. et al. Microglial brain region-dependent diversity and selective regional sensitivities to aging. Nat. Neurosci. 19, 504–516 (2016).

Herman, J. S., Sagar, & Grün, D. FateID infers cell fate bias in multipotent progenitors from single-cell RNA-seq data. Nat. Methods 15, 379–386 (2018).

Krasemann, S. et al. The TREM2–APOE pathway drives the transcriptional phenotype of dysfunctional microglia in neurodegenerative diseases. Immunity 47, 566–581.e9 (2017).

Tay, T. L. et al. A new fate mapping system reveals context-dependent random or clonal expansion of microglia. Nat. Neurosci. 20, 793–803 (2017).

Mildner, A. et al. Microglia in the adult brain arise from Ly-6ChiCCR2+ monocytes only under defined host conditions. Nat. Neurosci. 10, 1544–1553 (2007).

Benveniste, E. N. Role of macrophages/microglia in multiple sclerosis and experimental allergic encephalomyelitis. J. Mol. Med. (Berl.) 75, 165–173 (1997).

Brück, W. et al. Monocyte/macrophage differentiation in early multiple sclerosis lesions. Ann. Neurol. 38, 788–796 (1995).

Lawson, L. J., Perry, V. H. & Gordon, S. Turnover of resident microglia in the normal adult mouse brain. Neuroscience 48, 405–415 (1992).

Doorn, K. J. et al. Brain region-specific gene expression profiles in freshly isolated rat microglia. Front. Cell. Neurosci. 9, 84 (2015).

Wang, Y. et al. IL-34 is a tissue-restricted ligand of CSF1R required for the development of Langerhans cells and microglia. Nat. Immunol. 13, 753–760 (2012).

Greter, M. et al. Stroma-derived interleukin-34 controls the development and maintenance of Langerhans cells and the maintenance of microglia. Immunity 37, 1050–1060 (2012).

De Biase, L. M. et al. Local cues establish and maintain region-specific phenotypes of basal ganglia microglia. Neuron 95, 341–356.e6 (2017).

Ayata, P. et al. Epigenetic regulation of brain region-specific microglia clearance activity. Nat. Neurosci. 21, 1049–1060 (2018).

Hammond, T. R. et al. Single-cell RNA sequencing of microglia throughout the mouse lifespan and in the injured brain reveals complex cell-state changes. Immunity 50, 253–271.e6 (2019).

Dobin, A. et al. STAR: ultrafast universal RNA-seq aligner Bioinformatics 29, 15–21 (2013).

Liao, Y., Smyth, G. K. & Shi, W. The Subread aligner: fast, accurate and scalable read mapping by seed-and-vote. Nucleic Acids Res. 41, e108 (2013).

Gu, Z., Eils, R. & Schlesner, M. Complex heatmaps reveal patterns and correlations in multidimensional genomic data. Bioinformatics 32, 2847–2849 (2016).

Hashimshony, T. et al. CEL-Seq2: sensitive highly-multiplexed single-cell RNA-seq. Genome Biol. 17, 77 (2016).

Li, H. & Durbin, R. Fast and accurate long-read alignment with Burrows–Wheeler transform. Bioinformatics 26, 589–595 (2010).

Grün, D., Kester, L. & van Oudenaarden, A. Validation of noise models for single-cell transcriptomics. Nat. Methods 11, 637–640 (2014).

Grün, D. et al. Single-cell messenger RNA sequencing reveals rare intestinal types. Nature 525, 251–255 (2015).

Goldmann, T. et al. USP18 lack in microglia causes destructive interferonopathy of the mouse brain. EMBO J. 34, 1612–1629 (2015).

Raasch, J. et al. IκB kinase 2 determines oligodendrocyte loss by non-cell-autonomous activation of NF-κB in the central nervous system. Brain 134, 1184–1198 (2011).

Kuhn, A., Luthi-Carter, R. & Delorenzi, M. Cross-species and cross-platform gene expression studies with Bioconductor-compliant R package 'annotationTools'. BMC Bioinformatics 9, 26 (2008).

Butler, A., Hoffman, P., Smibert, P., Papalexi, E. & Satija, R. Integrating single-cell transcriptomic data across different conditions, technologies, and species. Nat. Biotechnol. 36, 411–420 (2018).

Lucchinetti, C. et al. Heterogeneity of multiple sclerosis lesions: implications for the pathogenesis of demyelination. Ann. Neurol. 47, 707–717 (2000).
Acknowledgements
We thank M. Ditter, E. Barleon, T. el Gaz and J. Bodinek-Wersing for technical assistance; C. Gross for proofreading; N. Mossadegh for helpful discussions; and A. Zeisel and S. Linnarsson (Karolinska Institute, Sweden) for sharing data and support. The samples and data used for this project were kindly provided by the West German Biobank. T.M. was supported by the KANAE Foundation and the Japan Society for the Promotion of Science. M.P. is supported by the Sobek Foundation, the Ernst-Jung Foundation, the DFG (SFB 992, SFB1160, SFB/TRR167, Reinhart Koselleck Grant), the Ministry of Science, Research and Arts, Baden-Wuerttemberg (Sonderlinie 'Neuroinflammation') and the BMBF-funded competence network of multiple sclerosis (KKNMS). This study was supported by the DFG under Germany's Excellence Strategy (CIBSS – EXC-2189 – Project ID390939984). S. is supported by the DFG (GR4980) the Behrens-Weise-Foundation, and the Max Planck Society. D.G. is supported by the Max Planck Society. J.P. is supported by the DFG (SFB/TRR167 B05 and B07), BIH CRG 2a, and the UK DRI Momentum Award. C. Stadelmann is supported by the DFG (STA1389/2-1), the Deutsche Multiple Sklerose Gesellschaft (DMSG), the National MS Society of the USA (NMSS) and the Hertie Foundation. C.B. is supported by the DFG (SFB/TRR167 B05).
Reviewer information
Nature thanks Arnold Kriegstein and the other anonymous reviewer(s) for their contribution to the peer review of this work.
Ethics declarations
Competing interests
The authors declare no competing interests.
Additional information
Publisher's note: Springer Nature remains neutral with regard to jurisdictional claims in published maps and institutional affiliations.
Extended data figures and tables
Supplementary information
This file contains Supplementary Figure 1: FACS gating strategy for microglia isolation. CNS cells were gated for G1 and G2 (singlets), followed by being gated for living cell (G3, fixable viability dye), CD45intCD11b+ (G4), Ly6C-Ly6G- (G5), and CD206- (G6).
This file contains Supplementary Table split between mouse and human data. The mouse data shows information on mice and cells used in each scRNA-seq analysis including genotype, strain, sex, condition, age, CNS region and cell numbers. The human data shows details on patients and cells used in each scRNAseq analysis including sex, condition, age, CNS region and cell numbers.
About this article
Cite this article
Masuda, T., Sankowski, R., Staszewski, O. et al. Spatial and temporal heterogeneity of mouse and human microglia at single-cell resolution. Nature 566, 388–392 (2019). https://doi.org/10.1038/s41586-019-0924-x
Received:

Accepted:

Published:

Issue Date:

DOI: https://doi.org/10.1038/s41586-019-0924-x
Comments
By submitting a comment you agree to abide by our Terms and Community Guidelines. If you find something abusive or that does not comply with our terms or guidelines please flag it as inappropriate.