Abstract
Endochondral ossification, an important process in vertebrate bone formation, is highly dependent on correct functioning of growth plate chondrocytes1. Proliferation of these cells determines longitudinal bone growth and the matrix deposited provides a scaffold for future bone formation. However, these two energy-dependent anabolic processes occur in an avascular environment1,2. In addition, the centre of the expanding growth plate becomes hypoxic, and local activation of the hypoxia-inducible transcription factor HIF-1α is necessary for chondrocyte survival by unidentified cell-intrinsic mechanisms3,4,5,6. It is unknown whether there is a requirement for restriction of HIF-1α signalling in the other regions of the growth plate and whether chondrocyte metabolism controls cell function. Here we show that prolonged HIF-1α signalling in chondrocytes leads to skeletal dysplasia by interfering with cellular bioenergetics and biosynthesis. Decreased glucose oxidation results in an energy deficit, which limits proliferation, activates the unfolded protein response and reduces collagen synthesis. However, enhanced glutamine flux increases α-ketoglutarate levels, which in turn increases proline and lysine hydroxylation on collagen. This metabolically regulated collagen modification renders the cartilaginous matrix more resistant to protease-mediated degradation and thereby increases bone mass. Thus, inappropriate HIF-1α signalling results in skeletal dysplasia caused by collagen overmodification, an effect that may also contribute to other diseases involving the extracellular matrix such as cancer and fibrosis.
Access options
Subscribe to Journal
Get full journal access for 1 year
$199.00
only $3.90 per issue
All prices are NET prices.
VAT will be added later in the checkout.
Rent or Buy article
Get time limited or full article access on ReadCube.
from$8.99
All prices are NET prices.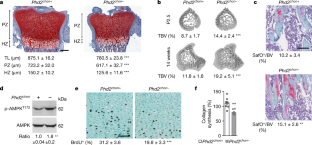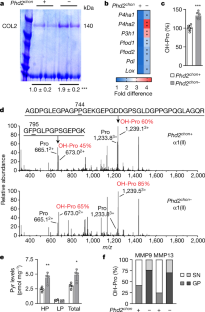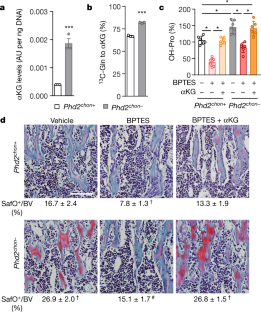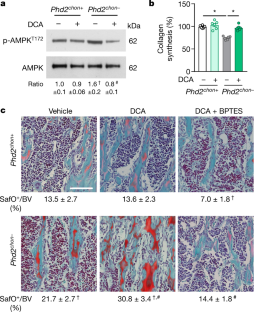 Data availability
Source data are provided in the online version of the paper. Uncropped blots are provided in Supplementary Fig. 1. Any additional information required to interpret, replicate or build upon the findings of this study are available from the corresponding author upon reasonable request.
References
1.

Kronenberg, H. M. Developmental regulation of the growth plate. Nature 423, 332–336 (2003).

2.

Buttgereit, F. & Brand, M. D. A hierarchy of ATP-consuming processes in mammalian cells. Biochem. J. 312, 163–167 (1995).

3.

Maes, C. et al. VEGF-independent cell-autonomous functions of HIF-1α regulating oxygen consumption in fetal cartilage are critical for chondrocyte survival. J. Bone Miner. Res. 27, 596–609 (2012).

4.

Pfander, D., Cramer, T., Schipani, E. & Johnson, R. S. HIF-1α controls extracellular matrix synthesis by epiphyseal chondrocytes. J. Cell Sci. 116, 1819–1826 (2003).

5.

Aro, E. et al. Hypoxia-inducible factor-1 (HIF-1) but not HIF-2 is essential for hypoxic induction of collagen prolyl 4-hydroxylases in primary newborn mouse epiphyseal growth plate chondrocytes. J. Biol. Chem. 287, 37134–37144 (2012).

6.

Schipani, E. et al. Hypoxia in cartilage: HIF-1α is essential for chondrocyte growth arrest and survival. Genes Dev. 15, 2865–2876 (2001).

7.

Aragones, J., Fraisl, P., Baes, M. & Carmeliet, P. Oxygen sensors at the crossroad of metabolism. Cell Metab. 9, 11–22 (2009).

8.

Nakazawa, M. S., Keith, B. & Simon, M. C. Oxygen availability and metabolic adaptations. Nat. Rev. Cancer 16, 663–673 (2016).

9.

Hochachka, P. W., Buck, L. T., Doll, C. J. & Land, S. C. Unifying theory of hypoxia tolerance: molecular/metabolic defense and rescue mechanisms for surviving oxygen lack. Proc. Natl Acad. Sci. USA 93, 9493–9498 (1996).

10.

Wheaton, W. W. & Chandel, N. S. Hypoxia. 2. Hypoxia regulates cellular metabolism. Am. J. Physiol. Cell Physiol. 300, C385–C393 (2011).

11.

Cheng, K. et al. Hypoxia-inducible factor-1α regulates β cell function in mouse and human islets. J. Clin. Invest. 120, 2171–2183 (2010).

12.

Myllyharju, J. & Kivirikko, K. I. Collagens, modifying enzymes and their mutations in humans, flies and worms. Trends Genet. 20, 33–43 (2004).

13.

Vater, C. A., Harris, E. D. Jr & Siegel, R. C. Native cross-links in collagen fibrils induce resistance to human synovial collagenase. Biochem. J. 181, 639–645 (1979).

14.

Jarman-Smith, M. L. et al. Porcine collagen crosslinking, degradation and its capability for fibroblast adhesion and proliferation. J. Mater. Sci. Mater. Med. 15, 925–932 (2004).

15.

Gerstenfeld, L. C., Riva, A., Hodgens, K., Eyre, D. R. & Landis, W. J. Post-translational control of collagen fibrillogenesis in mineralizing cultures of chick osteoblasts. J. Bone Miner. Res. 8, 1031–1043 (1993).

16.

van Gastel, N. et al. Expansion of murine periosteal progenitor cells with fibroblast growth factor 2 reveals an intrinsic endochondral ossification program mediated by bone morphogenetic protein 2. Stem Cells 32, 2407–2418 (2014).

17.

Myllyharju, J. Prolyl 4-hydroxylases, key enzymes in the synthesis of collagens and regulation of the response to hypoxia, and their roles as treatment targets. Ann. Med. 40, 402–417 (2008).

18.

Lorendeau, D., Christen, S., Rinaldi, G. & Fendt, S. M. Metabolic control of signalling pathways and metabolic auto-regulation. Biol. Cell 107, 251–272 (2015).

19.

Elia, I. et al. Breast cancer cells rely on environmental pyruvate to shape the metastatic niche. Nature (in the press).

20.

Altman, B. J., Stine, Z. E. & Dang, C. V. From Krebs to clinic: glutamine metabolism to cancer therapy. Nat. Rev. Cancer 16, 619–634 (2016).

21.

Semenza, G. L. Molecular mechanisms mediating metastasis of hypoxic breast cancer cells. Trends Mol. Med. 18, 534–543 (2012).

22.

Marini, J. C. et al. Osteogenesis imperfecta. Nat. Rev. Dis. Primers 3, 17052 (2017).

23.

Wynn, T. A. & Ramalingam, T. R. Mechanisms of fibrosis: therapeutic translation for fibrotic disease. Nat. Med. 18, 1028–1040 (2012).

24.

Bonnans, C., Chou, J. & Werb, Z. Remodelling the extracellular matrix in development and disease. Nat. Rev. Mol. Cell Biol. 15, 786–801 (2014).

25.

Mazzone, M. et al. Heterozygous deficiency of PHD2 restores tumor oxygenation and inhibits metastasis via endothelial normalization. Cell 136, 839–851 (2009).

26.

Ovchinnikov, D. A., Deng, J. M., Ogunrinu, G. & Behringer, R. R. Col2a1-directed expression of Cre recombinase in differentiating chondrocytes in transgenic mice. Genesis 26, 145–146 (2000).

27.

Maes, C. et al. Soluble VEGF isoforms are essential for establishing epiphyseal vascularization and regulating chondrocyte development and survival. J. Clin. Invest. 113, 188–199 (2004).

28.

Stegen, S. et al. Osteocytic oxygen sensing controls bone mass through epigenetic regulation of sclerostin. Nat. Commun. 9, 2557 (2018).

29.

Stegen, S. et al. HIF-1α promotes glutamine-mediated redox homeostasis and glycogen-dependent bioenergetics to support postimplantation bone cell survival. Cell Metab. 23, 265–279 (2016).

30.

Stegen, S. et al. Adequate hypoxia inducible factor 1α signaling is indispensable for bone regeneration. Bone 87, 176–186 (2016).

31.

Christen, S. et al. Breast cancer-derived lung metastases show increased pyruvate carboxylase-dependent anaplerosis. Cell Rep. 17, 837–848 (2016).

32.

Lorendeau, D. et al. Dual loss of succinate dehydrogenase (SDH) and complex I activity is necessary to recapitulate the metabolic phenotype of SDH mutant tumors. Metab. Eng. 43, 187–197 (2017).

33.

Buescher, J. M. et al. A roadmap for interpreting 13C metabolite labeling patterns from cells. Curr. Opin. Biotechnol. 34, 189–201 (2015).

34.

Elia, I. et al. Proline metabolism supports metastasis formation and could be inhibited to selectively target metastasizing cancer cells. Nat. Commun. 8, 15267 (2017).

35.

Koopman, W. J., Visch, H. J., Smeitink, J. A. & Willems, P. H. Simultaneous quantitative measurement and automated analysis of mitochondrial morphology, mass, potential, and motility in living human skin fibroblasts. Cytometry A 69, 1–12 (2006).

36.

Sunic, D., Belford, D. A., McNeil, J. D. & Wiebkin, O. W. Insulin-like growth factor binding proteins (IGF-BPs) in bovine articular and ovine growth-plate chondrocyte cultures: their regulation by IGFs and modulation of proteoglycan synthesis. Biochim. Biophys. Acta 1245, 43–48 (1995).

37.

Carmeliet, G., Himpens, B. & Cassiman, J. J. Selective increase in the binding of the alpha 1 beta 1 integrin for collagen type IV during neurite outgrowth of human neuroblastoma TR 14 cells. J. Cell Sci. 107, 3379–3392 (1994).

38.

Weis, M. A. et al. Location of 3-hydroxyproline residues in collagen types I, II, III, and V/XI implies a role in fibril supramolecular assembly. J. Biol. Chem. 285, 2580–2590 (2010).

39.

Creemers, L. B., Jansen, D. C., van Veen-Reurings, A., van den Bos, T. & Everts, V. Microassay for the assessment of low levels of hydroxyproline. Biotechniques 22, 656–658 (1997).

40.

Daci, E., Verstuyf, A., Moermans, K., Bouillon, R. & Carmeliet, G. Mice lacking the plasminogen activator inhibitor 1 are protected from trabecular bone loss induced by estrogen deficiency. J. Bone Miner. Res. 15, 1510–1516 (2000).

41.

Decuypere, J. P. et al. STIM1, but not STIM2, is required for proper agonist-induced Ca2+ signaling. Cell Calcium 48, 161–167 (2010).

42.

Masuyama, R. et al. TRPV4-mediated calcium influx regulates terminal differentiation of osteoclasts. Cell Metab. 8, 257–265 (2008).

43.

Grynkiewicz, G., Poenie, M. & Tsien, R. Y. A new generation of Ca2+ indicators with greatly improved fluorescence properties. J. Biol. Chem. 260, 3440–3450 (1985).

44.

Missiaen, L., Luyten, T., Bultynck, G., Parys, J. B. & De Smedt, H. Measurement of intracellular Ca2+ release in intact and permeabilized cells using 45Ca2+. Cold Spring Harb. Protoc. 2014, 263–270 (2014).

45.

Storkebaum, E. et al. Impaired autonomic regulation of resistance arteries in mice with low vascular endothelial growth factor or upon vascular endothelial growth factor trap delivery. Circulation 122, 273–281 (2010).

46.

Laperre, K. et al. Development of micro-CT protocols for in vivo follow-up of mouse bone architecture without major radiation side effects. Bone 49, 613–622 (2011).

47.

Bouxsein, M. L. et al. Guidelines for assessment of bone microstructure in rodents using micro-computed tomography. J. Bone Miner. Res. 25, 1468–1486 (2010).

48.

Callewaert, F. et al. Differential regulation of bone and body composition in male mice with combined inactivation of androgen and estrogen receptor-α. FASEB J. 23, 232–240 (2009).

49.

Verhaeghe, J., Van Herck, E., Van Bree, R., Van Assche, F. A. & Bouillon, R. Osteocalcin during the reproductive cycle in normal and diabetic rats. J. Endocrinol. 120, 143–151 (1989).

50.

Dempster, D. W. et al. Standardized nomenclature, symbols, and units for bone histomorphometry: a 2012 update of the report of the ASBMR Histomorphometry Nomenclature Committee. J. Bone Miner. Res. 28, 2–17 (2013).

51.

Wilkinson, D. G. in In Situ Hybridisation: A Practical Approach (ed. Wilkinson. D. G.) 75–80 (IRC Press, Oxford, 1992).
Acknowledgements
We thank I. Stockmans, K. Moermans, T. Luyten, J.-P. Decuypere, E. Van Herck and I. Jans for technical assistance. G.C. acknowledges funding from the Research Foundation-Flanders (FWO: G.0A72.13, G.0964.14 and G.0A42.16); P.C. from long-term structural funding – Methusalem Funding by the Flemish Government; S.-M.F. from Marie Curie-CIG, FWO-Odysseus II, and FWO-Research Grants/Projects; D.R.E. from NIH grants AR037318 (NIAMS) and HD070394 (NICHD); and G.B. from KU Leuven OnderzoeksToelage. S.S. is a postdoctoral fellow from the FWO (12H5917N). G.R. is supported by consecutive PhD fellowships from the Emmanuel van der Schueren - Kom op tegen Kanker foundation and FWO. S.L. is supported by a FWO doctoral grant for strategic basic research.
Reviewer information
Nature thanks F. Long, S. Ramasamy and the other anonymous reviewer(s) for their contribution to the peer review of this work.
Ethics declarations
Competing interests
The authors declare no competing interests.
Additional information
Publisher's note: Springer Nature remains neutral with regard to jurisdictional claims in published maps and institutional affiliations.
Extended data figures and tables
Supplementary information
This file contains the uncropped gels
About this article
Cite this article
Stegen, S., Laperre, K., Eelen, G. et al. HIF-1α metabolically controls collagen synthesis and modification in chondrocytes. Nature 565, 511–515 (2019). https://doi.org/10.1038/s41586-019-0874-3
Received:

Accepted:

Published:

Issue Date:
Comments
By submitting a comment you agree to abide by our Terms and Community Guidelines. If you find something abusive or that does not comply with our terms or guidelines please flag it as inappropriate.