Abstract
The entry of foreign DNA into many mammalian cell types triggers the innate immune system, a complex set of responses to prevent infection by pathogens. One aspect of the response is the potent epigenetic silencing of incoming viral DNAs1, including the extrachromosomal DNAs that are formed immediately after infection by retroviruses. These unintegrated viral DNAs are very poorly transcribed in all cells, even in permissive cells, in contrast to the robust expression that is observed after viral integration2,3,4,5. The factors that are responsible for this low expression have not yet been identified. Here we performed a genome-wide CRISPR–Cas9 screen for genes that are required for silencing an integrase-deficient MLV–GFP reporter virus to explore the mechanisms responsible for repression of unintegrated viral DNAs in human cells. Our screen identified the DNA-binding protein NP220, the three proteins (MPP8, TASOR and PPHLN1) that comprise the HUSH complex—which silences proviruses in heterochromatin6 and retrotransposons7,8—the histone methyltransferase SETDB1, and other host factors that are required for silencing. Further tests by chromatin immunoprecipitation showed that NP220 is the key protein that recruits the HUSH complex, SETDB1 and the histone deacetylases HDAC1 and HDAC4 to silence the unintegrated retroviral DNA. Knockout of NP220 accelerates the replication of retroviruses. These experiments identify the molecular machinery that silences extrachromosomal retroviral DNA.
Relevant articles
Open Access articles citing this article.
Ishak D. Irwan

,

Hal P. Bogerd

&

Bryan R. Cullen

Nature Microbiology Open Access 14 November 2022

Matthias S. Leisegang

,

Jasleen Kaur Bains

…

Ralf P. Brandes

Nature Communications Open Access 02 November 2022

Franziska K. Geis

,

Demetra P. Kelenis

&

Stephen P. Goff

Retrovirology Open Access 09 July 2022
Access options
Subscribe to Nature+
Get immediate online access to Nature and 55 other Nature journal
Subscribe to Journal
Get full journal access for 1 year
$199.00
only $3.90 per issue
All prices are NET prices.
VAT will be added later in the checkout.
Tax calculation will be finalised during checkout.
Buy article
Get time limited or full article access on ReadCube.
$32.00
All prices are NET prices.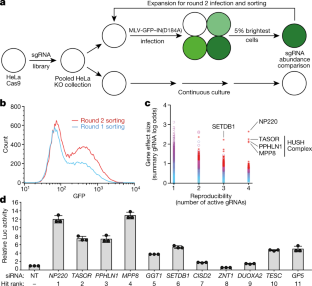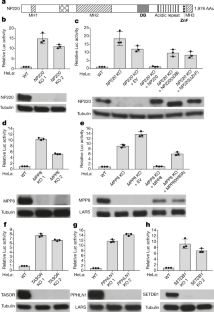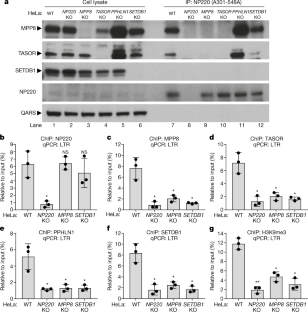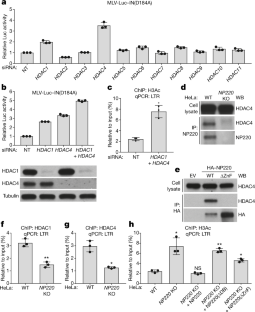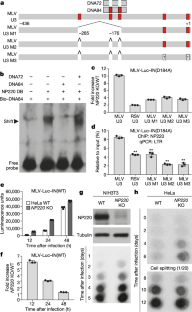 References
Orzalli, M. H. & Knipe, D. M. Cellular sensing of viral DNA and viral evasion mechanisms. Annu. Rev. Microbiol. 68, 477–492 (2014).

Schwartzberg, P., Colicelli, J. & Goff, S. P. Construction and analysis of deletion mutations in the pol gene of Moloney murine leukemia virus: a new viral function required for productive infection. Cell 37, 1043–1052 (1984).

Schneider, W. M., Wu, D. T., Amin, V., Aiyer, S. & Roth, M. J. MuLV IN mutants responsive to HDAC inhibitors enhance transcription from unintegrated retroviral DNA. Virology 426, 188–196 (2012).

Sakai, H. et al. Integration is essential for efficient gene expression of human immunodeficiency virus type 1. J. Virol. 67, 1169–1174 (1993).

Nakajima, N., Lu, R. & Engelman, A. Human immunodeficiency virus type 1 replication in the absence of integrase-mediated DNA recombination: definition of permissive and nonpermissive T-cell lines. J. Virol. 75, 7944–7955 (2001).

Tchasovnikarova, I. A. et al. Epigenetic silencing by the HUSH complex mediates position-effect variegation in human cells. Science 348, 1481–1485 (2015).

Liu, N. et al. Selective silencing of euchromatic L1s revealed by genome-wide screens for L1 regulators. Nature 553, 228–232 (2018).

Robbez-Masson, L. et al. The HUSH complex cooperates with TRIM28 to repress young retrotransposons and new genes. Genome Res. 28, 836–845 (2018).

Varmus, H. Retroviruses. Science 240, 1427–1435 (1988).

Yoshimura, F. K. & Weinberg, R. A. Restriction endonuclease cleavage of linear and closed circular murine leukemia viral DNAs: discovery of a smaller circular form. Cell 16, 323–332 (1979).

Kilzer, J. M. et al. Roles of host cell factors in circularization of retroviral DNA. Virology 314, 460–467 (2003).

Inagaki, H. et al. A large DNA-binding nuclear protein with RNA recognition motif and serine/arginine-rich domain. J. Biol. Chem. 271, 12525–12531 (1996).

Chang, Y., Horton, J. R., Bedford, M. T., Zhang, X. & Cheng, X. Structural insights for MPP8 chromodomain interaction with histone H3 lysine 9: potential effect of phosphorylation on methyl-lysine binding. J. Mol. Biol. 408, 807–814 (2011).

Kokura, K., Sun, L., Bedford, M. T. & Fang, J. Methyl-H3K9-binding protein MPP8 mediates E-cadherin gene silencing and promotes tumour cell motility and invasion. EMBO J. 29, 3673–3687 (2010).

Chougui, G. et al. HIV-2/SIV viral protein X counteracts HUSH repressor complex. Nat. Microbiol. 3, 891–897 (2018).

Yurkovetskiy, L. et al. Primate immunodeficiency virus proteins Vpx and Vpr counteract transcriptional repression of proviruses by the HUSH complex. Nat. Microbiol. https://doi.org/10.1038/s41564-018-0256-x (2018).

Gu, H. & Roizman, B. The two functions of herpes simplex virus 1 ICP0, inhibition of silencing by the CoREST/REST/HDAC complex and degradation of PML, are executed in tandem. J. Virol. 83, 181–187 (2009).

Poon, A. P., Gu, H. & Roizman, B. ICP0 and the US3 protein kinase of herpes simplex virus 1 independently block histone deacetylation to enable gene expression. Proc. Natl Acad. Sci. USA 103, 9993–9998 (2006).

Wang, G. Z. & Goff, S. P. Postentry restriction of Mason–Pfizer monkey virus in mouse cells. J. Virol. 89, 2813–2819 (2015).

Wolf, D. & Goff, S. P. Embryonic stem cells use ZFP809 to silence retroviral DNAs. Nature 458, 1201–1204 (2009).

Joung, J. et al. Genome-scale CRISPR–Cas9 knockout and transcriptional activation screening. Nat. Protoc. 12, 828–863 (2017).

Diaz, A. A., Qin, H., Ramalho-Santos, M. & Song, J. S. HiTSelect: a comprehensive tool for high-complexity-pooled screen analysis. Nucleic Acids Res. 43, e16 (2015).
Acknowledgements
Cell sorting was performed with the assistance of A. Figueroa in the Core Facility of Department of Microbiology and Immunology at Columbia University. This work was supported by the Howard Hughes Medical Institute and by National Institutes of Health (NIH) grant R01 CA30488 (to S.P.G.).
Reviewer information
Nature thanks A. Engelman, M. Lorincz, L. Naldini and M. Ott for their contribution to the peer review of this work.
Ethics declarations
Competing interests
The authors declare no competing interests.
Additional information
Publisher's note: Springer Nature remains neutral with regard to jurisdictional claims in published maps and institutional affiliations.
Extended data figures and tables
Supplementary information
This file contains gel source data - original uncropped source images for EMSA and Western blots.
This file contains Supplementary Table 1: Top 100 hits from Genome-wide CRISPR Screen. Top 100 candidate genes identified from CRISPR knockout screen for host factors essential for the silencing of unintegrated MLV DNA. Candidate genes were ranked by analyzing the fold-change in abundance over control and number of enriched sgRNAs per gene using software HiTSelect. This file also contains Supplementary Table 2: qPCR primers. Listed are qPCR primers for MLV total viral DNA (LTR), MLV 2-LTR circular DNA (2LTR), and primers targeting genes MYT1, beta Globin, GAPDH, SETDB1, SETDB2, SUV39H1, SUV39H2, EHMT1, EHMT2, and EZH2.
About this article
Cite this article
Zhu, Y., Wang, G.Z., Cingöz, O. et al. NP220 mediates silencing of unintegrated retroviral DNA. Nature 564, 278–282 (2018). https://doi.org/10.1038/s41586-018-0750-6
Received:

Accepted:

Published:

Issue Date:

DOI: https://doi.org/10.1038/s41586-018-0750-6
Keywords
Unintegrated DNA

Silences Proviruses

Chromatin Immunoprecipitation (ChIP)

Mason-Pfizer Monkey Virus (MPMV)

Knockout Cells
Comments
By submitting a comment you agree to abide by our Terms and Community Guidelines. If you find something abusive or that does not comply with our terms or guidelines please flag it as inappropriate.