Abstract
Histone H3 lysine 9 methylation (H3K9me) mediates heterochromatic gene silencing and is important for genome stability and the regulation of gene expression1,2,3,4. The establishment and epigenetic maintenance of heterochromatin involve the recruitment of H3K9 methyltransferases to specific sites on DNA, followed by the recognition of pre-existing H3K9me by the methyltransferase and methylation of proximal histone H35,6,7,8,9,10,11. This positive feedback loop must be tightly regulated to prevent deleterious epigenetic gene silencing. Extrinsic anti-silencing mechanisms involving histone demethylation or boundary elements help to limit the spread of inappropriate H3K9me12,13,14,15. However, how H3K9 methyltransferase activity is locally restricted or prevented from initiating random H3K9me—which would lead to aberrant gene silencing and epigenetic instability—is not fully understood. Here we reveal an autoinhibited conformation in the conserved H3K9 methyltransferase Clr4 (also known as Suv39h) of the fission yeast Schizosaccharomyces pombe that has a critical role in preventing aberrant heterochromatin formation. Biochemical and X-ray crystallographic data show that an internal loop in Clr4 inhibits the catalytic activity of this enzyme by blocking the histone H3K9 substrate-binding pocket, and that automethylation of specific lysines in this loop promotes a conformational switch that enhances the H3K9me activity of Clr4. Mutations that are predicted to disrupt this regulation lead to aberrant H3K9me, loss of heterochromatin domains and inhibition of growth, demonstrating the importance of the intrinsic inhibition and auto-activation of Clr4 in regulating the deposition of H3K9me and in preventing epigenetic instability. Conservation of the Clr4 autoregulatory loop in other H3K9 methyltransferases and the automethylation of a corresponding lysine in the human SUV39H2 homologue16 suggest that the mechanism described here is broadly conserved.
Access options
Subscribe to Journal
Get full journal access for 1 year
$199.00
only $3.90 per issue
All prices are NET prices.
VAT will be added later in the checkout.
Tax calculation will be finalised during checkout.
Rent or Buy article
Get time limited or full article access on ReadCube.
from$8.99
All prices are NET prices.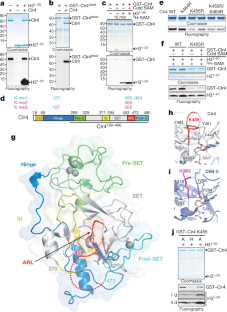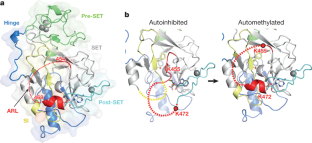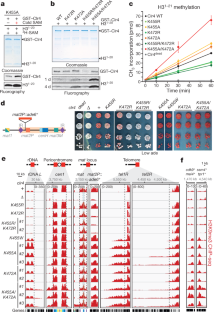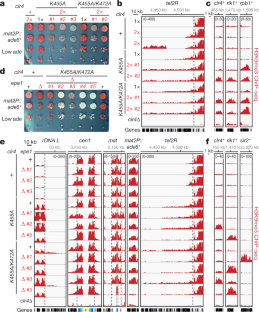 References
1.

Rea, S. et al. Regulation of chromatin structure by site-specific histone H3 methyltransferases. Nature 406, 593–599 (2000).

2.

Lachner, M., O'Carroll, D., Rea, S., Mechtler, K. & Jenuwein, T. Methylation of histone H3 lysine 9 creates a binding site for HP1 proteins. Nature 410, 116–120 (2001).

3.

Bannister, A. J. et al. Selective recognition of methylated lysine 9 on histone H3 by the HP1 chromo domain. Nature 410, 120–124 (2001).

4.

Nakayama, J., Rice, J. C., Strahl, B. D., Allis, C. D. & Grewal, S. I. Role of histone H3 lysine 9 methylation in epigenetic control of heterochromatin assembly. Science 292, 110–113 (2001).

5.

Moazed, D. Mechanisms for the inheritance of chromatin states. Cell 146, 510–518 (2011).

6.

Zhang, K., Mosch, K., Fischle, W. & Grewal, S. I. Roles of the Clr4 methyltransferase complex in nucleation, spreading and maintenance of heterochromatin. Nat. Struct. Mol. Biol. 15, 381–388 (2008).

7.

Al-Sady, B., Madhani, H. D. & Narlikar, G. J. Division of labor between the chromodomains of HP1 and Suv39 methylase enables coordination of heterochromatin spread. Mol. Cell 51, 80–91 (2013).

8.

Ragunathan, K., Jih, G. & Moazed, D. Epigenetic inheritance uncoupled from sequence-specific recruitment. Science 348, 1258699 (2015).

9.

Audergon, P. N. et al. Restricted epigenetic inheritance of H3K9 methylation. Science 348, 132–135 (2015).

10.

Wang, X. & Moazed, D. DNA sequence-dependent epigenetic inheritance of gene silencing and histone H3K9 methylation. Science 356, 88–91 (2017).

11.

Jih, G. et al. Unique roles for histone H3K9me states in RNAi and heritable silencing of transcription. Nature 547, 463–467 (2017).

12.

Thon, G., Bjerling, P., Bünner, C. M. & Verhein-Hansen, J. Expression-state boundaries in the mating-type region of fission yeast. Genetics 161, 611–622 (2002).

13.

Trewick, S. C., Minc, E., Antonelli, R., Urano, T. & Allshire, R. C. The JmjC domain protein Epe1 prevents unregulated assembly and disassembly of heterochromatin. EMBO J. 26, 4670–4682 (2007).

14.

Wang, J. et al. Epe1 recruits BET family bromodomain protein Bdf2 to establish heterochromatin boundaries. Genes Dev. 27, 1886–1902 (2013).

15.

Zofall, M. & Grewal, S. I. Swi6/HP1 recruits a JmjC domain protein to facilitate transcription of heterochromatic repeats. Mol. Cell 22, 681–692 (2006).

16.

Piao, L. et al. Automethylation of SUV39H2, an oncogenic histone lysine methyltransferase, regulates its binding affinity to substrate proteins. Oncotarget 7, 22846–22856 (2016).

17.

Min, J., Zhang, X., Cheng, X., Grewal, S. I. & Xu, R. M. Structure of the SET domain histone lysine methyltransferase Clr4. Nat. Struct. Biol. 9, 828–832 (2002).

18.

Zhang, X. et al. Structural basis for the product specificity of histone lysine methyltransferases. Mol. Cell 12, 177–185 (2003).

19.

Li, Y. et al. Structural basis for activity regulation of MLL family methyltransferases. Nature 530, 447–452 (2016).

20.

Moritz, L. E. & Trievel, R. C. Structure, mechanism, and regulation of polycomb repressive complex 2. J. Biol. Chem. https://doi.org/10.1074/jbc.R117.800367 (2017).

21.

Wang, J., Reddy, B. D. & Jia, S. Rapid epigenetic adaptation to uncontrolled heterochromatin spreading. eLife 4, (2015).

22.

Volpe, T. A. et al. Regulation of heterochromatic silencing and histone H3 lysine-9 methylation by RNAi. Science 297, 1833–1837 (2002).

23.

Wu, H. et al. Structural biology of human H3K9 methyltransferases. PLoS ONE 5, e8570 (2010).

24.

Southall, S. M., Wong, P. S., Odho, Z., Roe, S. M. & Wilson, J. R. Structural basis for the requirement of additional factors for MLL1 SET domain activity and recognition of epigenetic marks. Mol. Cell 33, 181–191 (2009).

25.

Bintu, L. et al. Dynamics of epigenetic regulation at the single-cell level. Science 351, 720–724 (2016).

26.

Hathaway, N. A. et al. Dynamics and memory of heterochromatin in living cells. Cell 149, 1447–1460 (2012).

27.

Morgan, D. O. Principles of CDK regulation. Nature 374, 131–134 (1995).

28.

Shan, C. M. et al. A histone H3K9M mutation traps histone methyltransferase Clr4 to prevent heterochromatin spreading. eLife 5, e17903 (2016).

29.

Bähler, J. et al. Heterologous modules for efficient and versatile PCR-based gene targeting in Schizosaccharomyces pombe. Yeast 14, 943–951 (1998).

30.

Iglesias, N. et al. Ubiquitin-mediated mRNP dynamics and surveillance prior to budding yeast mRNA export. Genes Dev. 24, 1927–1938 (2010).

31.

Ting, L., Rad, R., Gygi, S. P. & Haas, W. MS3 eliminates ratio distortion in isobaric multiplexed quantitative proteomics. Nat. Methods 8, 937–940 (2011).

32.

McAlister, G. C. et al. MultiNotch MS3 enables accurate, sensitive, and multiplexed detection of differential expression across cancer cell line proteomes. Anal. Chem. 86, 7150–7158 (2014).

33.

Paulo, J. A., O'Connell, J. D. & Gygi, S. P. A triple knockout (TKO) proteomics standard for diagnosing ion interference in isobaric labeling experiments. J. Am. Soc. Mass Spectrom. 27, 1620–1625 (2016).

34.

Huttlin, E. L. et al. A tissue-specific atlas of mouse protein phosphorylation and expression. Cell 143, 1174–1189 (2010).

35.

Beausoleil, S. A., Villén, J., Gerber, S. A., Rush, J. & Gygi, S. P. A probability-based approach for high-throughput protein phosphorylation analysis and site localization. Nat. Biotechnol. 24, 1285–1292 (2006).

36.

Paulo, J. A., O'Connell, J. D., Gaun, A. & Gygi, S. P. Proteome-wide quantitative multiplexed profiling of protein expression: carbon-source dependency in Saccharomyces cerevisiae. Mol. Biol. Cell 26, 4063–4074 (2015).

37.

Wong, K. H., Jin, Y. & Moqtaderi, Z. Multiplex Illumina sequencing using DNA barcoding. Curr. Protoc. Mol. Biol. 101, 7.11.1–7.11.11 (2013).

38.

Morin, A. et al. Collaboration gets the most out of software. eLife 2, e01456 (2013).

39.

Kabsch, W. Xds. Acta Crystallogr. D 66, 125–132 (2010).

40.

Winn, M. D. et al. Overview of the CCP4 suite and current developments. Acta Crystallogr. D 67, 235–242 (2011).

41.

McCoy, A. J. et al. Phaser crystallographic software. J. Appl. Crystallogr. 40, 658–674 (2007).

42.

Adams, P. D. et al. PHENIX: a comprehensive Python-based system for macromolecular structure solution. Acta Crystallogr. D 66, 213–221 (2010).

43.

Emsley, P., Lohkamp, B., Scott, W. G. & Cowtan, K. Features and development of Coot. Acta Crystallogr. D 66, 486–501 (2010).
Acknowledgements
We are grateful for assistance from the staff at NE-CAT at Argonne National Laboratory, the SBGrid consortium at Harvard Medical School, and S. Jenni for useful discussions, H. Yoon for help with the scintillation counter, Z. Moqtaderi and R. Yu for Python scripts, G. Shipkovenska, A. Tatarakis, X. Wang, A. Yuan and H. Zhou for comments on the manuscript, and members of the Moazed laboratory for discussion. This work used NE-CAT beamlines (GM103403), a Pilatus detector (RR029205), an Eiger detector (OD021527) and APS Synchrotron source (DE-AC02-06CH11357). This work was supported by an EMBO long-term fellowship and a Swiss National Science Foundation postdoctoral fellowship (N.I.), K01 DK098285 (J.A.P.), NIH P50 GM107618 (M.K., S.P.G.) and NIH RO1 GM072805 (D.M.). D.M. is a Howard Hughes Medical Institute Investigator.
Ethics declarations
Competing interests
The authors declare no competing interests.
Additional information
Publisher's note: Springer Nature remains neutral with regard to jurisdictional claims in published maps and institutional affiliations.
Extended data figures and tables
Supplementary information
About this article
Cite this article
Iglesias, N., Currie, M.A., Jih, G. et al. Automethylation-induced conformational switch in Clr4 (Suv39h) maintains epigenetic stability. Nature 560, 504–508 (2018). https://doi.org/10.1038/s41586-018-0398-2
Received:

Accepted:

Published:

Issue Date:
Further reading
Marc A. J. Morgan

&

Ali Shilatifard

Nature Genetics (2020)

Masato Sorida

&

Yota Murakami

Current Genetics (2020)

Akiko K. Okita

,

Faria Zafar

,

Jie Su

,

Dayalini Weerasekara

,

Takuya Kajitani

,

Tatsuro S. Takahashi

,

Hiroshi Kimura

,

Yota Murakami

,

Hisao Masukata

&

Takuro Nakagawa

Communications Biology (2019)
Comments
By submitting a comment you agree to abide by our Terms and Community Guidelines. If you find something abusive or that does not comply with our terms or guidelines please flag it as inappropriate.